Disney Magic for Spring Break March 2010
We left home and flew to Tampa (the flights were much more reasonable than flying into Orlando at that time) from Houston on Friday night. We stayed overnight at the Grand Hyatt near the airport. I got up bright and early Saturday morning to get our car from Avis (I just took the free shuttle back to the airport), rented the car, picked up the family and we were on our way. It is only about a two hour trip from Tampa to the port.
So close and yet so far. . .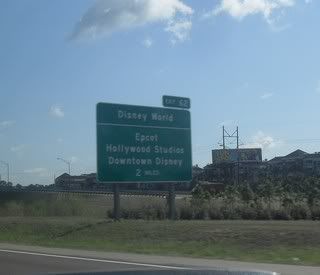 We turned in the car at the Avis in Cape Canaveral, where we waited with other Avis customers to get the free shuttle to the Port. Once we were in the van it was only about a 10 minute ride to the ship. Since you can see the ships from far away it did not even seem like ten minutes. .
There she is!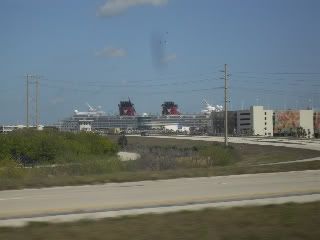 We dropped our bags with the baggage handler at the curb. There was a person a few steps away at a podium waiting to see our passports and make sure we were on the list. YEAH we were!!
Security and check in:
Lunch from Topsiders: