Last July I went on a great cruise on the Disney Fantasy with my dad. So great in fact that when I got home I handed a packet of cruising stuff to my mom. I was like "Mom, I didn't get you a souvenir, instead you can get your own." Picked up a dummy date (a cheap cruise date as far out as you can get it. Typically this is a 3 day cruise. You can keep the perks of booking on board, and change where/when you are going.) and told her to pick where and when and I'd pay for it. It was going to be a "Mommy/daughter cruise." And then somehow my uncle (who I don't get along with) got invited to come along (Mom wanted him to come and I can't say no. Guess what I learned how to say by the end of this trip?).
Basic details:
Date- 4/20/13
Location- Eastern Caribbean---> Saint Thomas, San Juan, and Castaway Cay.
Boat - Disney's Fantasy.
Here we are at the start-ish of our journey. I was a little tired and overly caffeinated. Oh and I was being very nerdy.....
We stayed at the Hyatt Place North West in Orlando, Florida. It was like 3 miles from the airport. They have a shuttle to/from the airport. There's an excellent breakfast in the morning and it is within walking distance to a number of chains for dinner after a long flight. There's a shuttle to/from Port Canaveral that you can add to your room reservation. I think for 2 people in a 2 queen sized beds room with round trip shuttle for 2 was like $200. If you add another person it's $55. Disney's shuttle from the Hyatt in the Orlando airport is $35 per person per way ($70 per person round trip.). The perks about the Hyatt Place is the convenience and simplicity. But if you have an early check in time to Port Canaveral, it's not the best. The shuttle was supposed to arrive between 11am-11:30am. It showed up at like 11:45 and didn't leave until closer to noon. We got to the port at 1ish. This picture shows how much luggage you can pack if you go through Southwest.
On paper and in Walmart 2 weeks before the cruise matching yellow Hawaiian t-shirts sounded awesome! In reality? We looked like dorks. I will say though I did pick yellow as a color I wore off the boat a lot for a reason. My uncle likes to walk away (he's with it, not confused.... just think the world revolves around him and has ADD in the bad way...), so I would wear yellow to be easy to spot in a crowd. Oh! And this is my mom!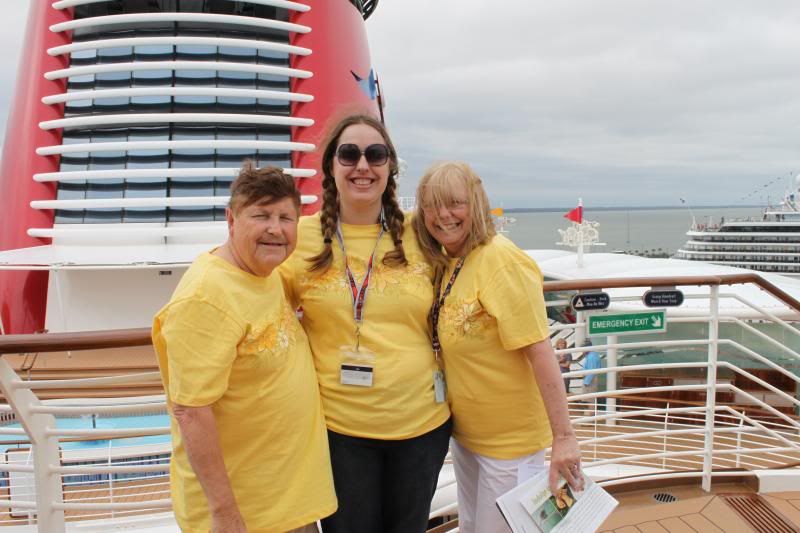 Finally on the boat! It was really cold in port. Like 50 degrees and rainy cold.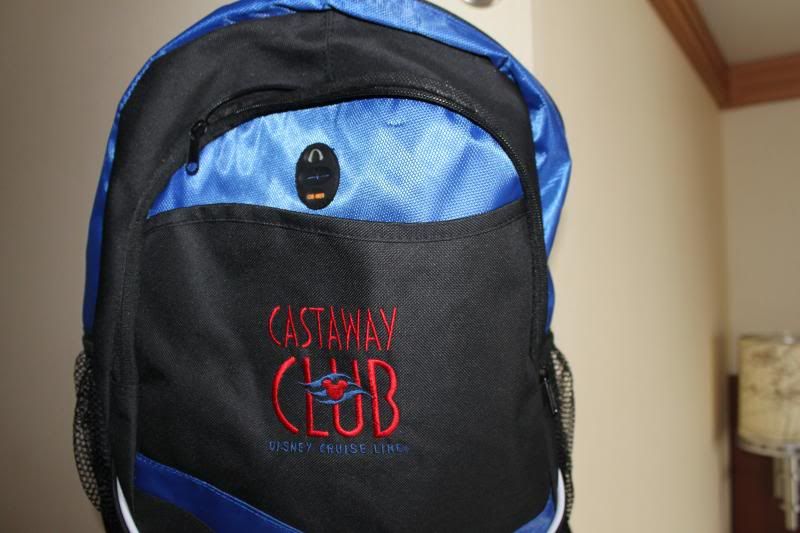 You aren't allowed into your room until like 1:30pm. And when I walked in this is what I saw. There are very (underline that a few times) few times when your childhood dreams come true and this was one of those moments. Growing up I wanted to go on Disney cruises (back in the Big Red Boat days), but my folks have 3 kids and my folks were very "let's go on cultural vacations!". So taking myself on a Disney cruise is a big deal for me. Being a frequent Disney cruiser and joining the Castaway Club, I cried. And it was a moment. Even now writing this, I get emotional because the 10 year old Kim would be doing back flips if she could see this.
Originally I had booked a 5E room, which is a back of the boat extended balcony room. The downside of that room is you would get a lot more movement and soot from the smoke stacks. But then I saw I got upgraded to a 4E room and I was scared. I called Disney and tried to change my room (on the map it looks like you are right above the theaters, that you are in the pit of kids clubs, and it would be constant noise). This room is one of the hidden gems of the ship. Giant balcony, the kids clubs are really far away, and it's nice. The balcony is double the size of most and I paid less money.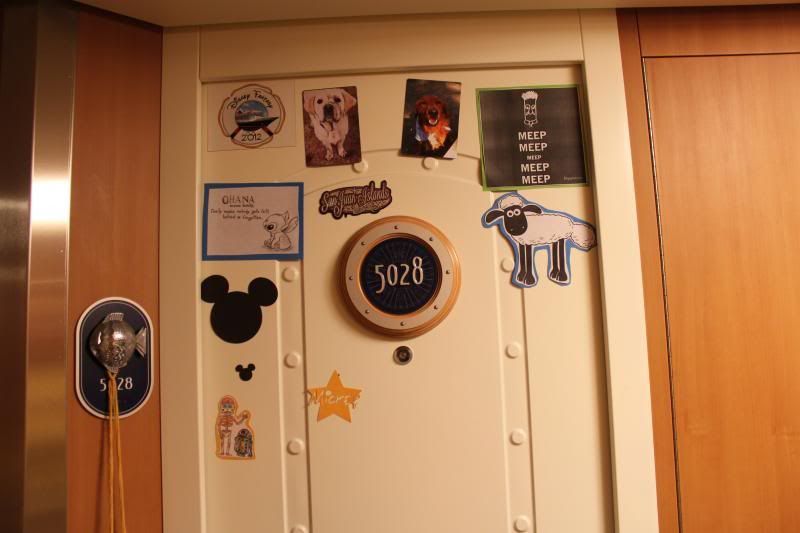 Door. You can use magnets to decorate the door. But let's repeat it's magnets only! Only magnets! I saw a door that was covered top to bottom with those expensive scrapbooking stickers stuck to the door. OMG, I nearly had a heart attack thinking of the cost to that guest! I made a magnet of my tattoo so I could always find my room (the sheep). And there's a magnet of my facebook picture (the lab puppy), so people could recognize me.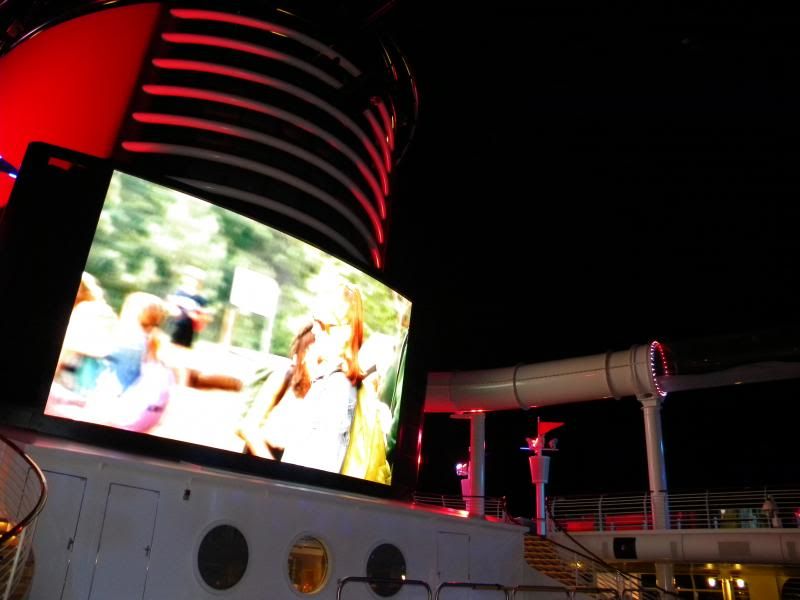 If you have a chance to see a movie go to Funnel Vision and watch a movie! I watched "Remember the Titans." Best thing to do. (This movie is "Parent Trap.").
My teddy bear, Radar, at Currents bar. He may have gotten a wee bit tipsy.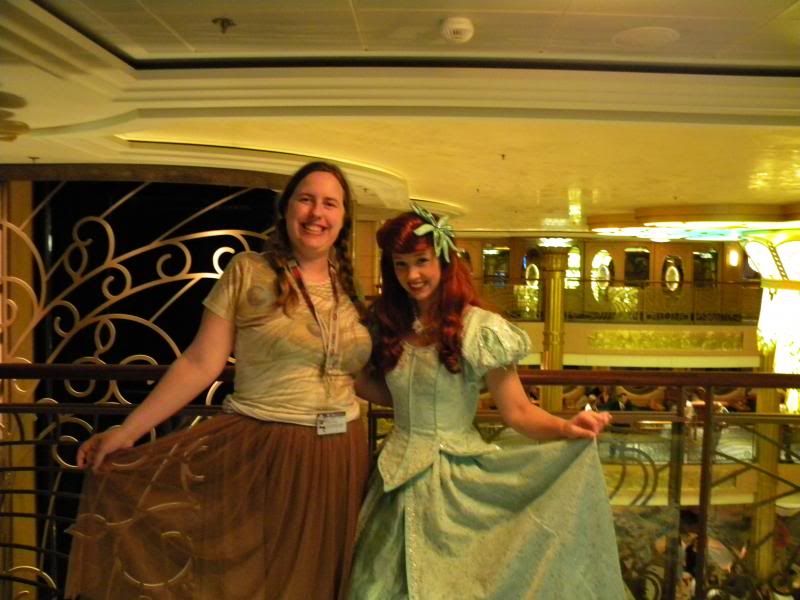 Princess night! I've never gotten all weird with characters but for some reason on the Disney boat because you see them so much you talk to Ariel, you talk to all the characters, and it's really fun! Oh! That skirt is from Modcloth.
More coming up! Including how I got black and blue...