All over the Internet trip reports from this year's Westbound Repositioning are developing. And here comes another one!
I'll start Chronologically, and to keep
Olympicnut
happy I've really cut back on the thousands of pictures I took.
Day 1 - Orlando, Port Canaveral, and the Magic


We arrived really early Saturday (1:30 AM) at MCO after some delays flying in from San Jose. We woke up our 'Zoner roommates Kevin and Shayne when we came in because we were too excited about the next day's events.
We stayed at the airport Hyatt, and apparently so did many other cruisers. The drill is that with Disney Cruise tags attached, passengers leave their luggage outside their hotel room doors and the Disney company arranges the transfer of the luggage to the staterooms. It was an interesting image to see rows of bags sitting outside most of the doorways. But I had no time to set up that picture as we were off to breakfast and an east coast – west coast meet in the lobby.
•The Entrance to the Hyatt
• PB and SummerInFL
•East Meets West - Dr. Earkid, PB, Wolfie, SummerInFL, Villians Fan, Disney1978
•DoomBuggy, SummerInFL, BrerRabbit, me
After the minimeet, and some breakfast, we checked in at the cruiseline desk, and headed off to our transportation
•Anne and Shayne - ready to board the bus to Port Canaveral
•Anne slept during the ride. Too much excitement already!
•There it is! Our first glimpse of the Magic! At this point I started taking way too many pictures
•Us noobs spent a long time in the terminal getting oriented. No, Wolfie's not a noob, she's just there for some contrast
•In the terminal was this nifty scale cutaway model of the Magic.
The cutaway was on the starboard side - our side.
•Joe starts the entertainment early. At this point I still don't know him, but it looks like Anne is learning quickly.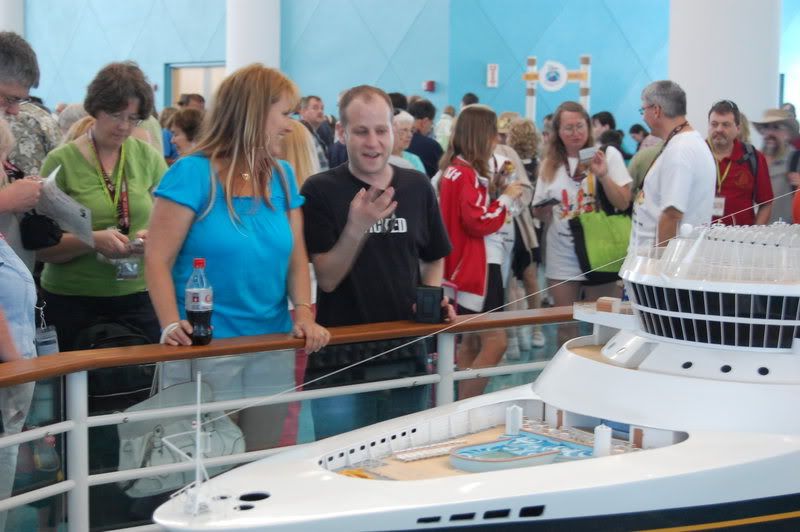 •In the terminal, before we boarded...
Finally our boarding group was called and we boarded the ship. It was fun to have our names called out as we boarded and to be greeted by the staff.
Next we headed up towards the lunch buffet at the Topsiders on deck 9. We had a decent seafood lunch, and got our first exposure to the evil desert table (insert dramatic music here). Banana Cream Pie. never had it before. I'll have it again. Someday.
Our stateroom was ready by 1:30, so we headed down to the 6th level. I poked my head outside to take in the view and watch the loading of luggage and so forth. I lloked to my right and saw...
•Our neighbors, Shayne and Kevin!
•Anne and Shayne create their plans
Our bags arrived soon after, so we unpacked and relaxed a while before heading to our first dinner at Animator's palate.
After dinner, there was some drinking which lead to drunken Scrabble in the Diversions bar. Everyone's a winner at Drunken Scrabble!
I'll post more tomorrow - and I'll try to wrap this up faster than one entry a day
-Westley