As you may have heard, a group of us from MiceChat and other assorted boards went on the repositioning cruise together from May10-25...count em', 15 whole days of cruising the Caribbean, the Panama Canal, and Mexico!
We went to 5 ports: Castaway Cay, Aruba, Acapulco, Puerto Vallarta, and Cabo San Lucas.
Some of us left Friday and stayed the night at the Hyatt hotel in the Orlando Airport. Here's a picture of the front. The hotel lobby is on the second floor. The first story is the security check for boarding, so the line you see in the second picture (taken from the elevator) is the travelers waiting in line to go through security prior to boarding: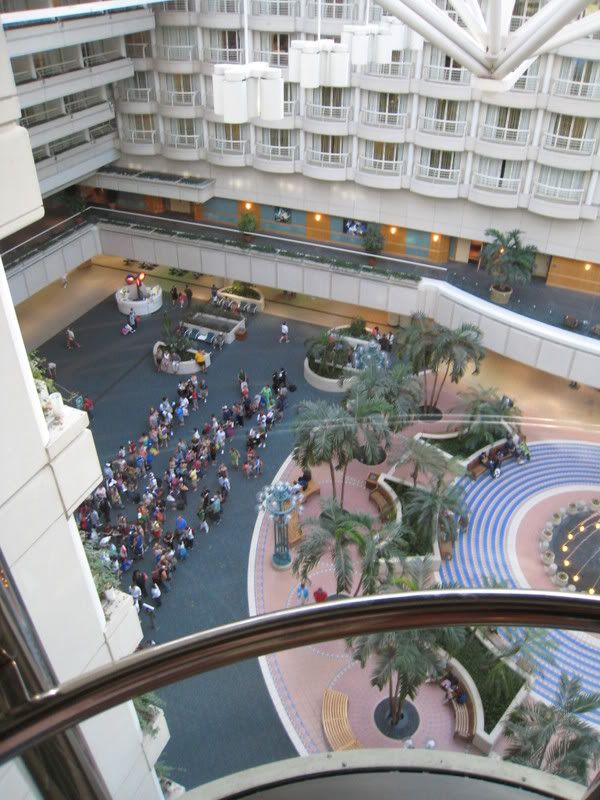 Here's my first glimpse of Mickey, through the fountain at the airport…I knew I was on my way!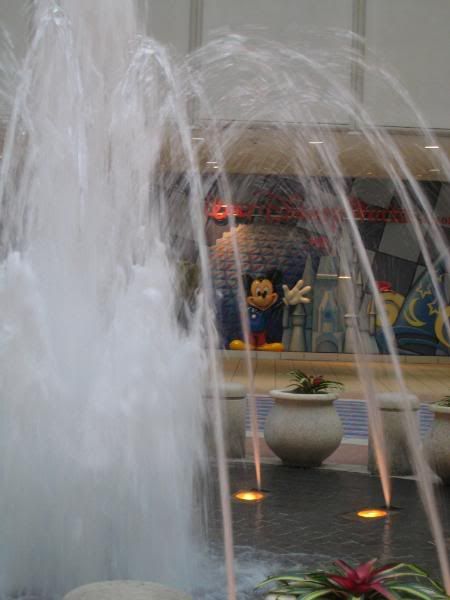 Here's some of us as we're getting ready to board the bus that will take us to Cape Canaveral (Me, Wolfy999, GoofyGolfer, Earkid, and Princess Buttercup). Do these look like excited people, or what?!?!?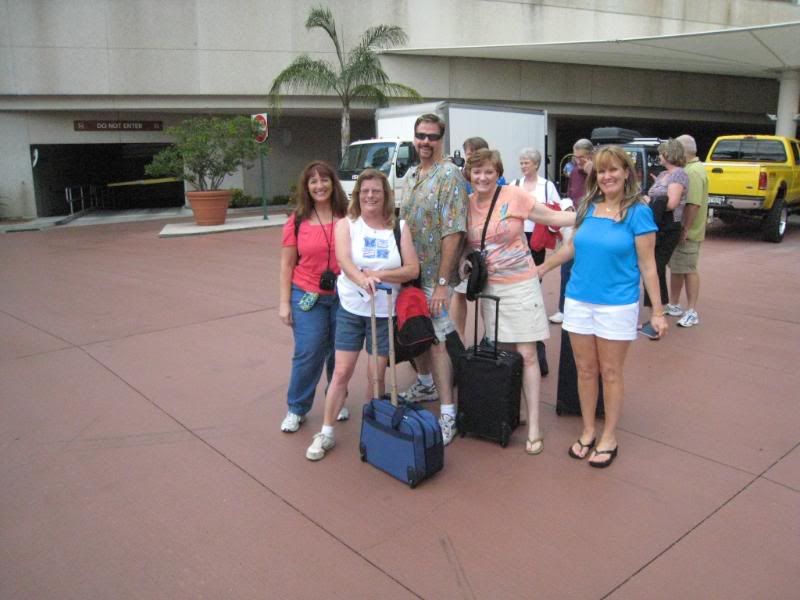 After about a 30-45 min ride, suddenly, there she was..our home for the next 15 days....The Disney Magic!!!!!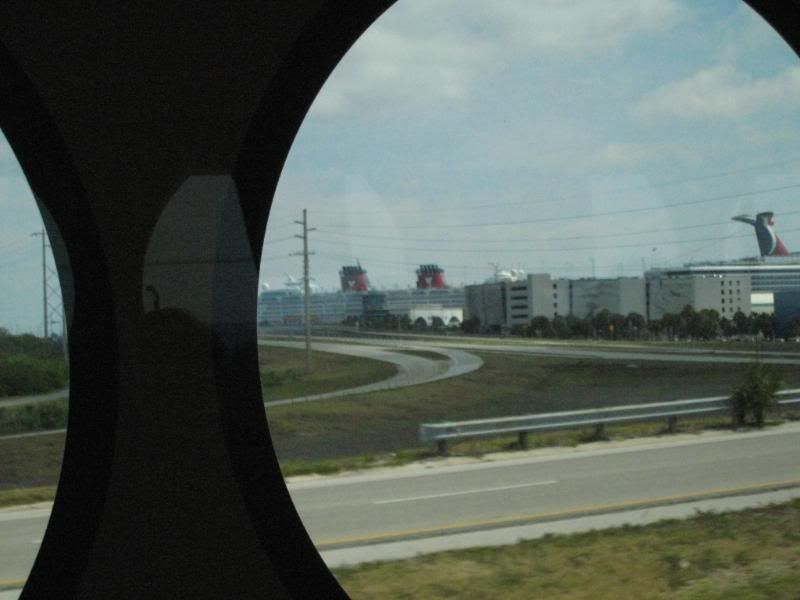 The ship terminal (I love the Mickey hands on the clock):
Here we are all checked in and ready to board:
(alphabassetgrl, Wolfy999, Goofygolfer, and Earkid)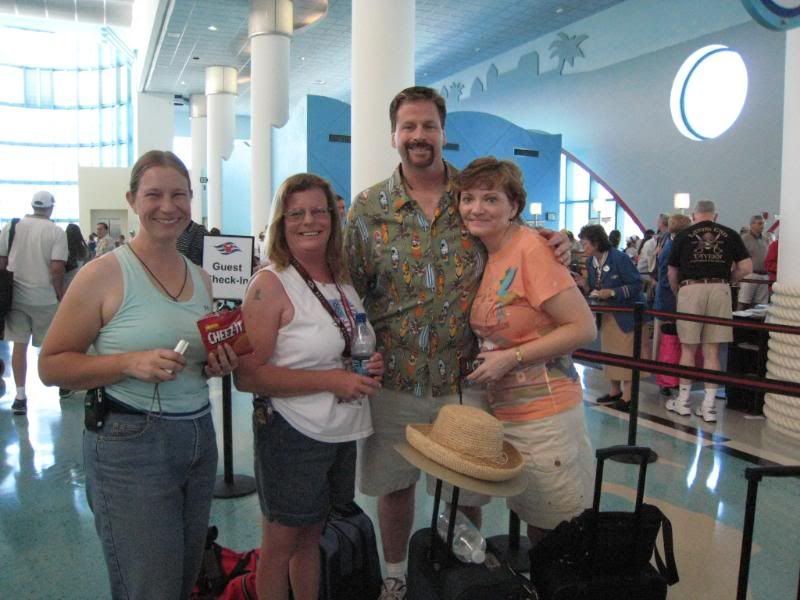 (Westly, Disneyphile, alphabassetgrl's husband, and Disneyphile's Dad)
We made it on board!!! Here's our room (the beds were later split into two twin beds with the nightstands in the middle. I have been on a few cruises and can say Disney has the biggest rooms I've ever had on a cruise. Even the shower was a reasonable size.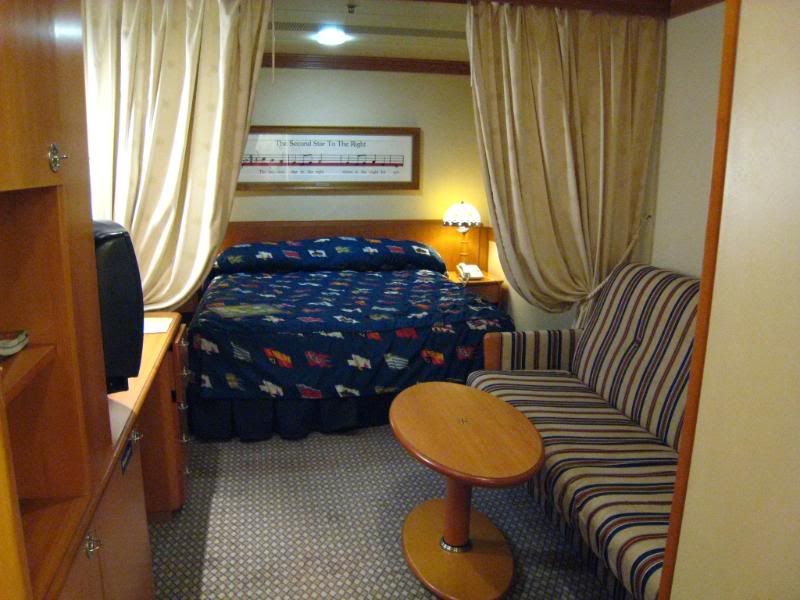 Next up, a tour of the ship...
The Adults only pool:
The Family Pool: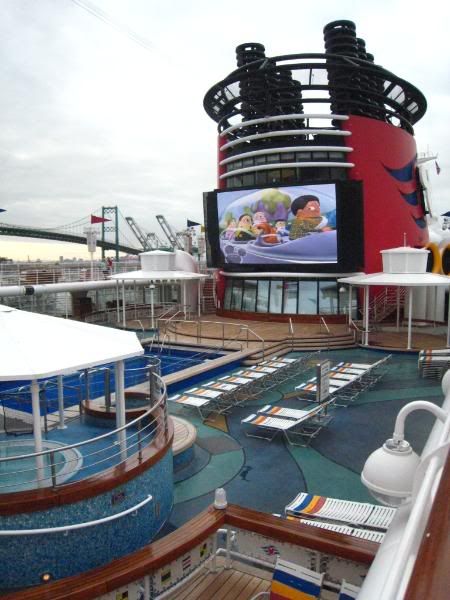 The Kids Pool:
The Crew's Pool:
Beat Street, the main hallway leading to all the Lounges: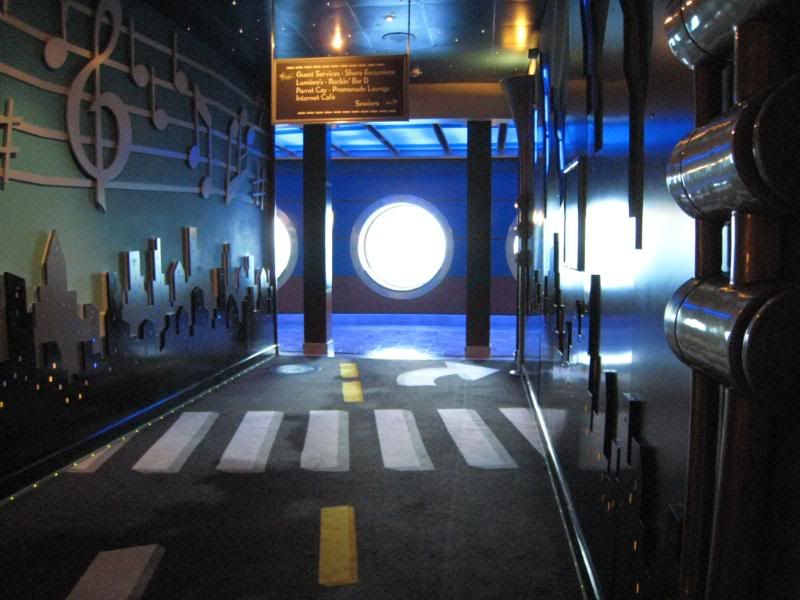 One of the Lounges (Sessions), where they played piano music at night: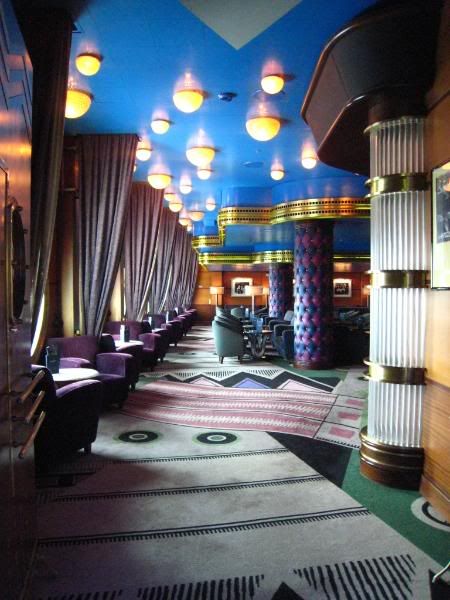 Tiled picture of Walt outside the Walt Disney Theatre:
The main Atrium (usually there's tons of people, but this was taken late at night):
And looking down from up above:
Mickey statue in front of one of the dining rooms, Lumiere's:
Enough touring, before we can leave it's time for the dreaded lifeboat drill. First this ear-piercing alarm goes off and everyone meets in their designated area clad in their lifejackets:
Chernabog and skywaygrl look mighty dapper in orange: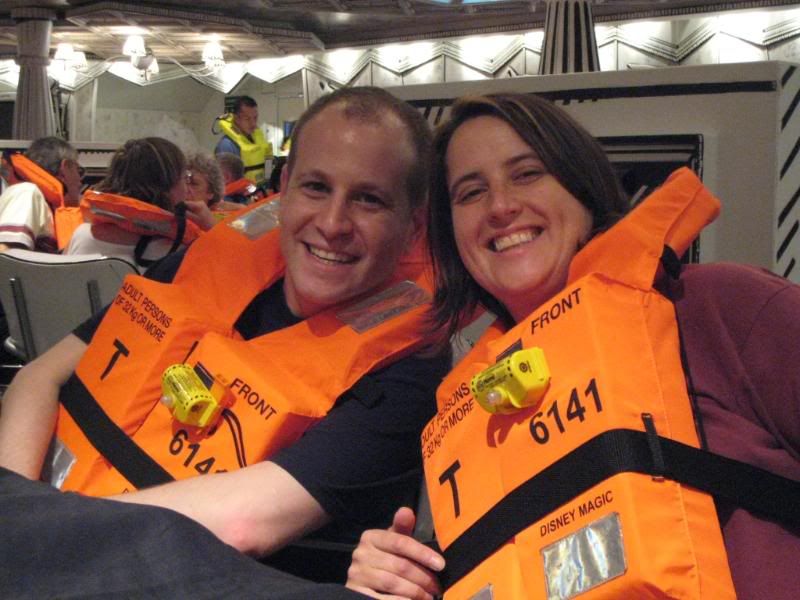 And of course not to be outdone in our lovely shade of orange are Wolfy and me:
That being done, it's time to say goodbye to Florida :wave:
And now it's time to party...let the fun begin!
Next up...day 1 at Castaway Cay