Finally have got around to writing up this trip report, after being soo busy/ill over the Christmas holidays and only really recovering now.
December 4th:
Caught early morning Eurostar direct to Disneyland - train was fairly empty, which surprised me somewhat - but I had booked to leave on the thursday as tickets were cheap, so I suppose it follows that its not a busy time.
Arrived at DLRP at approx 1pm local time and browsed Disney Village shops for an hour or so whilst waiting for our room at the Sequoia Lodge to be ready (wasn't ready until 3pm and we wanted to get our bags etc safely into the room before heading into the parks).
Rain was pouring down heavily upto this point, but upon completing check-in and walking to the park - luckily the rain stopped.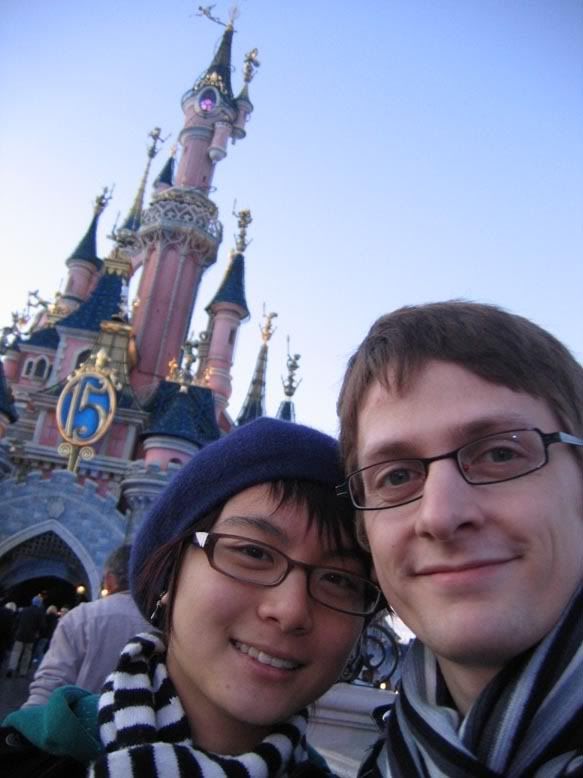 The park was predictably empty on a weekday, so we took a very casual approach and took time to appreciate the smaller details etc, and not rushing to cram in so many rides.
- I really dislike this parade. Its a very cheap concept and I thought it wouldn't last long, but another year passes and its still here.


As it was midweek, it was a fairly early closing night, so we headed to Disney Village to eat at the Steakhouse. We ordered the cheapest Steaks on the menu (I think) and they were still very tasty and much better than what you generally get in England. A chef behind us prepared Steak Tartare at a table behind us - I cannot see how people can eat that!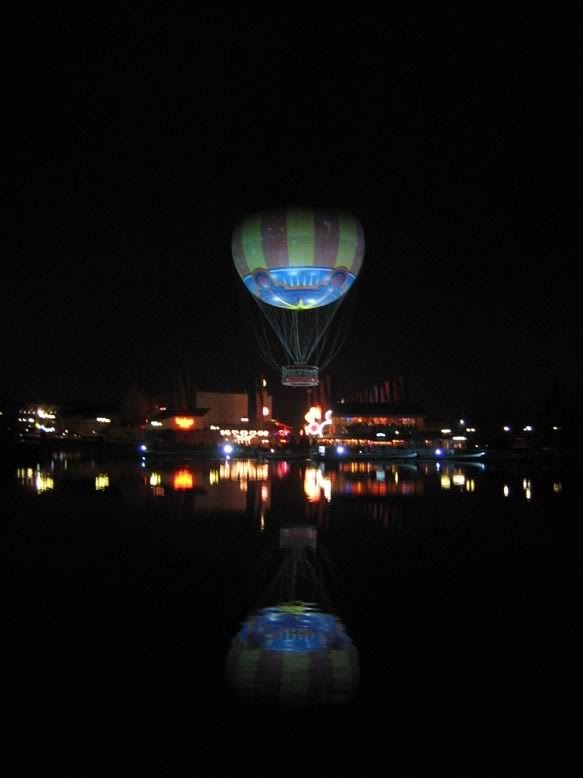 -One evening it was quite windy and the balloon was being blown from left to right quite heavily - whilst carrying passengers - I wouldn't have liked to be up there then. Here is a more peaceful moment.


So back to our room - which was a Montana room. Sounds good right?
Well, not really - ok, you get a super kingsize bed, but this leaves the room looking very empty as there is little other furniture! We were also on the ground floor, so no view to speak of, apart from bushes.
December 5th:


Allowed ourselves another very leisurely day as again, the park was quite empty on a weekday. Got to ride the main street bus - which I haven't managed since probably the 5th anniversary year!
- Photo taken from the top floor of the main street bus. Gives you great photo spots!


Popped over to the Studio to do the rides we were interested in before popping back, but even on a slow day, Crush was at a 45-60 minute wait. After missing out on thursday and friday, queues only got bigger, so we never actually rode Crush this trip!
- I'm so glad the Cars billboard is down now, but why is the Studio 1 frontage still an image on a screen rather than just the front wall? Saving on a new paint job?


-
It's so hard NOT to get a good photo of the ToT.


At lunch at the Cowboy Cookout Barbeque, and just timed it right to see the Billy Hill band as we ate. The singer, Fiddler and guitarist were all American and seemed to have a good time singing both traditional western tunes and Christmas Carols. Tried the festive burger - consisting of prime beef hachet, sauteed mushrooms and a tree shaped raisin bun. Very nice!
After leaving the parks, ate dinner at the Yacht Club, which despite being 90% empty, was turning customers away as they were "fully booked". They really need to address their table booking system here is thet can happen - the majority of tables were empty for our entire 2-hour meal.
Anyway, shared a HUGE commodores platter and ate far too much Seafood. We were scared at the amount of eating implements given to us, but turned out we needed them all! A very daunting meal, but very fun.
- We had already eaten at least half of the food at this point!


Upon leaving the restaurant, I could swear I heard the Disneyland Railway hooting and screams, coming from the direction of the park. but wait a minute, its a friday. The park closed at 7. We were there when it closed! Now its 10.30!
We were intruiged now, so head off towards the park. We asked a cast member at the park gates what was going on - he spoke little English, but we could gather it was a French Airline exclusive night for French citizens? It had been advertised in French newspapers apparently. So, of course we walked quickly around to the side turnstiles and swiped our entry tickets - and it worked, we were in!
This was an amazing Disney experience for me personally. The park was open until past 12.30 at night, each land seemed to have a live band playing to entertain guests (as I assume they expected big crowds).
- A Jazz band at the entrance to Frontierland. Crazy, but fun.


There was also a gospel choir on main street bandstand singing carols.
We got to ride the Haunted Mansion and Pirates of the Caribbean at approximately midnight - amazing! And then - fireworks!
I hadn't seen fireworks at Disneyland for years, as hadn't been during the really high season. Ok, due to regulations, they don't put on a very good firework show anymore - but it was still a nice thing to witness again after so long.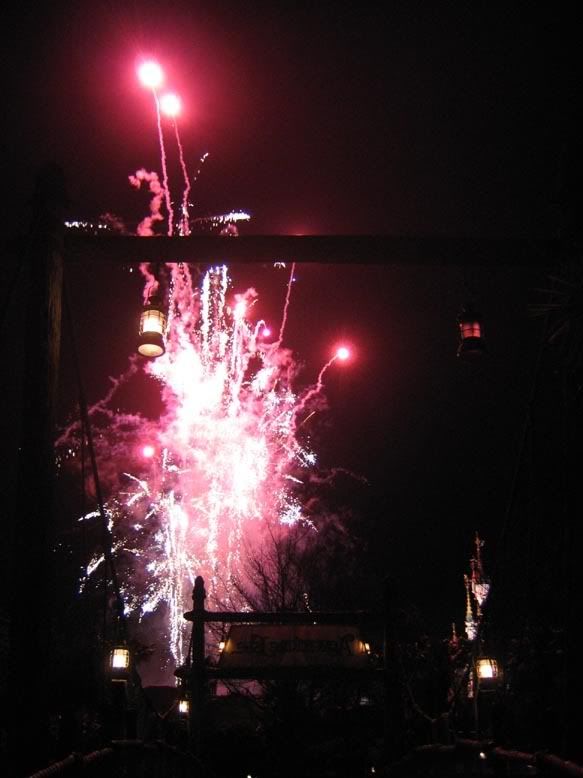 - Fireworks over the castle, viewed from Adventure Isle


An amazing night, I loved riding Haunted Mansion at the witching hour!

December 6th and 7th


Not too much to write about these two days as the park was jam-packed from opening saturday, til around dusk on sunday. We got nothing done. I believe Disneyland Park was at capacity on Saturday - it was horrible after being there for two slow days previously. We rode the Storybook canal boats - made the special effort as it was only operating at weekends over Christmas - and its a great little ride. But precious little else was ridden on saturday. We even resorted to watching the Disney Channel in our hotel room as my partner was not feeling at all well after all of this.
Sunday was much of the same, until sun down, when things began to become bearable. Sunday was momentous for the simple fact we were eating dinner at Walts. I have visited DLRP on more than 10 ocassions, however this would be my first visit to Walts restaurant.
I was very happy with the meal. The setting is magical - it needs to be experienced. We were in the adventureland room and were surrounded by concept art and trinkets, themed to the land - one table appeared to be a tent straight from Arabian Nights. The food was great too - I loved this place.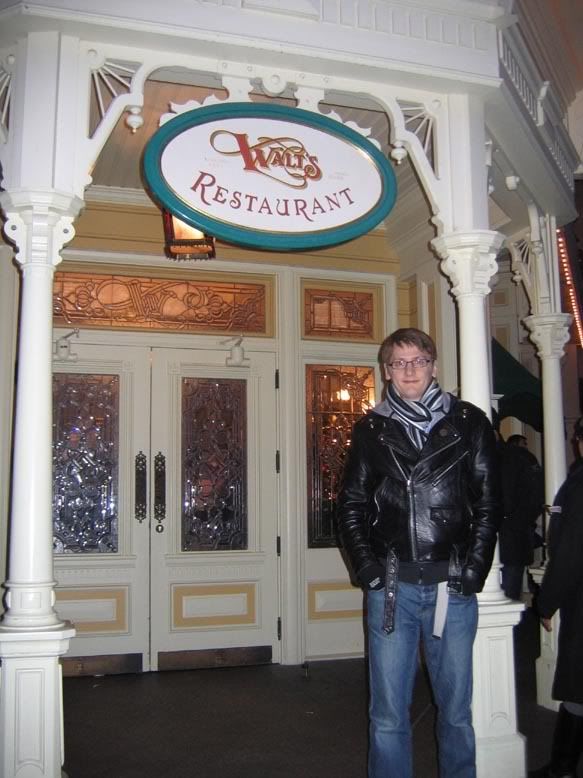 After dinner we managed to make up for the lack of rides the last two days and went crazy, riding as much as we could before closing - later as it was a sunday.
December 8th


We were surprised, but monday was still quite busy - I suppose a lot of weekend packages allow for at least partial entry on monday.
Finished up all the rides we hadn't yet managed to do, and as we were getting our Eurostar back at 8ish, didn't think we would get a proper dinner - so pigged out at lunchtime. So, we went to Walts again! This time we were in the fantasyland room. the food was even better today. I need to come back here to eat in the remaining themed rooms!
Also, in the shops, noticed somebody I had never seen before
.
Bernard and Bianca "Rescuers" soft toys! I was really tempted to get these toys from what I feel is a forgotten classic, but managed to restrain myself. Was nice to see though!
Also, there was just enough time today for another first. My first visit to the Blue Lagoon restaurant. After a heavy lunch, we went for an early, light dinner - just getting starters and desserts. It is definately an experience eating here, and the food was very exotic - but having Pirates of the Caribbean riders yell "bon appetit" was not a lot of fun. Ruined the mood a little. Still, I enjoyed it very much and will no doubt visit it again in the future.
Too soon it was time to wave goodbye to Disneyland, after a very up and down trip - mainly thanks to the insane weekend crowds - we were very tired out.
Managed many things I had wanted to try for a long time, but was also disappointed by other things - such as the fact that I am a shareholders club memeber, yet Salon Mickey was never open at any time during our trip!
All in all though, had a lot of fun and lotsssss of good food!