Alright, so it's time for another trip report. I'm never sure how to approach these things. No one wants to read your itinerary, after all. Unfortunately, I also have the world's crappiest camera, and no eye for photography. Oh, and nothing particularly interested happened on the trip, either. So why am I writing a trip report? What could I possibly have to report on?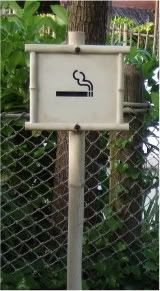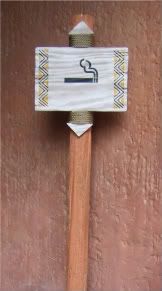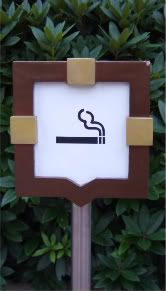 Ah, stupid details. There we are.
ON SMOKING:
Let's start off by revisiting a familiar subject. With the new ashtray-less trash cans and newly gussied-up smoking areas, the resort seems to be aiming for a smoke-free future. Guests still largely disagree. I asked a very eloquent Cast Member at City Hall about the state of things, and he replied that while they had originally planned to truly restrict smoking to the designated areas, guests had shown a lot of resistance and because they did not wish for the parks to have too much of a militant atmosphere, Cast Members are not supposed to reprimand rule-breakers. "Zis is Europe, sir." Which is of course very difficult to deny, and quite understandable. But, he added, they are still moving towards implementing the rule American-style in the long term. I wish them the best of luck.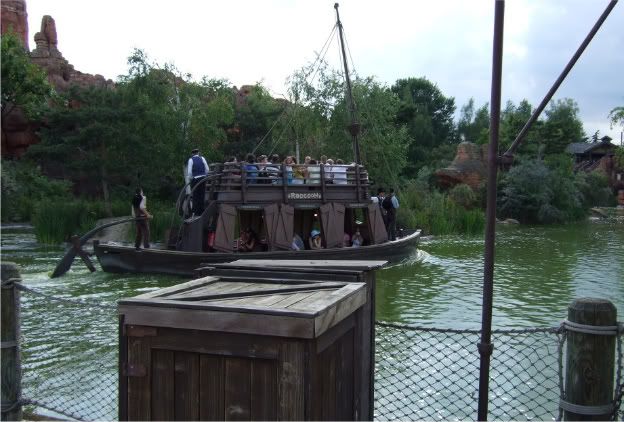 ON GUESTS:
First of all, there were many of them. June isn't yet high season, but perhaps it should be. Saturday was the kind of day on which you had to queue up for pretty much everything; Restrooms, drinking fountains, ATMs. There were traffic control Cast Members near bottlenecks. All I could think was that if the resort isn't doing brisk business nowadays, they won't ever.
On the subject of xenophobia, there seemed to be a lot more Mediterranean guests than usual. I have no problem with this whatsoever, but it must be said that certain cultural differences are striking. The Spanish and the Italians, on the whole, appear to me extremely caught up in the pursuit of their wants, needs and rights, seemingly convinced that everyone around them is actively trying to keep them from these. I was forever standing behind people at check-out counters who were not so much paying for things as interrogating cashiers.
"Oh, so this is my cheeseburger," they seemed to be saying about what was put on their tray. "So I'm just supposed to believe that there is a cheeseburger in this box. Is there cheese on it? What about meat. And pickles? And ketchup? And lettuce? HA! There is no lettuce on a cheeseburger. I have outsmarted you. How do I know that there is a cheeseburger in this box and not some crumpled up newspaper pages with feces shmeared on it?"
Now I don't actually speak Spanish or Italian, so it could have been something else altogether, but what else could be said about a simple fast food order?
Then on the Tower of Terror, a Spanish woman became convinced that I had taken her seat belt. At first she yelled at me and poked me, then called a Cast Member, yelled some more and pointed vigorously in my direction. Obviously, I had not taken her seat belt. She was sitting on it. But when this was brought to her attention, she acted as if nothing had happened.
I'm sure it's all harmless, much like the old scenario of the northern European and the southern European at a party, the former constantly trying to gain personal space while the latter keeps trying to close the gap. It just depends on what you're used to.
On the positive side, they now ask people not to use flash photography on Phantom Manor, and people seemed to listen. I hope they will do the same on Pirates of the Caribbean soon.
Fun.
ON CAST MEMBERS:
Let me start by putting the following anecdote out there. In the loading area of Pirates of the Caribbean, I got a trifle presumptuous and perkily said, "one please," while levitating toward the boat. Unfortunately, the boat was full. What the Cast Member said next begs to be repeated. "Ze boat is full. You see, zere are twenty-four places on this boat, and YOU, monsieur, are number twenty-five. Do you see how zat works?" (Wide-eyed, flapping hands, his face close to mine: ) "EET'S MAAAAAGIC."
He is my new favorite Cast Member in the resort. Someone bring him a prize. I couldn't see his name tag, but if anyone is familiar with the Cast Members on Pirates, please send me a private message or something.
It's undeniable that the French are a highly sarcastic people. A simple "merci monsieur" can carry up to fourteen shades of passive aggressiveness. The matronly clerk at my hotel managed to convey up to eleven. They are so skilled at this, however, that it's a very becoming, admirable trait.
Although there are exceptions. A lovely French lady actually told me to have a nice day. (The Cast Member at the Tip Board.) I've come to accept that the French find this sort of behavior artificial and unnecessary, and see their point, even, but it was nice. Although not as funny as the sarcasm.
ON FOOD:
In the 15th century, when this lady was drawn, sirens were believed to lure and kill men. The natural next step was to use the etch as the corporate logo for a chain of coffee shops.
A carnivorous entree. Tip: You can get those grill marks using a waffle maker.
ON MAINTENANCE: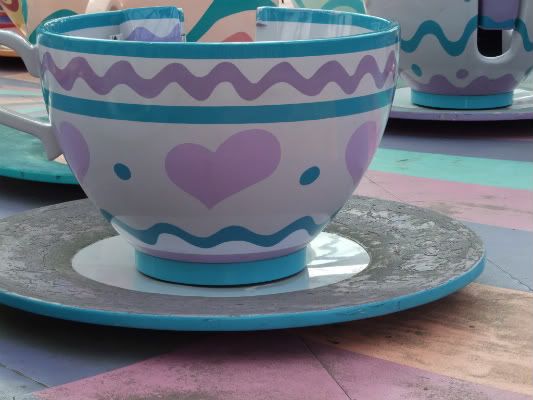 Bad.
ON MICKEY'S MAGICAL PARTY:
This paragraph won't take long. It's a disgrace. The castle decorations look hideous. The ones on Main Street are worse. The festivities are universally unamusing. The whole thing is an obvious, desperate attempt at repeating the success of the 15th, with almost every element of that celebration having a halfheartedly disguised and vastly inferior Mickey's Magical Party equivalent. It's just awful.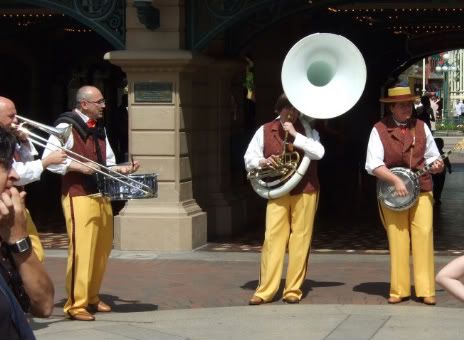 Awful picture. Good music.
ON THINGS I FIND INTERESTING: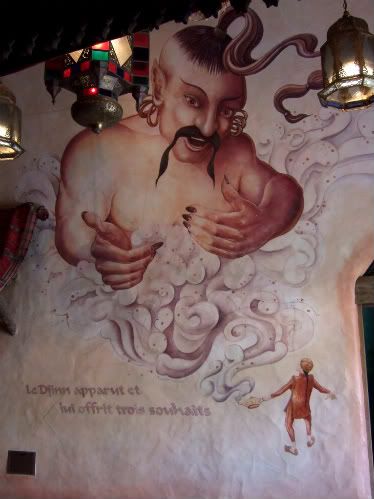 This is one of the large One Thousand and One Nights murals in the Adventureland Bazaar, which predate Disney's Aladdin by a few months. After the park opened and Aladdin hit theaters, they added a walk-through attraction based on it. The result is that you can now find this image of the Genie and Aladdin on one side of the Bazaar, and a mural of Disney's own Genie on the other side.
The older version follows the original story more closely: note that Aladdin is Chinese.
Now tell me that isn't fascinating! (Please don't.)
This was once a hat shop. Don't you wish it were still one?

Some very Splash Mountainish type in the back of Frontierland.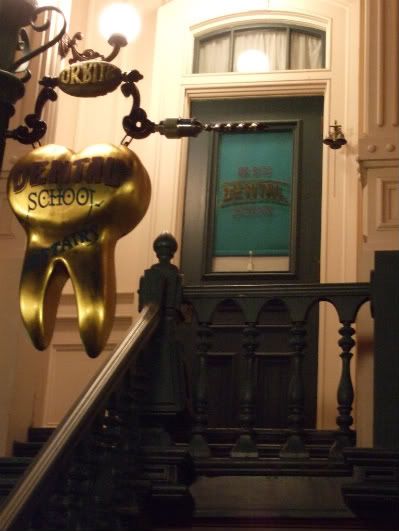 This door and its accompanying screams of anguish crack me up. (Never had a cavity.)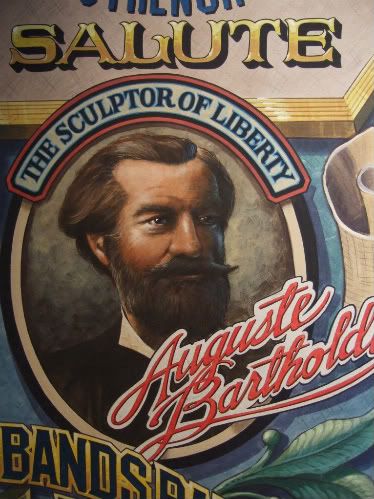 This is a part of the beautiful Liberty Tableau mural (off Main Street.) I noticed a booboo, however; "Auguste" was the middle name of the statue's engineer. His first name was Incidentally, I have two middle names: Anal and Retentive.
This is the only part of Fantasyland visible from Adventureland. It's the pirate ship weather vane on Peter Pan's Flight. Clever.
One day, someone is going to have to come up with a plausible explanation as to why they built 42 ticket booths and continue to update the information on each one. Clearly, they have never needed and will never need more than about six, even on days when the park hits capacity. (The dust and complete lack of wear-and-tear on the outer booths says it all.) At the Studios, they manage with about two. But in any case, they sure look nice.
And finally, the glowing crystal that's visible from within the castle foyer and Merlin l'Enchanteur, as well as the recently fixed waterfall I mentioned earlier. Has this crystal effect been broken for a decade or am I the only person who failed to notice it all these years?
Alright, I hope I've inspired you to go to Disneyland Paris and write a better report.
Also, did you know Disneyland Paris has a castle, rides and other interesting sights, and not just door knobs and table legs? It's true. Perhaps someone else will photograph those one day.
Have a nice day!