Bonjour micechatters.
Went to Disneyland Paris with my significant other for a whirlwind one-day trip March 11th. We only had one day to allocate for the parks (squeezing in seeing both London and Paris otherwise in a pitifully short six day trip). This was my first trip to Disneyland Paris, having visited both US parks more than a few times and having visited the storied Japanese resort just the year prior. I was keen to see the park I'd heard so much about, both good and bad, and compare it to its peers in the Disney Empire.
It was a chilly day, starting overcast and even a bit foggy, with the sun finally peaking out around noon and staying sunny but brisk for the rest of the day. We bought the standard 2 parcs one day pass (I didn't even see that they sold one day one parc passes at the gate) and entered Main Street around 9:45. After a stop at the emporium to buy me a Skellington beanie and matching gloves--I was woefully underdressed for the chill--we made a beeline at rope drop for Big Thunder Mountain, followed by Phantom Manor, Peter Pan's Magic Flight and Space Mountain Mission 2 in short order (all before 11!). Rather than bore you with a play by play, here are the resulting impressions, with a few pics to follow (assuming I can successfully upload them, I'm new to the trip report game):
Crowds:
The crowds were on the lighter side, though nowhere near as empty as I've heard it gets in January. We never stood in line more than fifteen to twenty minutes, with the longest wait of the day being Crush's Coaster, and that, at most, registering roughly 25 minutes.
Food:
With only one day to spare for the experience, we didn't have time to visit Walt's or any of the more praised establishments, so we just made do with what was relatively quick and nearby when we happened to be hungry. We ate at the Studio Backlot for lunch (meh) and Casey's on the way out (double meh). The food quality for counter service was about the same level as the American parks, which is to say bland, but neither of us are particularly difficult to please when it comes to food, being, after all, ravenous mega-portion swilling Americans.
Ride Quality:
Though the parks are suffering from a relative want of rides quantitatively, I would say that with few exceptions, the Paris park has some of the best rides in the Empire. Phantom Manor (now quite possibly my favorite 'mansion'), Cinemagique (quite enjoyable, though being an American several of the film clips were unknown to me, and I'm a massive film fanatic), Crush's Coaster (short, but damn fun), Big Thunder Mountain (the conventional wisdom holds here, it is the best version worldwide) and Space Mountain Mission 2 (painfully rough, but the effects and visual stimuli make the American versions look like a wild mouse in a warehouse with the lights out) are particular standouts. Even rides more or less the same as the other versions, Peter Pan for example, have impressive fiber optics effects lacking in their predecessors. Neither I nor my girlfriend can be said to be fans of It's a Small World in any incarnation, but we both agreed the Paris version if the most tolerable we've rode. Pirates was closed while I was there, as was the Nautilus walkthrough, so I'll have to return some year to evaluate them.
Maintenance:
Everything in the rides seemed fairly well maintained for our trip, though, being my first visit I wouldn't have the frame of reference to note if they were in disrepair compared to prior times. There was chipping paint and everywhere cracked, potholed, bricks-missing grounds in plain view, but I saw none of the overflowing trashcans or blatantly malfunctioning effects I've heard so much about.
Guest Service:
Cast members seemed friendly enough, with the ride ops on Tower of Terror being the best, though, as with any Disney resort, some were better than others. We visited New York City in October and since then, even the curtness of French clerks hardly raises out eyebrows. Even if they're visibly annoyed, at least they acknowledge your presence, which is better than the service I routinely get in the states.
Walt Disney Studios:
There's little criticism I can make that hasn't already been made in gratuity, but having actually seen the park now I can attest that it really is lacking in just about every sense. The rides it does have are great, but the atmosphere is minimal at best, and the park just feels hopelessly small; more like a themed land of a bigger park than a park itself. Suffice it to say, it needs years and years, and millions, if not billions, of euros worth of work.
Overall, it's a fine resort, and really deserves more credit and patronage than it gets. Every resort has its attributes and detriments (even the fawned over Tokyo resort has its share of shortcomings, yes, including the sacred cow DisneySea), and Disneyland Paris is no exception. But its more than worth at least a day sidetrip for any foray in the area, nicely augmenting the standard holiday regimen of museums, historical sites and binge-eating.
Some pics:
Yes, the banners are gone from Main Steet:
The best castle in the Disney Parks Empire: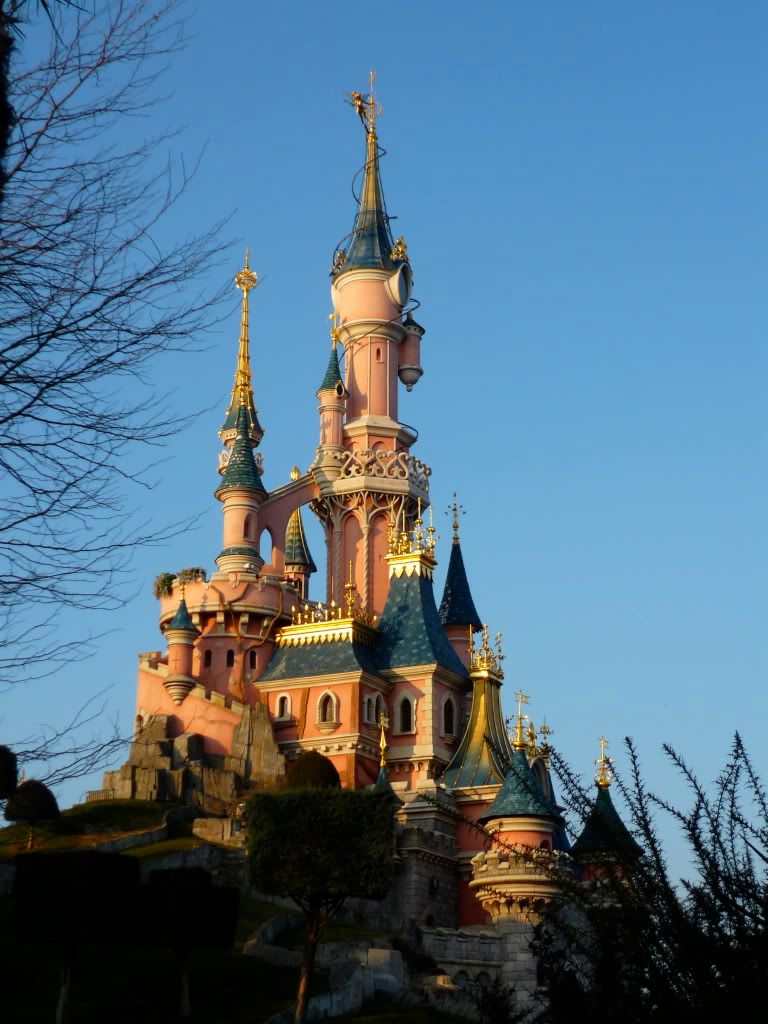 And a goober in front of it: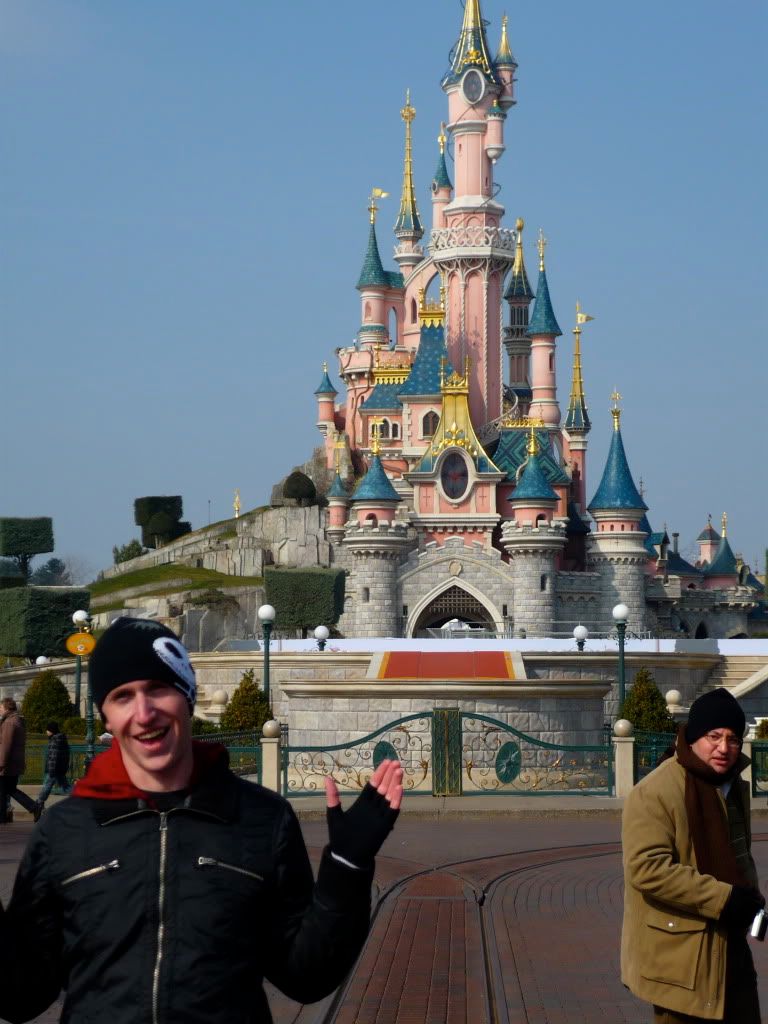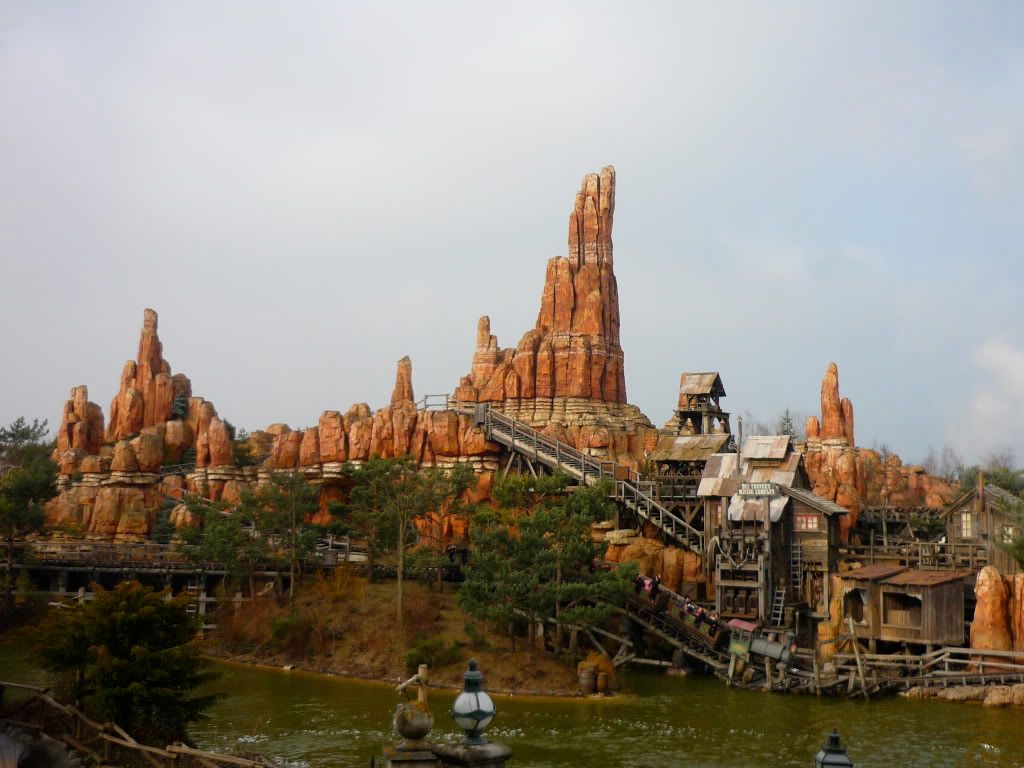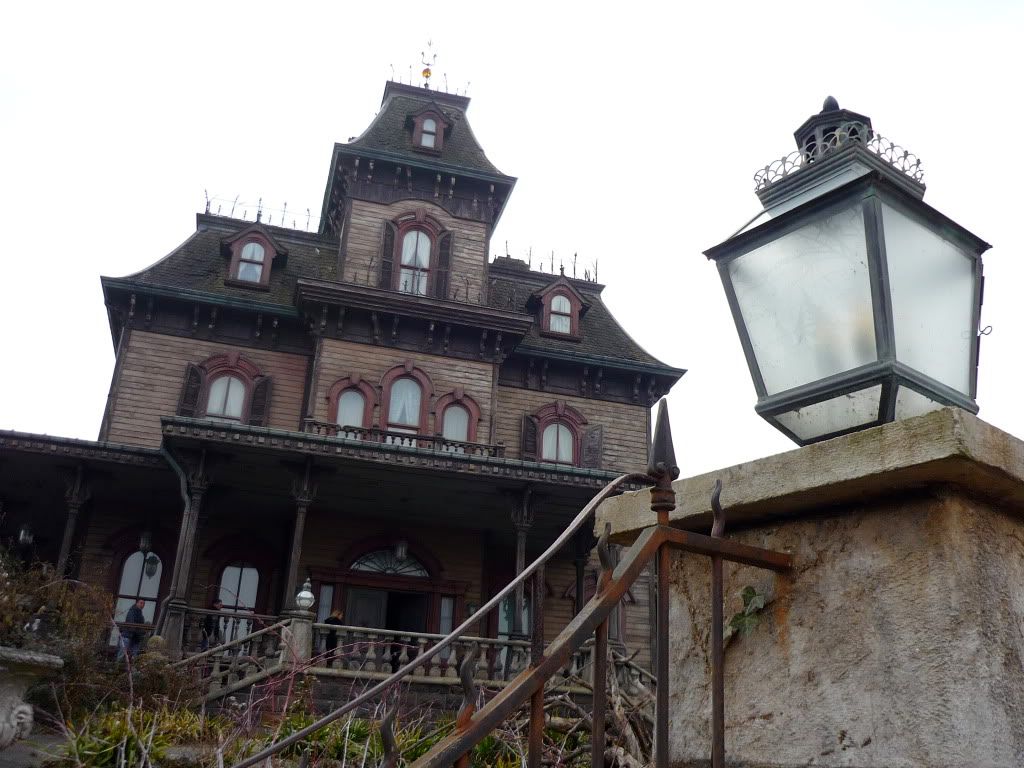 I love how even in the cold weather, using cold-hardy bamboo, palms, and shrubbery, Paris' Adventureland is still green: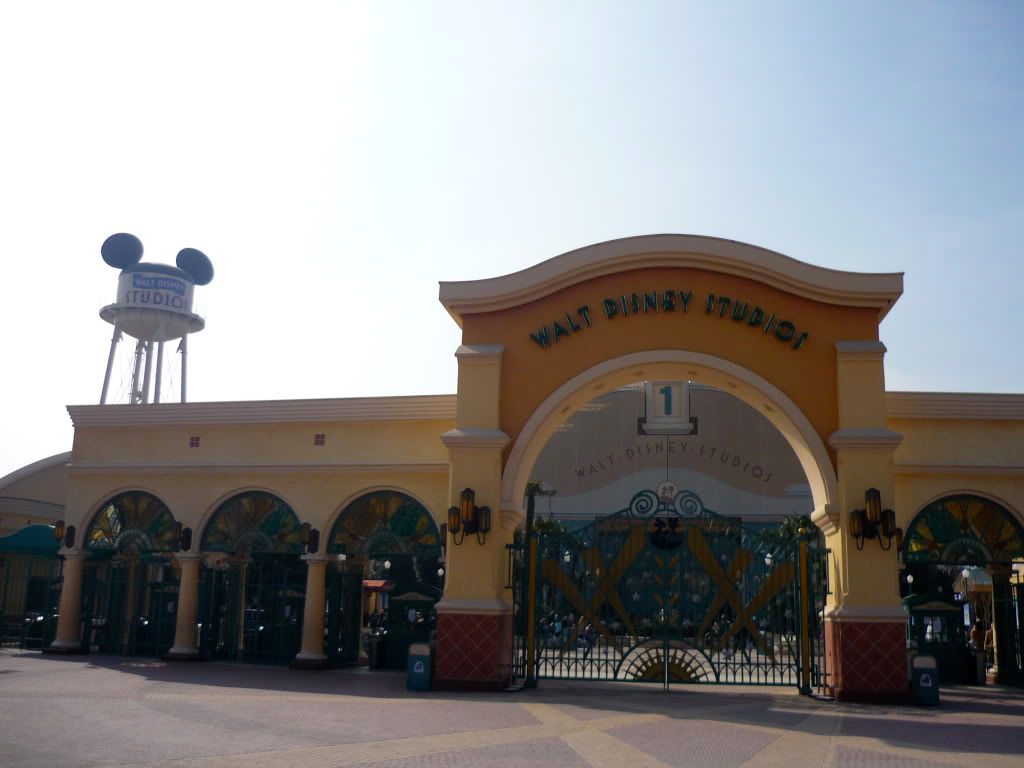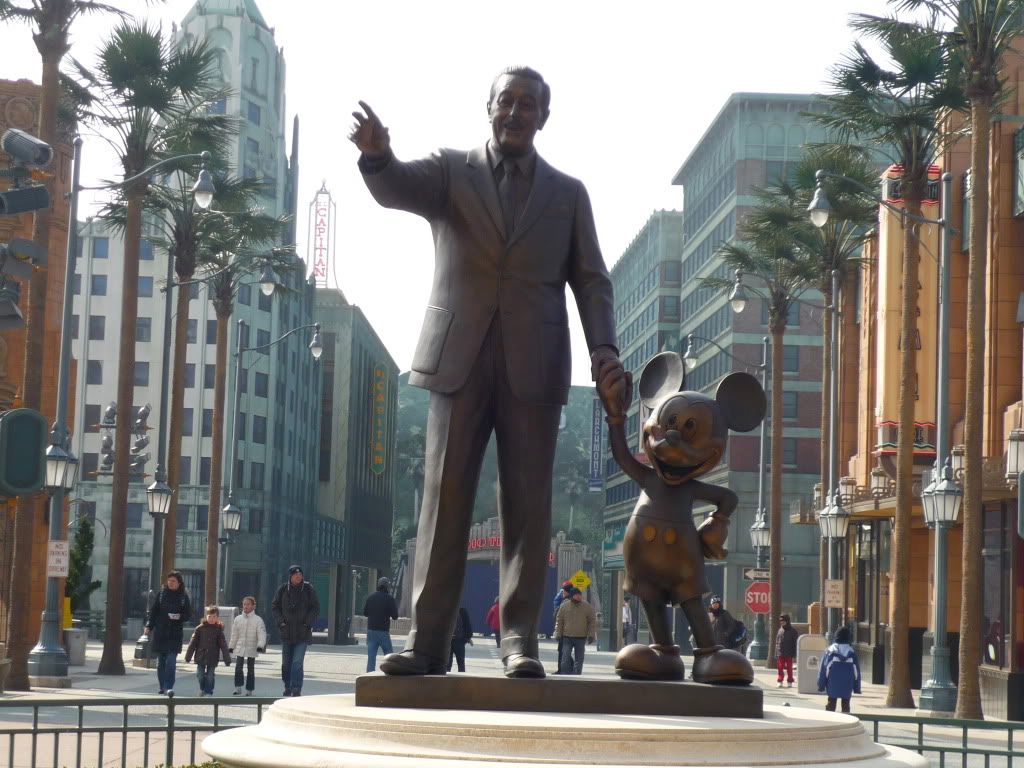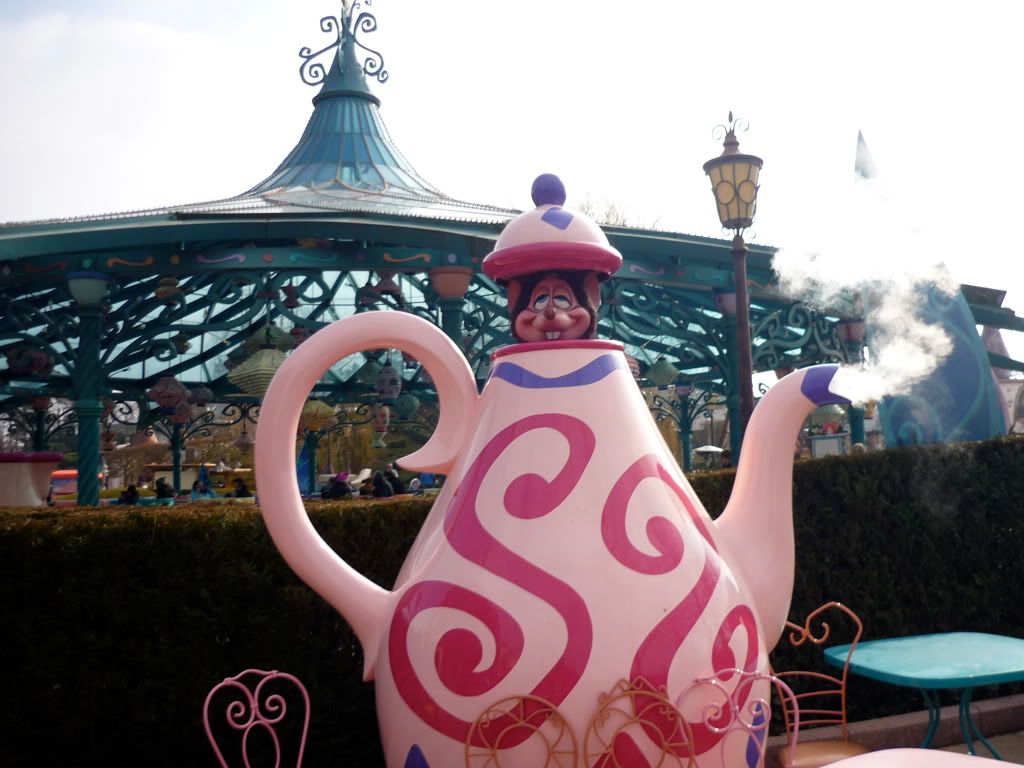 Something you never see in the other resorts: Frozen waterfalls!