Main Street 1920's concept early draft and construction panoramic pictures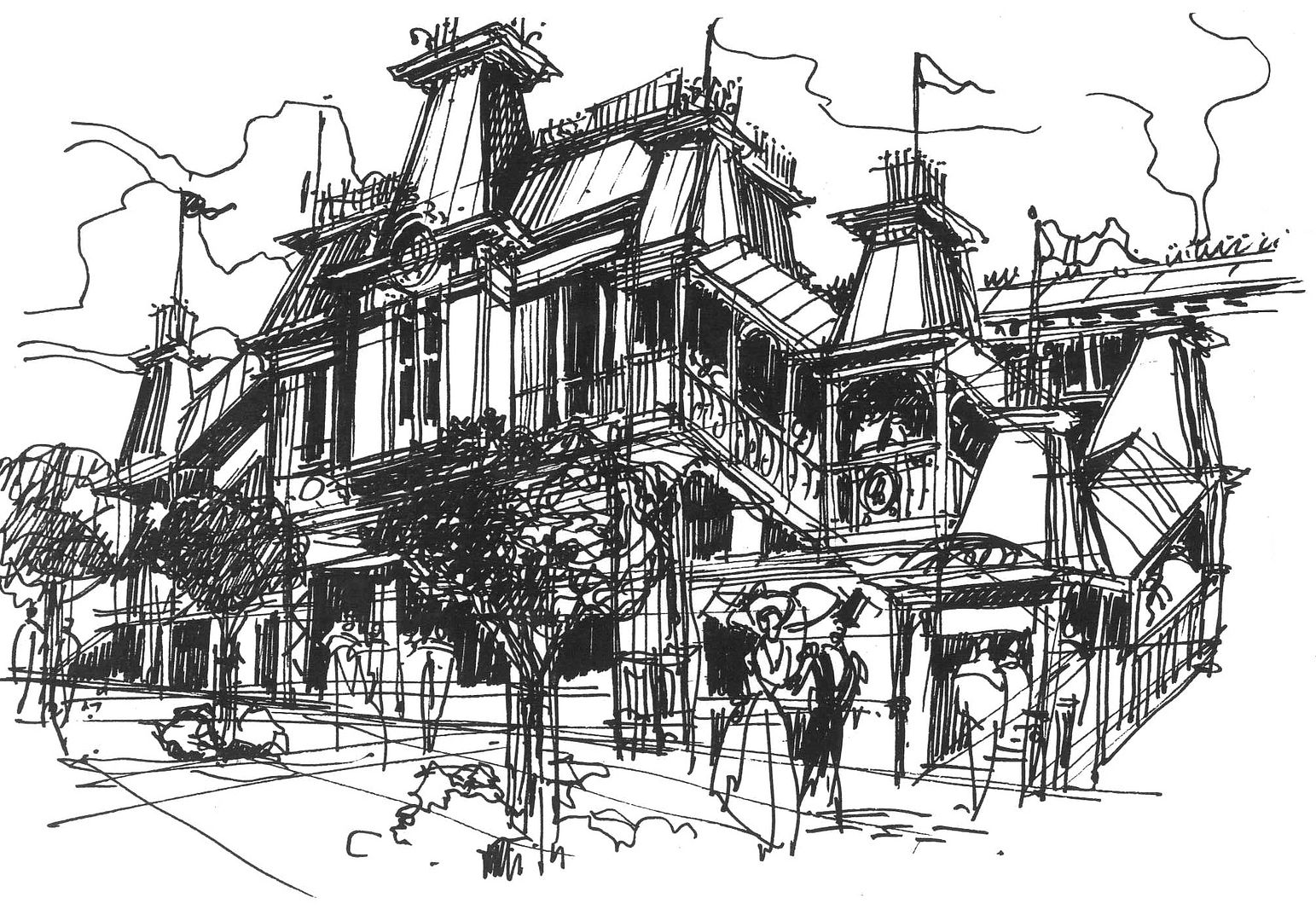 I thought that yesterday's article would have been my last D&M article but I had last evening a great surprise in my mail box with a mail from Eddie Sotto, show-producer of Main Street U.S.A at Disneyland Paris.
In the Disneyland Paris that never was Part 2 and 3 articles Eddie explained wonderfully what would have been Main street U.S.A 1920's first concept. Eddie found back the early draft of this 1920's version who describes in details what Eddie envisioned, back in 1987. It's a fascinating document as we discover what
could
have been Main Street shops, restaurants and attractions if this 1920's version has been chosen. In addition, Eddie also found great and never-seen-before panoramic pictures of DLP Main Street U.S.A's construction and the rare artwork above showing the EL Station, Main Street Station for the elevated tramway that never was. Here is the kind email from Eddie Sotto:
Alain,
I was going through a box of old papers and ran across this 1987 memo and some photos. You have written so much about the Disneyland Paris that never was, I thought you'd enjoy sharing this early draft of what the 1920's Main Street could have been! there were many more drafts after this for sure, but it's fun to see what was being talked.
Here are some images from the summer before we opened from one of those kodak single use panoramic cameras. You'll notice the elevator cab for Walt's Restaurant was being threaded (brown box on it's side) through the doorway , stained glass and all, long before the doors went in to seal the space. The white surfaces you see are the ornamental pieces and primed moldings, some made of MDF, a pressed board material that although inexpensive, expands in the rain and bursts apart. So a year later much of that was to be replaced.
Eddie Sotto
Let's begin by the Main Street 1920's "script". Click on each image to see the three pages in larger scale.
Jump to the full article to discover this never-seen-before document and Mainn Street construction panoramic pictures!:
http://disneyandmore.blogspot.com/20....html#comments