An accident has just happen at Big Thunder Mountain in Disneyland Paris. There are people injured. Rocks have fallen on the train in the third lift. The attraction is now closed.
EDITORS NOTE
We spoke with our correspondent in Paris, Alain Littaye, here's what he sent us:
Apparently a serious accident happened today at Disneyland Paris Big Thunder Mountain. Five guests were injured, including one seriously, when one of the fiber glass rocks which moves during the lift C fell down, hitting the guests in the train.
Last news are saying that a piece of fiber glass and wood fell at about 2:50 pm onto one of the train wagons. A 38 years old man was seriously hit on his head and was evacuated at the Beaujon hospital in the town of Clichy-sur-Seine. The man supposedly has a cranial traumatism which can be really serious.
Four other people were slightly hurt and been looked after on location, in the park. Apparently they were released back in the park after, which would mean they are not too badly hurt. Of course, Big Thunder Mountain was closed immediately and will very probably remain closed while police and park can conduct an inquiry and determine that the ride is safe.
For those of you who don't know what is the "lift C" it is the last lift, the one in which you have false rocks moving and the gold mine appearing as it is shown on the WDI rendering below. Of course the rocks aren't supposed to really fall, they're just moving. Except that today one of the rocks really fell down, unfortunately this occured when the train with 25 guests aboard was inside the tunnel.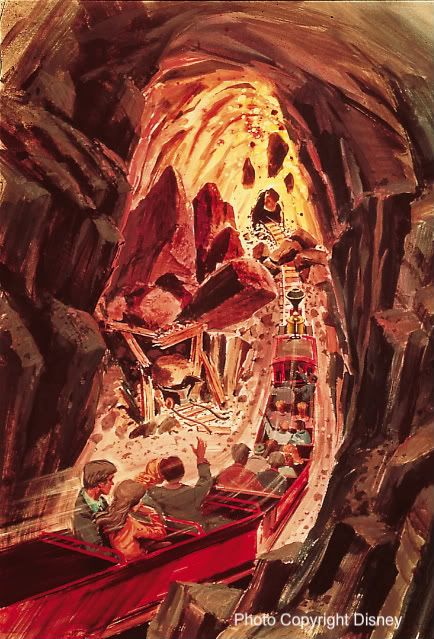 I will have more news tomorrow about this accident tomorrow.