Hey people
Sorry about the delay with the trip report but been kind of busy lately before summer holidays. But here it is.

DAY 1
This was my 3rd summer trip to Disneyland Paris, after 1994 and 2007. Since now i'm living for a year in France it is very easy to get do DLP. Or so I thought lol. Took the train early to arrive at DLP by lunch time. But unfortunately a tree had fell on the track so I got stuck in the train for 2 hours before arriving at Paris. It was 3 pm when I finally arrived at the Santa Fe hotel.
I only stayed once at a DLP hotel, back in 2007 at Sequoia Lodge Hotel. Must say that both hotels are very nice and actually not very differences in both rooms.
After having lunch at Earls (to try it and must say I loved it) I arrived at Disneyland Park. It is always exciting to arrive at any Disney Park. Feells so magical when you step inside. The park was actually very crowded (it was the national holiday in France). First thing I went to see was obviously the castle since now it was completed (meaning not any tower missing).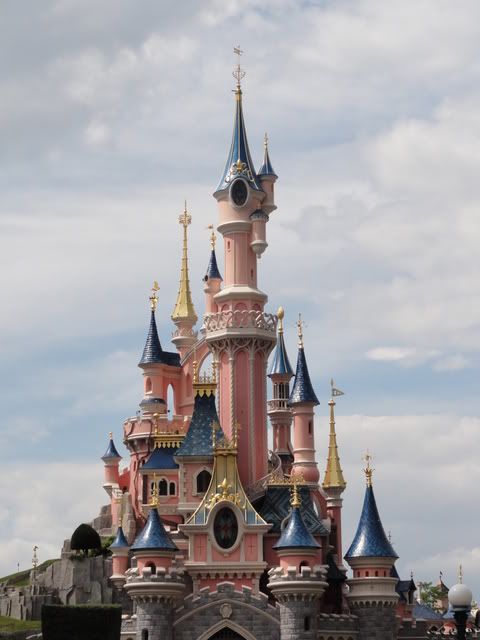 From central Plaza I could see Orbitron, with its planets moving a lot (finally!)
I went for a walk around the park to check things. As I said a lot of people were there which was lovely to see actually. Many greetings with Disney Characters around the park, but one caught my attention, Jasmin and Aladdin. Took some pictures of it but one really got my attention. I love this picture.
From Adventureland I went to Frontierland to ride one of my favourite ride of the park: Phantom Manor.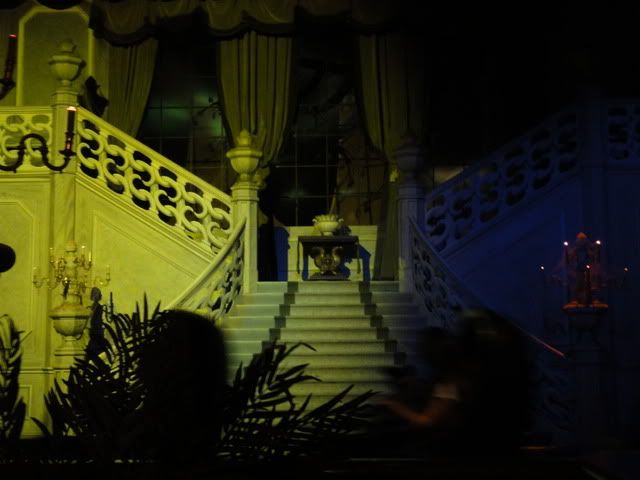 Well the ride was awesome as always but Phantom Manor was having a bit of a rough day. It actually took me 30 minutes to do the ride, and I'm not talking about the queue. Just the moment I step inside the house until I left. They were always saying that the problems were the ghosts and spirits. Well, if it's like that during summer it will take a day to do the ride during Halloween with all the ghosts around in that season :P But still took some pictures and here is one from inside.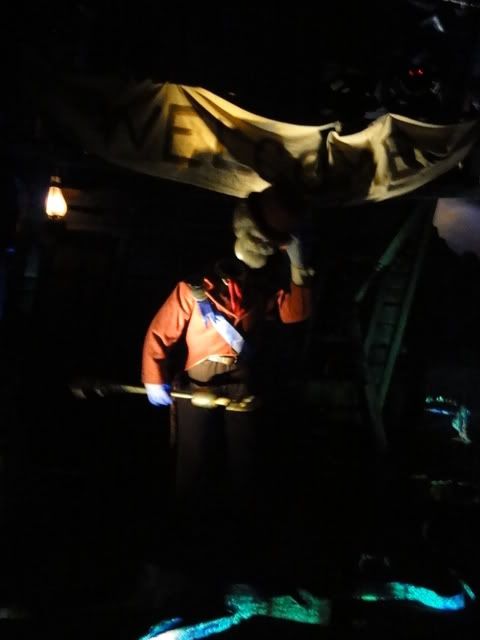 I went next to Pirates. I still prefer this version of the ride to the Magic Kingdom's. But I think the photo should be taken in the first drop which is bigger than in the second). One thing caught my attention. The captains AA (the one selling the girls in town) was malfunctioning and was bend down, looking at the floor and not moving. Not a very elegant position for a captain :P
I ate in fantasyland before the parade and decided to see it from the castle bridge, just to have a different look of it.
Well unfortunately many people got the same ideia as me so I couldn't take a lot of pics but here is one from the begining.
Oh even if the water is green next to the castle it is very clean indeed, even with ducks now hehe: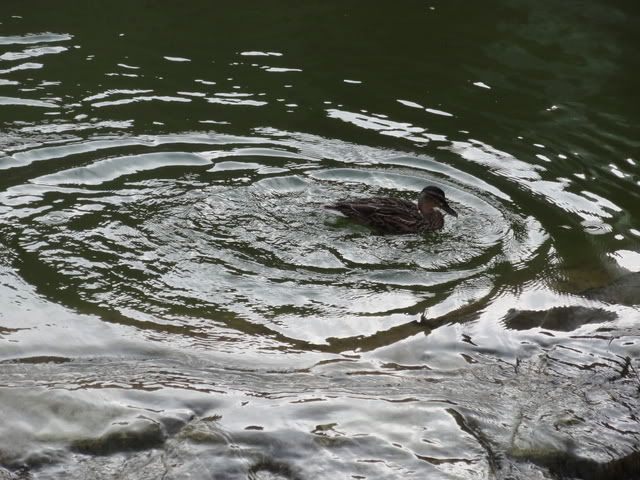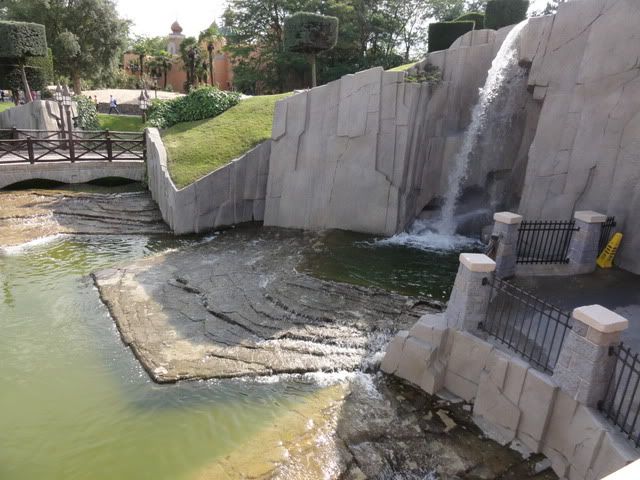 So went for a walk around the park before the show at central plaza, and took some pictures with the sunset and all.
The castle looks indeed great even at the sunset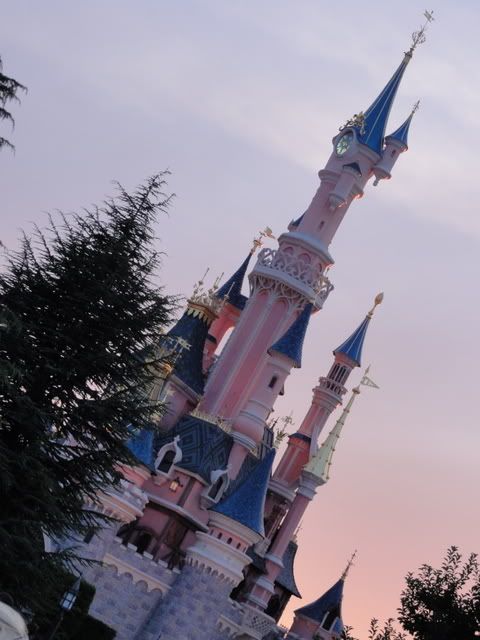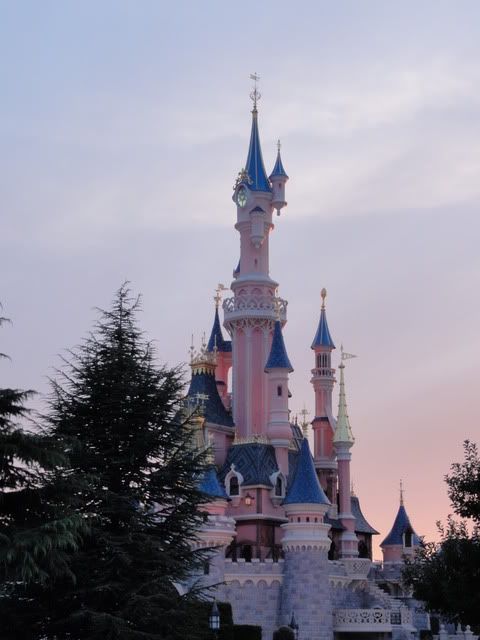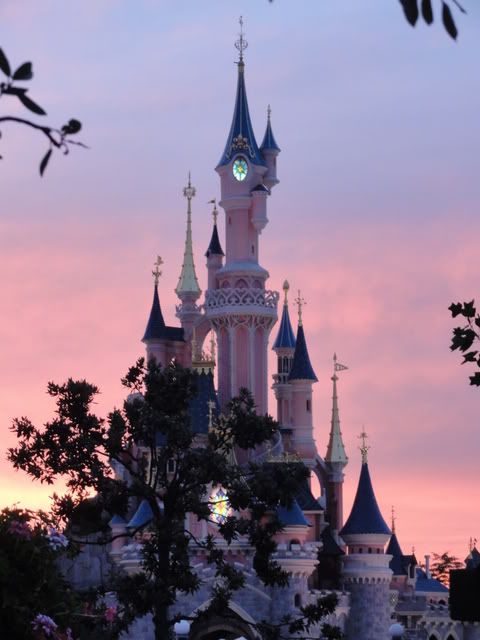 Looking great for tomorrow :P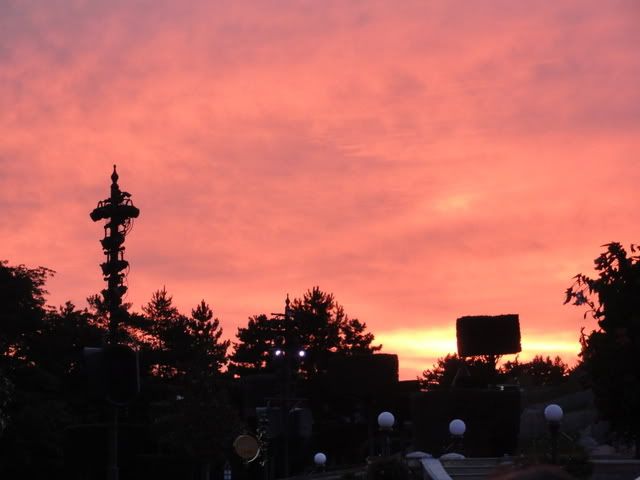 It was then time for the Mickey's Magical Celebration show. I was looking forward to it since it was the first show I would see in the big stage (last year they cancelled during christmas because of all the snow). Here is a vid of the show:
I liked the show I must say. But when you compare with last years, well it's not as good. Using magic as theme they could place there many villans which I think were missing. But nowadays, Disney loves princess so there were a lot there. Also many of the traditional characters like Minnie, Donald and so would find a good place in the show. But yes, the show is great.
After it, I change place (i was standing in front of the central stage before) to see the parade and also the fireworks. I must say I think the schedule used for this summer is a bit tight. You don't have any parade or show for a big part of the day and after 7 pm you get a huge amount of shows all together. They could spread a bit more to allow people to have dinner more quietly. The streets were packed with people before the parade trying to find places to see. And, as usual with European guest, who don't like to wait a lot, people arrive just minutes before the parade starts and want to stay in front of others who are already waiting for hours there. I must say CMs are very patient, because I've seen things that were... well amazing to say the least (even people begging to let them stay sitting on main street because there was no other place).
It was then time for Fantillusion to begin. I've been reading in multiple forums that the parade was having a rough summer season I unfortunatly I saw that also. The parade was missing one float at least ( the butterfly float), the floats sometimes were running, others were almost stoped, and to end it only had one show stop (for me the princess stop). Here is the vid of that night.
It was very sad to see it like that, even more if it is indeed its last year in the park. The parade is already smaller than it was in Tokyo, but still it is a great parade. I was hopping it would be better next day.
It was then time for the Bastille Fireworks. I was looking forward to that since I've actually never seen a firework show inside Disneyland Park using big shells. The only show with big shells I've seen there was fantasy in the sky, back in 1994, but at Lake Disney, which is not the same thing. The show was great and gladly they used the 2009 theme, rather than last years, having a proper finalle. Here is the vid:
I loved it, and although it is smaller that other fireworks at the Magic Kingdom or at Disneyland, I still think it is a lovely show to watch. After the fireworks it was the usual madness of people trying to go out of the park so I waited a bit before going back to the hotel.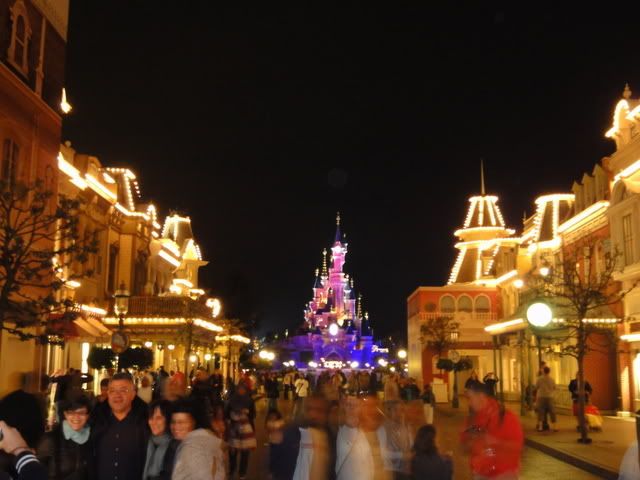 To be continued...