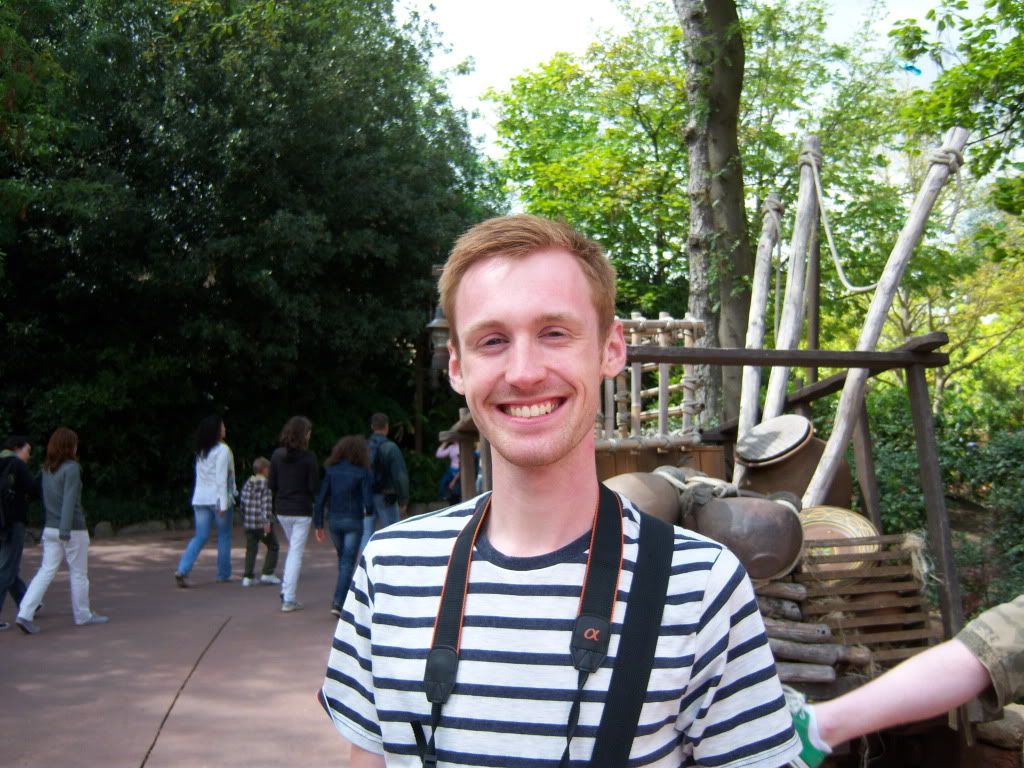 August 7th-10th 2011
So, last week I was outside of the UK and was instead visiting the most magical place in Europe, Disneyland Paris.
I had been to Disneyland Paris a total of 6 times before, and so my 7th visit was more of a chance to revisit old favourite rides as opposed to seeing much new. However, I shall try and cover as much as possible for those who haven't been.
From what I've seen, Disneyland Paris is probably the most beautiful Disneyland park in the world, and has some of the best versions of classic Disney attractions. What it lacks in quantity it makes up in beauty and rejuvenation of older attractions.
DAY 1: Our trip really started the day before, travelling up from home to my grandad's house, where we stayed the night. In the morning we headed to St. Pancras station to take the Disney Express train straight into the resort. We were staying on the Admiral's Floor of the Newport Bay hotel, which meant we would have our bags moved to the room by staff, and could visit the park the moment we arrived in the station.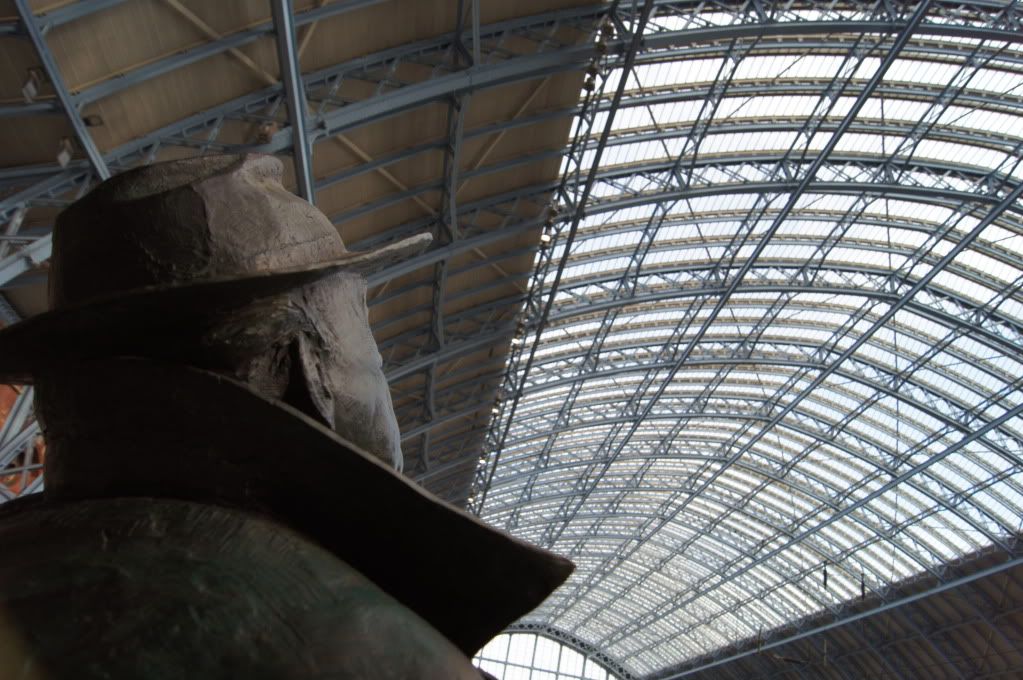 St. Pancras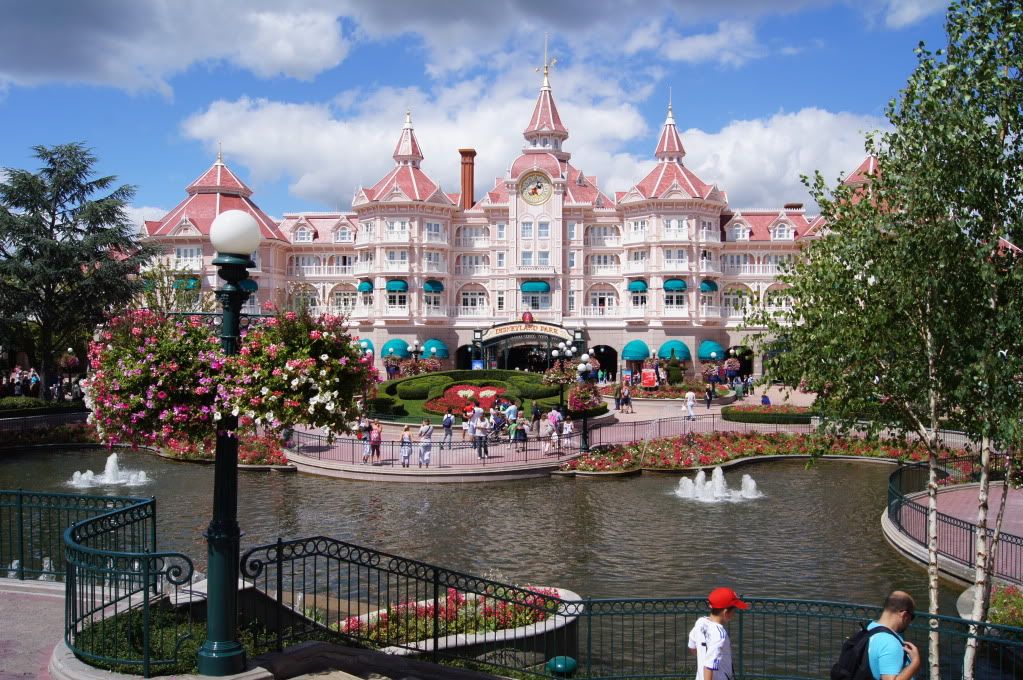 Disneyland Hotel bridging the entrance to the park.
Upon arriving at the park, we strolled along Mainstreet USA, as is expected of pretty much any Disneyland Paris trip. The view is diminished a little by some buildings being heavily refurbished in advance of the park's 20th Anniversary celebrations in 2012. The Sleeping Beauty castle itself was recently done up, and it's looking better than ever!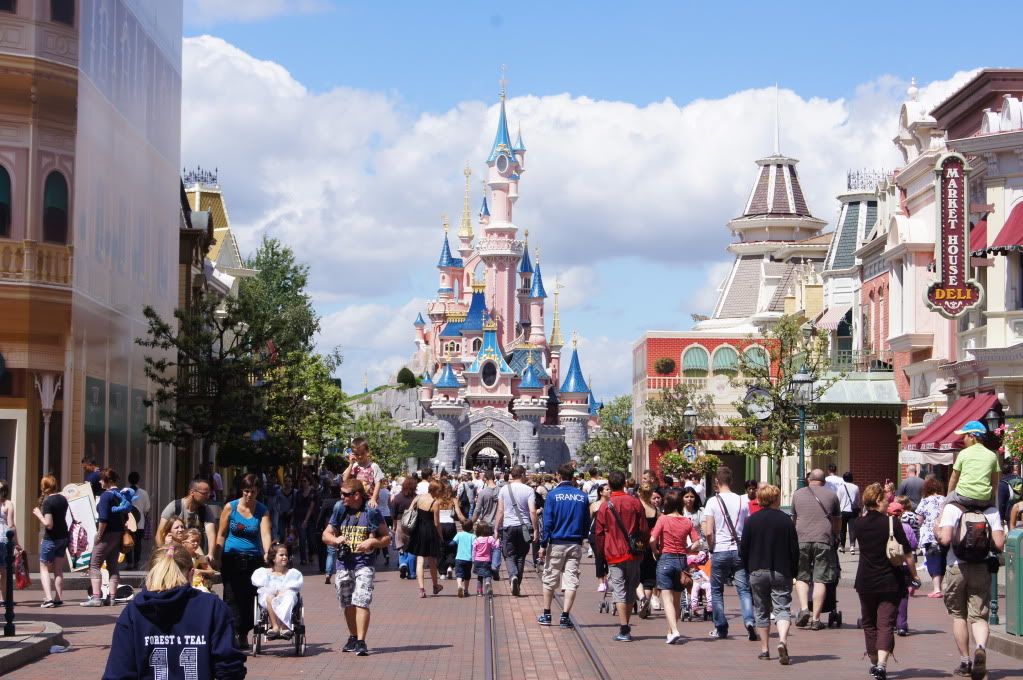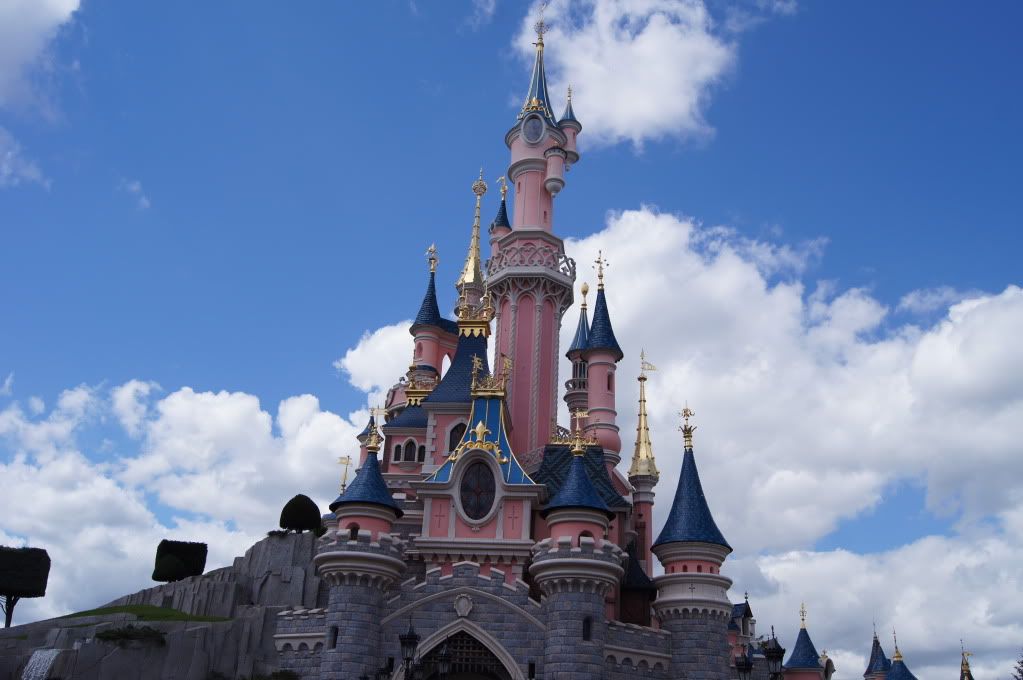 The view down Mainstreet and the Castle.
Next stop, Frontierland...
As far as theming goes, this is the most consistently themed land, with one single overarching backstory. We first hit the fastpass machines of Big Thunder Mountain (it later broke down during our time slot).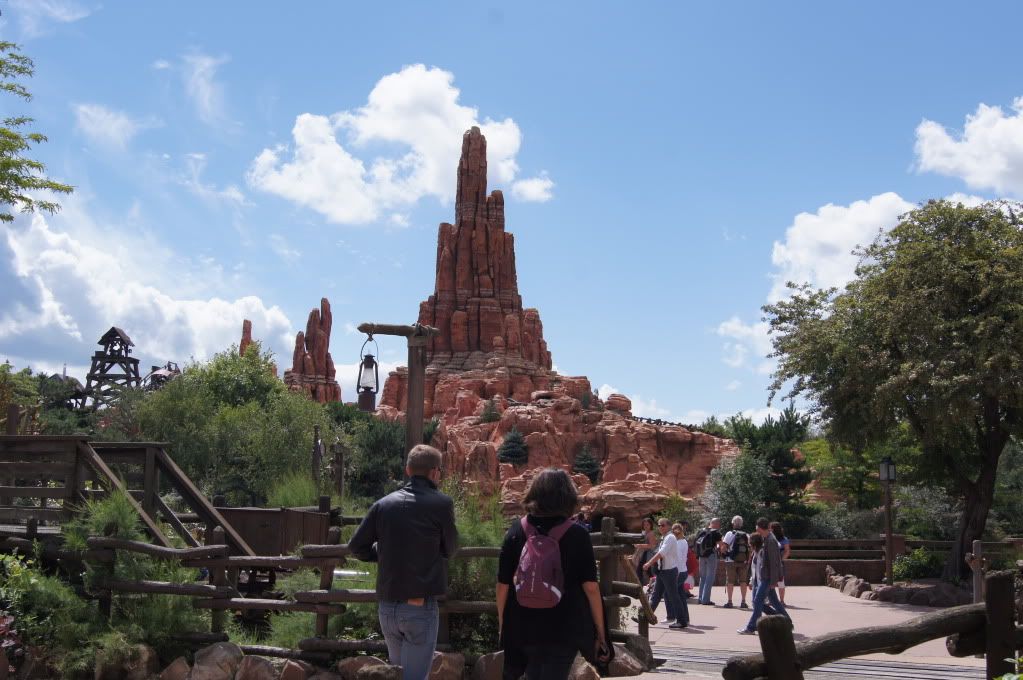 Big Thunder Mountain
Whilst in Frontierland we chose to visit Phantom Manor. Phantom Manor is one of my favourite rides of all time. Like the Haunted Mansion is other parks, it is a slow moving dark-ride. However, quite unlike HM, the backstory is more lavish, and the ride features some of the most impacting music of any Disney ride. I prefer it to its goofier USA cousins.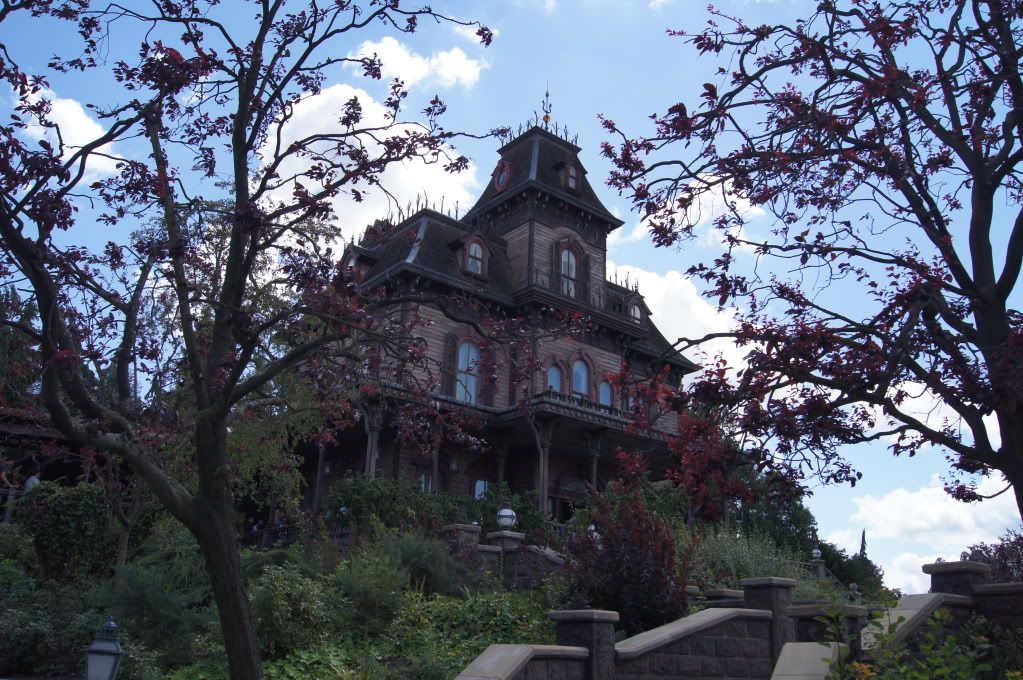 the old house on the hill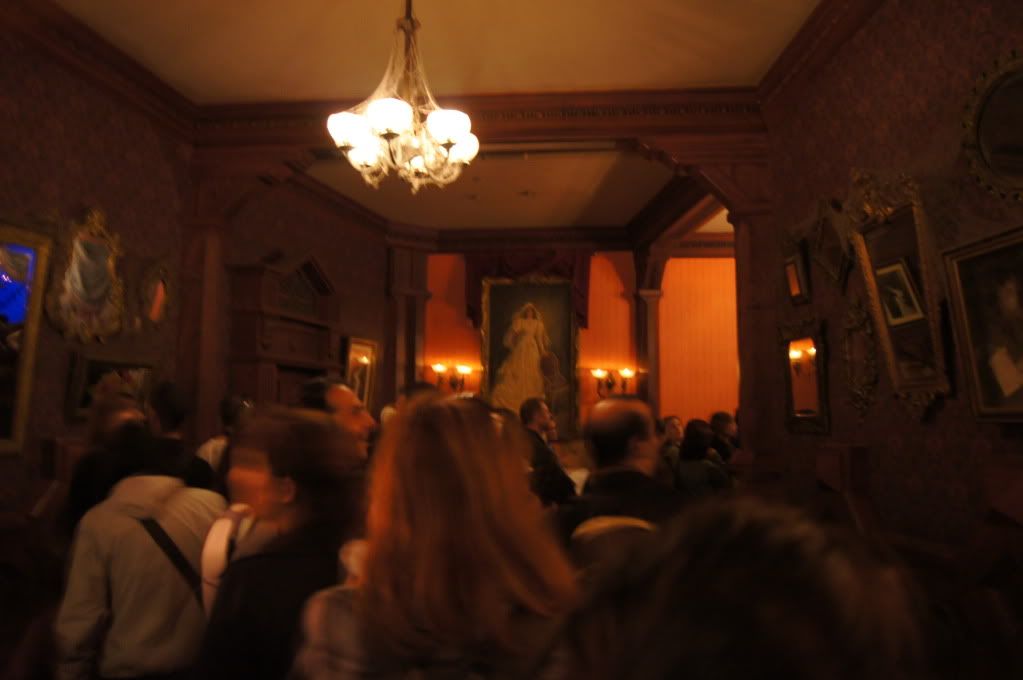 In the Manor
The loading area with the 'grand staircase'
I love the ride, but it does really need some tender loving care. Some effects didn't work. However, it was better than my last visit in 2007.
After Phantom Manor, we made another run into a classic attraction - Pirates of the Caribbean. For those who haven't been to Disneyland Paris, but have been to WDW, this version wipes the floor with it's Floridian counterpart. better detail, a glorious queue line and a completely rearranged storyline.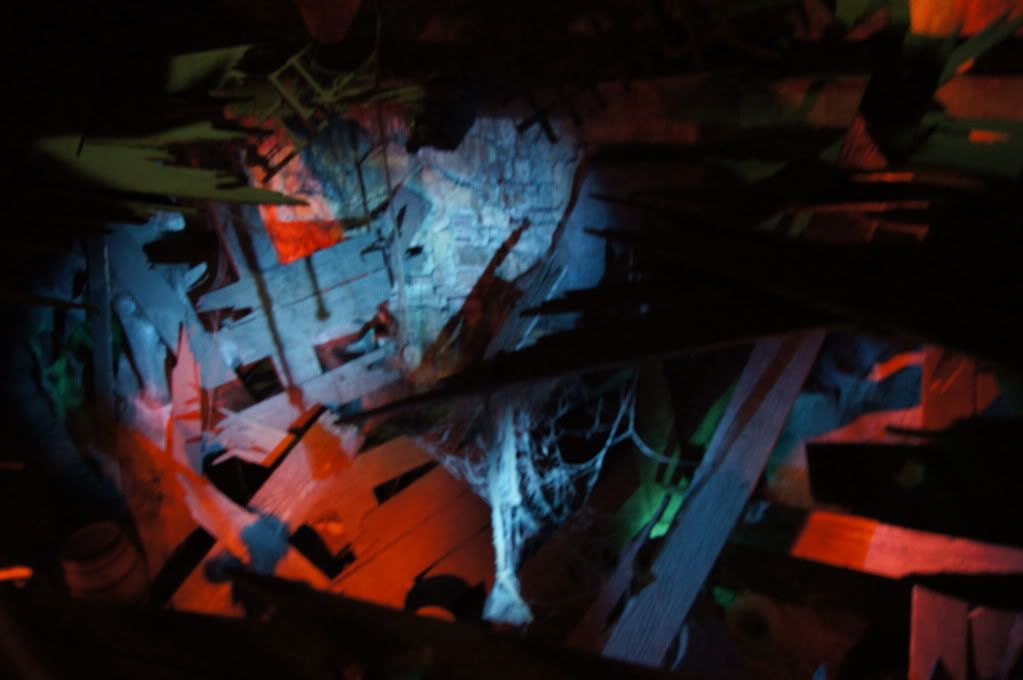 part of the Pirates queue line
Exterior of POTC
Having arrived relatively late in the day, we only had the energy to hit up one more attraction before returning to our hotel: Space Mountain Mission 2. This is another favourite ride of mine. Though Discoveryland has since lost its Jules Verne vibe (I'm looking at you, Buzz Lightyear ride), Space Mountain still holds the torch high, even in its mission 2 guise. A cannon launch (minus recoiling cannon and smoke effects - which used to be present in 2005 and 2007) sends you flying off around space to a time soundtrack. Unlike the other space mountain ride worldwide, this is a bona-fide thrill ride, with 3 inversions and intense turns. This land and ride inspired my Discovery Island rides, so I hold it dear. And, oh yeah, the ride itself still kicks arse. It's a great ride, but fairly rough. For me, however, that's no issue. Inside the dome all the effects still work, and I love it!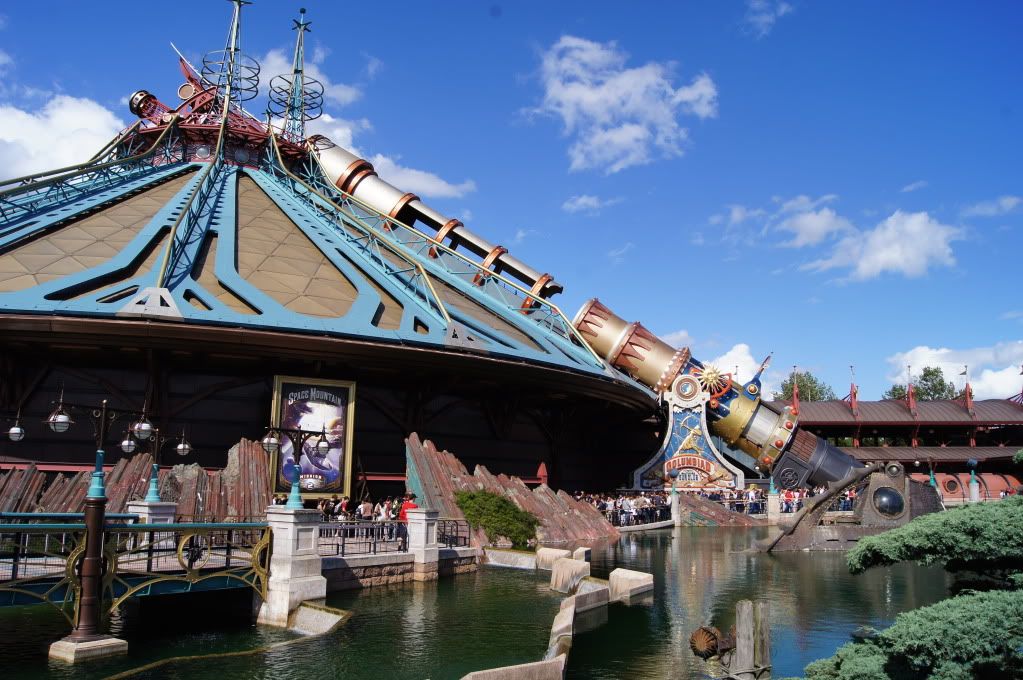 Space Mountain: Mission 2
- - - - - - - - - - - - - - - - - - - - - - - - - - - - - - - - - - - -
After checking into the hotel and having dinner, we decided to head back into the Disneyland Park. This may have been a genius idea. Despite having done parks in the evenings before in other years, we never used to have the stamina. Now aged 20, with an 18 year old brother, we could all manage to keep up all night. We started by doing two of the Fantasyland dark rides in record time. They're still as twee as usual, and pretty much as I remembered them. We then hit Pirates of the Caribbean. No word of a lie, there was NO queue. We just strolled right on!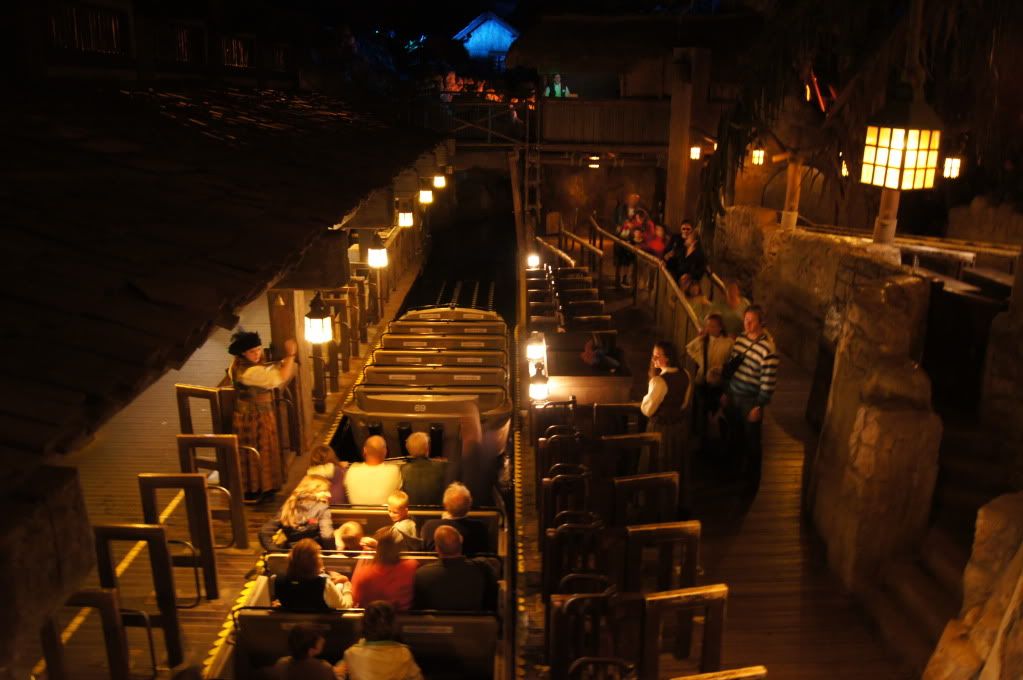 Pirates, with no queue.
After Pirates, we headed over to Big Thunder Mountain, which was now working. There was a 10 minute queue, and if there's one thing I can recommend about this ride is always ride it at night. All lit up, and with more darkness, the ride feel even faster. In Disneyland Paris' Frontierland, big Thunder Mountain is the centrepiece, set in the middle of a lake (the ride trains travel through tunnels to reach the island). It is notably better than any other Big Thunder Mountain incarnation, reaching a top speed of almost 10mph faster than both US versions (though similar to Tokyo's version).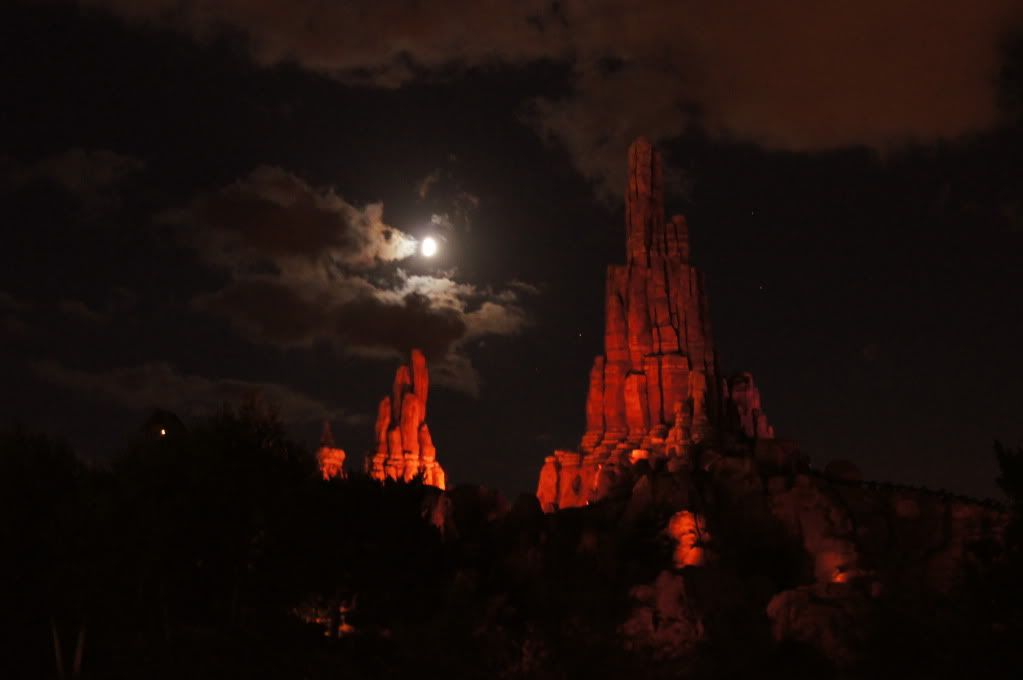 BTM at night

It's around this point that all hell broke loose, and the rain started. We left the park for the day, but we still had more fun to come over the next 3 days....
- - - - - - - - - - - - - - - - -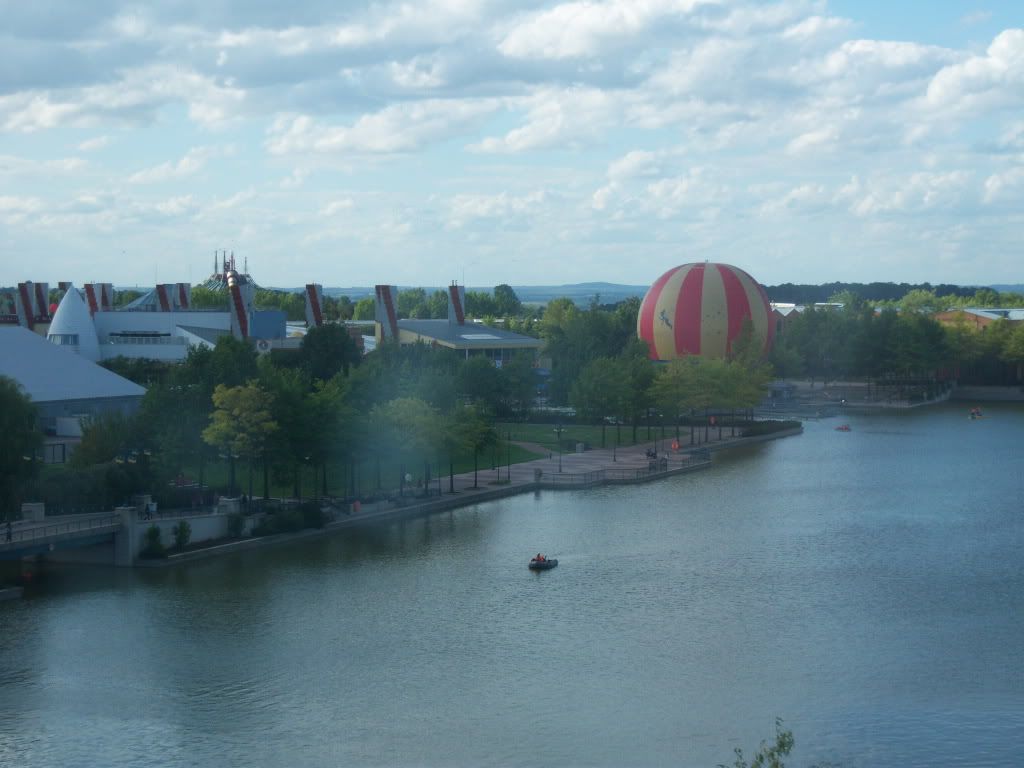 The view from the Hotel window
DAY 2
Walt Disney Studios park
We got up very early on the second day. So early in fact that we managed to get to the Walt Disney Studios park before it opened. Taking a quick trip using Extra Magic Hours to the Disneyland park my family rode Buzz Lightyear's Laser Blast whilst I took some pictures of Discoveryland. Unfortunately this day was rainy on-and-off, and thus the raincoats had to come out across the day!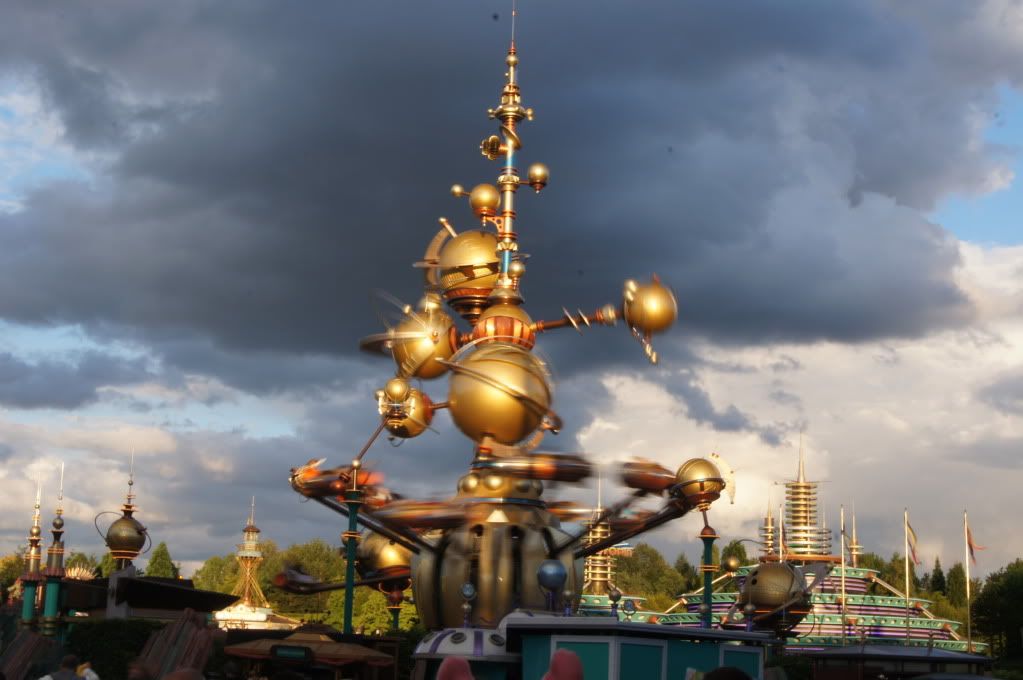 Orbitron in Discoveryland
After hitting Disneyland, we then hopped over to the Walt Disney Studios park for a full day. This park opened in 2002 to disappointment. It had bad to non-existant theming, only 10 attractions, and was a concrete mess. It still remains the runt of the Disney parks, but I have to give it an enormous pat on the back and hug for managing to make swift progress since I last went there. I really enjoyed my day at this park, and although the 'studio' theme is patchy at best, it's really making strides towards becoming a proper Disney park. I think 2-3 decent new rides, preferably dark rides, with some immersive theming, and a general rebranding of some of the rides could really make this a fantastic park.
I last went 4 years ago, and since then 1 rollercoaster, 1 thoroughly themed dark thrill ride, and 4 flat rides have been opened. That's not bad for a couple of years, and it's definitely a noticeably better park now.
Upon entering the park, the view of Studio 1, Tower of Terror, Hollywood Blvd. and the 'partners' stature actually now makes for a better view than that of Hollywood Studios in Florida (with that sodding hat...you known you've done poorly when the 'worst' Disney park has a better entrance than your park).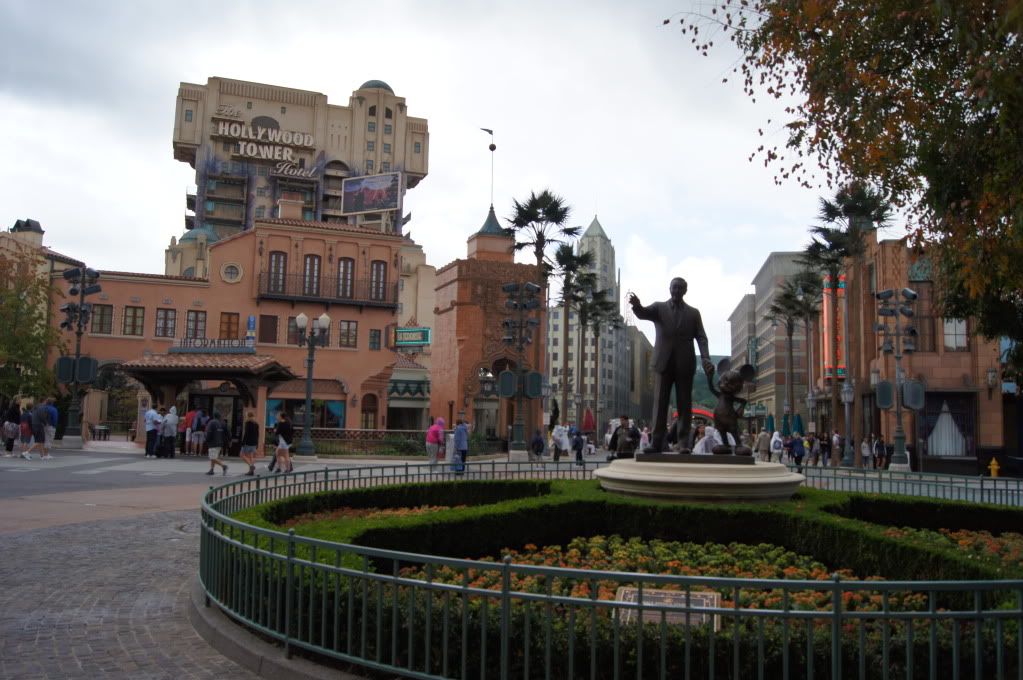 The centre of the park, after entering through Studio 1
But onto the rides...
First up: Studio Tram Tour. Let's put it this way, after you've done Catastrophe Canyon's special effects section, you've done the ride. Even though this park used to be terminally short on rides, this is a ride that it taking up prime space for other rides.
After that, we moved onto Armageddon. Now, a lot of people hate this show. I personally LOVE it, and always have. It's fun, it has some cool effects, and it never has a long queue. It's a great filler attraction, and does that job above and beyond what is necessary. Fantastic.
Next came the family favourite, Rock n' Rollercoaster. Now, I do prefer Space Mountain. Space Mountain has a better theme, and a more intense ride. However, the launch, the smooth track, and constantly short queues make this a great hit with my parents and my brother. We decided to do it twice in a row, since unlike Space mountain it's quick to recover from in order to ride again, and is far tamer on the shoulders and neck.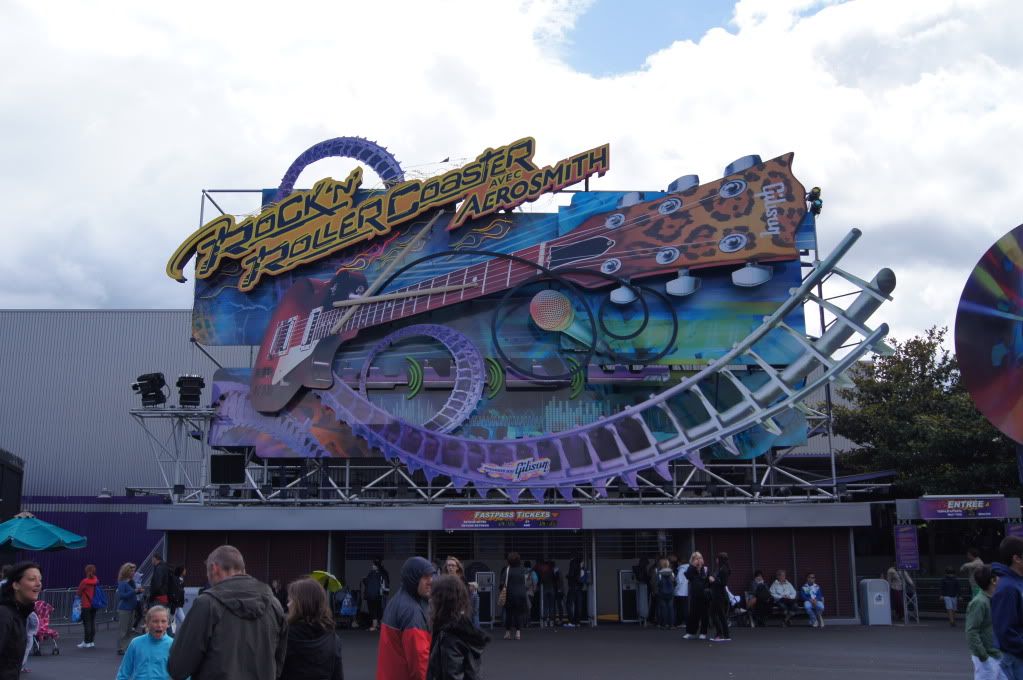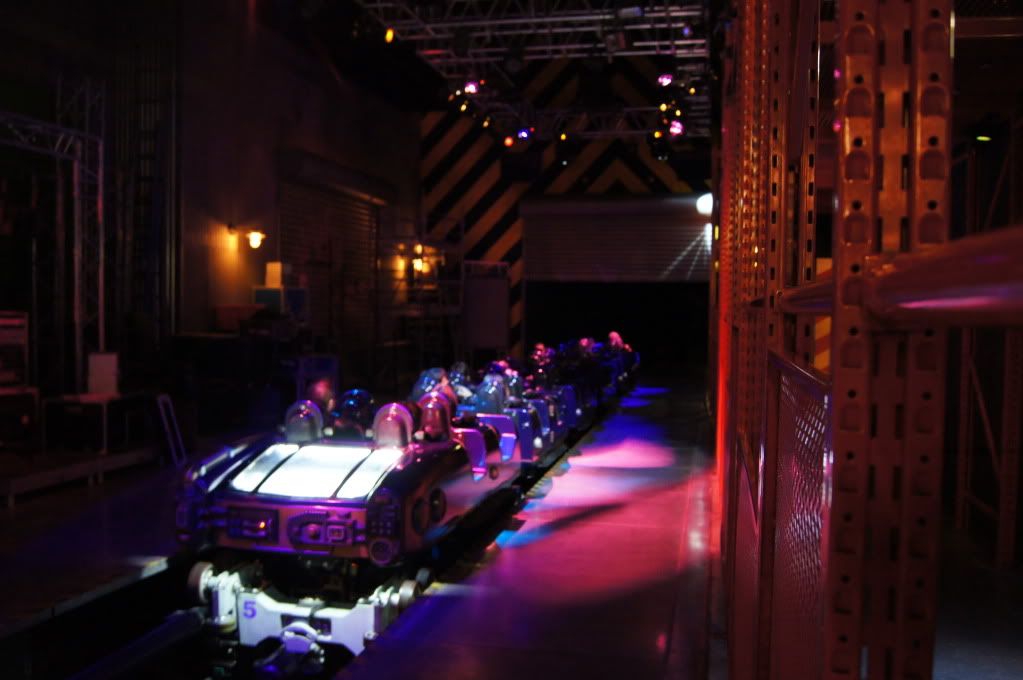 preparing to launch!
After lunch at the nearby eatery, which was good ol' fashioned cheese and ham sandwich, we moved onto a Disneyland Paris unique attraction called Cinemagique. It's a brillaintly filmed homage to cinema across the ages, with a great storyline that I wouldn't want to spoil here. I adore cinema, as anyone who really knows me would be aware. This is another top notch attraction, and cannot be missed...ever!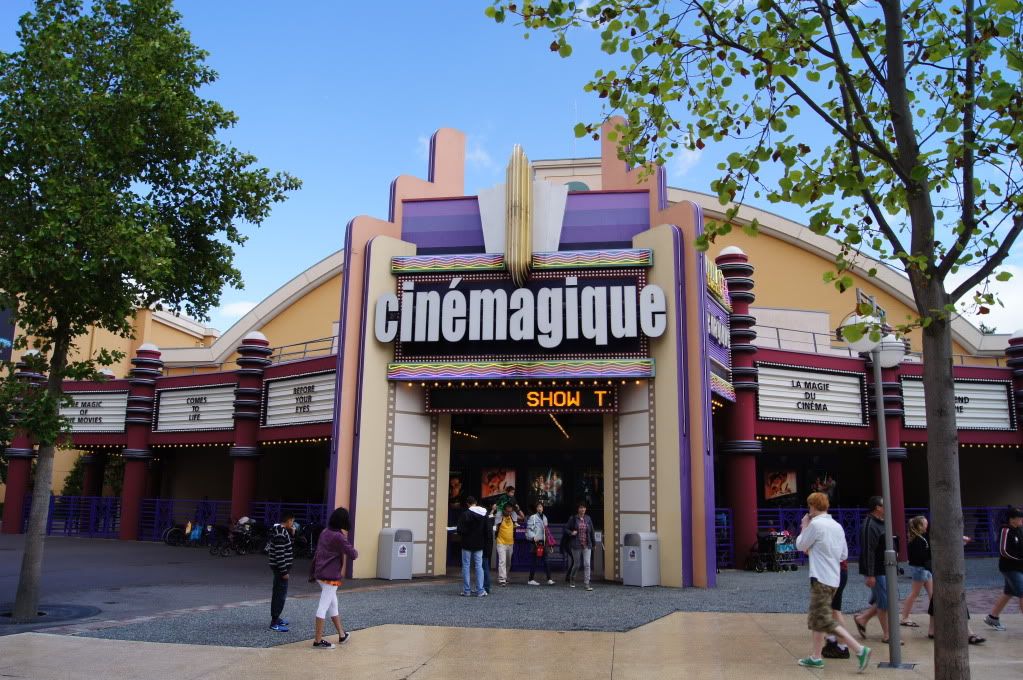 Cinemagique
Having watched Cinemagique, we moved onto the Art of Disney Animation. It's basically a cartoon clip-show. As with a lot of this park, it's worth doing anyway, but not something worth going out of your way to do. Following TAODA, we decided to have a little explore around. Though none of us were fussed about flatrides, it seemed fitting to go and have a look at the brand new Toy Story Playland. Ok, so whilst the theme hardly suits a Studio themed park, Toy Story Playland looks really cool. All the little (or in fact, big) details such as oversized toys, fences made of K-nex and Airfix pieces, and all the characters and their rides, it's clearly a lot of detail given the low budget and somewhat cheap nature of the land.
Next up, the one I fear....the Tower of Terror. For those who don't know, I have issues with my stomach. Combine that with a fear of heights, and I make for the world's least likely theme park enthusiastic. This in general makes for most rides making me very nervous, often with excitement and anxiety in equal measure. I only faced my fear of big vertical drops in 2009 in Florida's Tower of Terror, but that still made me nervous of Paris' version. I must say I actually prefered this version over Florida's. I found the drops more intense, and longer, and the show scenes beforehand I enjoyed more than the often rather plodding Florida equivalent. Paris' version felt more concise, and it benefited from this. My mum (who's afraid of lifts/elevators) came off white as a sheet after this, but my dad enjoyed it a lot. I'd definitely ride it again...but I'll always fear it. The suspense really is something Disney does well!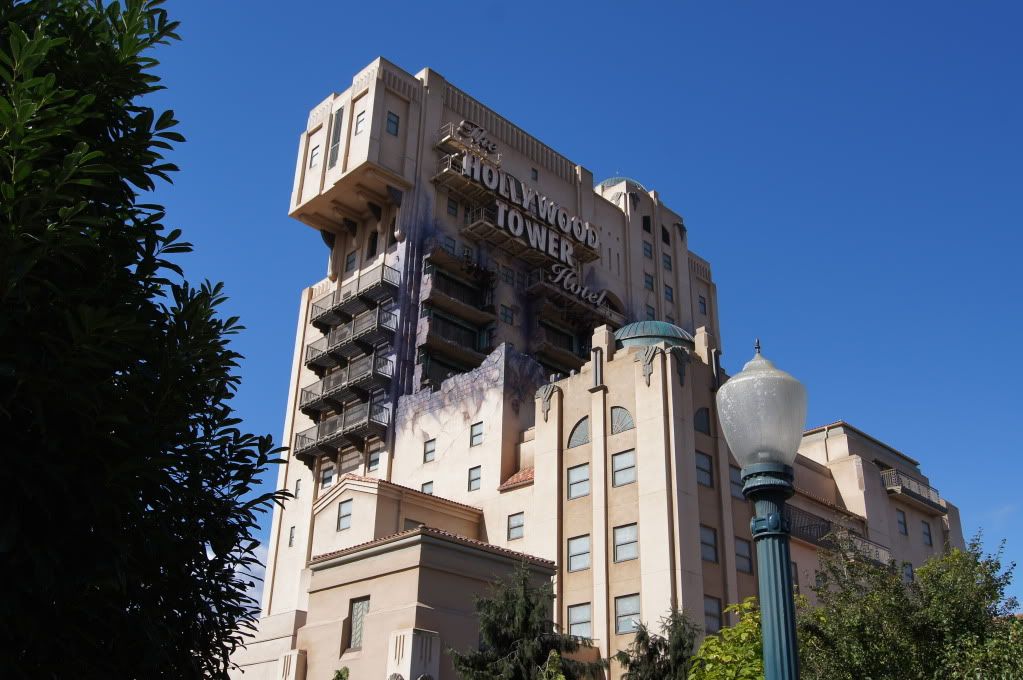 "you are about to enter a most uncommon elevator..."
The final attraction we did in Walt Disney Studios this day was the Lights Moteurs Action stunt show, which is always great fun. Cars, bikes and explosions...good times!
KA...
...BOOM
- - - - - - - - - - - - - - - - - - - - - -
Upon returning from dinner, we decided to go into the Disneyland park again. We first tried to enter Captain EO, but that was closed for the night. Instead, we decided to ride Pirates of the Caribbean, Big Thunder Mountain and Phantom Manor again, followed by the fireworks.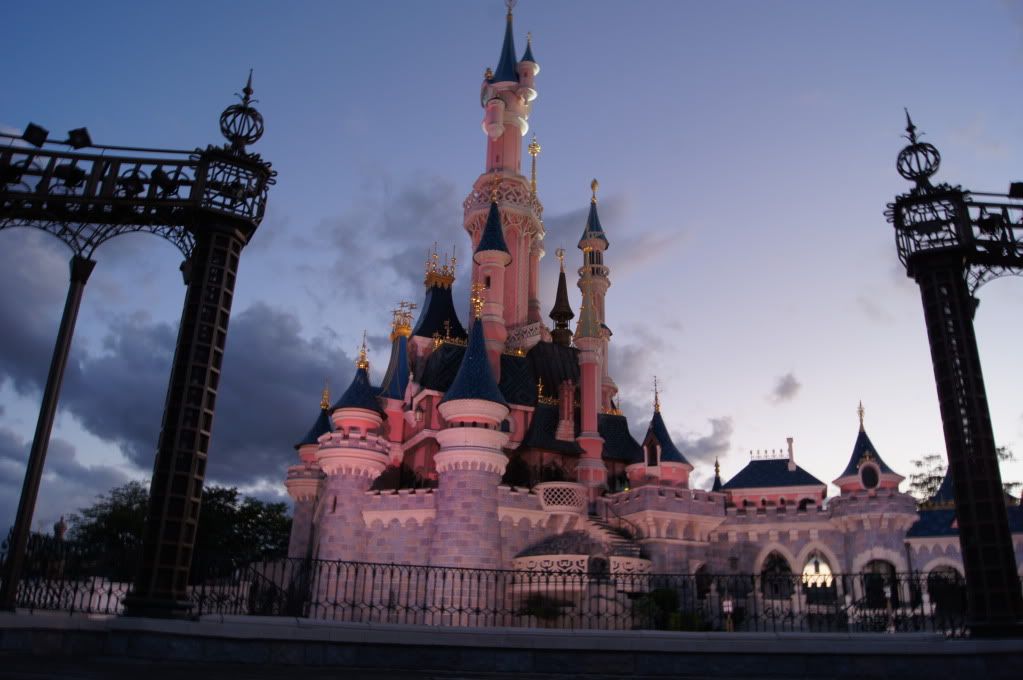 The Castle at night...
..and the dragon held beneath it
- - - - - - - - - - - - - - - - - - -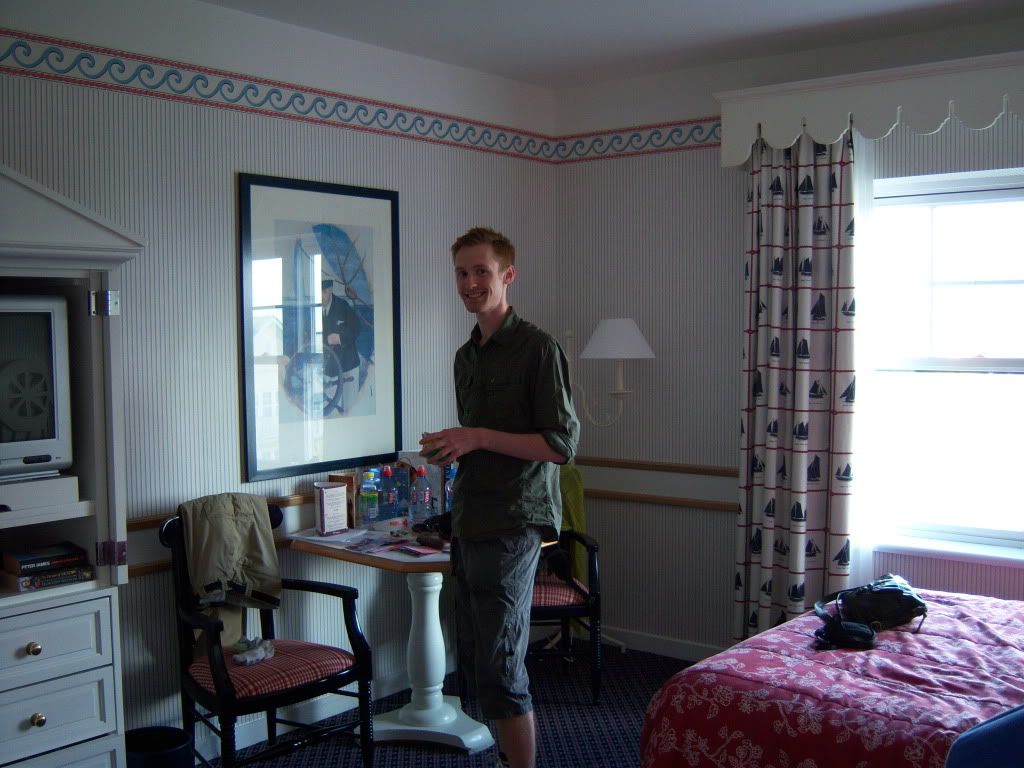 in the hotel
DAY 3
Disneyland Park
For our second and final 'full' day in the parks, we decided to venture into the Disneyland park again, to cover a lot of the things we'd missed in our first two days. Since we we've been so many times, a lot of rides we weren't too distraught by when we missed them, though we had to do a lot of the big ones for sure.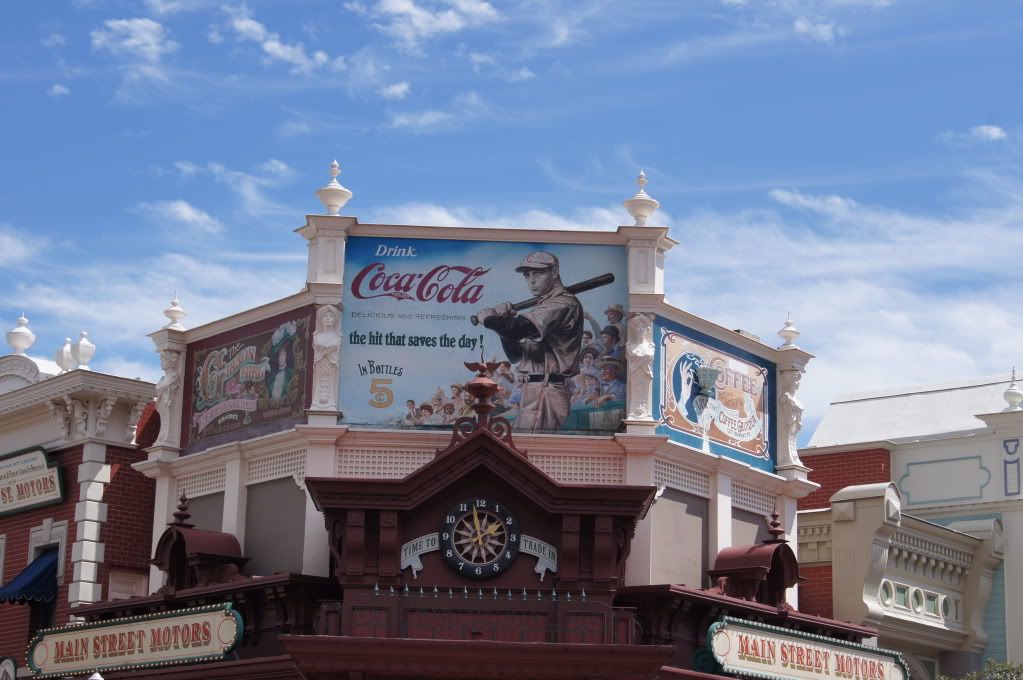 Mainstreet signage
Our first destination after travelling up Mainstreet was Discoveryland to do Buzz Lightyear's Laser Blast, Captain EO, The Nautilus and Space Mountain for the second time. Buzz Lightyear was good fun for me. In a bit of a mixed blessing, my laser blaster didn't work the first time around. This meant, for once, I actually got to ride the ride and look at the scenery, which is something I'd barely concentrated on before. The second time around I got the chance to shoot things properly, and the Cast Member on the attraction let me go on the second time without queueing which was nice.
When myself and my brother went on Space Mountain, my parents held back and had a look around the rest of Discoveryland. Whilst they're not too old, the constant walking can take its toll, and Space Mountain doesn't really help that. Space Mountain was great as to be expected.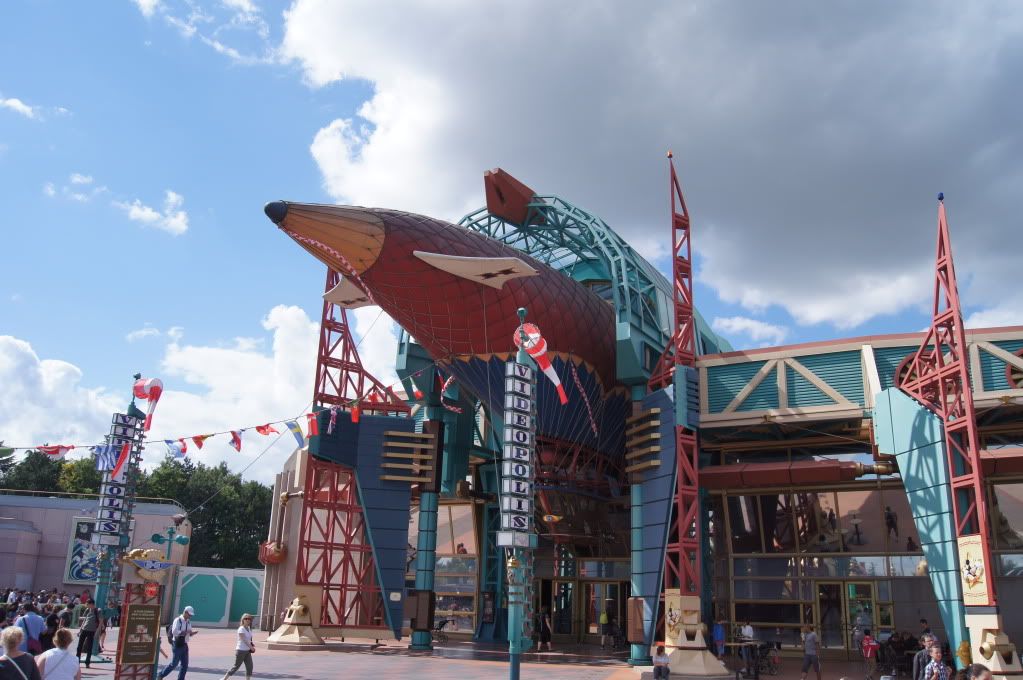 The Hyperion theatre
Following a ride into space, we headed to Captain EO. Long story short, it was rubbish. I can understand it being kitsch and it was probably technologically advanced at the time, but oh boy it has not aged well since the 1980's/90's. Just because Michael Jackson is dead doesn't justify this snooze-fest being brought back. I would rather than this space be taken up by a new film (bring back the Timekeeper/Visionarium!). Following EO, we moved onto The Nautilus, which is a brilliant little walkthrough attraction themed to the submarine of 20000 Leagues Under the Sea. Like the dragon under the castle, Adventure Isle, Alladin's Enchanted Passage and Legends of the West, this attraction shows off the neat little touches that help make Disneyland Park in Paris my favourite theme park in the world.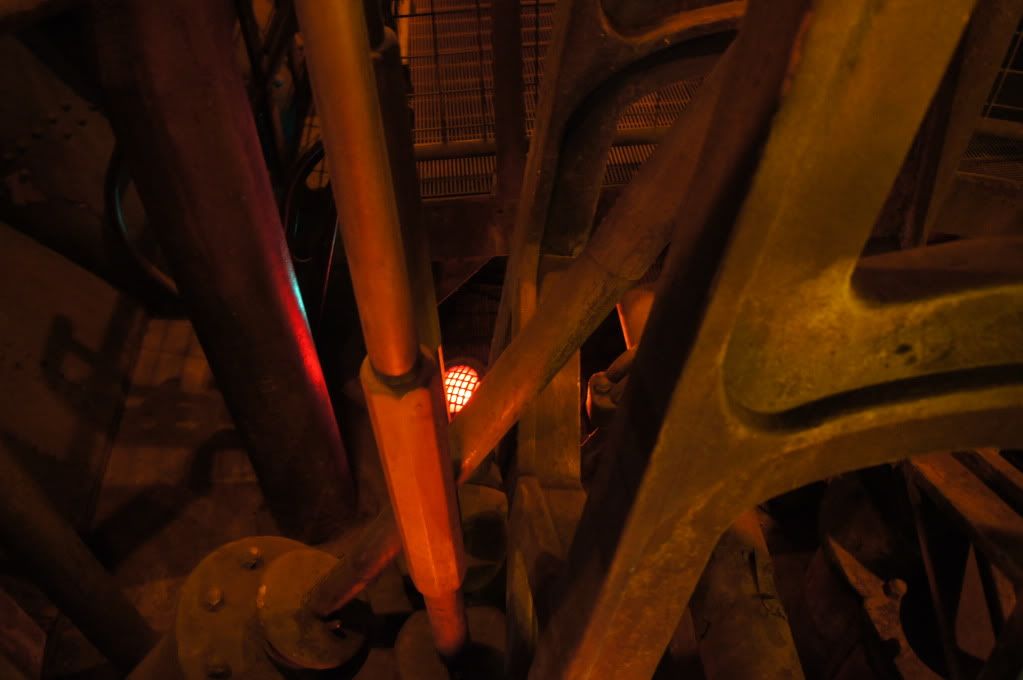 inside the submarine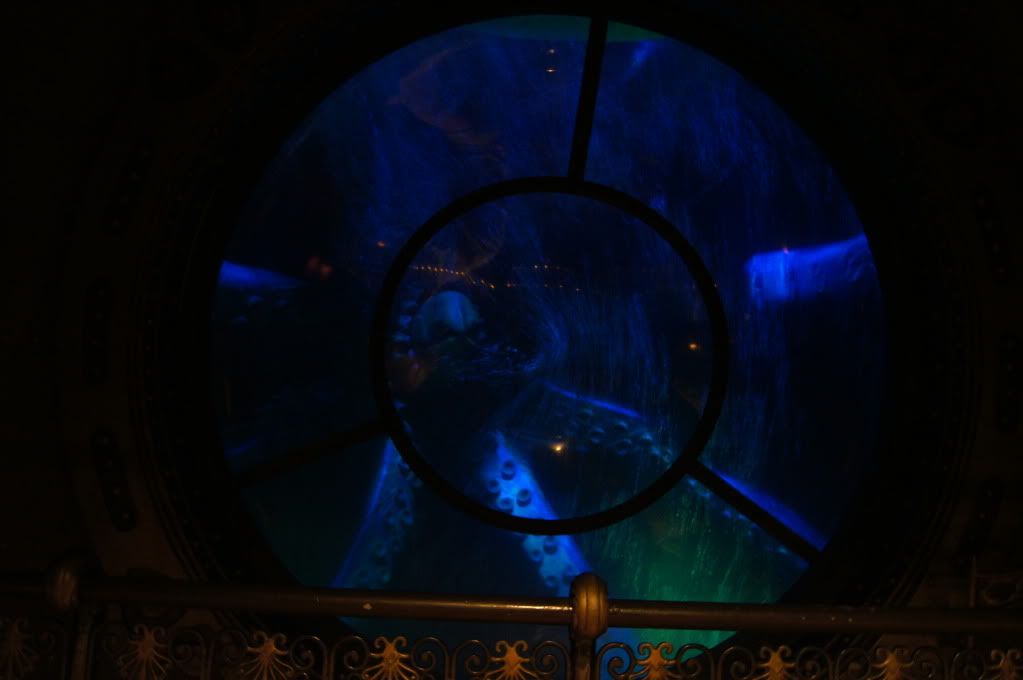 attack!
Swiftly moving out of Discoveryland, we took a trip around the whole park, venturing through Fantasyland, Adventureland and finally Frontierland in our journey back to Phantom Manor again (which I typically try and ride 2-3 times every trip). I have never been to Disneyland Paris in the height of summer, which meant I've never had a situation where Alice's Curious Labyrinth, It's a Small World and the Storybookland rides have had sizeable queues. It's a shame, since these unnecessarily long queues meant we skipped over It's a Small World, Peter Pan's Flight and Alice's Curious Labyrinth. However, we had done all 3 on every other trip, so no tears were shed (if anything my family were pleased that IASW was closed, though I think it's a classic that demands to be done every trip despite how cutesy and irritating it is).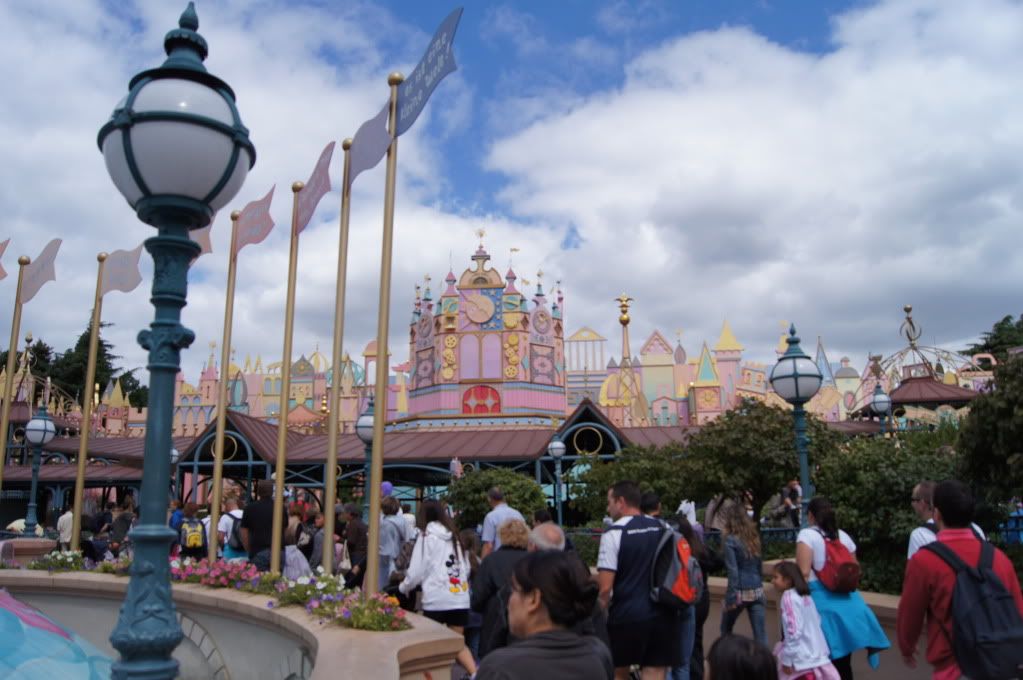 "It's a Small World after all, it's a small world after all...."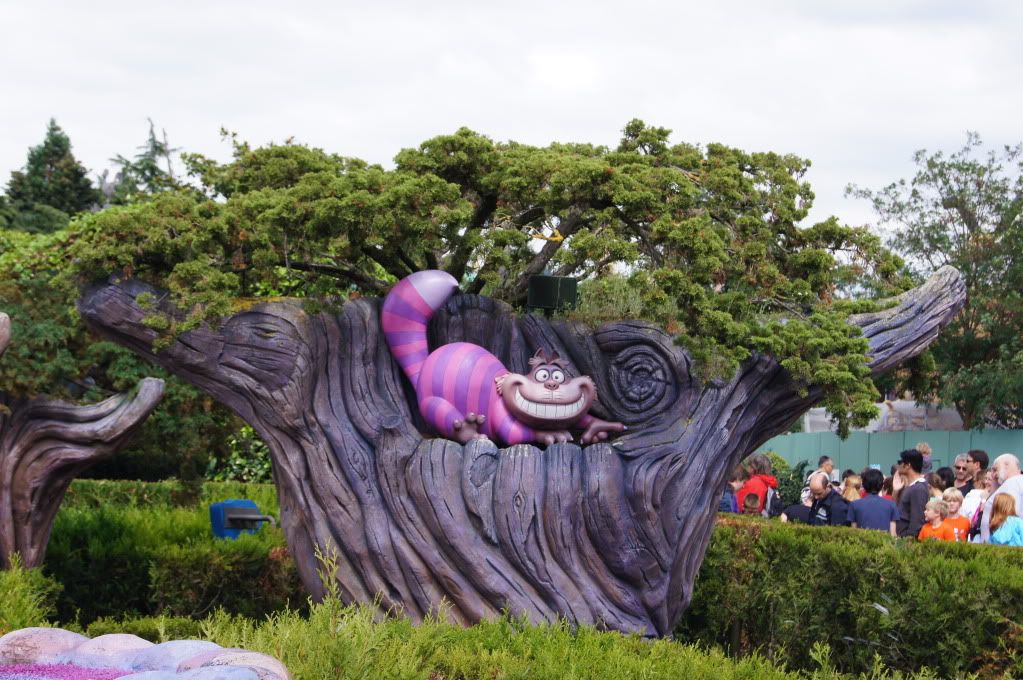 The Cheshire Cat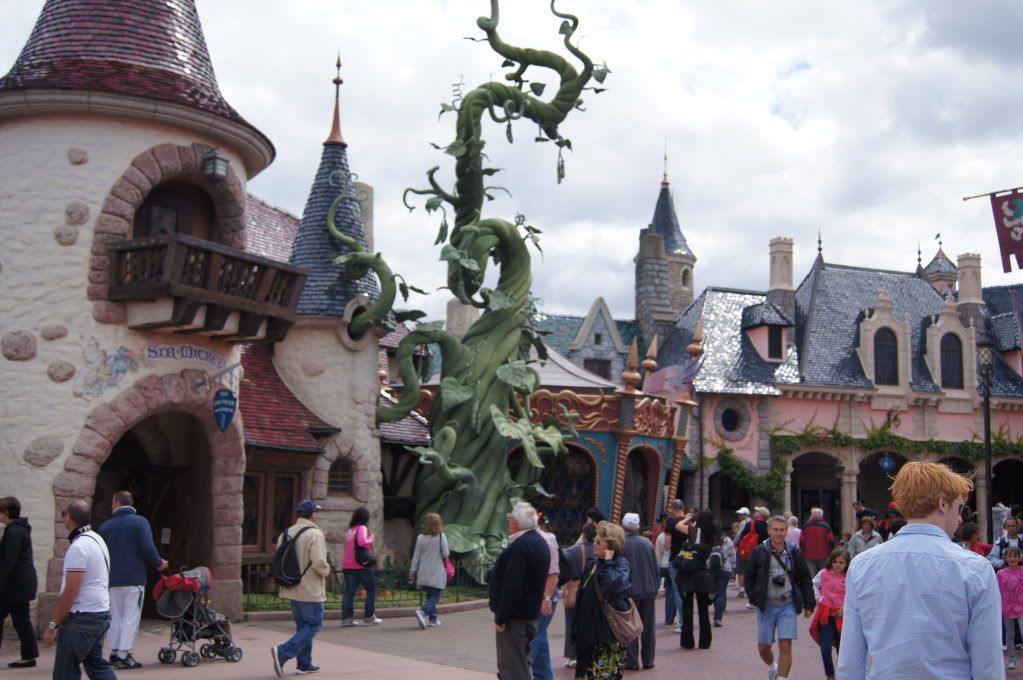 Fantasyland has some of the best fantasy/medieval theming in any park I've been to, but the immense crowds of young kids and parents make it worth skipping unless you have never been before or have young children willing to queue.
Spinning, spinning, spinning....ugh, maybe not for me today!
Proceeding swiftly through Adventureland, we moved onto Phantom Manor again. However much i like it, it's hardly an experience which changes a lot! I still love it though.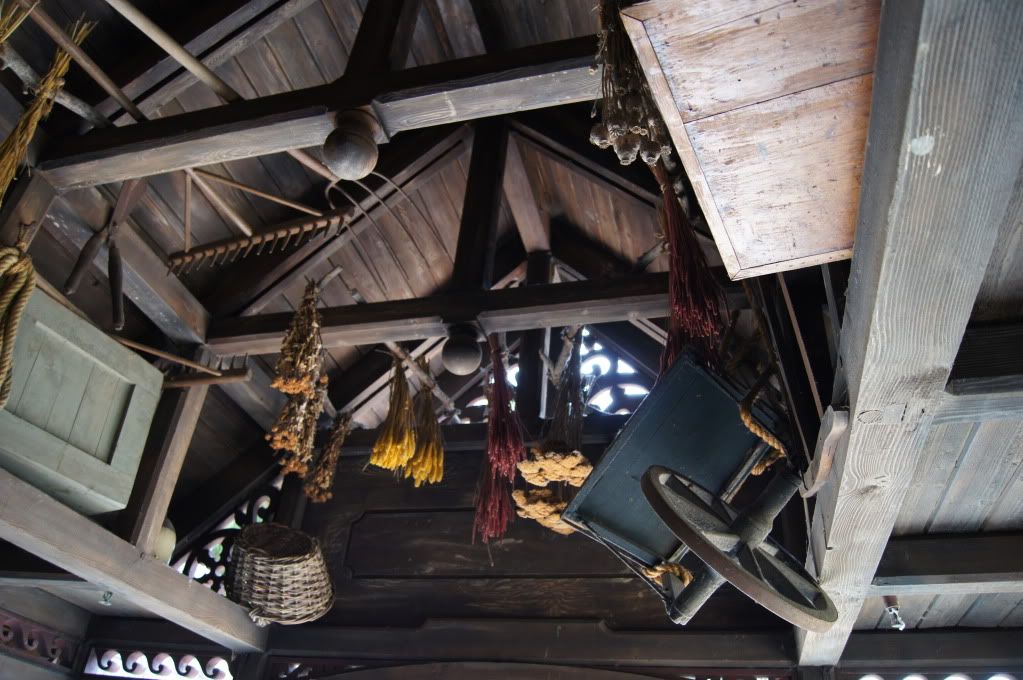 exiting Phantom Manor through the often-missed tool shed
Fully aware that the queues for rides such as Space Mountain, Big Thunder Mountain, Indiana jones et le Temple du Peril and Pirates of the Caribbean were now rather too long for our family of seasoned Disney-philes, we decided to return back through Main Street for lunch, and then headed back through Adventureland to explore Adventure Isle.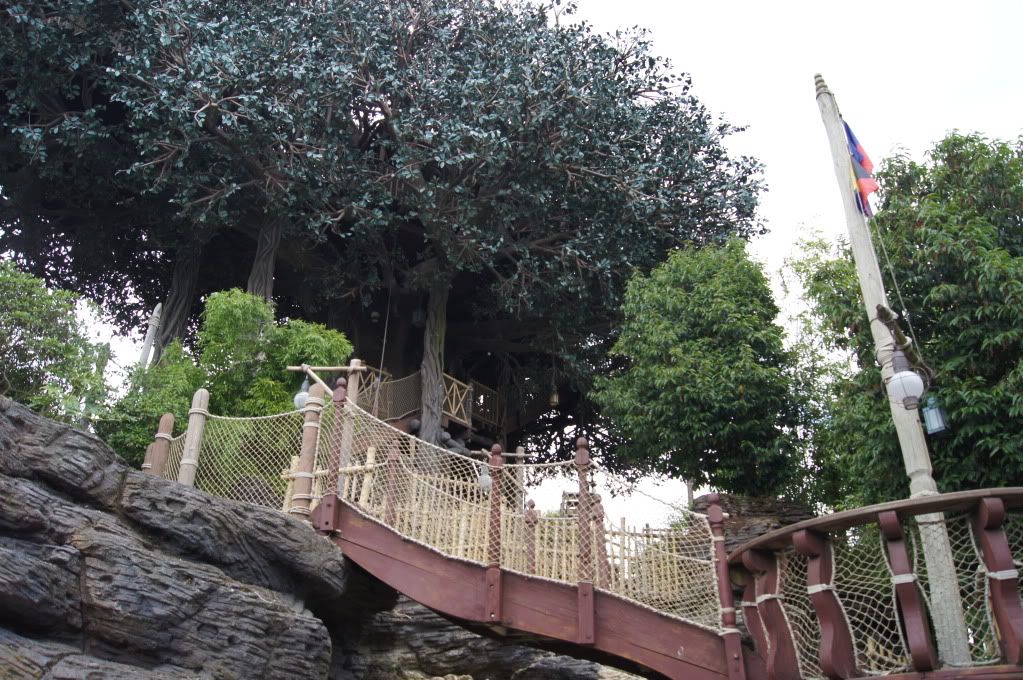 Sadly, the Swiss Family Treehouse was closed for refurbishment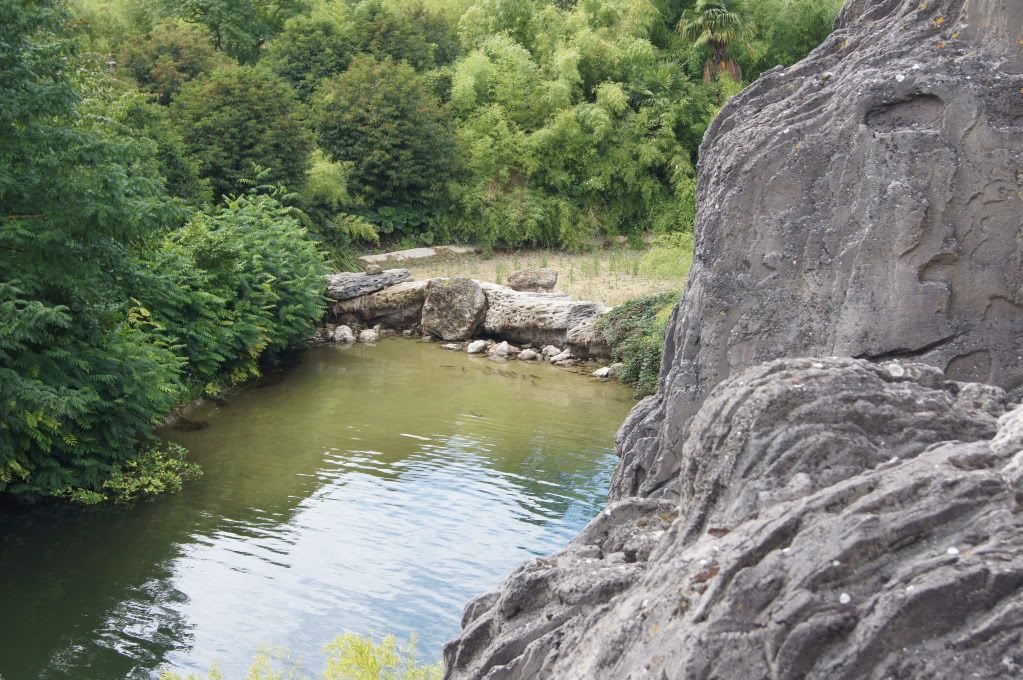 I hope that one day the Indiana Jones Adventure ride (or some big dark ride) can make it onto this open space in Advntureland.
Following Adventure Isle (and the process of getting lost in its intricate caves and tunnels), we decided to return to Fantasyland to ride the train around the park. This decision turned out to be one that ate up most of the day due to the train having technical difficulties whilst we were on it.
Fantasyland Railroad station
After a complete circuit we proceeded onto the Storybookland Canal Boats. These hold nostalgia value for me, since as a child in 1995 is was one of my favourite rides in the whole park, and the one I have most vivid memories of. The queue was only 15 minutes, and so it was worth a go.
Having had some very intense days of riding and queue, we decided to return to the hotel for the rest of the evening, safely in the knowledge that we still had one more day left to return to the two parks again
- - - - - - - -- -- - - - - - - - - - - - -
DAY 4
Walt Disney Studios
We started our final day in the Studios park, deciding to cover one ride we missed and an old favourite.
We'd missed it for the first few days, since the queues were 90 minutes+, but we began with Crush's Coaster at park opening this time in order to experience it for the first time. It was a long queue, but a brilliant ride, and I'm glad I did it. I was a bit concerned about doing a spinning coaster, but the coaster portion was very smooth was more to do with turning rather than full-on spinning. For a ride themed to Finding Nemo though, it was quite intense!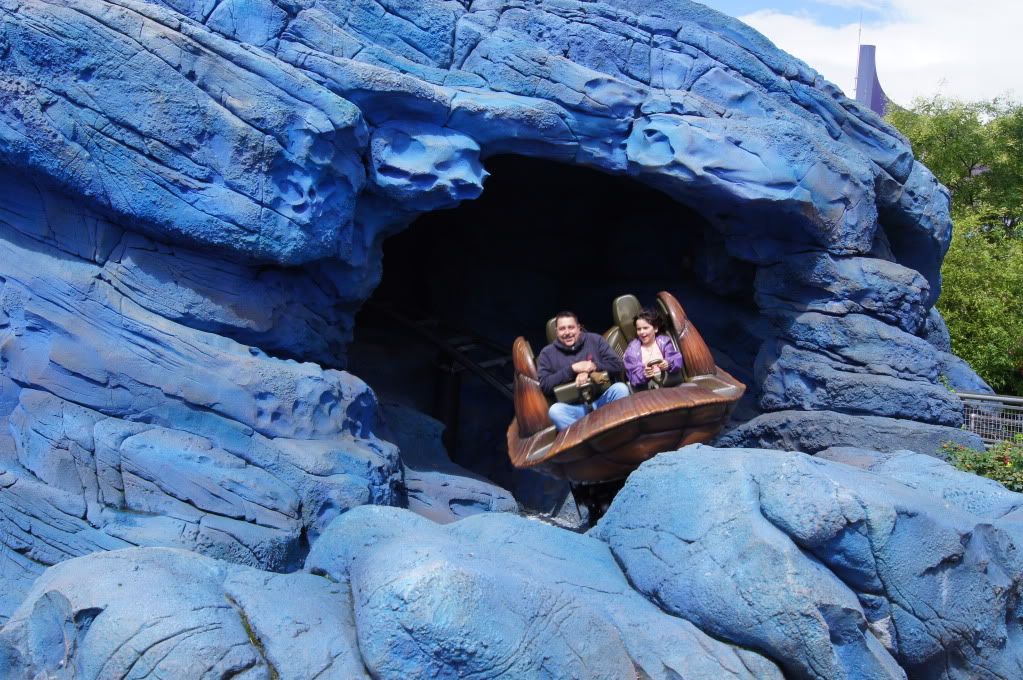 the first drop into the dark-ride section.
After that, we proceeded to go onto Rock n' Rollercoaster again. As usual, the queue was pretty much non-existant.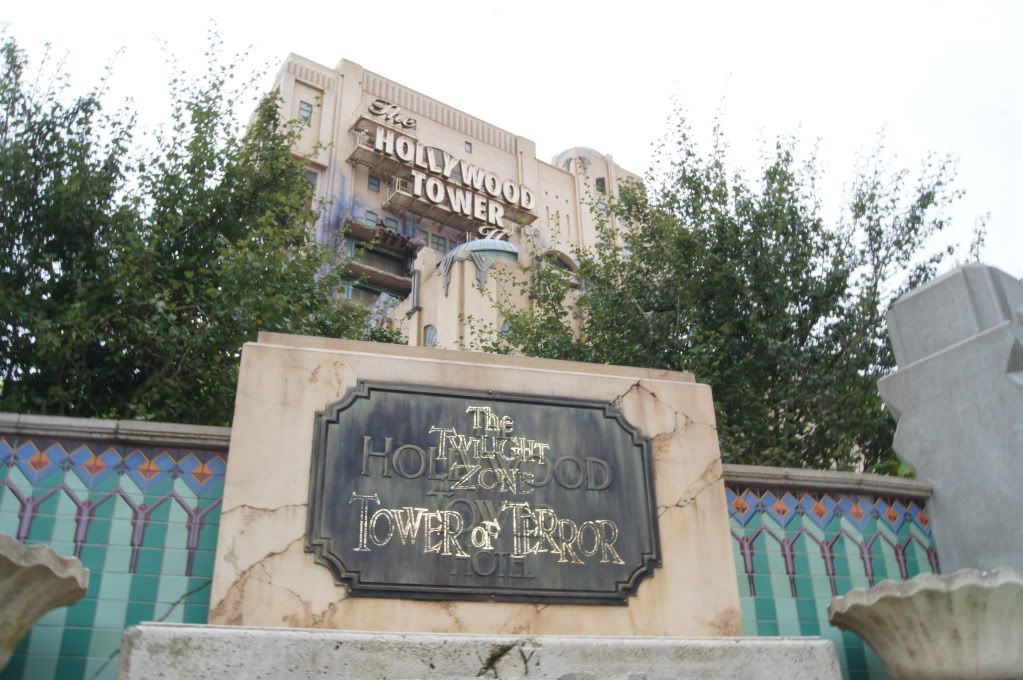 a nice photo of Tower of Terror needed to happen again!

Moving onto the Disneyland Park...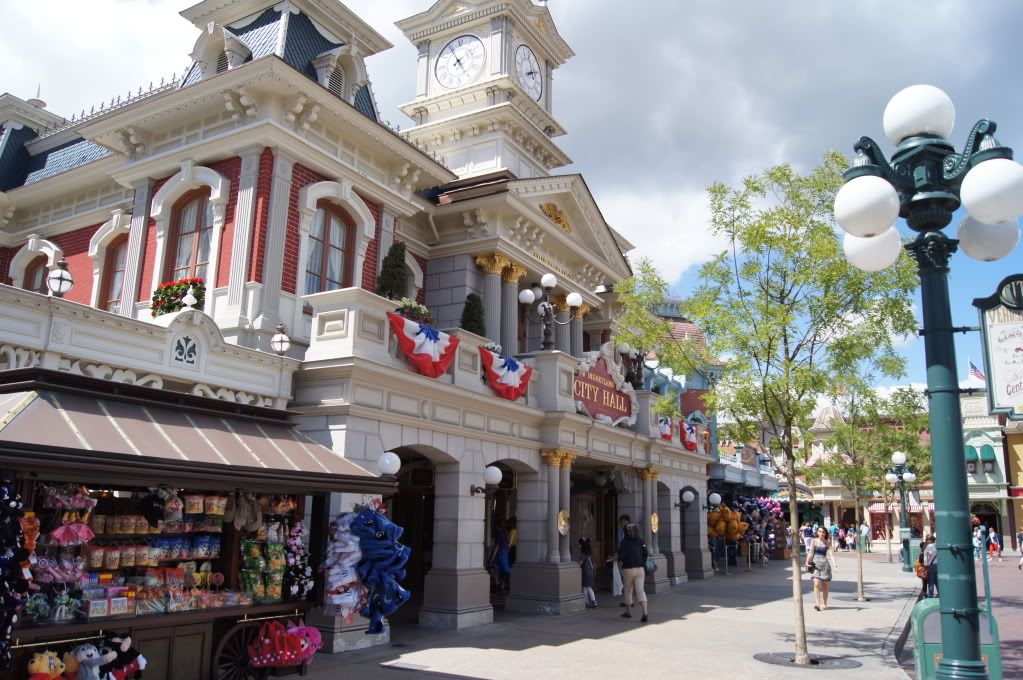 The one big ride we hadn't done in the few days earlier was Indiana Jones et le Temple du Peril. Since we wanted to do Big Thunder Mountain again, we grabbed a fastpass for that, and then proceeded into Adventureland. Indiana Jones is a good coaster, but of the Disneyland Paris coasters it's probably the least good, and the poorest in terms of theming. Given that the ride was only really a quick was to boost the park coaster roster in 1993, I never feel to bad about the quality, and it's a good way to pass the time on a coaster.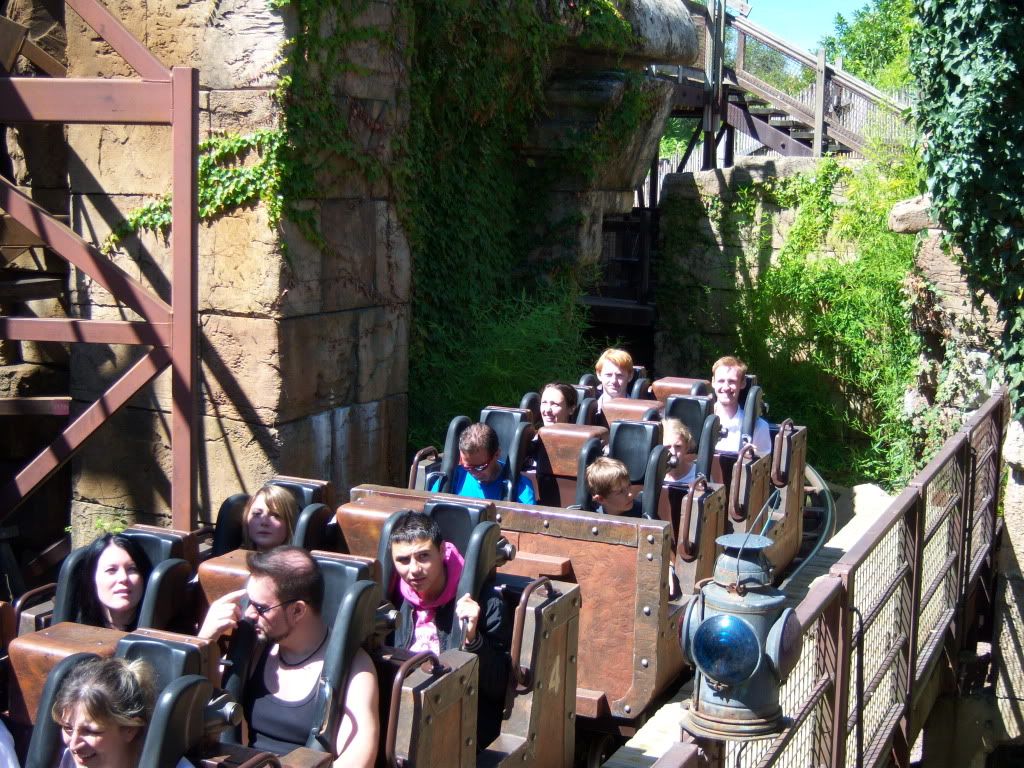 I'm on the back row of the back car.
We grabbed a big lunch in Advntureland, though had to spend 20 minutes simply trying to find a seat :/
Adventureland
My brother and I decided to return to Space Mountain for our final ride, whilst the parents waiting in Hyperion theatre again. Unfortunately, the onboard soundtrack didn't work on this final ride, but it was still great fun.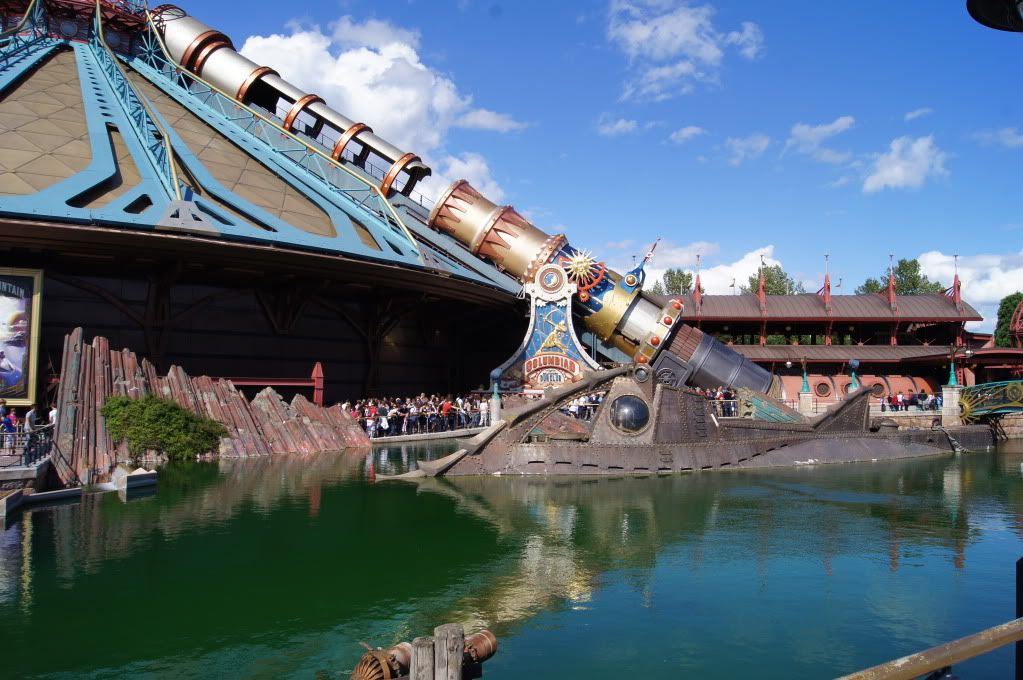 Continuing with the solid run of coasters that we'd managed by accident, our final trip into Frontierland concluded with a stop on Big Thunder Mountain...ride number 3 for this holiday.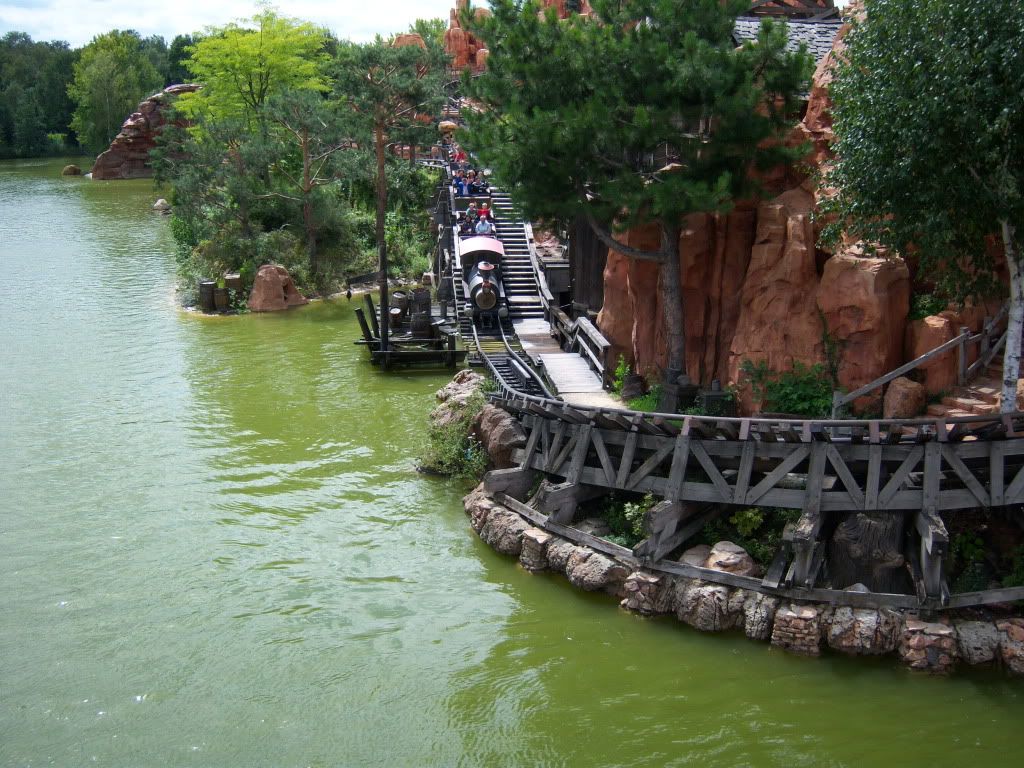 After 3+ days of walking, queueing and riding, our energy was waning. After a final ride on Pirates of the Caribbean, our day in the park becaming a walking tour of the scenery of the park, observed at a more leisurely pace, and a final sitdown for a drink and icecream in Main Street.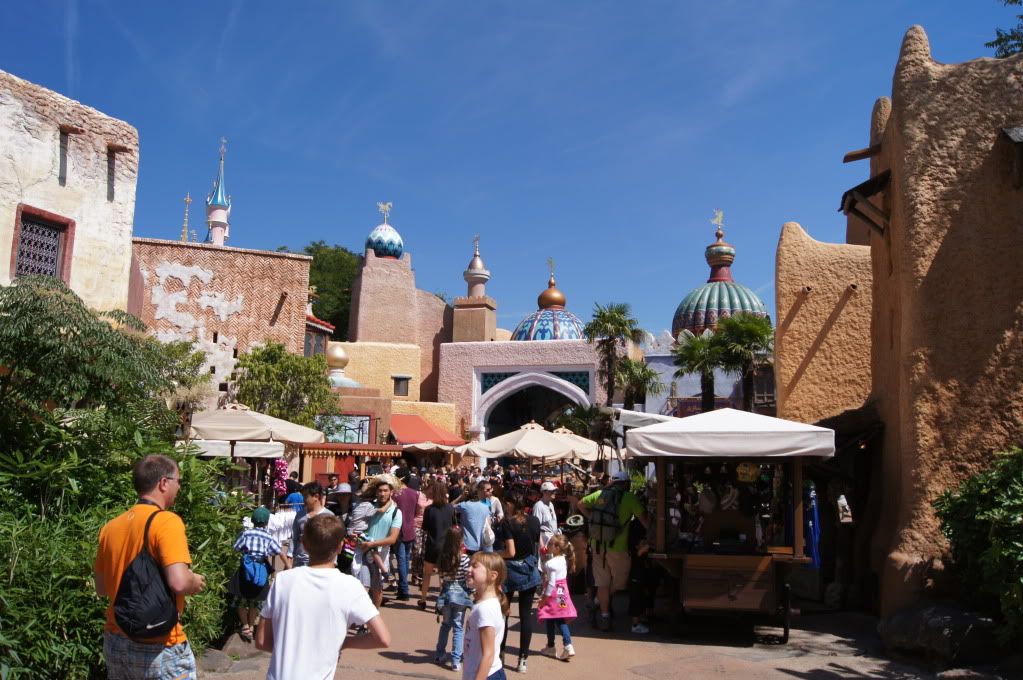 Adventureland's Arabian themed section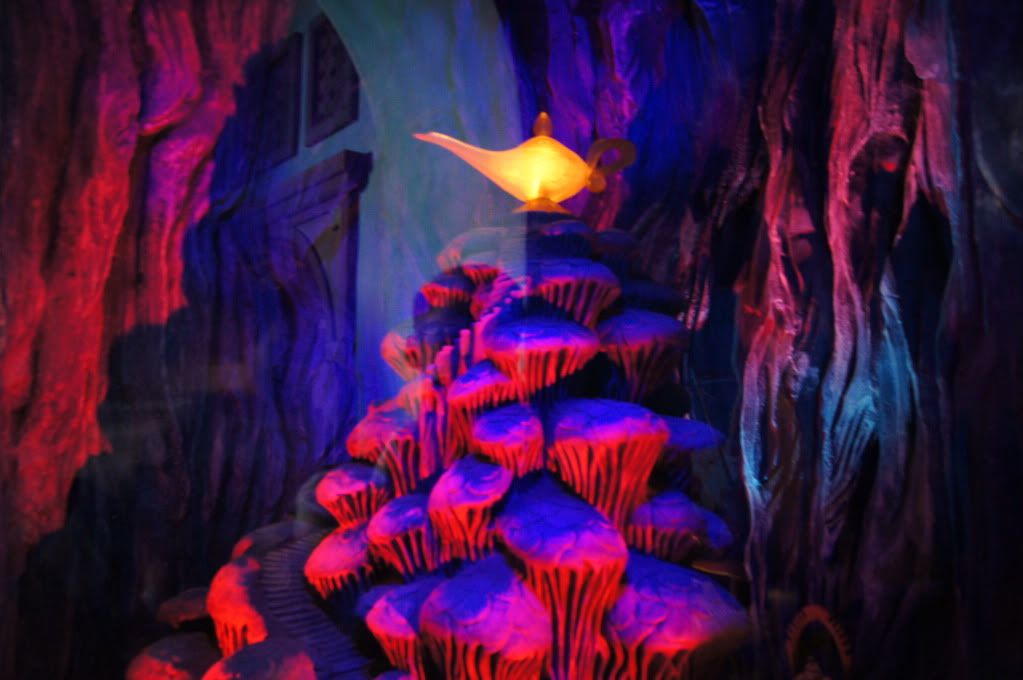 Inside Alladin's Enchanted Passage walkthrough.
It was very enjoyable trip, and even after 7 trips to Disneyland Paris, I would still love to go many more times.