Ok, so I was thinking about what they should do with WDSP and I came up with what I think is a fabulous idea: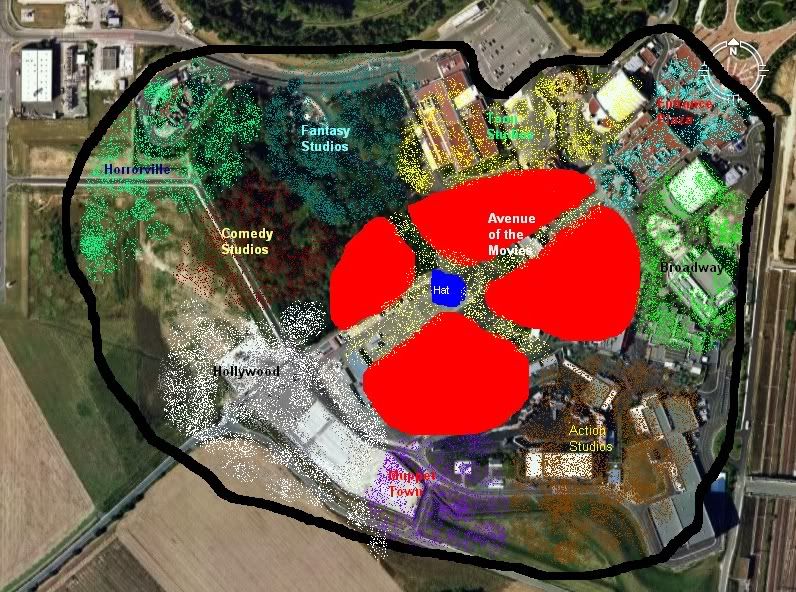 The new park wont have a backlot studios tour anymore but will be an example of all the themes in movies. The lands are the following:
Entrance Plaza:
This is going to be the same that it is now.
Avenue of the Movies:
This is where the major changes start to take place. Since they decided when they built the park to not put a Main street type thing I decided it still wasn't too late. This is going to be in the center of the park instead of being at the beginning. It is going to be a street that looks something like MGM's entrance street and is going to have shops and restaurant along with rides. The main ride on this street will be Tower of Terror. The icon of the park will also be on this street. The hat from MGM will finally find a place in a park where it is loved. It will be at the crossroads of The Avenue of the Stars as you can see on the map. The Avenue is also going to serve as a hub for WDSP.
Broadway:
This area of the park is going to be where the majority of the shows are at. Along with the shows there will be a dinner show that highlights this part of the park.
Action Studios:
This will be where you can see for yourself(and maybe join in on some) all the crazy stunts that happen in the movies. The highlight of this part of the park is the Rock N' Rollercoaster.
Muppet Town:
This part of the park is going to be all about the Muppets. There is going to be the 3-D ride strait from MGM and there is also going to be the long anticipated Great Muppet's Movie Ride.
Hollywood:
This is the land that celebrates Hollywood's golden ages. The ride that will highlight this part of the park will be the Great Movie Ride. This version of the ride will be very different from Florida's version.
Comedy Studios:
This land celebrates all the funny movies. Along with a couple of 3-D shows there will be the Laugh Floor Comedy Club.
Horrorville:
The land that takes you into your worst fears. Spiders, snakes, and vampires. The highlight of this land will be Fear an indoor rollercoaster.
Fantasy Studios:
This is not the same kinda fantasy that you get from Fantasyland at Disneyland. This is going to be a land that puts you into movies like Lord of the Rings and Harry Potter. Also a King Arthur dark ride will be there.
Toon Studios:
Very similar to the one they are building right now. The only difference will be a Roger Rabbit dark ride that will be the highlight of the land.
So what do you think??