Well hello there.
Bet you weren't expecting me back here w/ a TR so soon.
Well that's what you get for making assumptions :P
Anyway, wicked last minute last week Darkwing Chuck and I decided to make one final early summer trip to the resort for a variety of reasons (which I shall divulge as we go along).
Motive #1: I had four days off from work at the job that's making me want to rip out my hair!
So I awoke in the wee hours of the morning with less than 15 minutes of sleep
See... wee hours
And we took off for the resort. We got there right after opening and decided to try our hand at Indy (b/c we knew it'd pack out during the day). As it was the line was all the way to Aladdin's Oasis, so we decided to jump into the virtually non-existent line for Jungle Cruise.
Finally (after about 6 consecutive trips to the Jungle) we had a hilarious skipper. One who improved well and managed to weave in the new Indiana Jones element of the ride in very well. He didn't have the most original jokes but his deliveries of them actually made them fun again
The best fishing in the Amazon
Our skipper
So we grabbed Indy fastpasses and headed over to Big Thunder which we had missed on our most recent trip (It kept being closed or having huge lines)
We asked for the back seat and after our first ride, the CM's let us go again because there was no one in line. It was pretty awesome
After that we headed over to DCA which was just opening.
This leads us to Motive #2: Because it was Friday the 13th we decided it would be awesome to ride Tower of Terror.
Apparently a bunch of other people had the same idea cause a ton of guest rushed over there at rope drop
It was excited to see the 13 minute wait time (I know it's standard when there's no wait, but it was cool to see it on the 13th *read: is a nerd*)
Oh, I'm sorry, this is a Friday the 13th report... let's make this pic a little scarier!!
Well that failed
After a fantastic ride in the front row we grabbed fastpasses with the sole purpose of keeping them for the day printed on them *is still a nerd*
Our next stop was the lamest rides we could find in DCA. We thought maybe after reading several threads here that we might run into the dream squad if we went on rides like the Zephyrs, the jellyfish and Mulholland. This however was to no avail As we got in line for Maliboomer though we started hearing these people behind us taking about their scores and accuracy. Darkwing Chuck and I looked at each other and almost bolted from the line.
The reason being Reason #3 for the trip: Hope that Midway Mania would be in soft opening.
We were delighted to see it was and hurried into line
Here's some midway shots cause I know you all haven't had enough of those lately
So excited about our Mania sneak peek (seriously I was like jumping up and down in line)
And then Darkwing Chuck beat me so I wasn't as excited but
The ride was fantastic. We were laughing the entire time and just having a great time. I say it surpasses Buzz (but that be because it's new) I'm not sure how to explain it really but it was great!
Darkwing Chuck playing the game and beating me
Me.. all blurry and stuff
We had so much fun we hopped right back into the ever growing line for the ride to play again.
Some of the screens when we stopped
And Darkwing Chuck beat me again
After the ride and lunch and such, we headed back over to Disneyland and ran into a slew of characters!
Baloo was up first
Darkwing Chuck gave him a big hug
And then they were too cool for me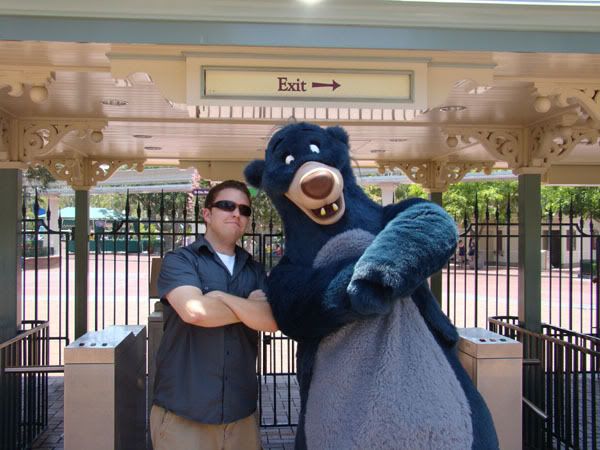 Aurora was out (which really shocked me b/c I though the princesses were sequestered to the Fantasy Faire)
And Jasmine!
Also out was Rafiki. I love Rafiki (b/c I use to work w/ him at Rafiki's Planet Watch/Conservation Station at WDW) he was super energetic! Also I look crazy
We also ran into Ariel who told me she liked my red hair and green shirt (she's hard to pose w/ when she's in that shell thingy)
Darkwing Chuck loves Ariel
A little later in the day we were over in NOS and caught Queenie and the Band out.
There was also this adorable kid... dressed as a smaller version of the Time Keeper pirate from TSI!
Talking about learning how to dance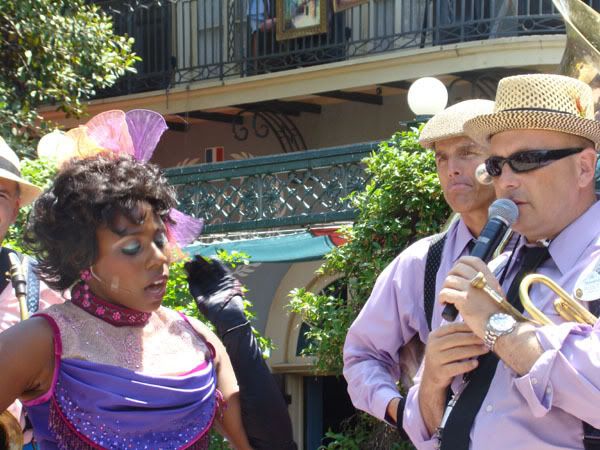 And then some fancy dancing
One minute I'm taking pictures, the next Queenie is at my arm pulling me up on stage. I handed off the camera to Darkwing Chuck and was then made to dance.
Luckily it was a pretty simple dance
I was far too worried about tripping over my feet from exhaustion
And over the bag I'd put behind me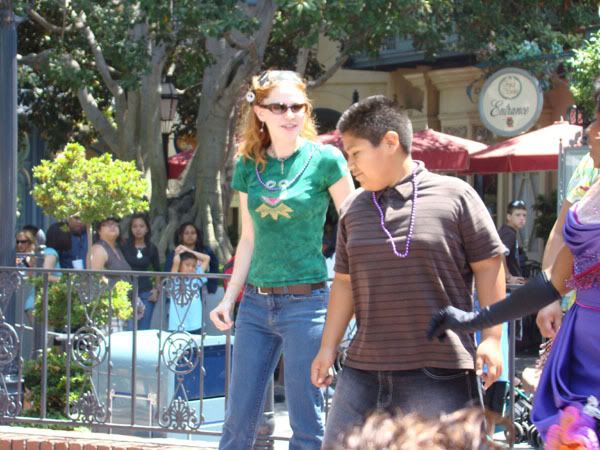 Mid spin
When the saints go over there!!
And then in line for Pooh I decided to eat the beads I'd been given... cause I'm weird like that
All right, that's it for now. There's more to this day and more from the next day so please stay tuned