OKAY SOOO, back on May 28th the Millers took their annual trip to Disneyland! (once again this tr is late...oh well!)
Welp, before Disney we stayed a while in Newport Beach. Now, the beach is nice and all, but dragging me in a car for 1,200 miles and then not immediately taking me to Disneyland is cruel and unusual punishment! Needless to say...I was VERY excited to see the beautiful backside of everyone's favorite, the Tower of Terror!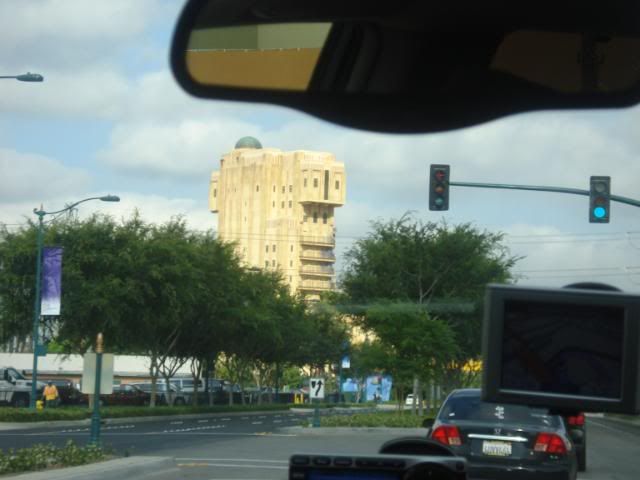 All the excitement made us hungry so we had our traditional breakfast at the Carnation Cafe. Mmm, delicious! Her is mi madre and my sister looking oh-so-excited.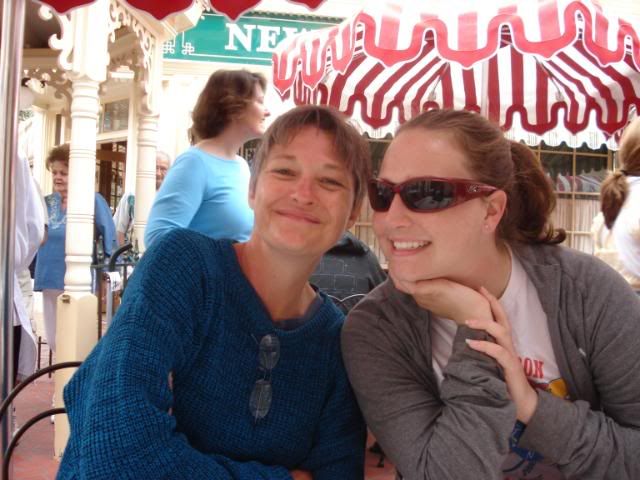 After our filling breakfast, we got antsy for a ride! Well, it was obvious that Splash Mountain missed us and sensed that we were coming, so it dropped its wait-time down to 10 minutes. We totally hit it up. And as always, my family volunteered me to sit front and center. Mmm, looking good! I totally pull the drowned-rat look off, no?
(what no it's totally not my look of defeat...hehe)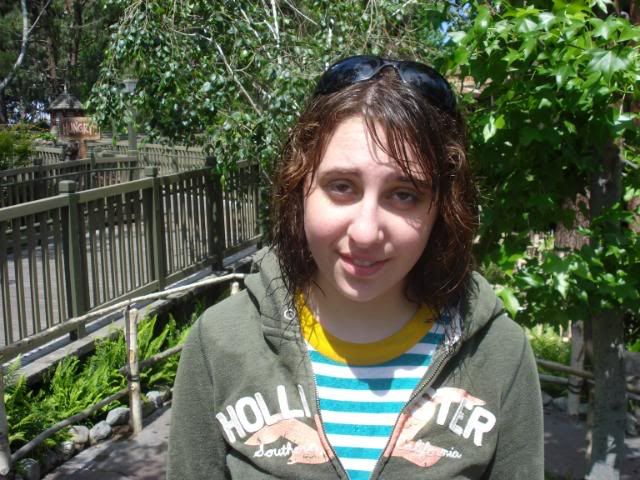 After that it was time to check-in so we headed down Main Street. Dad went to look for his favorite Snow White figurine (confused? check out my other TR!) and found that she was no longer in her glass case in the window...but now on a shelf where he could not reach her. Oooh the heartbreak for my poor papi.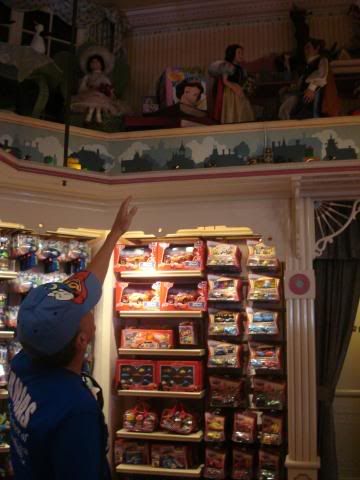 On the way back to the hotel, I spotted something in the distance...it was someone getting married! I had always seen the carriage on the Travel Channel, so it was great to see it up close and personal.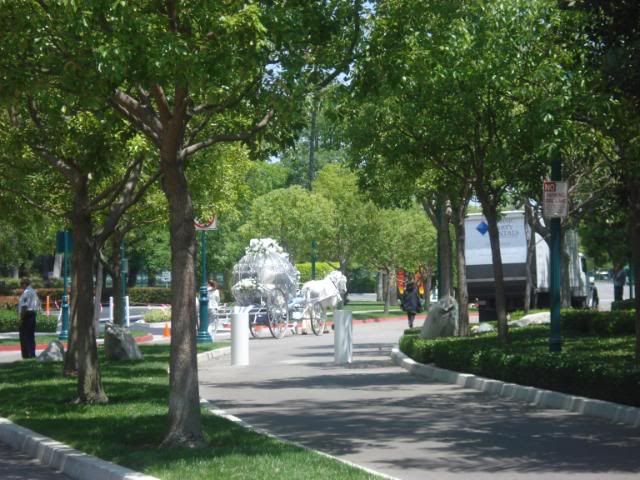 We hit up the concierge for a bit to regroup. Papi found the little-kid chairs more appealing than the big-kid ones.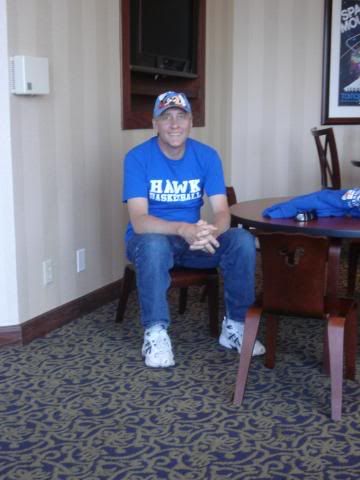 We're pretty big fans of DCA and decided instead of going back to DL, we'd hit it up for the day. Our first stop? The Miller Family Favorite...the Tower of Terror! Sheryl (sister) is just terrified (aka, very excited) to meet her doom!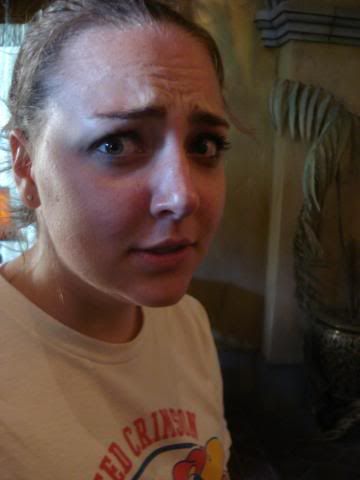 We slowed down the pace with a quick ride on Monsters. Then I decided to be all cutesy with the photo-op because I'm such a girl like that, ya know?!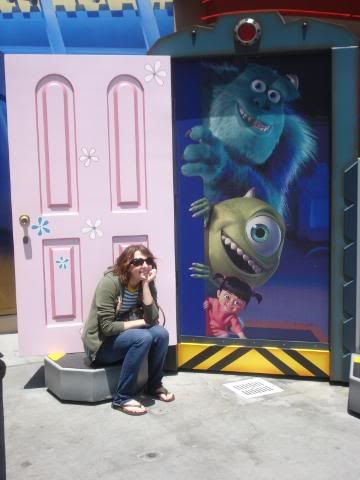 Next stop...another favorite of the Miller clan...the Disney Animation building! We hit up the Beast's Library. I took the character quiz and got Lady Tremaine...my brother will never let me live it down. The second time around I got Cinderella though, haha. Quite the opposite! Pictured below is Sheryl deeply immersed in her quiz!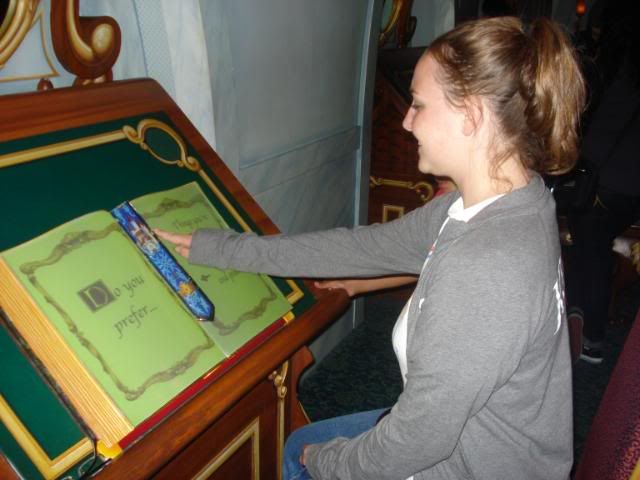 To end the night we went back to DL. The park is gorgeous at night, but something at Tomorrowland really captivates me.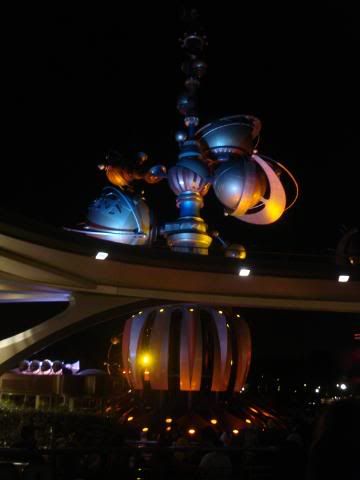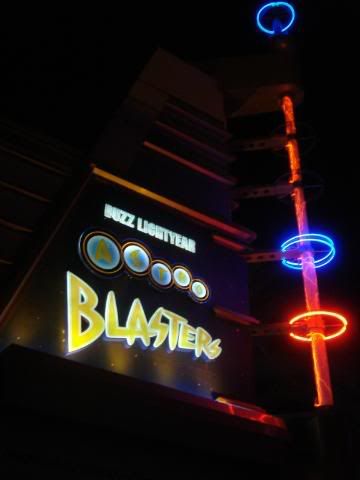 The next day we braved the line for the subs. We missed their opening by a DAY last year and had to wait until this year to go. Sometimes it sucks living in Kansas. But the ride was good and worth the wait.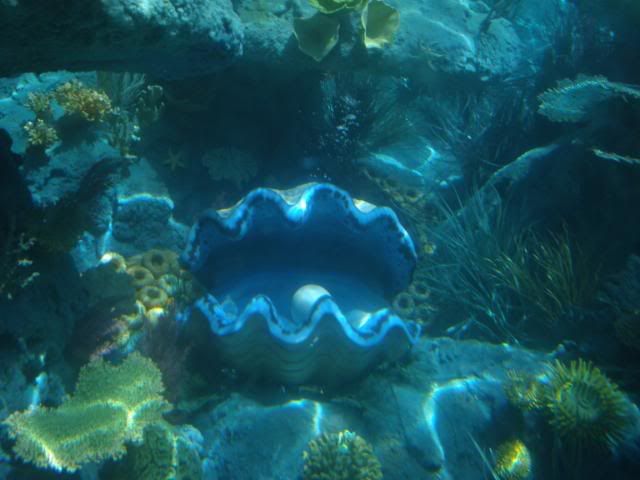 And not too far away...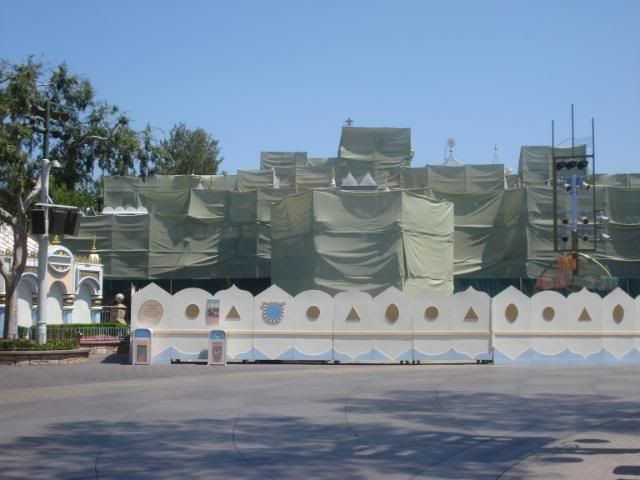 Well, because we adore the ToT so much...we went back to DCA to ride it again! The wait-time was 13 minutes...coincidence? I think not.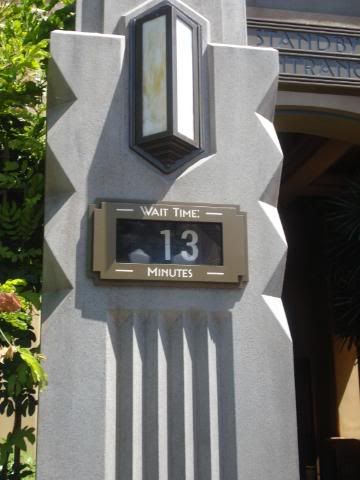 Papi was so excited. He said, "Sara I'm just so excited! Here, take a picture of me with something!" And so this is what we came up with! This is his eager face.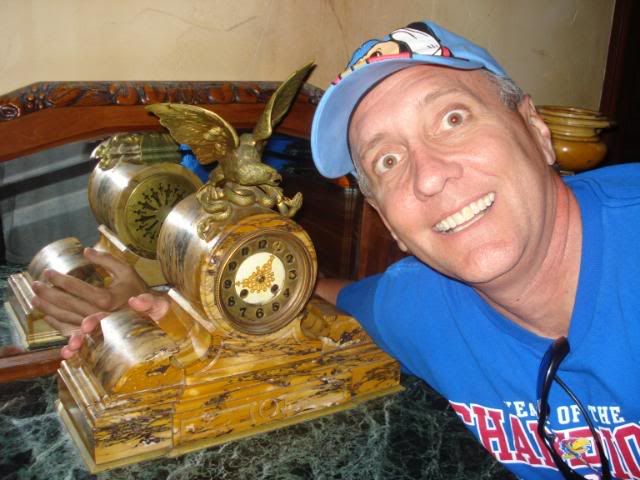 Spooktacular!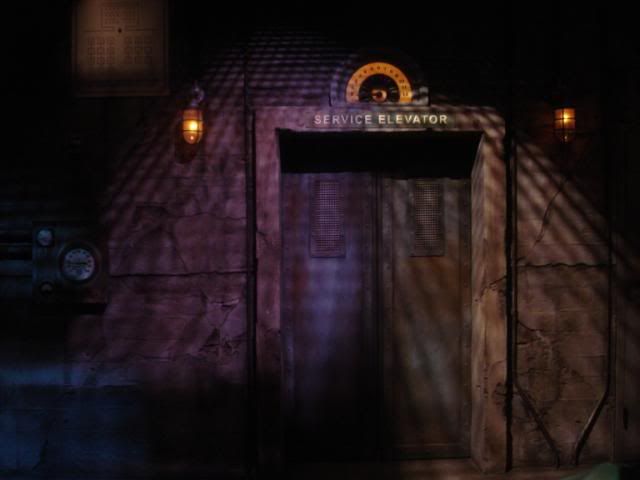 After so much doom-and-gloom we decided to liven things up at Muppet 3D. I pull off the shades pretty well, no?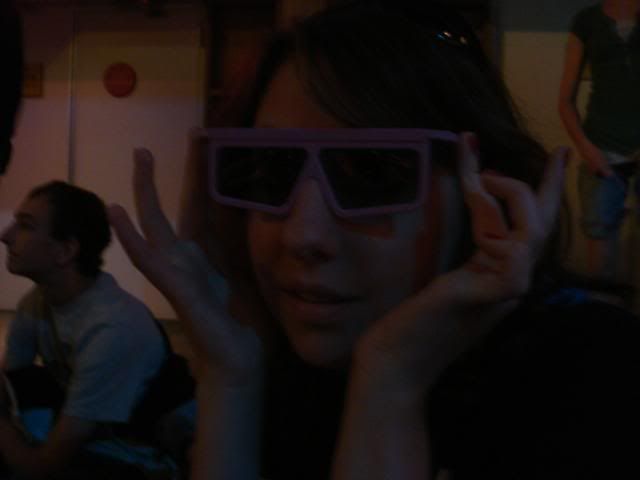 Well then my family decided to be lame and hit up the hotel for a bit. But not Sara! Heck, I get to come here once a year and I'll be danged if I miss one second of being in the park. So I was strolling around Disneyland for the first time by myself and who do I see? Dr. Jones! He was in quite a hurry after defeating the big bad man for a map.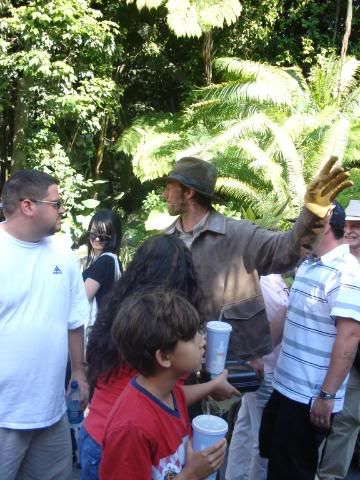 I was right by Tarzan's Treehouse and realized I had never actually been in it, so up I climbed! Here's a random kid that got in my picture.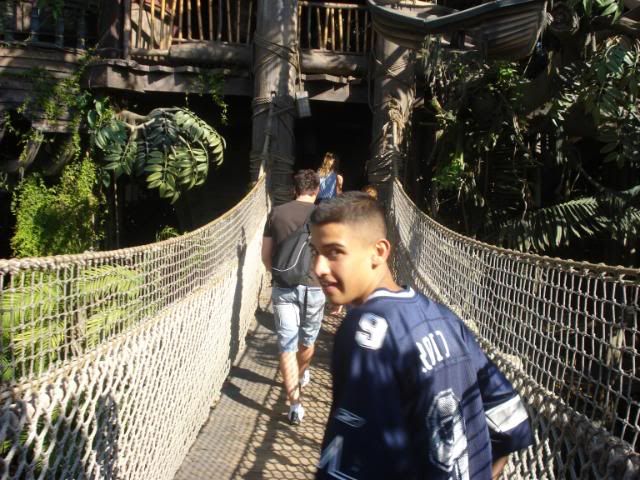 The Treehouse was really nice and I'm glad I decided to see it! It was nice to see Jane and Tarzan, hehe.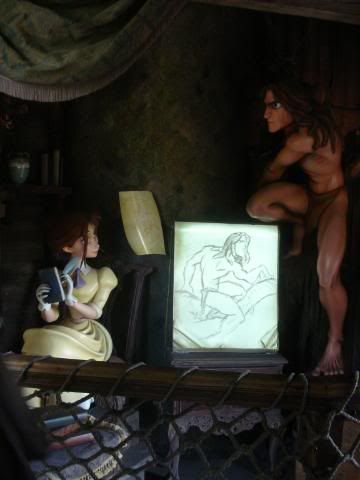 The happiest Toad on Earth?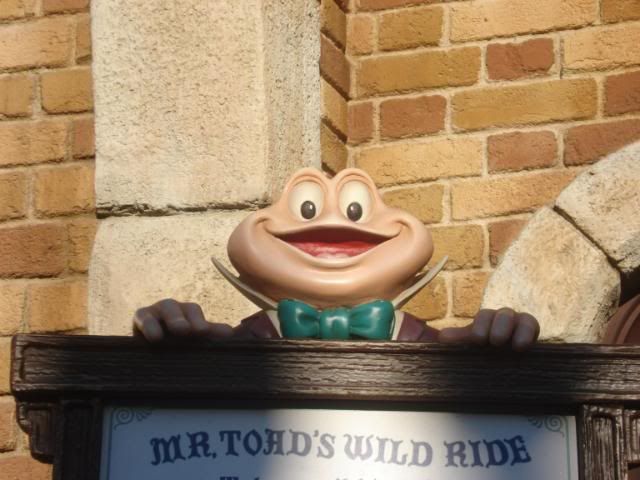 Papi again! Every day we were at Disney, he made sure he wore some kind of KU garb to show off that yes, we won the Orange Bowl, and yes, we were National Champs.
It paid off though because we met a bunch of other Kansans! Any other Jayhawkers here? Holla!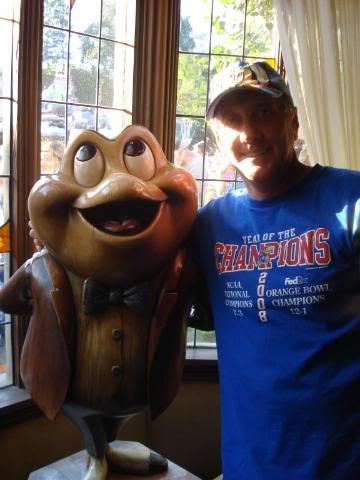 WELCOME TO OUR FAMILY TIME!! woooooooohoooo. Is it just me or do these fake dolls freak anyone else out?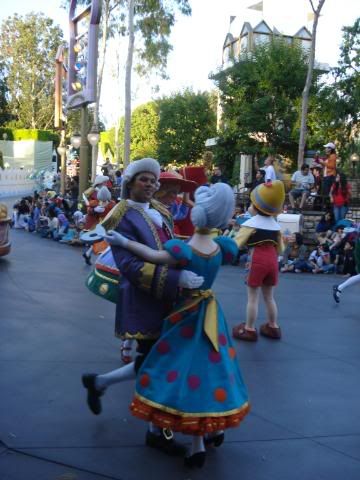 The Ursula float also gets me...just something about it.....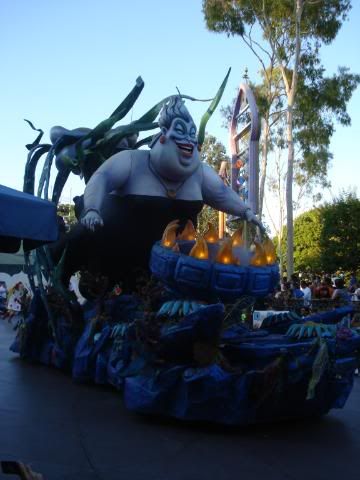 I loved all the details on the Alice float.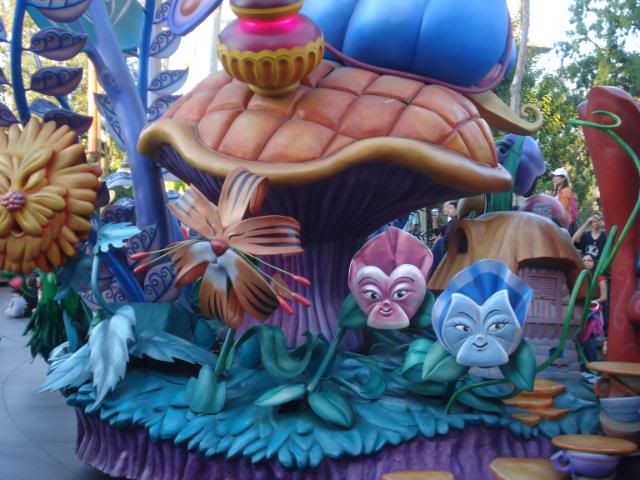 The dancing animals! This gazelle really caught my attention the whole time; I loved her!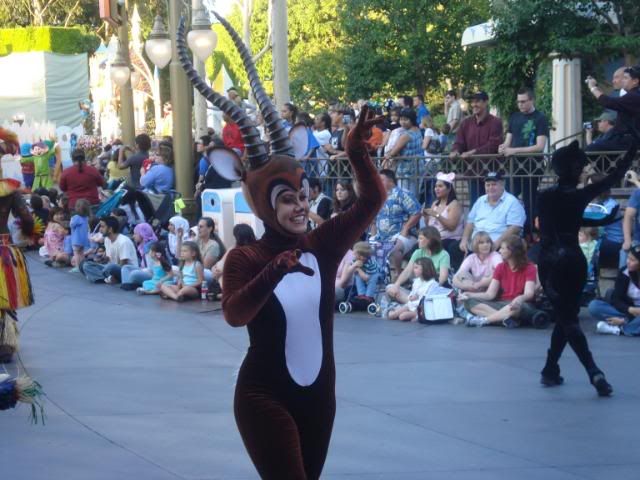 Well then it was closing time so I braved Downtown Disney alone but it was very peaceful and relaxing. I love DD at night...it's gorgeous.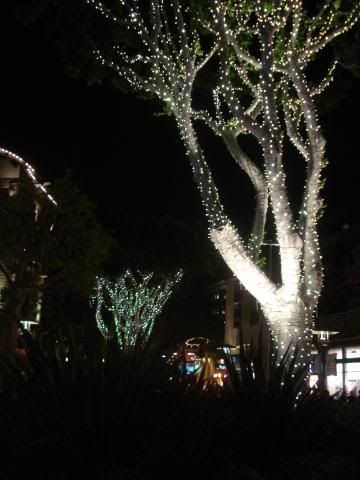 My favorite view to fall asleep to...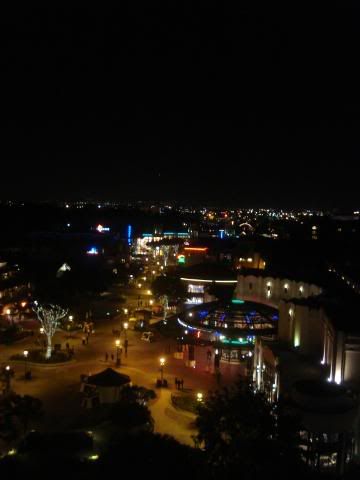 And to wake up to!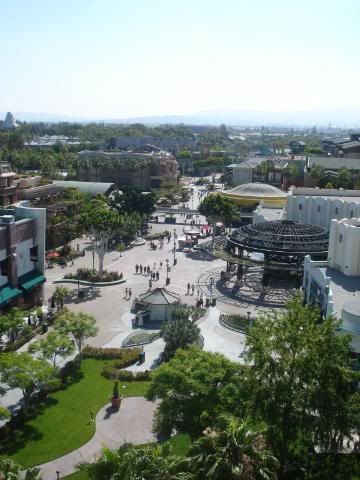 Okay so funny story about our last day in Disney. We were originally supposed to leave but...we lost our car keys. We searched the room again and again and couldn't find them. By then, we were hours off schedule so Papi said, forget it we're staying another night. (great news for Sheryl and I!!) So we get checked into our new room and Sheryl and I bought fresh new passes and....WE FIND THE CAR KEYS. I kid you not. Since we were settled in already, Papi let us stay so Sheryl and I got an extra day in the park. Funny how fate works out! Anyway, we headed to DCA again and caught up with the Pixar parade. I didn't even know this parade existed and I am so upset I've been missing out! I absolutely loved it.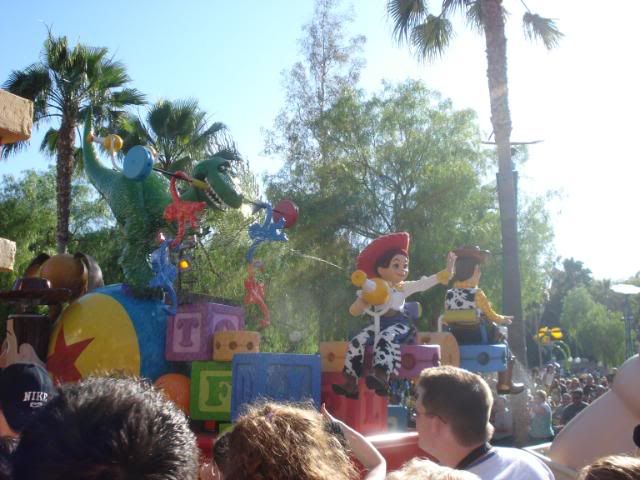 Well then Sheryl and I got the munchies and went back to DL to eat. We hit up Pizza Portal (is that what it's called?) and since we were in the neighborhood, we went to Innovations and made our future!



In my future...I'll be able to visit space and not worry about leaving my dog behind, because a robot will keep him company while I'm gone! Sounds like a plan to me.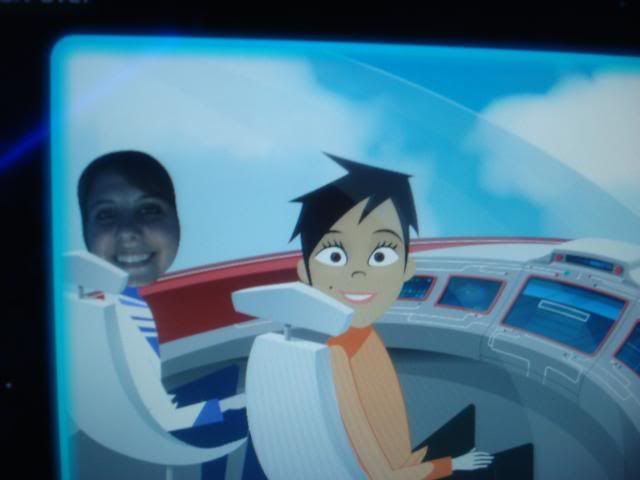 Another day started to come to a close. Sheryl and I captured some pictures before we left.



My favorite display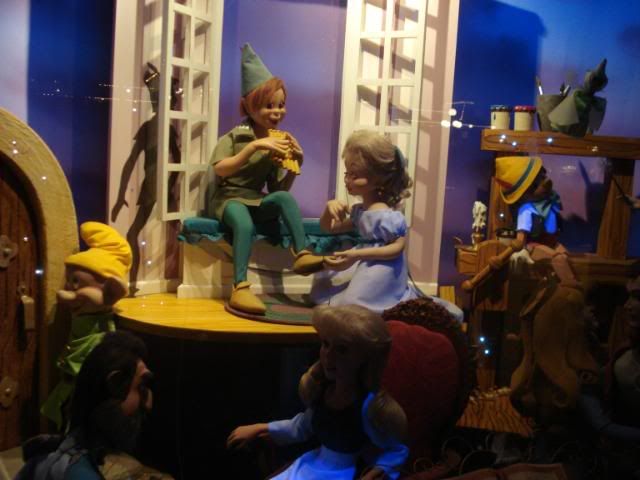 I really loved what they did with the flowers!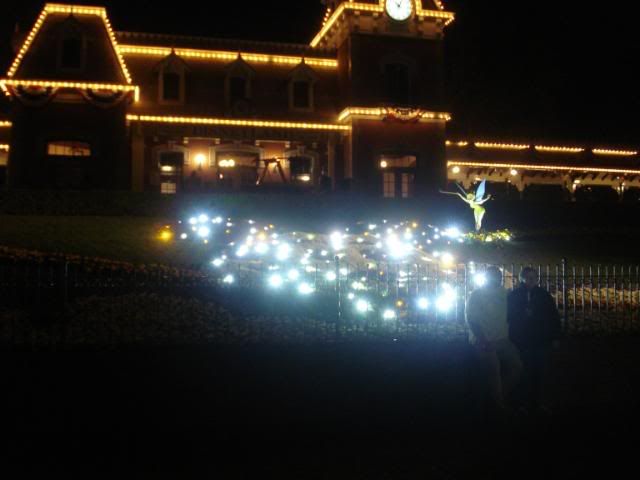 We took one last look around. One last deep breath in with our eyes closed, hoping our memory would store the sights, smells and sounds for us until next summer. And then we headed to DD and back to the hotel, and ultimately, but to Kansas.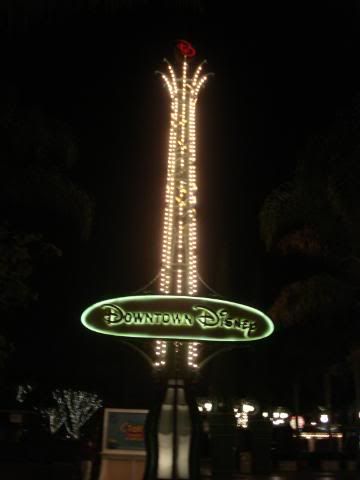 (Hope that wasn't too long!)