Mods i really want this to be a separate thread from the other earthquake thread bc it's about my story.
As most of you already know, yesterday at around 11:45 AM, a large 5.8 earthquake happened at Disneyland and a large area around it.
This caused a little chaos in the park that i witnessed and i'm here to tell you the complete story.
Also note: Indiana Jones is down for an unknown amount of time. It remained closed for the whole day, and possibly days to come.
-------------------------------------------------------------------------
Entering the park, having no clue what was to come on that day.
We entered the park at around 8:10 AM and immediately hit Splash Mountain, then Haunted Mansion. We were sad that Indiana Jones was down, lol. Right when we get there and the park opens a ride is already down!! WE're like NOOO. Okay anyways...so yeah we keep riding rides until me and my brother couldn't find anything else to do (we didn't want to wait a ridiculous time for the dark rides that were barely 2 minutes long). So we're walking in Frontierland and notice the mark twain just docked (possibly for it's first voyage). So everyone got on (including us). Oops i forgot, our parents dropped us off so they're not at the park at all. So yeah the Mark Twain began to Make it's circle around tom sawyer's island/pirates layer. Once we were practically all the way around, we felt a slight rumble. Mind you we were in water. At first i thought we hit a rock or something, and me and my brother were joking about it. But then, it lasted for a LONG time (like 30 seconds) so i thought it was just a normal engine procedure. Nobody on the boat noticed anything. However, when i looked into tom sawyer's island, i noticed this lady that lost her balance and grabbed on to a rock, and these other girls started screaming like crazy. At that point i didn't know what to think, but i just forgot about the whole thing.
We got off the boat at 11:50 and decided to go back to Tomorrowland to use our fast passes. Frontierland was VERY calm. At this point i had completely forgot about the rumble incident and for all i knew, nothing happened. Then i go to tomorrowland and omg. The whole land was a mosh pit. We could only take one step per two seconds. People were all squished because EVERY RIDE SHUT DOWN ALL AT ONCE. I was like omg what happened? I began worrying that a bomb went off or something (you would think that by the way people were acting). So i go up to this ice cream guy and ask him what is giong on. He said an earthquake hit and all the rides have shut down until further notice.
Angry crowds surround cast members
WHAT??? I WAS SO CONFUSED but then i remember the rumble on the mark twain and everything began making sense. So we go up to the Space Mountain ride manager, fighting our way through the thickest crowd i've ever seen, and she said that it could take a half hour. A half hour later she says it could take a few hours. At that point i was considering going home, it was ridiculous. Everyone in the park was forced to cram in the streets while all the rides were comlpetely evacuated. This is summer people, and when we're all in a tight place, we barely fit at Disneyland!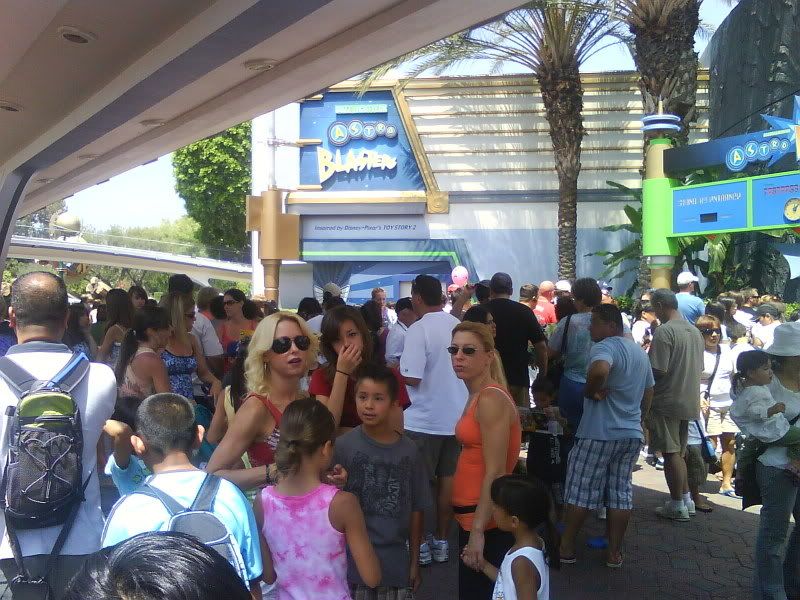 People were standing around, wondering what they were supposed to do.
We decided to use our park hopper and see how California Adventures was taking it. Every single ride except for the Pixar dark rides was closed. And the only thing that didn't have an hour+ wait was muppets 3D. That was the first time me and my brother were entertained for 2 hours. Then, having absolutely NOTHING else to do at DCA, we left to go back to Disneyland.
Bored out of my mind in Disneyland, I decide to take a picture of my brother's glasses revealing a picture of Sleeping Beauty Castle. O_o... This picture was taken about 20 minutes after the earth quake. Don't pay any attention to the freak with the cell phone at the bottom left corner.
A lot of rides were still closed but we were happy to see that they began opening up (Matterhorn being the first, and the line wait spoke for itself). Splash mountain was also re-opened VERY quickly. So quickly that I never saw it closed down. However, people were still not satisfied (and neither was I). There was a huge line outside of City Hall of people demanding their money back. I can honestly say that by 12 AM midnight I had my money's worth.
So basically, we had to wonder around aimlesly for 3 hours of our 16 hour visit. Not fun. By 4 PM all rides were brought back open again (besides indiana jones which is having some major issue). The park continued to run normally for the rest of the day. If you got there at 4 PM you would think that nothing ever happened.
I was also pleased to hear that the night time shows were not canceled. However, Tinkerbell did not make an appearance for the fireworks. The line that she flies on is possibly damaged/unchecked since the event.
End of Fireworks Intro 8/29/08. Where is tinkerbell?
I EXPERIENCED AN EARTHQUAKE AT DISNEYLAND YAYY!!
oh and one more thing, it was so hilarious seeing people react. I heard everything from "THEY'RE CHECKING PEOPLE FOR BOMBS" to "THEY'RE GONNA CLOSE THE WHOLE PARK!"
LOL!!!