I'm getting so un-creative with my titles and stuff for these trip reports :P
Oh well... I'll blame it on my end of summer funk. Classes start again next week and I'm definitely not psyced.
So, my aunt, who had had a horrible time at Disneyland back at the end of June, decided we had to make up for it by going last week. She, my mom and I jumped in the car and were on our way to the resort in the wee hours of the morning...
But as I am a sneaky Kuzcochik, I can't actually start this trip at Disneyland *le gasp!!* I know right?!
We actually traveled the extra hour of so and started our trip at the U word! Universal Studios... *cue dramatic music* dun dun dun!!!
I hadn't been to Universal in a little over 3 years (the last time we went was during our Cali trip to Dl for the 50th). I kind of remembered why. With the exception of a few attractions, there's not much reason for me to visit the park more than that often.
It was also weird to me to go into a park that I don't know like the back of my hand. We bi-passed the house of horrors (I kind of miss the Van Helsing overlay) and ended up making our first stop the brand new Simpson's ride. I really like how much of the cartoon the incorperate... I was also kind of sickened at the fact I got every single reference... I watch too much Simpsons!
One of the fakey ride posters scatter about the queue
The layout of Krustyland
Poor Poor Doc Brown! We miss you!
Okay, this pic is terrible quality... but I thought it was funny how it looked just like the pic I took w/ Matt Groening at Comic Con (he didn't look that scared... maybe on the inside)
As for the Simpson's Ride... I really really enjoyed it! It's been a long time since I've gone on a ride and just been completely captivated, trying to see every single detail of every single second. The CG Simpsons were a little off putting, I'd rather they had been in the regular cartoon style but I guess it wouldn't look as "realistic" that way. There was a fairly coherent storyline (on a late ride I realized how much more of it the videos in the queue and waiting room help to set everything up... best part: Sideshow Bob taking out Barney w/ a day old hard as a rock churro)
I don't know, I was really pleasantly suprised how much I liked it and how much I wanted to jump back on the ride. Okkay, gushing off (that's about all the gushing I'll do for this park)
We went and got lunch because we were straving and ran into the scrawniest Zorro I've ever met... and that girl... what's her name? Cathrine Zetta Jones
Then it was time for Shrek 4D. I laugh because the pre-show for that ride is the best part to me (but even that goes on too long). The ride itself is just kind of meh. It bugs me how there's no consistant POV... it's like you're the camera not a character w/in the story.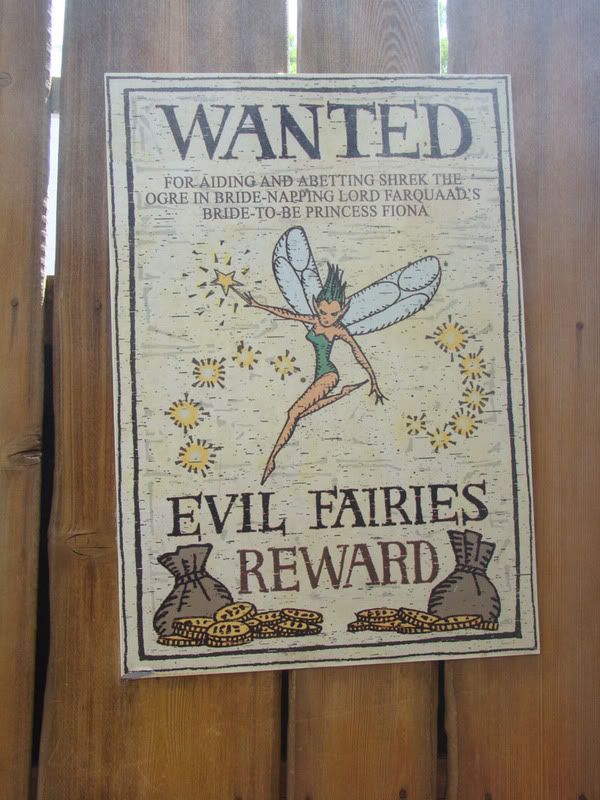 On our way to T2 3d (I have no pics, but that's one of the coolest 3D shows around!) We ran in Fievel!!! I was super excited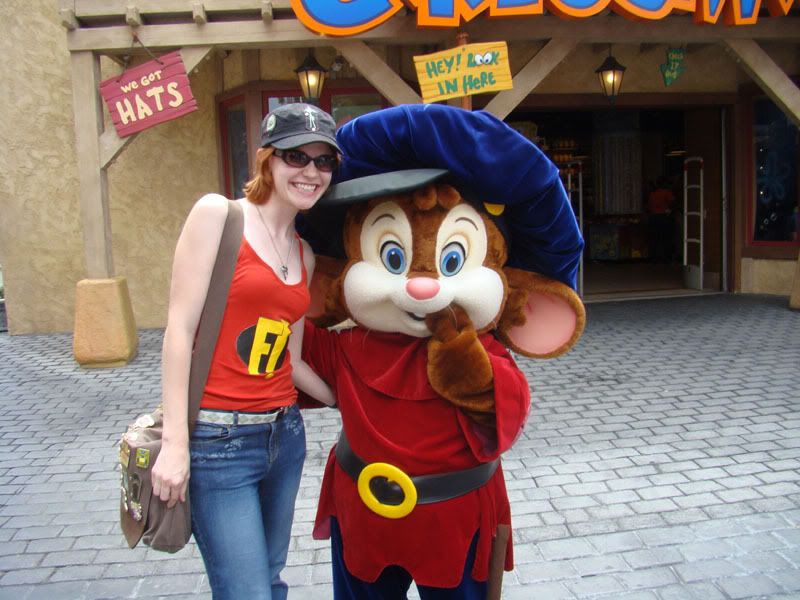 Downstairs we tried to die of heat stroke at Back Draft (that attractions funny because it's so dated... seriously I don't even think I've actually seen the movie Back Draft let alone the average guest)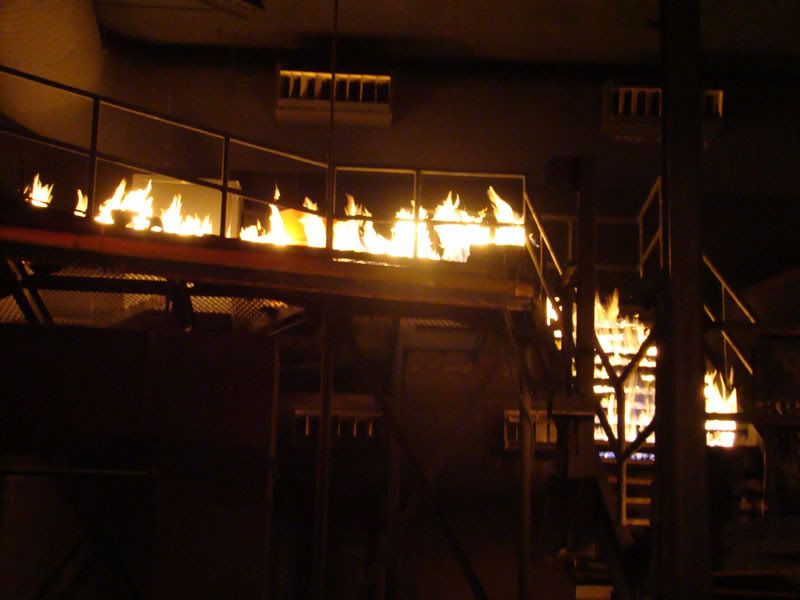 And then on to the Land of the Lost.... err I mean, that other boat dinosaur thing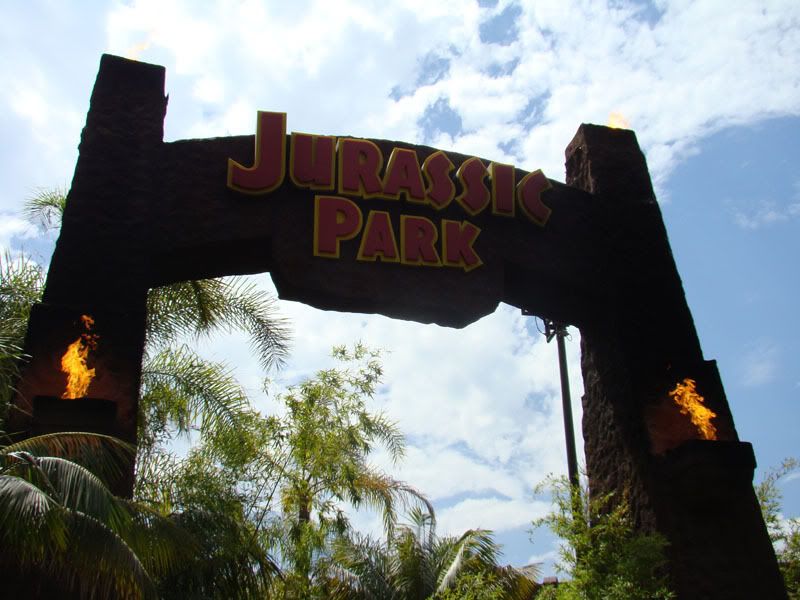 This was funnier to us at the time... it could have been the heat stroke and sleep deprivation combination. I was too short for the ride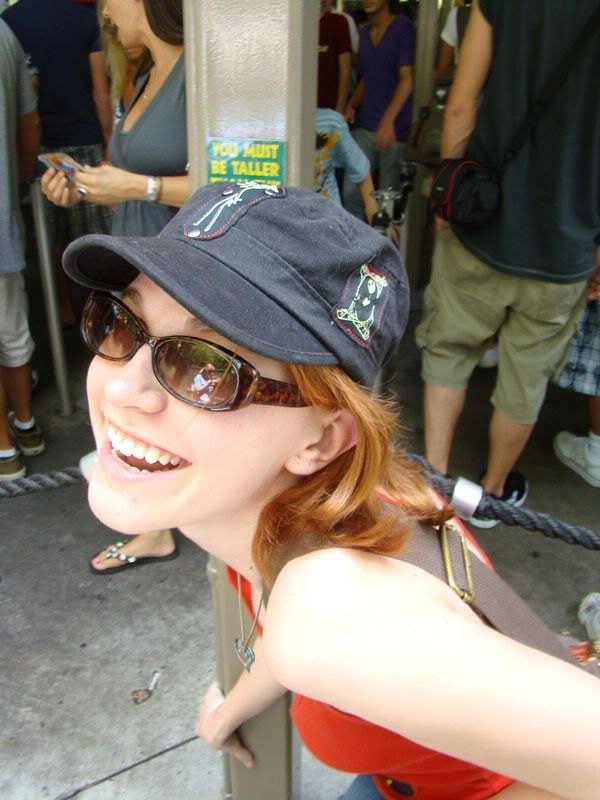 Welcome to Jurassic Park... where the water effects were on high much to our distain (I hate getting wet on rides and generally JP's not that bad... unless it's a hot day and all the stupid squirting effects are on)
Rawr!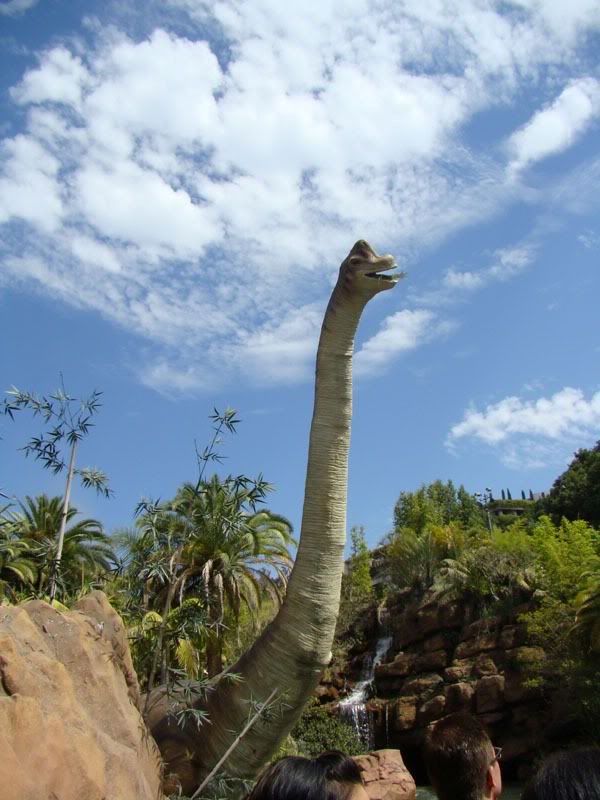 Oh no it's going to eat us... good thing there's a fall here for us to go down.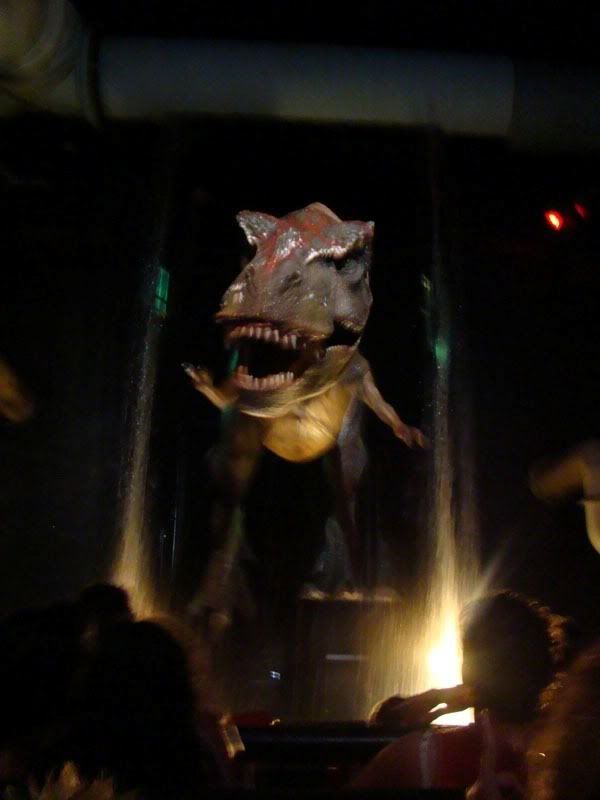 A fairly drenched Kuzcochik
This was taken after I shook out my hair animal style and made my mom mad... I was not happy to be drenched!
After that we rode Mummy twice. That ride just made me sad. It's a fantastic attraction, but half of the effects weren't working right, there were terrible back ups that made us think the ride had broken down and it was just in sad shape. (also Florida's is so much better!)
I was psyced cause i could see the WB watertower from the Universal Starway... I can't help but theink there are Warners up there... watching and waiting to make their move. What? I have issues I know!
better shot of the Tower while sitting on the tram
Zoinks! Funny enough we saw Scooby & Shaggy roaming about later that day
The devo-sta-sion!
Serenity mobiles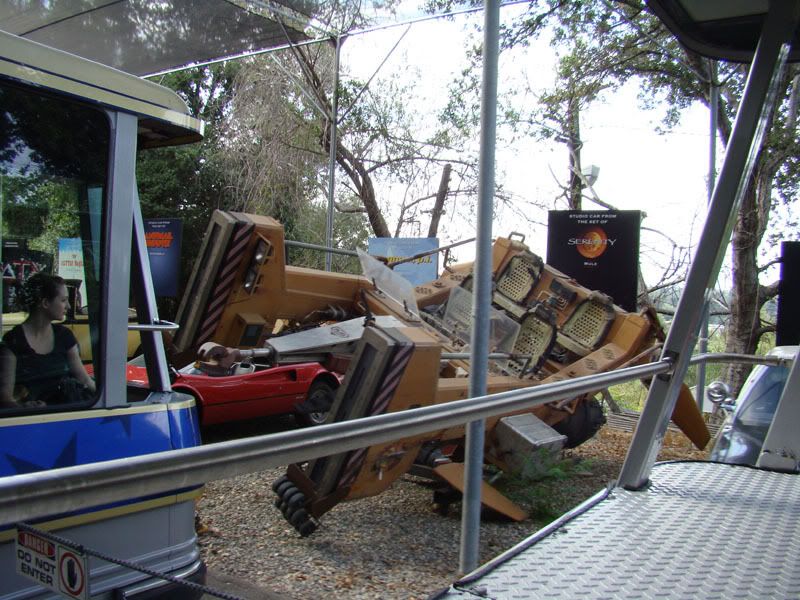 Deloreans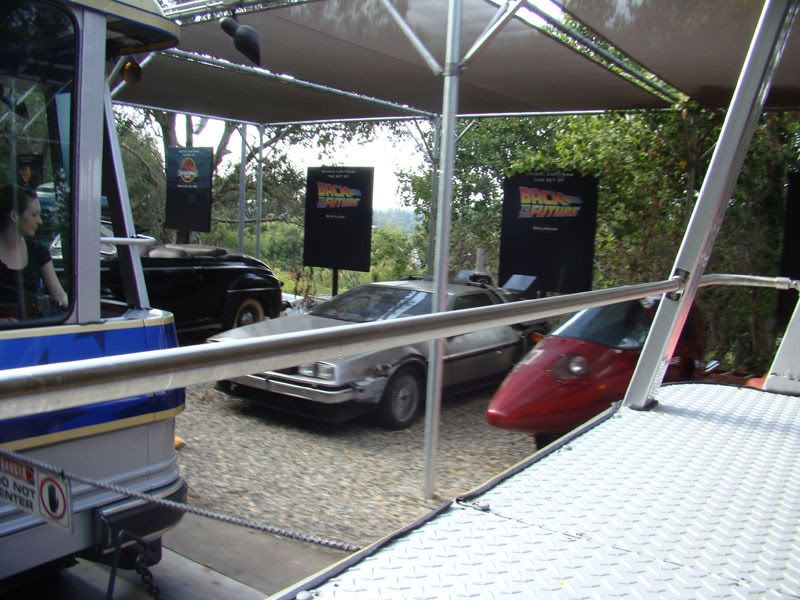 Oh no, it's the same flash flood that's been there forever... I don't know how we manage to get caught in that flashflood everytime I'm on that tram. Bad luck I guess
Woo-Ville looking sad and neglected
Weep weep weep weep! (that's the Psyco music for those that were unsure)
Okkay, I'd never seen this before. Norman Bates came out of the motel! He had some terrible dummy he stuffed in a truck and then came after the tram w/ a knife. Excellent touch.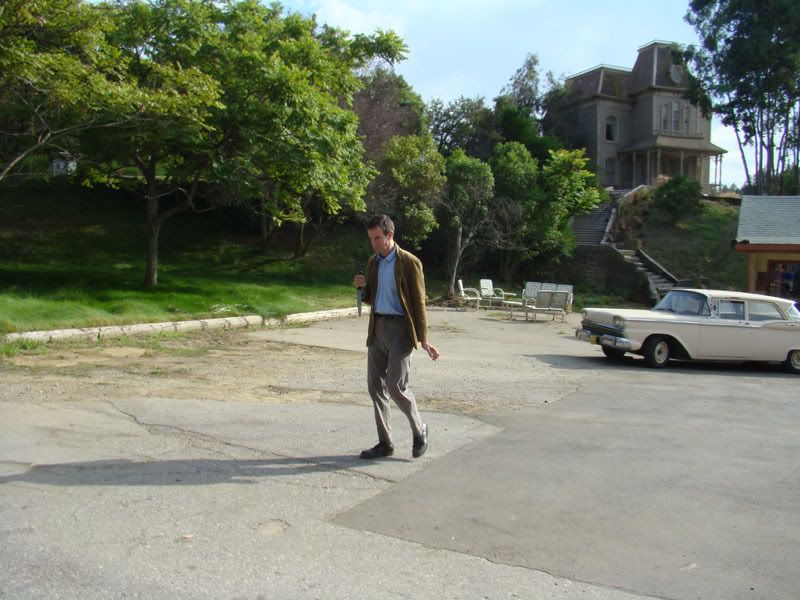 War of the Worlds set
The fate of all strollers that get in my way! Mwha ha ha ha!
We decided to end the day w/ one more trip w/ the Simpsons
Apu selling his wares (at marked up theme park prices of course)
Itchy & Scratchy's Wheel o' Pain
The safety video with more call-backs to the ride that came before it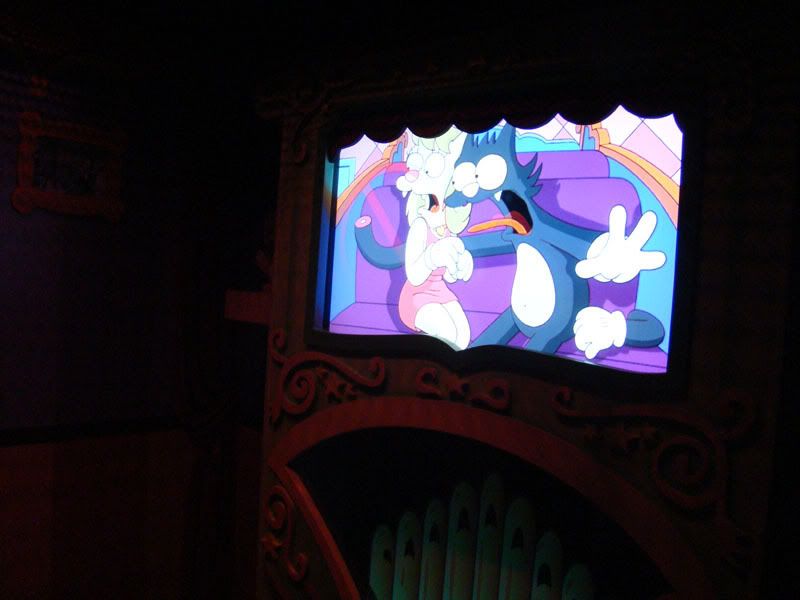 A quick stop to get my brother a shirt and we left the park for the night.
We headed to City Walk to get dinner and ended up at Hard Rock Cafe (where one of the workers was the first to compliment my Freakazoid shirt... it made me happy... I'm a dork get over it :P)
We did a little shopping but miraculously I made it out of both the park & City Walk w/out spending any money!
Stop... Franky Time! Or Frankenstein trying to tell us to come back... or to stop... or he just wishes he had a camera so he could take and arm-length pic of himself like all the cool kids do
We jumped back in the car and drove down the busy Cali freeways back to Disneyland. After checking into our hotel (Paradise Pier) we hurried to the third floor where they pipe in music and watched the fireworks. it was pretty sweet!
We headed back to our room and passed out.
coming up Day 2: With Actual Disneyland Pictures!!!!!