Ladies and Gents, this is a little addition to my trip report from earlier today. While walking around DCA near the wooded area, I found Push enjoying a nice late-summers day. Asking for hugs, just having a good old time.
But, within the confines of the park, something was brewing...whether the kid was mad school was about to start, upset he was too short to ride certain rides, or really upset to have curly hair, he was pissed! And as can be seen in the below video, took his anger out on PUSH!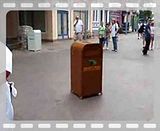 Please, watch out for this kid.