This trip to Disneyland was such a surprise for me! I had gone to my aunts house down in Bakersfield for a well deserved vacation for a week. She had taken the week off, and I was expecting to just hand out by her pool all week, even drive down to San Diego and head to the zoo or the Long Beach Aquarium.
On Tuesday, the second, I had just woken up at 10:30, I was making the bed when my aunt popped her head in my room and said 'Hey, do you want $100 to go clothes shopping today' (and I totally need new jeans) 'OR do you want to go to Disneyland?' And well, I mean it's still summer, who needs jeans?
We packed our bags, and at 11:30 we headed to Disneyland! We arrived at the AnnaBella at about 3:00-3:30. Man, that place is huge! Nice rooms too.
Now, not only is this my first trip report, but this trip was also my first time in the Tiki Room (I know right?), first time on the Mark Twain, my first time on Indiana Jones since 1995, and I faced my fears and went on the freaking Sun Wheel, swinging. Some photo's are blurry and I'm sorry about that! Still trying to figure out my camera.
DAY ONE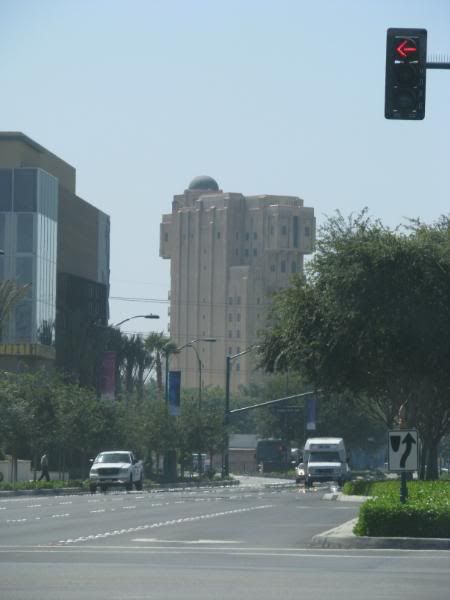 Tower of Terror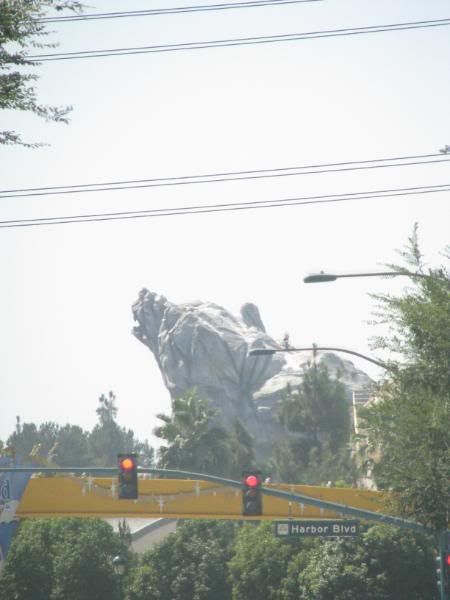 Grizzly River Run
Yay! And I love the poppies (those are poppies right?) on the sign.
We get my AP (also a first, which also means one less ticket to pay for in December!) Go in and get my picture and actual AP Card, then head down Main Street, my Aunt who has to walk super fast everywhere, was about 5 feet in front of me and heading into Crystal Arts and the China Closet when I ran into Heidi Klum, Seal and their kids! Well, more like walked a foot or 2 off to the side of them. I didn't know who they where, it didn't click for me, until a minute or less later when I was already in the store looking out the window at them. Boy, was my aunt mad when I told her later that night!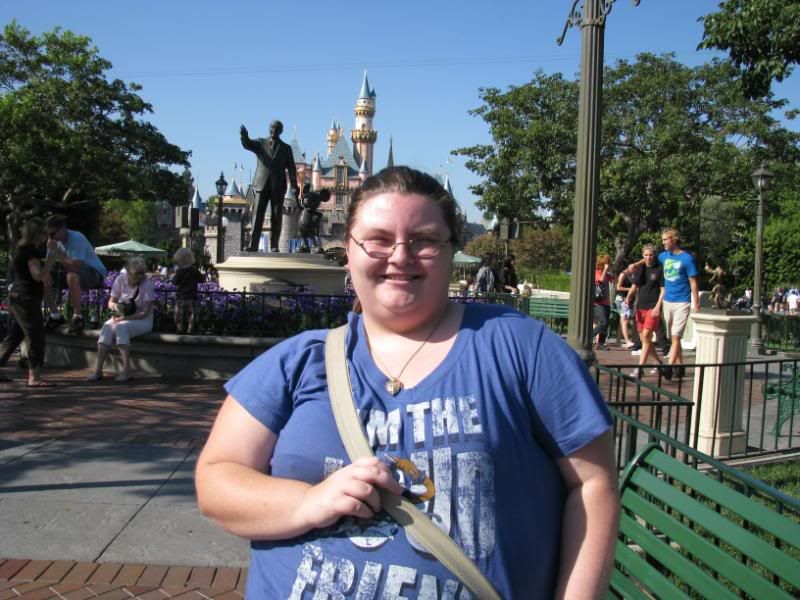 Me in the Hub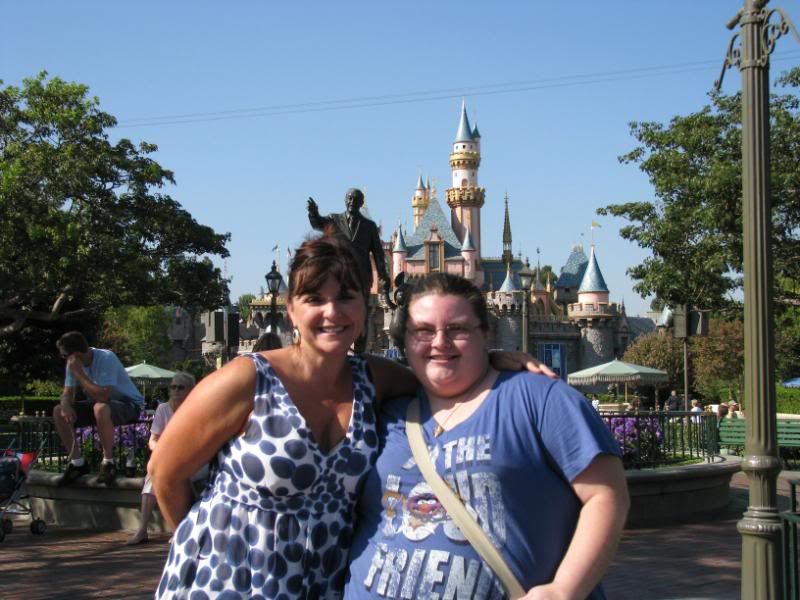 Aunt and I.
The first ride we hit was Pirates, and it was a complete walk on. Please excuse the blurry pictures.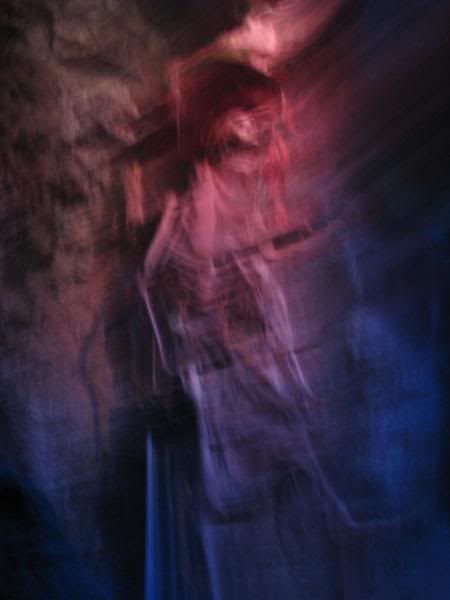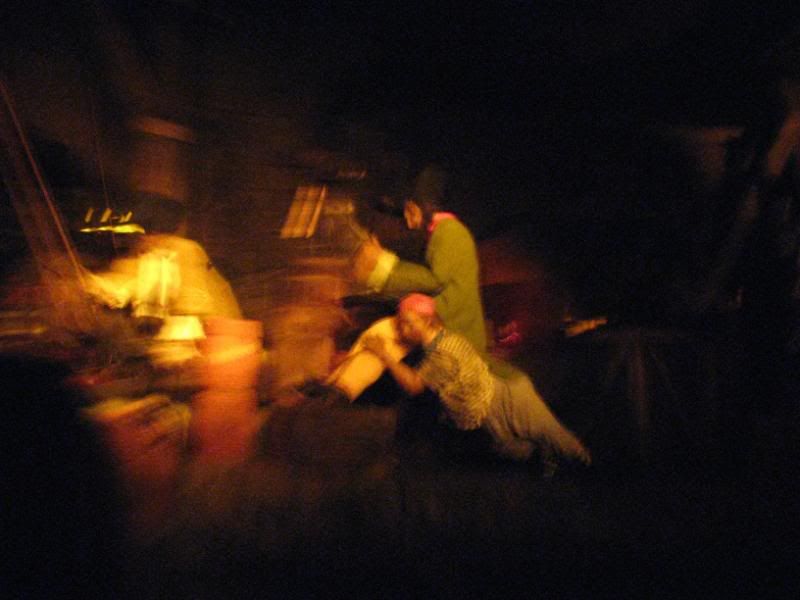 we then headed over to Jungle Cruise! Which was also, a walk on. That is one of my favorite rides. And we had the coolest skipper!
'Here we have the Male Elephant, the second most dangerous animal you'll find along the river...'
'And here's the first! His mother in law!'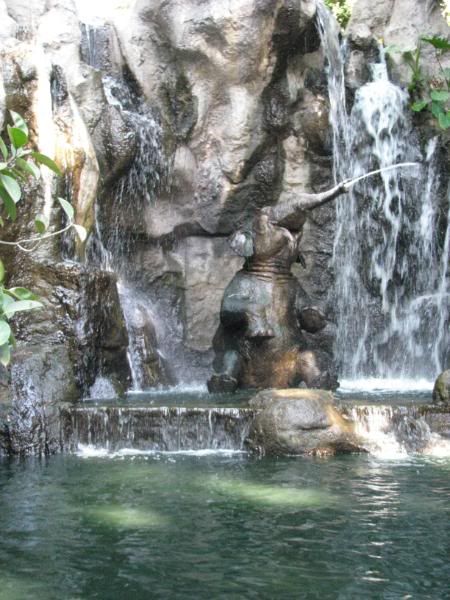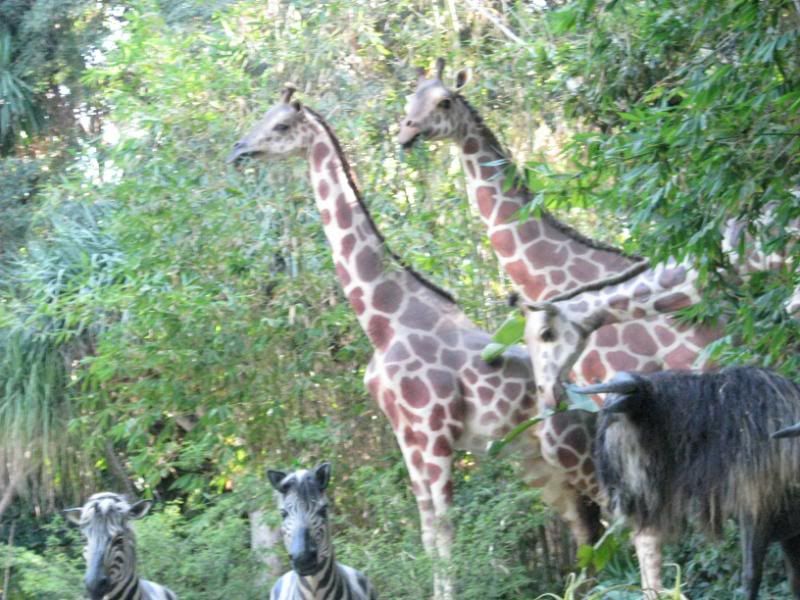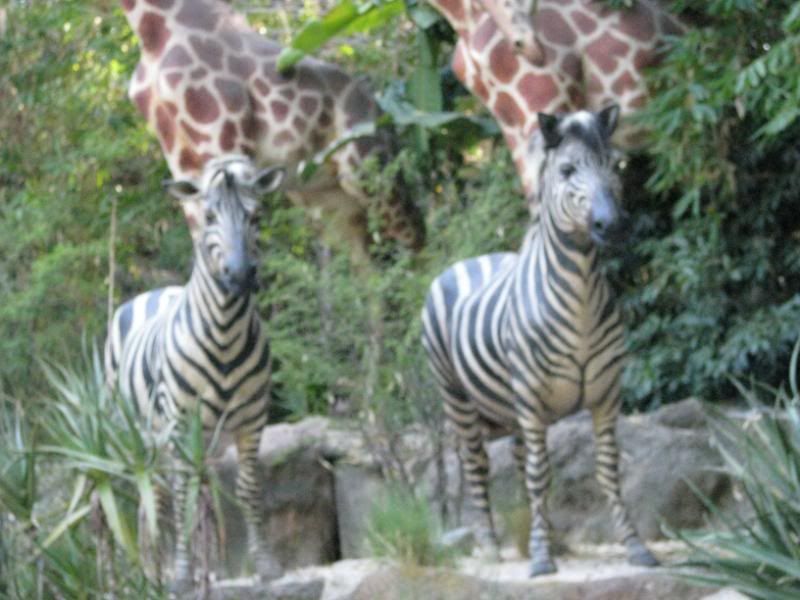 'Poor zebra's, so old they're still in black and white!'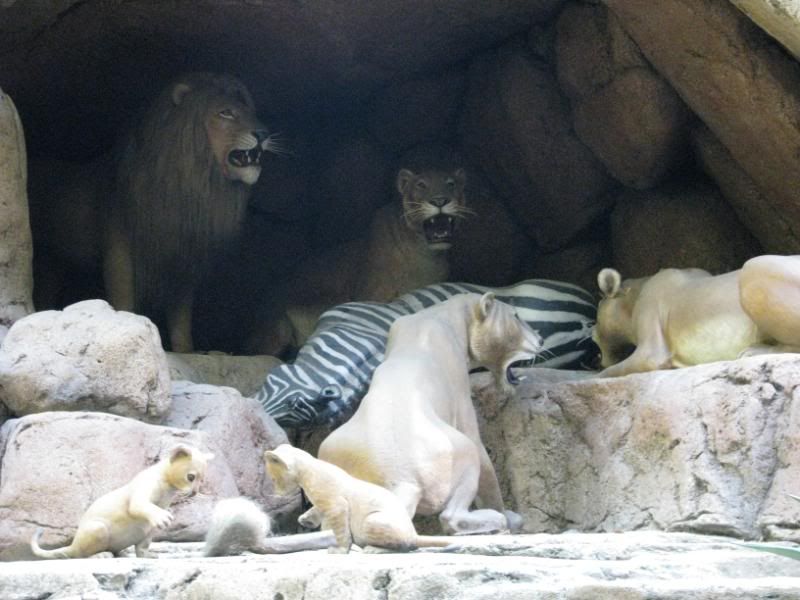 'Those nice lions, doing a favor for the zebra's and babysitting!'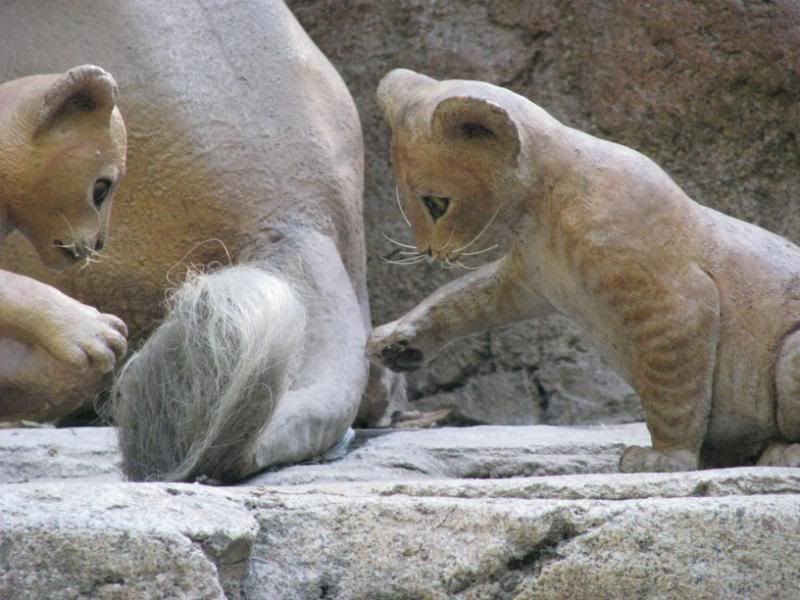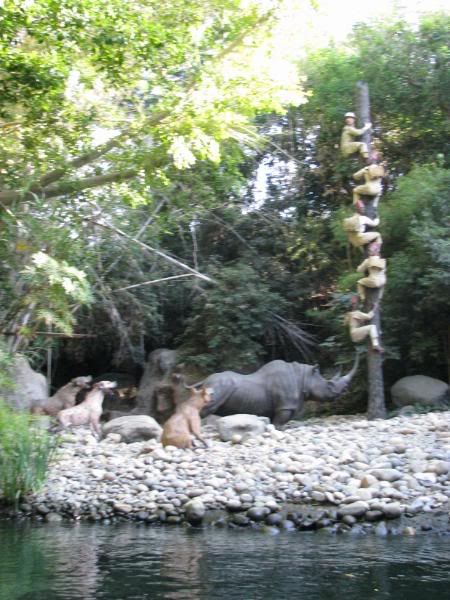 'I told them not to mess with the rhino's, cause they always get their point across in the end.'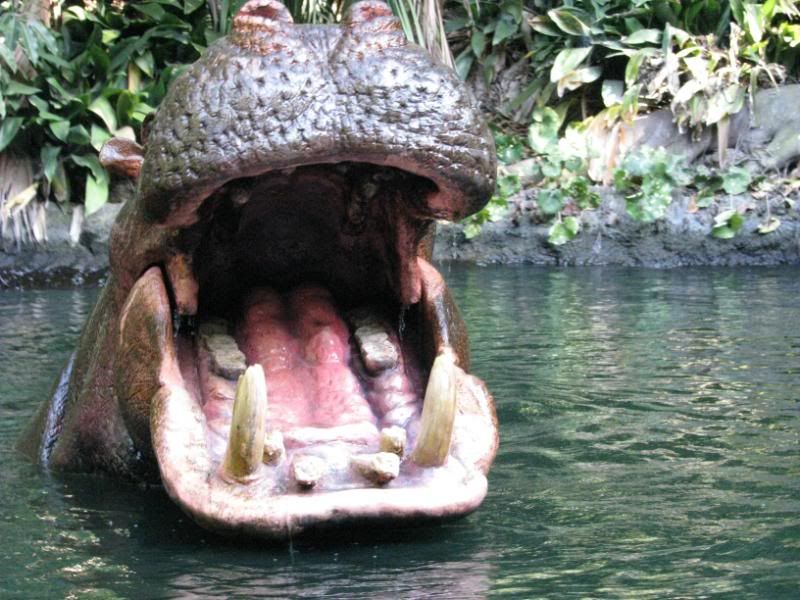 'Watch out! The hippo is charging! Cover your ears while I shoot at him! Did you see that? I got the ones in the trees, they are the most dangerous. I don't even know why they charge the boat, they know I only take cash!'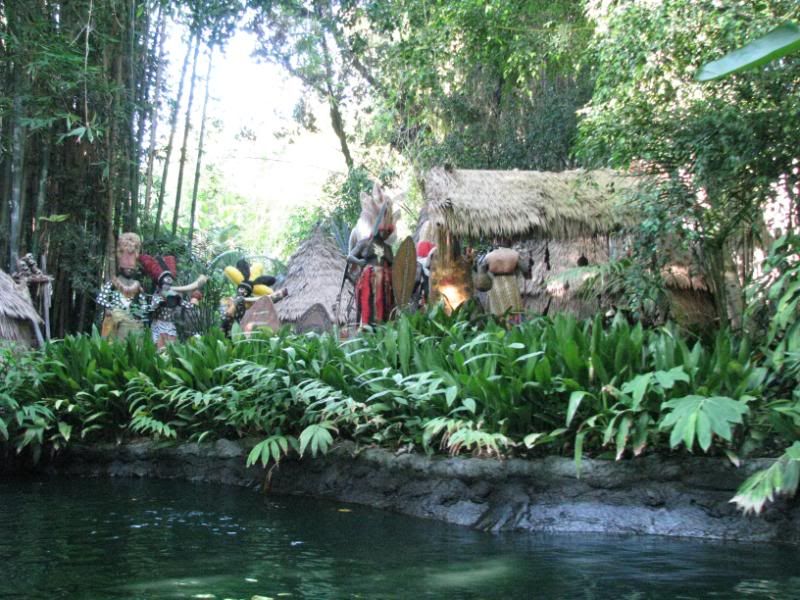 'Look, some natives! Be quite and let me see if I can hear what they are saying......nope, can't understand a word!'
Our lovely fuzzy skipper.
'Watch out for the maneating fish! Don't worry girls, they're MANeating fish.'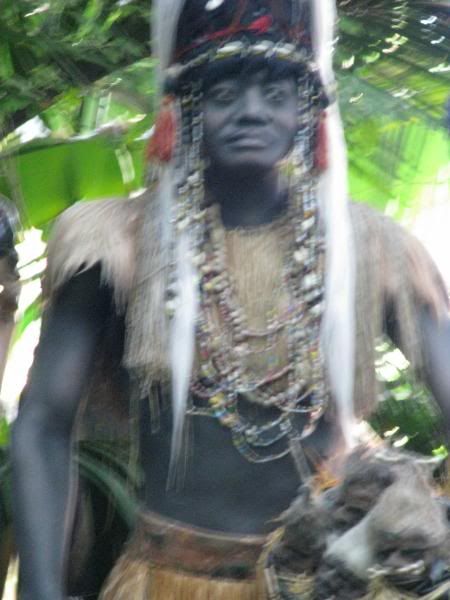 'Ah, good ol' Trader Sam, hey, I here he's running a deal, 2 heads for one of yours!'
After Jungle, we hit Indiana, 5 minute wait if that. No pictures though. I'm glad to say though that the Spikes and Pole, along with the Rope where working and I got to experiance them!
We then decided it was just too hot and made our way over to Splash Mountain, where, on the way, I spotted MonstersGoBoo and her brother with a group of people. I would have said 'Hi' but was trying to keep up with my Aunt. So 'HI!'
Splash was a 5 minute wait also, rows 1 and 2. I stuck my Aunt in the front because hey, I had the bag with all the electronics, it was water proof, but we don't want to take any chances right? She was SOAKED by the second 'dip' and my whole right side (thankfully not the side with my bag) was soaked also.
After Pictures: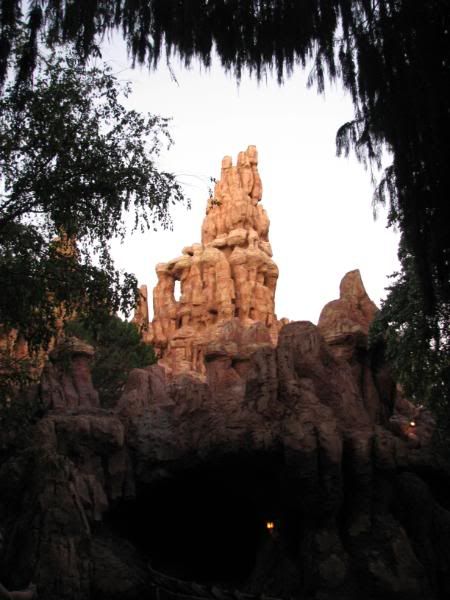 We where on our way over to Pooh, when we had to take a little break. We went over to Hungry Bear (if I'm correct, it's right next to Pooh?) where my aunt breaked and I sat out near the river with the ducks, and watched the Mark Twian go by.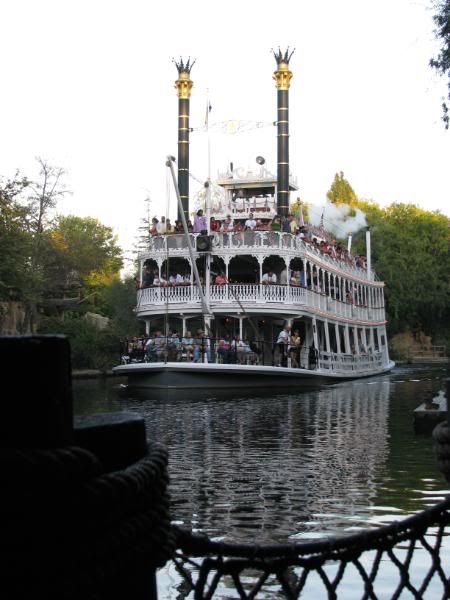 We get on Pooh, and it was so weird, my aunt said it was cheesey and she was right. That is a total waste of space.
Since it was getting near closing time, we made our way over to Fantasy Land. We rode the 'little' rides. Pinocchio, Snow White, and Toads Wild Ride. On the way out, I preceeded to take some horrible night shots!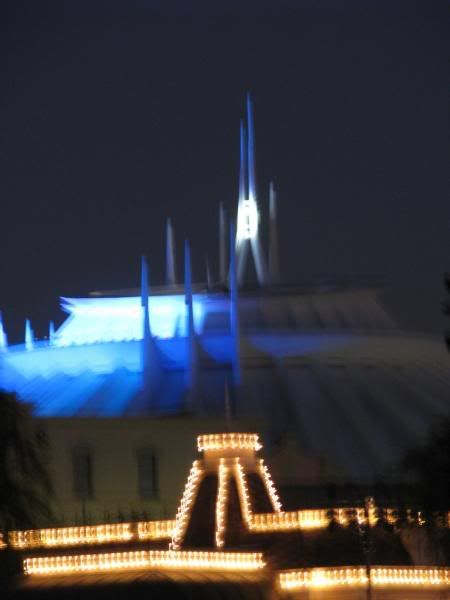 We headed back to the Hotel to watch Iron Man, which I havn't seen yet and it's amazing, and then I crashed at midnight.
Coming up in about an hour and a half, we have Day 2 and Day 3! Where we spend the first half of the day in DCA, and I face the Ferris Wheel. Then hit the other side of DL and the House of Tomorrow! (Got no pictures though XD)