Hey everyone. This is my first attempt at a trip report. We are not very photo savy nor do we remember that we have a camera half of the time, so please forgive the quality and quantity of the report.
Before I begin, I wanted to share with everyone something I saw on my way home from the oral surgeon. This was behind a gas station/infront of a travel agent in Okumulgee,Oklahoma.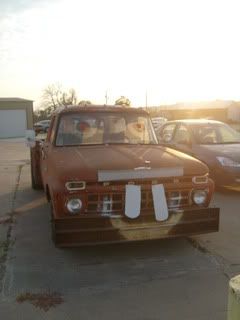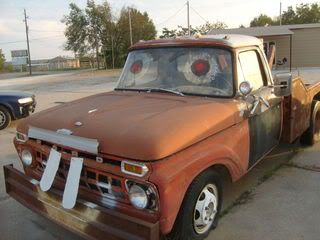 Now to begin. We got to the park at a little after opening and met up with my brother and Dan-tasmic at the hub. My Dad, sister, brother, and boyfriend all wanted to run off to pirates so after a quick hello, we ran off. We ended up having a tickle fight while on pirates then ran off to Haunted Mansion Holiday, my favorite! After a quick smoke break and a mind numbing Winnie The Pooh ride.. We headed off to Splash Mountain and decided who should sit where. We took a vote and my boyfriend was chosen to sit in front. Then came my brother, me, my dad, and my sister. That is also the order on how much everyone came out soaked. (Thanks to the ride AND our own splashing added to it.)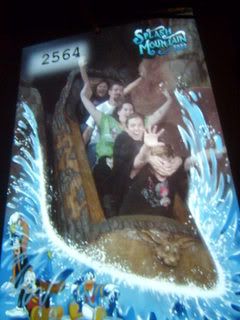 Just a little sample of how soaked Mathew actually got: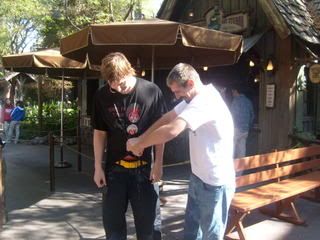 You can't really see the water dripping off in this shrunk form.. but on the original size you can.
A short stop at Big Thunder to dry us up a bit and mash the boys up a bit... We decided to sit three and two.. My sister and I in one and the boys in the other.. It was hilarious. My dad made a lovely comment about how Mathew was the meat in the man sandwich, but he ended up being more of a ping pong ball.. Being thrown from one side to the other and squishing the crud out of both of them. (Dad is still complaining that his ribs are sore from it.) After that we met up with my brother's boyfriend and headed off to the land of fantasy. A quick ride on Peter Pan before dad needed another smoke break and we headed off to the meet.
I would like to say thank you to Dan, Matt, and Dusty (I think) for talking to me and being so nice. Sorry I was shy and didn't introduce myself nor stay too long. The family wanted to head over to food, so I dragged them to Toon Town first.
Sadly, we lost my brother to work on the way towards Toon Town. We went on everything in Toon Town, it being the first time I had ever been there and actually gone on a ride.. It was fun! Usually we stop in for a quick Mickey Picture then run off. We did get the Mickey picture though.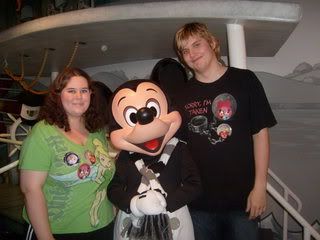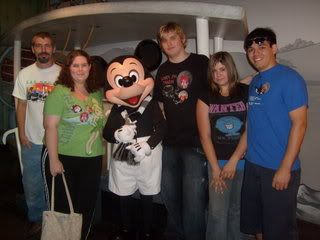 After that we had lunch at the Rainforest Cafe. After a quick lunch, off to California Adventure where we spent the rest of the day riding everything in the park. I wont bore you with the details..
Here is the only picture we have though: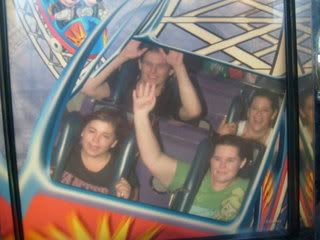 Next! Mickey's Trick or Treat Party.