I was able to attend a walkthrough of the model of the DVC Villas coming to Disney's Grand Californian Hotel & Spa this evening. They might already be showing these to the public but I thought Id post some pics so you can see what the 50 new Villas will look like.
They seem to be your pretty typical DCA unit but with a splash of that Arts and Crafts feel. It was warm and inviting. The accents were great. Note the molding on the walls and the soft colored paint. Gone is the woodsy wallpaper that you find in the current hotel. There's sturdier looking chairs, bed frames, etc.
Take a look and share your thoughts... I'm sure any DVC CM around the resort would love to sign you up to go take a look at the model yourself. You might even get a Disney Gift Card out of it as well.
Note - I didn't know I was gonna be visiting the DVC model so all I had was my iPhone camera to take pictures. They're not the best quality.
Main living area, dining room and kitchen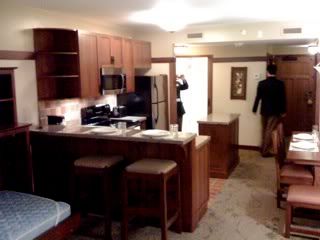 Small kitchenette in the studio portion of the larger 2 bdrm suite. notice that under the tv/entertainment center there is a pull out/murphy bed.
Master bath looking through the sliding partition into the master bedroom
Master bedroom looking over the bed into the bathroom through the sliding partition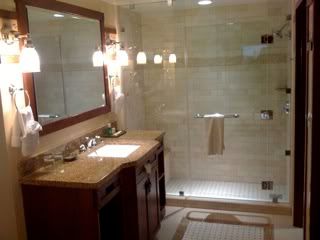 Master bathroom sink and shower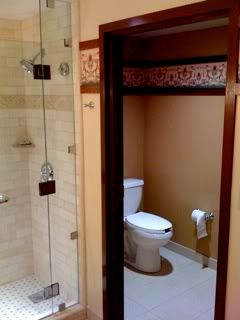 Separate master toilet
main bathroom sink
main bathroom shower (no tub)
dining room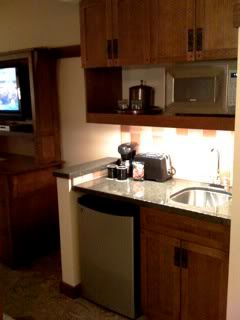 kitchenette with sink/mini fridge/microwave/toaster/coffee maker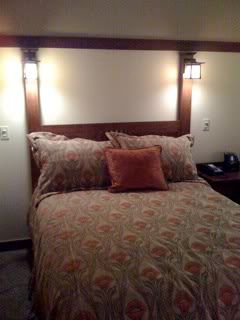 bed in studio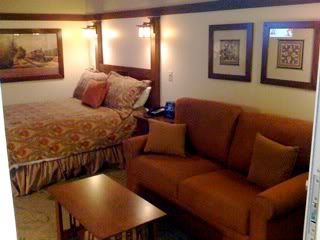 pull out sofa in studio