So the fireworks were cancelled tonite because of the winds.... and so I found myself wandering around. For some unknown reason I wandered into the Opera House just as the Steve Martin movie began. I went in and sat down. The girl working it said the usual crap about the kid riding his bike, yadda yadda yadda, and the bit about no video or pictures, then she added this bit, which I have never heard before:
Ladies and gentlemen, there is also no eating or drinking in the theater. This is to preserve the integrity of the theater. It is the Lincoln Theater, and it has been here since 1964.
Is this a new addition to the spiel, to remind people of the fact that Great Moments With Mr. Lincoln did once in fact exist at Disneyland? Or was this female Cast Member just ad-libbing? Or have the monkey masters of mediocrity up in the ivory towers of the Team Disney buildings finally pullled the bananas out of their ears? Does this new spiel confirm Al Lutz's "return of Abe" rumors that was in his most recent update? Has anyone else heard this small change before? Has anyone even been in the Opera House to see the movie in the past 2 years? Or is this just more mystery from the monkey masters of mediocrity? Hello?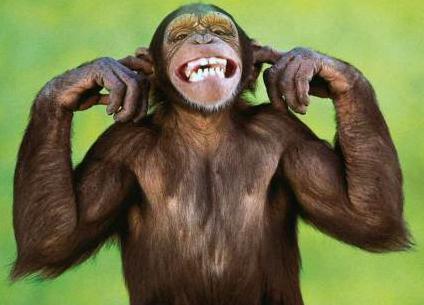 La lalalalalala
I'm an executive in the monkey horde of TDA ..
I can't hear anything you say...
lalalalalalalalalalaaa