No, I don't mean Big Thunder rocks, like it's awesome, I mean the literal
rocks
along the back along the pathway. These old relics are from the old 'Mine Train Through Nature's Wonderland' ride. Contrary to popular belief, the rocks around the Big Thunder trail are not leftovers from the 'Balancing Rock Canyon' section of the old ride. The rocks--that I'm refering to-- left are actually the two large stationary buttes/mesas and the natural arch.
Here's diagram of the rocks through the years.
Photos: Davelandweb.com; James Keeline; Live Search Maps
Kinda neat that they're still around.......but so what?
Well, to me they aren't just any rocks. For the last 3.5 years I've been slowly recreating the old ride in On30 and one of the latest additions to the layout are these buttes. I studied the heck out of them, trying to get every detail out of them that I can. This isn't the first time they've been redone, so I want to get 'em right this time.
Yeah, so what? You built a model of them, so what?
Well here's the interesting thing:
In the latest
Dateline Disneyland
, photos showed these same exact rocks, finally getting some attention after years and years of neglect (not just from maintenance, but from guests not looking at them; the scaffolding got them in the update!
).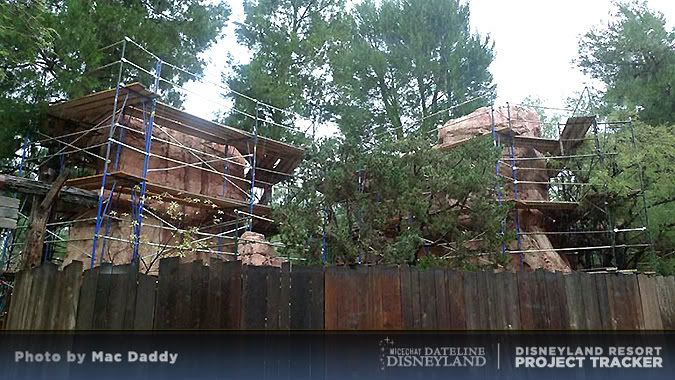 Their Rocks...
Yeah, so what? They're getting some paint, so what?
Now here's where it REALLY gets interesting. The same rocks that I sculpted, where painted less than a week ago (With a version of 'Balancing Rock Canyon' in the foreground) before scaffolding for the real thing even went up.
...My Rocks
So what does this mean?
Could this mean that whatever I make can change the real park, like a voodoo doll? I wonder what would happen if I repainted my little mining town of Rainbow Ridge? (Now don't try to convince me to make the whole IASW ride in minature without characters, hoping that they'll just disappear from the real ride!)
Is this voodoo, or coincidence...........?
No, it dosen't mean anything, just a coincidence; simply pure coincidence. Just something stupid and silly I discovered, he he...
.