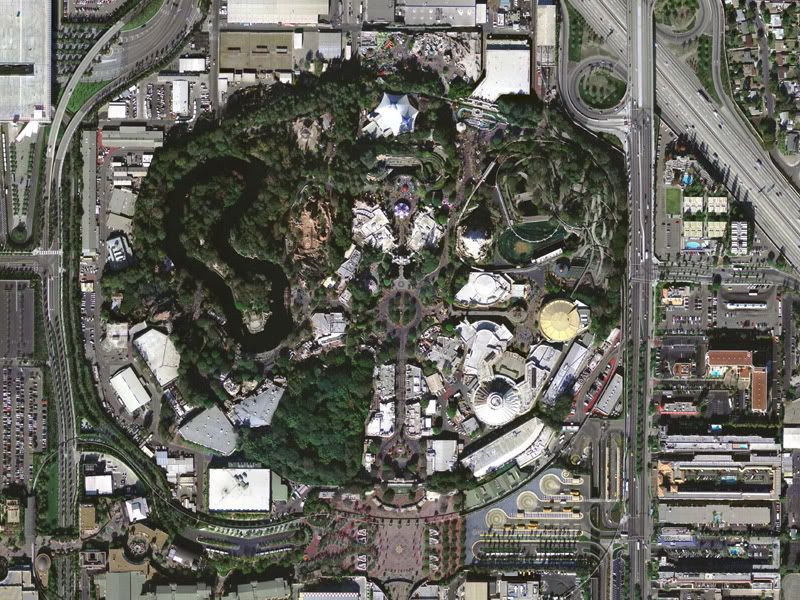 As you can see by looking at the aerial map, there is room to expand Adventureland, Toontown and Tomorrowland. Buildings and employee parking areas and roads would have to go. Just the same, the objective could be accomplished if Disney wished to do so.
TOMORROWLAND
Around a year or two ago, Al mentioned that Disney is considering building a Tomorrowland e-ticket ride so big that it would start at some point within the berm and encompass area outside of it as well. According to the rumor, guests traveling on the Disneyland Railroad would be able to observe the new attraction by passing thru a new tunnel located by the diaramas.
The only area that I can see available for the ride's beginning point is between the back of the Innoventions carousel building and the freeway. The new building would have to be juxtaposed in front of the present day terrain/animals diarama building. Then, the ride would continue behind the berm, between it and the freeway.
Seems like there was also a buzz about a ride envolving trackless space age vehicles. If both rumors are interlinked, we could be talking about a giganormous special effects building with a themed immersive environment (or environments) that is out of this world.
TOONTOWN
I've heard absolutely zero predictions concerning new attractions for Toontown. Nevertheless, the bounderies (to the left side and to the back) could be pushed back ..allowing for several sizable attractions. Personally speaking, I would be happy if Disney would complete the land with one or two new rides and Mickey's PhilHarmagic.
ADVENTURELAND
Judging by the map, there is room for expansion all along Adventurlands border on the other side of the berm. This is not to mention the entire former Rainbow Desert Trails wilderness area where the pack mules, conestoga wagons, and train used to travel. there are a couple other projected expansion areas ..though I feel the one;s I have pointed out are the most expansive and doable.
Heard word on MiceChat that TDR/Glendale is considering several significant rides in order to beef-up the land which is dearth of attractions today. There is a buzz about Woody being featured in a darkride called Woody's Round-Up. As I think Disney is poised to cut loose with rides envolving trackless technology, this could be one of them. Also, a swinging gondola ride and an old west carousel are another projections.
A couple e-tickets have been rumored as well rumored as well. Haven't heard anyone suggest what type of rides these may be. What I am hoping for is a wild west themed darkride that combines ride system elements of Pirates and Splash Mountain ..all in all, a hybrid of the old Western River Expedition rumor. Another tantalizing possibility is Geyser Mountain ..that would have guests careening in boats thru wilderness terrain and caves, ultimately riding a geyser far above the land ..and back down.
What do you think about the possibilities of land expansion for the lands mentioned. Would you like to see Disney build the rides discussed. Or would you rather that Disneyland develop other rumored attractions. Perhaps you even have your own ideas for attractions for Adventureland, Toontown or Tomorrowland.