Some of you might have already seen my post on rec.arts.disney.parks but I wanted to show everyone what I purchased recently.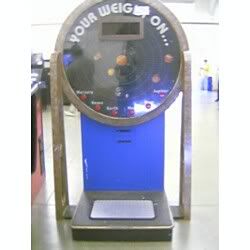 I apologize for the small low quality picture. I snapped it using my camera phone and this is the only picture I have at the moment.
This was the scale used in the former NASA/space exhibit in DL Tomorrowland. I am a big collector of pinball and video arcade games and this showed up at an auction in San Jose, CA. I was really shocked to see it here and I was 95% sure it was the one from DL. I remember this quite well and there were a few distinct characteristics about it that I remember from the park. I've been able to confirm that this is from DL after finding several tidbits relating to the park.
Mouse Chaos (Michael)