I keep hearing people on the boards talk about the "role" that Mickey's Fun Wheel will have in the World of Color show.

[photo by Andy Castro]
It came up twice. The first time it came up was when the gigantic Mickey head got placed on the wheel. People were discussing how Mickey's head will somehow "come alive" during the show and say a few lines, wink his eye, or something of that nature.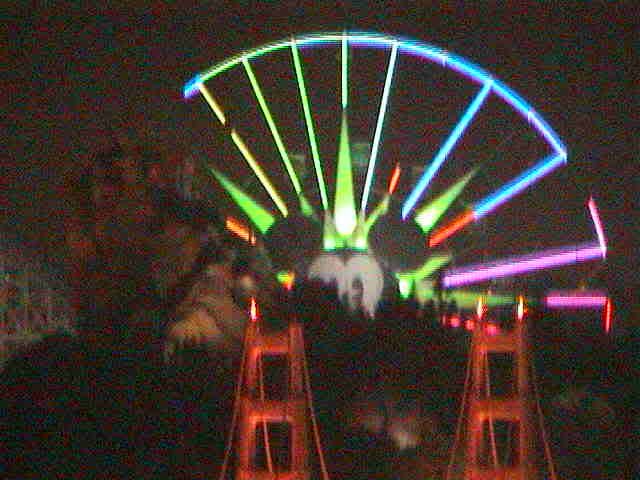 The second time is a few weeks ago when the wheel's LED testing started, and all these crazy color patterns put on a show for a geeky distant audience watching from the Mattercam. Well, Mickey's Fun Wheel opened recently, and the light patterns on the wheel are on during the attraction's normal operation (on days when DCA is open late enough for it to get dark, of course) - but lots of folks seem to be absolutely convinced that the lights will also be choreographed with World of Color.
What proof do we have that either of this is true? I haven't heard
anything
from official sources, nor seen
any
concept art of World of Color that would suggest that Mickey's Fun Wheel is in any way connected to the show. Is this just fan speculation that spread infectiously around the Internet like swine flu? Or did Al or someone else with connections hint about this?
I'd ask Mickey first, but he doesn't seem to be talking.