Here's some news you may find interesting:
The Carolwood Foundation, which is the non-profit arm of the Carolwood Pacific Historical Society, has the opportunity to obtain the very first car from the Santa Fe & Disneyland Railroad's first passenger train, known formally as "Retlaw 1."
As you may recall, there were originally two trains on the SF&D RR. One was a "freight train" with cattle cars and a caboose, and was generally pulled by the C.K. Holliday (It still exists today, in the guise of "Holiday Red" with red awnings and trim, and the caboose still brings up the rear).
The other train was made up of enclosed wooden passenger cars based on cars from the 1880s. After the dioramas went in, the cars were hardly used. Most of the train was traded away in order to (eventually) get the Ward Kimball locomotive; four of the original six cars ended up in San Luis Obispo on a private railroad. One car was transformed into the Lilly Belle. But one car hasn't been seen by the public in decades: The very first car, called a "combine."
A combine, as the name suggests, is a car with a combination of baggage area and a section with passenger seating. It was the first car after the locomotive, and bore the number 101 (The Lilly Belle still bears her original number, 106).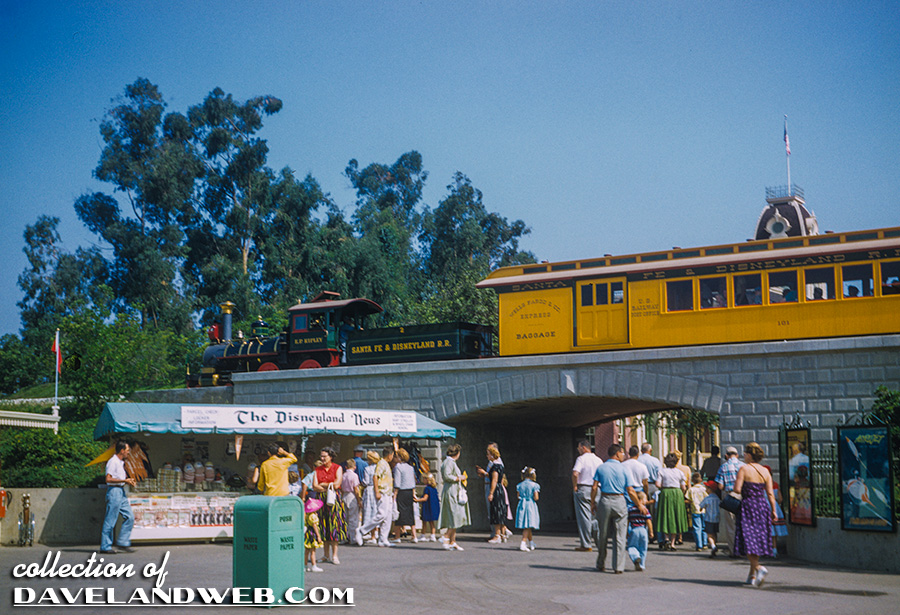 This 1956 View shows the combine to good advantage. The curved lettering near the front says "Wells Fargo & Co. Express." Photo courtesy Davelandweb.com
The SF&D combine has been in storage in a warehouse in Ventura, where it's been nearly completely restored.
This car was said to be Walt Disney's favorite car, because it reminded him of his days when he rode the rails as a news butcher on the Missouri Pacific Railroad, hawking snacks and newspapers to weary commuters. When he wasn't selling to the passengers, he spent his time in a combine similar to the Disney version. Sometimes, he'd head out the front door of the car, climb the tender ladder, clamber over the coal and shimmy down into the engine cab of the speeding locomotive, where he bribed the engine crew with treats in exchange for them teaching Walt about how the engine operated.
Saturday, July 18 will begin the kickoff for fundraising activities at the Disney Barn (also the 10th anniversary of the Disney Barn's placement at Griffith Park). Much money will need to be raised in order to acquire and preserve the car, and the Walt Disney Family Foundation is involved as well. But the really great thing is that Carolwood desires that the car be displayed publicly!
This is truly a worthwhile cause, and I am looking forward to the day when we might be able to view the car up close and in person. A true piece of Disneyland history preserved.