Ahead is my Disneyland trip report, from when i left on the 12th, to when i returned home on the 19th. But mostly the joys of Disneyland.
To start, it was a 5 day Disneyland vacation with me, my girlfriend Melissa, my best friend Ian, and his girlfriend Nicole.
It was an extremely amazing trip, and even though it was 5 days at Disneyland, it was not nearly enough, and im already beginning saving money for the next Disneyland vacation! (you So. Cal residents are so lucky to get to go as you please!)
Day 1:
So a not great, but funny now that im looking back at it story. The person that we had set up to stay with in San Fran for the night to help the drive, bailed on us the DAY BEFORE we were leaving. So the day before we had to scrap together and find some places to stay. On the way there, we were able to stay in Klamouth Falls, OR, which was about 11 hours from Disneyland.
So we headed to Klamouth Falls from Portland, OR, and it was a pretty unexciting drive. When we got there we stayed with my friend Nicole's Grandparents, and had a BBQ and played with her Uncle's air cannon, which was pretty cool. Other than that, pretty unexciting, but still a nice getaway.
Day 2 (7/13):
The next day we woke up, and began part 2 of our 995 mile drive to Disneyland (which ended up being like 1050 miles due to our detour).
It started with me driving, and look, me going 80 mph, without looking at the road!
.
Thanks to Datameister, i knew the filming location to Dunder Mifflin of the Office, which is one of my favorite shows! We drove there on the way to Disneyland
It was very awesome to see the place that you watch on TV in person. Thinking about all of the great office moments that happened right where i was standing. Like Merideth being hit!
It was pretty awesome! As you can see, i was excited and happy to see it.
Next we drove to Disneyland and checked into our hotel, which was the Hilton. It was pretty nice, not a bad walk. The best part about the hilton was the bed. It was SO comfortable! which really helped after a long day in disneyland.
Day 3 (7/14):
Today is our first day to venture into Disneyland, the start of the REAL magic!
The day started off with our 7:30 am character breakfast reservation at Goofy's Kitchen. Thank you Micechat for recommending Goofy's Kitchen, since most people said that it was the best place to go, that is where i went. It was amazing. At 7:30, it was pretty dead, so we got a lot of interaction with the characters. The food was also really good.
We got to see Goofy first, which was really awesome! He walked around quite a bit too, so we got to see him more than once.
Next Belle came by, and i've got to admit, it must be very hard to be a face character, and stay IN character the whole time. Especially when you are around people your own age, but she was really nice, and really great!
Chip was hitting on my girlfriend!
Since it was my birthday that week, they gave me a special birthday cupcake and sung for me. It was really cool, but i didnt actually eat the cupcake because i was so full. I will say though, the cupcake that was on the lower right hand side with the pink frosting was the BEST cupcake i have ever had in my life! Next time i go i am going to Goofy's Kitchen just so i can have a few of these cupcakes. They were amazing. Anyone know what kind they are, and any way i could get some of those here?
Next we headed over to Disneyland to start the best part of our trip!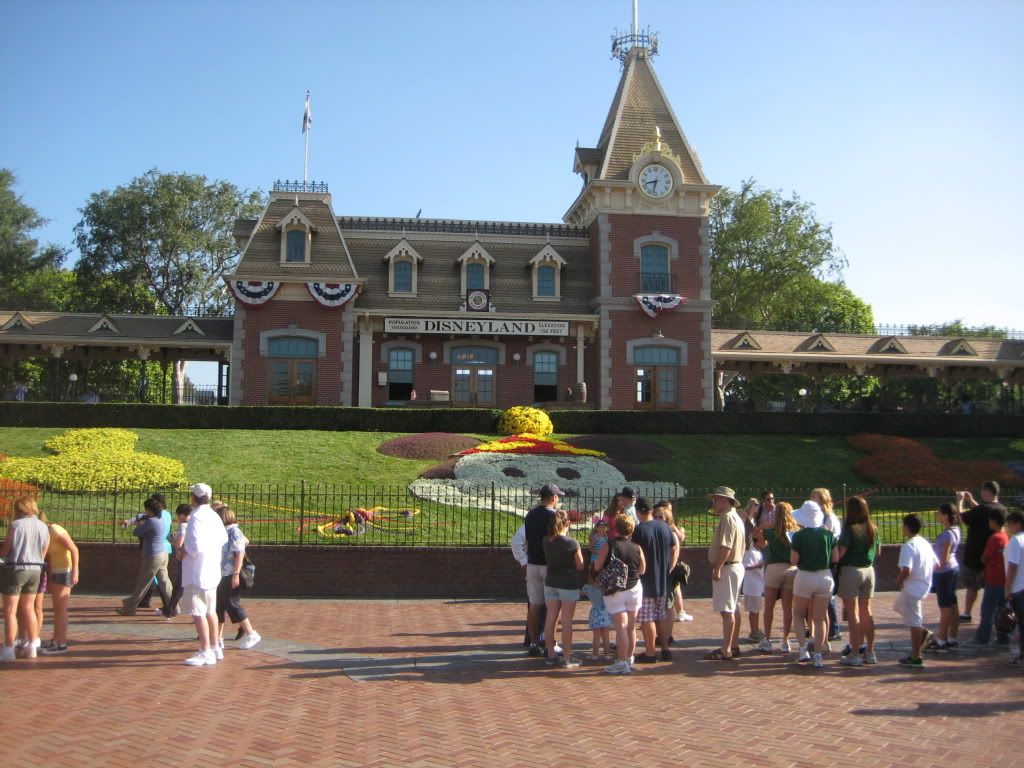 HELLO DISNEYLAND!!! You cant see it, but i am JUMPING for joy outside this photo.
Our first Splash Mountain photo, and it was so fun. Didnt get as many chances to ride Splash Mountain as i wanted, but i will say that quite a few times that i did the water was REALLY high. Anyone else notice this?
A group photo of us in Critter Country.
Heh, i was the only one who remembered where the photo was taken, so i was the only one ready.
This is our not so sexy "Bruno" photos.
.
I AM celebrating!
That sums up day 3, it was a great start to an amazing Disneyland vacation.
I will continue with this as time allows. Days 4-8 coming soon!