(WARNING: HUGE post alert! ... Just thought you should know.)
I think we can all agree that Tomorrowland isn't all that great right now, visually speaking. If I were in charge, this is how I would fix things:
Step 1: Clean it up!


Take a look at this pic:




Okay, so it's not the grungiest place on earth. But still, this is the kind of thing you'd expect from Six Flags.
What Disney needs to do is close off the land for a day, and then give all the CMs there a bucket of paint and a Mr. Clean Eraser Sponge. Problem solved!


Step 2: Paths, planters, and more!

If Disney manages to will themselves into into giving Tomorrowland a good scrubbing, the next step would be to update the ground, benches, lights, and planters around the land. For instance:




The paths on the top of the picture are fine, but the one on the bottom definitely needs to be replaced by one of the others (or something different, I guess). But even the one at the top isn't perfect...




See how some of the tiles look rougher than others? I guess they were aiming for a sort of checkerboard effect, using new and old tiles of concrete, but overall it looks like a mess. Each tile should look smooth and dark.




I know this'll sound nitpicky, but I wish Disney would give these lights a nice coating of chrome paint.




See? Much better.




The planters are decent as they are, but they could still be improved. For instance, some of them have a sort of blueish, rocky look around the base. Are there blue rocks in the future? (The one pictured here is silver, which is fine.)


Now THIS is a planter.
While we're on the subject, do you see those wood chips in the other pic? I think gravel would work better, don't you? Or if that wouldn't work, why not cover the dirt with grass?




Lastly, we have these tarps around the land that provide shade for guests. In order to make the atmosphere more futuristic, the tarps should be replaced by sheets of stainless metal, like the kind you see here:




(Bonus points if you can guess where this picture was taken!)

Step 3: Exterior Enhancement



(Warning! Excessive amounts of RBCA can be found in this step. RBCA = Really Bad Concept Art.)



Here's where things get interesting! To help you see what I have envisioned, I've made some concept art doodles to help illustrate my ideas.

First up is the BLAB exterior.




Since its opening, people have been questioning BLAB's theme.
"Why are we the size of toys all of a sudden?"
"If Buzz is supposed to be a real person in this ride, why does Zerg get sent back to a toy store?"
"Why does that mural up there have Space Mountain floating about in outer space?"

The solution would be to theme the exterior to a futuristic toy store. At the top of the building would be a gyroscopic sign, saying "INTERGALACTIC TOYS" across it. The mural would be replaced by a collection of gears. Every 10 minutes or so, the gears will start grinding, and the gyroscope will start spinning.

Beneath that would be the fastpass area, which will be designed to look like a window display. The fastpass machines, sporting zany faces and bright colors, will be right up against the glass, with holes to insert your ticket and receive the fastpass. Beyond the machines would be shelves filled with futuristic and alien-y toys.

The actual entrance to the ride would be pretty much the same, except a bit zanier looking, and with an large arrow pointing to it that says "Play with your toys like never before with our new Shrink-O-Matic!" On the inside, instead of murals with Little Green Men company, the walls would be metallic, and the room would be less well-lit. Around the room, colored lights will slowly come on, and then fade away again. The rest of the ride would be unchanged.




This one's a bit simpler- paint the rings around the Autopia tower green! Looks much better, no? It goes well with the lagoon next door, too. Speaking of which...




The Nemo queue is bland. Which is bad, since it is usually very, very long. As you can see in this picture, the dim lighting makes the queue look a tad dreary...





BUT, exchange the regular ol' plants for strange and exciting ones, and all of a sudden the dim lighting makes the queue all the more mysterious and spooky! The glass display boxes would have signs attached that said things like "Imported from Mars" and such. See that flower on the right? Every few minutes, the two dots above the line would open up to reveal eyes, and the line would open up to reveal a mouth full of sharp teeth. After growing and gnashing at guests for a few seconds, the creature goes back to sleep.





Good ol' Space Mountain is next. Here's what would be done: the floor would be torn up, leaving a pit about two two or three feet deep. This pit would then be filled with smooth rocks and bright (blue?) lights. Metal bars would then be set going across the pit. Then, thick sheets of glass would be fixed to the metal bars. So, the overall effect is bright, ethereal, and bizarre, just like space (although I'll admit a majority of space isn't very bright).

Along with the floor being remodeled, there would also be a wall put up between the walkway and the HISTA waiting area. That way you can't hear the TVs ramble on quite so much when enjoying the atmosphere, or dining in the restaurant nearby.

By the way, are you wondering about those red and blue lights on the floor and walls? They're basically just pulsing lights that travel along the hall. Blue goes toward the ride, red moves toward the exit.






Finally, the curve between Star Tours and Star Traders: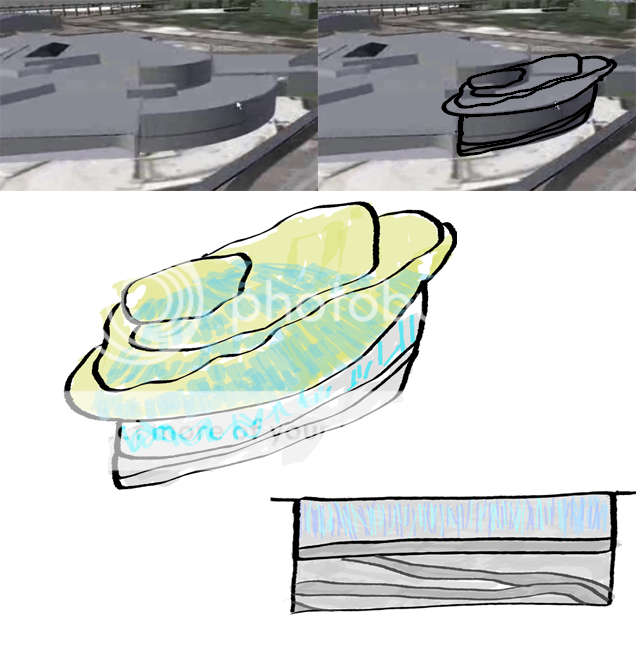 (Credit to Datameister for the 3D model.)

I'm not entirely sure what this semicircular space is being used for at the moment, but I'm sure it's nothing important.

What I would do to it is is completely cover up the mural and the wall below it. The mural would be replaced by a rocky wall, with water running down it. The section you see under that is what catches the water and sends it back to the top of the fountain. Beneath that would be a simple wall made up of several pieces of metal, with some being finished differently than others.

Up on the top of the building would be several concave (I think) sheets of copperish-gold (and rust resistant) metal, down which water would flow. The water would trickle down each level, before arriving at the last one, which is convex. It's then sent back to the top.

Now, it's possible that you're wondering, "What do fountain buildings have to do with the world of tomorrow?" Well, I always imagined the future as a place where all of our buildings, be they art schools or doorknob factories, are works of art. Plus, it looks really cool in my mind. So there.


Step 4: Out with the old, in with the older...


"Farewell, HISTA! So long, Starcade! Good riddance, empty track!"




The People Mover: back and better than ever! In this newer version, the cars are fairly doombuggy-esque. The pod-shaped vehicles would be fully enclosed, with blue-tinted glass on one side of you, and clear glass in front, so you can fully enjoy the view. To get in and out of the pod, the blue glass goes up, and the lower part of the side goes down, gently falling into an indent in the loading dock.

However, that would not be the only change! Thanks to advancements in modern technology, you would be able to make your pod swivel left and right, as well as make it go "Supersonic Slow", "Mighty Medium", or "Furiously Fast". Slow would let you take in the scenery better, while a fast setting would offer a more thrilling ride.

Oh, and the walls along the side of the track would be taken off (since you're enclosed in the vehicle) and be replaced by sheets of tinted glass that flare out from the track. This would not only provide shade for the guests down below, but it will make looking at the track a lot more pleasant.





Next up, this puppy will have to be taken down, because the rocket's comin' back from Yesterland!

(And it looks kind of tacky up there by the pizza place...)



The new show is "Rocket to the Unknown", reminiscent of the old Rock to the Moon ride. Instead of everyone looking at one screen, the whole seating arrangement would be similar to that of Stitch's Great Escape at Walt Disney World. But rather than the chairs facing inwards, toward the middle of the circle, they would face out. All around the perimeter of the room would be screens (which require 3D glasses to enjoy). Every screen (or "window") would offer a different view of what's going on outside, giving guests more reason to revisit the show.
The show could also be enhanced by using the special seats from Stitch's Great Escape
.

The story would go like this: you're volunteering to explore newly planets. First there's takeoff, then you visit a planet with hostile plants. After that comes a planet made up entirely of ocean. Finally, on your way home, you narrowly avoid being sucked into a black hole.


The last ride change can be summed up in three words:

Starcade becomes ATIS.

Room or no room, we need that ride back! Make it go underground if necessary.



Step 5: And now for something completely different!
.......but still the same....


Here's the Autopia you're probably familiar with:




My comments on these pictures, from left to right:

1. "The old tomorrowland logo being overtaken by ivy. Apt, no?"
2. "Wow! Off-road terrain! This is different! This is exciting! This is...over already...."
3. "Oh. A tree. That's pretty cool, I guess."
4. "Hmm. A path through the grass ... I wish these cars weren't so loud..."


Here's HKDL's Autopia.




1, 2, 3, 4, & 5. "WOW!"

Plus, the cars make neat puttering noises.

So yeah, we more interesting shrubbery, props, and light fixtures. Also, it would be nice if the entire track could be "off-road", so there's no grungy concrete to detract from the outdoorsy experience. Oh, and the cars need to be electric.
And we need a waterfall in there somewhere.
And a cave.
And maybe some AA wildlife.
And more trees like this one.





Many years ago, there used to be an attraction called "America Sings." Some of you may remember it. It was show that consisted entirely of AAs. One of the greatest things about it was that, since each scene was done in a different room, you could have a continuous string of guests go through the building, instead of people having to wait for the entire show to finish before getting to go in.

Now there's Innoventions. You can play computer games and admire shiny furniture. It'd be pretty nice on its own, but in Disneyland, you can't be there without feeling like you'd rather be somewhere else.

SO, brand-new Dream Home or not, the place needs to be gutted out and converted back into a theater. But instead of patriotic animals, the peformers would all be robots!




"Welcome to the Robot Revue!"

This guy would be the announcer. He introduces each scene as you move through the building.

Scene 1: Opening number ("It's A Great Big Beautiful Tomorrow")
Scene 2: The Android Orchestra (Instrumental music and a light show)
Scene 3: Daredevil act that goes comically awry, and a short vocal number.
Scene 4: A big finishing number, ending with a reprise of the attraction's theme.

Don't think watching robots play instruments and sing would be interesting? Take a look at this Animusic video. Wouldn't something like that be amazing in person?

If you're worried about the robots appearing cold and emotionless, don't worry! All of them would have either a moving AA face, or a TV for a head. The vocal work will all be human, without the slightest hint of Wal-E-like voices (except for some of smaller robots, who will just make cute beeping noises).

The exterior would be unchanged, except for the banners, which would display stylized pictures of performers.




Oh, and the entrance to the land? Well, the first thing to do would be to take out the rocks, of course. After that, a new sign would be put in toward the left of the entrance. Unless they can design a better one, I think HKDL's would work nicely.




(Picture by Disney.)

Then maybe put in a fountain or two, and you're done!


________




And so, that concludes my really, really long idea thread. Thanks for reading, and I hope you enjoyed it.

(All pictures (besides Datameister's model & the Tomorrowland sign) were made/taken by me.)


(On the off, off, off chance Disney likes any of these ideas, they're yours.)