Edit Edit Edit! Stop the Presses! BRAND NEW evidence has come to light that puts this debate to bed forever. See below:
http://micechat.com/forums/disneylan...post1055479883
Yeah, yeah, I know. I've beat this drum before. But what with the 40th anniversary coming up in a few days, I figured it wouldn't hurt to shout it from the housetops one more time, for those who don't know but might care (a bit).
Everyone knows the HM officially opened Saturday, August 9, 1969, right? That's what ALL the official Disney information says, that's what Jason Surrell's big HM book says, that's what the new issue of D23 says, etc. But it's false.
The Haunted Mansion officially opened to the public on Tuesday, August 12, not Saturday, August 9.
No matter what anyone tells you, and no matter how "official" the source, Tuesday, August 12 was the opening day.
Proof? You say you want proof?
"Ghosts, ghouls, witches and bats—all swaying and screaming to the eerie tune of "Grim Grinning Ghosts"—moved into Disneyland's new Haunted Mansion at midnight."
———Los Angeles Herald Examiner, Tuesday, 8-12-69, p. A-6


"Disneyland gets a bit spooky starting today—the new Haunted Mansion is opening at the edge of New Orleans Square."
Picture caption: "A ghost resident of Disneyland's Haunted Mansion, which opens to public today, plays a haunting melody."
———Los Angeles Times, Tuesday, 8-12-69, p. A-1


"So the Haunted Mansion at Disneyland, which opened with appropriately spectral rites at midnight Monday, is a horrifying delight...."
Picture Caption: "The $7 million scare treat opens its creaky doors for the first time Tuesday."
———Malcolm Epley, The Long Beach Independent, Wednesday, 8-13-69, p. B-1


"After more than 10 years of planning and development, Disneyland opened its Haunted Mansion Tuesday."
———Keith Murray, Pasadena Star News, Wednesday, 8-13-69, p. 6


"Employees were given a creep preview August 7 and 8, between the bewitching hours of 7 p. m. and Midnight, before the attraction opened to the public. Official opening of Disneyland's 53rd major attraction was Tuesday, August 12."
———Disneyland Inside, vol. 4, no. 9 (September 1969). DI is a CM newsletter.



"Came across your site [Doombuggies.com] recently - I thinks it's excellent! We were visiting LA in '69 and talked our parents into staying an extra day for the grand opening of the Mansion. It wasn't easy, as our mom was absolutely freaked out by the Tate murders that had occurred just a day or so earlier. Just a bit of trivia for you..."
———Jeff Hines, Elk Grove, IL. This is from a letter to webmaster Jeff Baham, posted at the Doombuggies.com site. Sharon Tate was murdered very early on Saturday morning, August 9, 1969.
The "Sneak Preview" for the press took place between 10:30 pm and Midnight on Monday, August 11.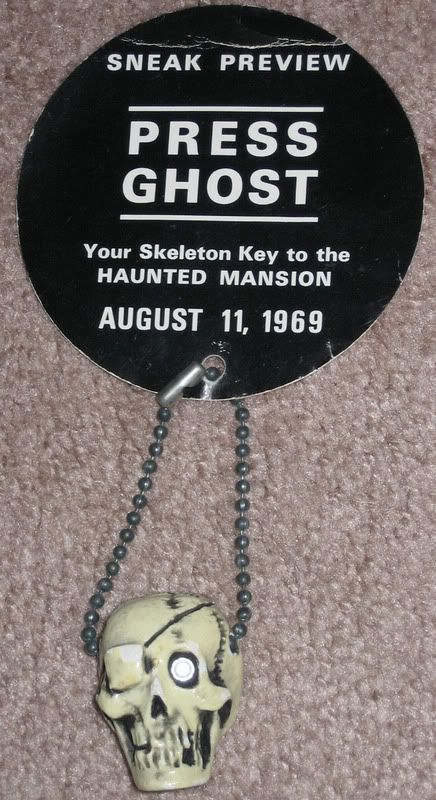 Does someone want to explain to me how you can have a
sneak preview
two days after the grand opening? Reviews of the HM did not begin to appear until Wednesday, August 13.
The Cast Member soft opening, during which they were free to ride and ride the brand new HM, took place 7pm-midnight on Thursday night the 7th and Friday night the 8th.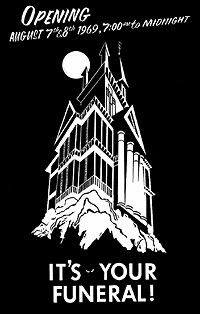 If the grand opening was on Saturday, August 9th, you have the CM soft opening still going on only
hours
before the grand opening. Does that make any sense?
What probably happened is that the soft opening for the CM's went well, and they decided to leave it open for the public at least part of the day on the 9th, unannounced and unofficially, like they often do. Somehow, that became distorted into the big, official, grand opening, which it clearly was not.
Possibly
they let folks ride on Sunday also, but it's doubtful they would have let anyone ride on Monday, since they were planning to have the press "sneak preview" that night, and it would have looked pretty stupid if people had been riding all day.
Facts are facts.