Two days ahead of schedule, the new
Fantasyland
collectibles have been released on
DisneyShopping.com
.
This is the latest and last installment of collectibles honoring Disneyland's 50th Anniversary produced by Walt Disney Collectibles and sold exclusively through Disneydirect.com/DisneyShopping.com
What has me upset is that there are no Matterhorn collectibles. It's one of the most recognizeable and visible parts of the entire park - you can see it from the freeway - why arent there any collectibles - even a scale figure? Its a bit upsetting, to say the least. Maybe the Matterhorn collectibles will be released in a "second wave" of Fantasyland collectibles like the Haunted Mansion collectibles were with the New Orleans Square collectibles?
Anyway, the new wave of collectibles includes: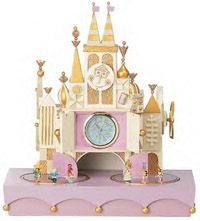 it's a small world Animated Musical Clock - $299.00.
Limited Edition of 1500. Designed by Jody Daily, based on the attraction's original gold and white color scheme. Animated, requires one button cell battery. 14'' H x 12 1/4'' W x 6 1/2'' D. Hand-painted, sculpted resin, plastic, metal.
Mr Toad's Wild Ride Motorcar - $149.00.

Limited Edition of 1000. Replica of Mr. Toad's motorcar, Cyril Proudbottom.
Precision heavy metal with hand-painted, sculpted resin and pewter accents. Motorcar 4 1/2'' H x 4 3/4'' W x 6 3/8'' L. Detachable wood base 7/8'' H x 6'' W x 7 7/8'' L.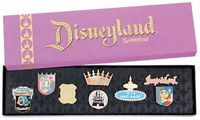 Fantasyland Boxed Pin Set - $34.99.For the complete catalog of collectibles visit DisneyShopping.com