Hi everyone. A while back there was a cool thread started by Kennygman77 here on the site called the "Add a Character" thread. The basic concept was that a person would post a picture of a character, then someone else would post another picture of another character. The idea was to get as many characters as possible. Eventually that thread died. Well since then a lot of characters have returned to the park or have been added. Not to mention that there are new Micechatters with their own pictures to share. So I decided that it was time to resurrect this thread. Here are the basic rules.
1. One picture per post. This is easy to understand. In each response, only post one picture. The picture can have more than 1 character though.
2. You must wait until someone else posts a picture before you post another one. After you post your picture, let someone else have a turn. After they post a picture, then you can post again. Edit: If after 24 hours no one has posted a picture, then you can post again.
3. Post someone different. In other words if someone has posted Captain Hook already, post a character we have not seen. However, you can post the same character if they have a significantly different costume, like regular Mickey vs Sorceror Apprentice Mickey. Before you post, check the list to see if the character has been posted already.
4. Use your own pictures! This one is important. Use pictures that you took or that were taken by family. In other words, don't go to another website or Google images for your pictures. No stealing.
5. Give us details. When you post, please tell us a few things. Like Who it is, where you took the picture and when. If you do not remember something, like say the year, that is ok. Just tell us what you remember. If it was from a parade and you remember the name of the parade, post that. Heck if you got a great story, go right on ahead and post that too. That is part of the fun.
6. Official characters only. Only post pictures of official Disney characters. We are not looking for Disney cosplayers or cool Disney halloween costumes. Not to say those things are not great, but they are not for this thread. This is not to say that non-Disney owned characters cannot be posted. Basically we just want characters who are official Disney representatives in the parks. So characters like Indiana Jones and from films like Star Wars are OK. As long as they appeared in a Disney Park, and are on the Disney payroll they are ok.
7. Only post characters from films, shorts, tv shows, and attractions. There are a lot of Disney characters and to keep this simple we are only looking for characters from films (ex. Peter Pan), Shorts (Donald Duck), TV Shows (ex, Darkwing Duck) or attractions (ex Hitchhiking Ghosts). This also means that characters like the Mayor of Disneyland or random parade performers are great, but not what we are looking for.
8. No animatronics please. By this I mean we want people in costume, not a robot. An example would be for Sebastian you would want to post a picture of the character walking around the park, not the animatronic one that was on the Little Mermaid float in the Parade of Dreams. Also we are not looking for pictures of characters from inside attractions. So don't post a picture of the Hitchhiking Ghosts that you took on the Haunted Mansion. Post a picture you took of them from a Parade or a show. An exception to this rule would be a free-roaming animatronic, like Wall-E or Mater.
9. Sources for pictures.
Disney Theme parks worldwide, Disney Cruise Line, Disney Soda Fountain and El Capitan, D23 Expo, and World of Disney New York. Others on a case by case basis. Let's leave Broadway shows and Disney on Ice out.
If you have a question, post it. I will answer as soon as possible and add it to a FAQ. From time to time I will post a list of already posted characters so that you can see if they have been posted and what post number they are so you can see the picture. This can be alot of fun. So lets get posting. Here is the first entry.
Marching Band Mickey, Disneyland, 2006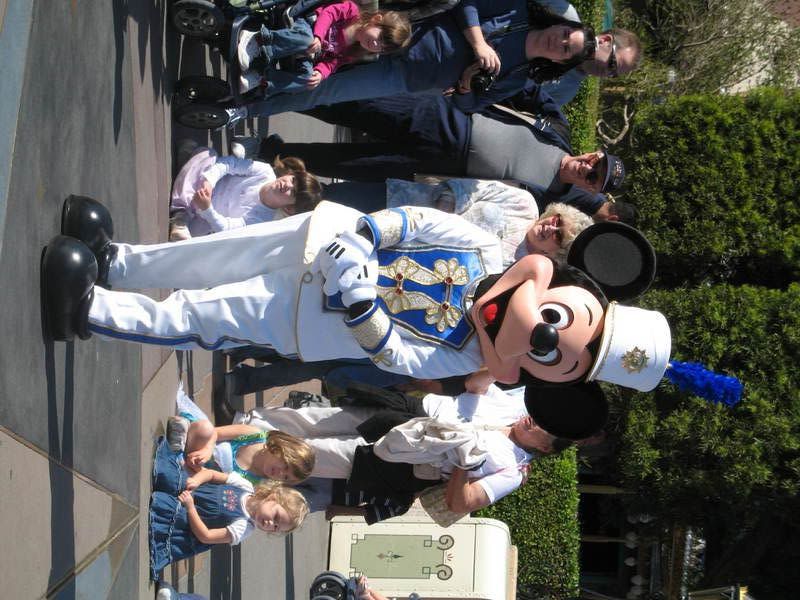 EDIT: The BIG List.
The Following List shows the characters that have already been posted. Remember, the idea is to only post characters that have not already been posted.
Name, variation, Post Number
A
Abby Mallard, #567
Abu, 458
Aladdin, #210
Aladdin, Aladdin Musical, #943
Aladdin as Prince Ali, #1169
Aladdin, Christmas Fantasy Parade, #207
Aladdin, Winter Wear, #665
Alice, #4, 94
Alice, Cold Weather, #107, #600
Alice, Mickey's Once Upon a Christmastime Parade, #866
Alice, Parade of Dreams, #133
Amidala, Coruscant Senate Meeting, #863
Anakin Skywalker, #873
Anatasia, Christmas Fantasy Parade, #201, #596
Anatasia, Electrical parade, #409, #1005
Annie, #1109
Annie Oakley, #719
Ariel, #11
Ariel, Candlelight Reflections Finale, #1156
Ariel, Christmas coat, #1171
Ariel, Once Upon a Dream Parade, #857
Ariel, Seafoam Dress, #14
Ariel, Year of a Million Dreams, #581
Atta, #281
Aurora, Blue Dress, #492
Aurora, Blue Dress, Winter #50
Aurora, Golden Mickeys, #624
Aurora, Mickey's Once Upon a Christmastime Parade, #867
Aurora, Once Upon a Dream Parade, #859
Aurora, Parade of the Stars, #125
Aurora, Pink Dress #14
Aurora, Purple Dress, #67
Aurora, White Christmas Dress, #601
Aurra Sing, #916
B
Babette, Parade of Dreams, #236, #343
Baloo, #164
Baloo, Jingle Jungle Parade, #834
Baloo, Mickey's Jammin Jungle Parade, #830
Baloo, Move It! Shake It! Celebrate It!, 833
Baloo, Once Upon a Dream Parade, #838
Baloo, Parade of the Stars, #245
Banzai, #572
Barbossa, see Captain Barbossa
Bashful, #5
Bashful, Parade of the Stars, #531
Bear in the Big Blue House, #566
Beast, #187
Beast, Fantasmic, #495
Beast, Human Form, #619
Beast, Parade of Dreams, #284
Behemoth, #78
Belle, #14
Belle, Beauty and the Beast Stage Show, MGM, #619
Belle, Blue Provincal Dress, #171, #435
Belle, Christmas Fantasy Parade, #1141
Belle, Christmas WDW, #865
Belle, Christmas Wear, #493
Belle, Fantasmic, #495
Belle, Mickey's Once Upon a Christmastime Parade, #869
Belle, Parade of Dreams, #284
Belle, Parade of the Stars, #121
Belle, Red Christmas Gown, #706
Belle, White Christmas Dress, #604
Belle, Winter Wrap, #716
B.E.N., #124
Benjamin Franklin, #669
Bernard, #304
Bernard, Candlelight Reflection Finale, #1161
Bert, Chimney Sweep, #159
Bert, Jolly Holiday, #47, #882
Bert, Mickey's Once Upon a Christmastime Parade, #866
Bert, White Christmas attire, #607
Bianca, #308, #422
Biance, Candlelight Reflection Finale, #1161
Big Al, #823, #1228
Big Bad Wolf, #213, #430
Big Bad Wolf, SpectoMagic, #781
Big Witch, #423
Big Witch Labcoat, #423
Blue Fairy, #22
Blue Fairy, Main Street Electrical Parade, #1000
Blue Fairy, Parade of the Stars, #194
Blue Jungle Fury Power Ranger, #698
Bo Peep, #74
Bolt, #86
Bongo, #475
Boo, Monster Costume, #43
Bowler Hat Guy, #406
Br'er Bear, #17
Br'er Bear, Mickey's Very Merry Christmas Parade, #829, #958
Br'er Bear, SpectroMagic, #827
Br'er Fox, #61
Br'er Fox, Orange, #499
Br'er Rabbit, #294
Br'er Rabbit, Mickey's Jingle Jungle Parade, #932
Br'er Rabbit, Mickey's Very Merry Christmas Parade, #829, #958
Brooms from Fantasia, #533
Buffalo Bill, #663
Bullseye, #172
Buzz Lightyear, #20
C
Camelisha, #783
Captain Barbossa, #854
Captain Hook, #12
Captain Hook, Fantasmic, #577
Captain Jack Sparrow, #52, #291
Carl Frederickson, #127
Carmen, #898
Carpet, Aladdin Musical, #949
Caspian, #246
CDA, #176
Cinderella, #14, 417
Cinderella, Christmas Wear, #490
Cinderella, Mickey's Once Upon a Christmastime Parade, #875
Cinderella, Once Upon a Dream Parade, #861
Cinderella, Parade of the Stars, #125
Chef Goofy, #165
Chicken Little, #71
Chien-Po, Concubine attire, #963
Chimney Sweeps, #579
Chimney Sweeps, Fantasmic, #768
Chinese Mushrooms, #243
Chip, #177
Chip, Beauty and the Beast, #1238
Chip, Candy Corn Acres, #268
Chip, Celebrate the Season, #812
Chip, Celebrate the Season, Chinese, #814
Chip, Celebration, #1072
Chip, Chef, #672
Chip, Chinese New Year, #28
Chip, Christmas Encore, #1116
Chip, Christmas Fantasy Parade, #99
Chip, Christmas Sweater, #44
Chip, Christmas WDW, #800
Chip, Discoveryland, #699
Chip, Disney/MGM Studios, #333
Chip, DLRP Christmas, #609
Chip, Formal attire #1236
Chip, Ghost, #791
Chip, Gingerbread Baker, #253
Chip, Goofy's Summer Camp, #216
Chip, Grizzly Recreational Area, #272
Chip, Hong Kong Disneyland, #327
Chip, Indian, #657
Chip, Jammin' Jungle Parade, #137
Chip, Jian Shi, #1111
Chip, Liberty Tree Tavern, Halloween, #810
Chip, Lost River Delta, #1188
Chip, Mickey's Jolly Snowtime Parade, #1158
Chip, Mickey's Winter Wonderland, #633
Chip, Mysterious Masquerade, #1076
Chip, Once Upon a Dream Parade, #545
Chip, Parade of Dreams, #3
Chip, Parade of the Stars, #178
Chip, Party Gras, #987
Chip, Rescue Ranger, #968
Chip, Sailor Suit #114
Chip, SpectroMagic, #135
Chip, Surprise Celebration, #311
Chip, Three Musketeer, #811
Chip, Tokyo 25th Anniversary costume, Raincoat #971
Chip, Tomorrowland, WDW, #806
Chip, Toon Train, #929
Chip, "Twas the Night Before Christmas", #818
Chip, Western, #142
Christopher Robin, Pirate #902
Christopher Robin, Winnie the Pooh and Friends, Too!, #1227
Christopher Robin, Winter Wear, #678
Circus Elephants, #448
Clarabell Cow, Celebrate Street Party #36
Clarabell Cow, Christmas Fantasy Parade, #89
Clarabell Cow, Holiday, #282
Clarabell Cow, Tokyo New Year's Greeting 2009, #964
Clara Cluck, #364
Clarice, #138
Clarice, Mickey's Jolly Snowtime Parade, #1158
Clarice, Witch costume, Re Villains parade, #1066
Claude Frollo, #139
Clopin, #113
Clown with the Tear Away Face, #75, #427
Cogsworth, #1238
Cruella DeVil, #6
Cruella DeVil, Golden Mickey's, #769
Cruella DeVil, Live Action, #296
D
Daisy Duck, #174
Daisy Duck, Candlelight Reflections Finale, #1164
Daisy Duck, Cape Cod, #1058
Daisy Duck, Christmas Fantasy Parade Green, #278
Daisy Duck, Christmas Fantasy Parade Red, #463
Daisy Duck, Donald's Safari Breakfast, #743
Daisy Duck, Goofy's Summer Camp, #216
Daisy Duck, Fantasia 2000, #155
Daisy Duck. Light Magic, #1215
Daisy Duck, Lilo and Stitch Breakfast, #520
Daisy Duck, Mickey's Jolly Snowtime, #1200
Daisy Duck, Mickey's Once Upon A Christmas Time Parade, #740
Daisy Duck, Mysterious Masquerade, #1075
Daisy Duck, New Years Greeting, 2010, #1202
Daisy Duck, Princess, #760
Daisy Duck, Quinceanera, #1236
Daisy Duck, Stars and Cars, #455
Daisy Duck, Tokyo 25th Anniversary costume, Raincoat #971
Dale, #179
Dale, Candy Corn Acres, #268
Dale, Celebrate a Dream Come True Parade, #931
Dale, Celebrate the Season, #812
Dale, Celebrate the Season, Chinese, #814
Dale, Chef, #670
Dale, Chinese New Year, #28
Dale, Encore, Christmas Version, #1119
Dale, Christmas Fantasy Parade, #99
Dale, Christmas Sweater, #48
Dale, Christmas WDW, #800
Dale, Discoveryland, #697
Dale, Disney/MGM Studios, #333
Dale, DLRP Christmas, #609
Dale, Farmer, #592
Dale, Formal attire, #1236
Dale, Ghost, #791
Dale, Gingerbread Baker, #253
Dale, Goofy's Summer Camp, #216
Dale, Grizzly Recreational Area, #272
Dale, Hong Kong Disneyland, #327
Dale, Indian, #657
Dale, Jammin' Jungle Parade, #137
Dale, Jian Shi, #1111
Dale, Liberty Tree Tavern, Halloween, #808
Dale, Lost River Delta, #1178
Dale, Mickey's Jolly Snowtime Parade, #1158
Dale, Mickey's Winter Wonderland, #633
Dale, Mysterious Masquerade, #1076
Dale, Once Upon a Dream Parade, #545
Dale, Parade of Dreams, #3
Dale, Parade of the Stars, #178
Dale, Rescue Ranger, #37
Dale, Sailor Suit #114
Dale, SpectroMagic, #135
Dale, Three Musketeer, #813
Dale, Tokyo 25th Anniversary costume, Raincoat #971
Dale, Tomorrowland, WDW, #804
Dale, Toon Train, #929
Dale, "Twas the Night Before Christmas, #818
Dale, Western, #142
Dancing Elephant, #438
Darkwing Duck, #7, #610
Darth Maul, #93
Darth Vader, #117
Doc, #24
Doc, Parade of the Stars, #535
Donald Duck, #53, #269
Donald Duck, California Adventure, #80
Donald Duck, California Adventure, Christmastime, #1130
Donald Duck, Candlelight Reflections Finale, #1164
Donald Duck, as Captain Hook, #744
Donald Duck, Celebrate a Dream Come True, #1244
Donald Duck, Celebrate the Season, #749
Donald Duck, Celebrate the Season Jester, #747
Donald Duck, Christmas Fantasy Parade Blue, #111
Donald Duck, Christmas Fantasy Parade Green, #278
Donald Duck, Christmas Sweater, #55
Donald Duck, Devil, #767
Donald Duck, Director, #168
Donald Duck, Disneyland's 50th Anniversary, #1033
Donald Duck, Encore, Christmas Version, #1121
Donald Duck, Fantasia 2000, #155
Donald Duck, Firefighter, #739
Donald Duck, Formal attire, #1236
Donald Duck, Frontierland, #733
Donald Duck, Goofy's Summer Camp, #216
Donald Duck, Jammin' Jungle Parade, #745
Donald Duck, Kingdom Hearts, #992
Donald Duck, Knight, #753
Donald Duck, Mexican attire, #1136
Donald Duck, Mickey's Jingle Jungle Parade, #738
Donald Duck, Mickey's Jolly Snowtime, #1199
Donald Duck, Mickey's Once Upon A Christmas Time Parade, #740
Donald Duck, Mickey's Winter Wonderland, #742
Donald Duck, Mysterious Masquerade, #1075
Donald Duck, Mysterious Masquerade, Haunted Tribal, #1110
Donald Duck, Once Upon a Dream Parade, #545
Donald Duck, Parade of Dreams, #29
Donald Duck, Pirate, #741
Donald Duck, Pumpkin, #242
Donald Duck, SpectoMagic. #219
Donald Duck, Spring Carnival Fairies Primavera, #1020
Donald Duck, Stars and Cars, #455
Donald Duck, Stormtrooper, #692
Donald Duck, Surprise Celebration, #273
Donald Duck, Three Caballeros, #316
Donald Duck, Tokyo 25th Anniversary costume, Raincoat #971
Donald Duck, Tree Farm, #792
Donatello, #350
Dopey, #26
Dopey, Christmas Parade, #487
Dopey, Parade of the Stars, #535
Dory, #250
Dr. Faciller, #1089
Dr. Finklestein, #78
Drizilla, Electrical parade, #1005
Drizilla, Christmas Fantasy Parade, #203, #596
Duffy, Christmas Outfit, #990
Duffy, Christmas Outfit, 2009, #1166
Duffy, Halloween 2009, #1062
Duffy, Meet and Smile, #1030
Duufy, Red, White, and Blue Knit hat and scarf, #1207
Duffy, Straw Hat Marine Outfit, #1042
Duffy, Sweet Duffy, #1222
Dug, #90
Dumbo, Clown, #591
Dumbo, Electrical Parade, #276
Dumbo, Magical, #279
Dumbo, Main Street Electrical Parade, #298
Dutch Puppet, #320
E
Easter Bunny, #425
Ed, #593
Eeyore, #151
Eeyore, Christmas Fantasy Parade, #1176
Eeyore, Christmas hat, #516
Eeyore. Circus, #469
Eeyore, Clown, #828
Eeyore, Mummy, #902
Emile, #76, #428
Elasti-Girl, #46
Eric, See Prince Eric
Esmerelda, #1045, #1047
Evil Queen (Snow White), #156
Evil Queen (Snow White), Fantasmic ,#416
Evil Witch, #141
Ezra, #840
F
Fairy Godmother, #22, #648
Fairy Godmother, Mask, #584
Fantail, #896
Fantasia Brooms, #533
Fantasia Ostriches, Spectromagic, #1237
Fauna, #22
Fauna, Fantallusion, #232
Fauna, Spectromagic, #512
Fawn, #41
Fiddler Pig, #433
Fiddler Pig, Spectromagic, #1242
Fifer Pig, #433
Fifer Pig, Spectromagic, #1242
Fifi, Parade of Dreams, #236, #343
Figment, #202
Flamingo, #238
Flaps, #538
Flik, #101
Flora, #365
Flora, Fantallusion, #232
Flotsam, #226
Flounder, #686
Foulfellow, #145
Fozzie Bear, #725
French Puppet, #320
Friar Tuck, #306
Frollo, #139
Frozone, #40
G
Genie, #458
Genie, Aladdin Muscial, #908
Genie, Christmas Fantasy Parade, #207, #594
Genie, SpectroMagic, #437
George Sanderson, #87, #132
Geppetto, #299
Gideon, #35, #335
Gingerbread Men, #586
Giselle, #444, #580
Goliath the Lion, #691
Goofy, #13
Goofy, Beach Blast, #160
Goofy, California Adventure, #221
Goofy, Camp Minnie Mickey, #223
Goofy, Candy Corn Acres, #262
Goofy, Celebrate the Season, #749
Goofy, Celebrate the Season, Russian Dancer, #751
Goofy, Chef, DL #165, #786
Goofy, Chef, WDW, #786
Goofy, Christmas Fantasy Parade, #204
Goofy, Christmas Sweater, #489
Goofy, Christmastime, #1151
Goofy, Clamdigger, #513
Goofy, Cowboy, #397
Goofy, Darth Vader, #692
Goofy, Dinoland USA, #778
Goofy, Discoveryland, #754
Goofy, Disneyland's 50th Anniversary, #1033
Goofy, Disney/MGM Studios, #347
Goofy, Donald's Safari Breakfast, #784
Goofy, Encore, Christmas Version, #1123
Goofy, Gondolier, #1060
Goofy, Goofy's Candy Company, #731
Goofy, Goofy's Candy Company Smock, #750
Goofy, Goofy's Summer Camp, #216
Goofy, Hawaiian, #782
Goofy, Italian, #287
Goofy, Liberty Tree Tavern Halloween outfit, #752
Goofy, Mickey's Jolly Snowtime Parade, #1185
Goofy, Move it, Shake it, Celebrate it Parade, #1246
Goofy, Mr Smee outfit, #775
Goofy, Mysterious Masquerade, #1080
Goofy, Once Upon a Dream Parade, #545
Goofy, Parade of Dreams, #317
Goofy, Parade of the Stars, #178
Goofy, Pharoah, #300
Goofy, Pilot, DCA #1235
Goofy, Pirate, #741
Goofy, Pirate, Cruise ship, #613
Goofy, Power of Music, #1220
Goofy, Santa Claus, #240
Goofy, Skeleton, #225
Goofy, Spectromagic, #461, #1197
Goofy, Tokyo 25th Anniversary costume, Raincoat #971
Goofy, Tower of Terror Bellhop, #381
Goofy, Western, #780
Goofy, Year of a Million Dreams suit, #241
Gonzo, #725
Governor Ratcliffe, #147
Granny Smith, (see Old Hag)
Green Army Men, #234
Green Samurai Ranger, #696
Groundskeeper, #655
Grumpy, #5
Grumpy, Parade of the Stars, #510
Gus, (Hitchhiking Ghost), #840
Gus, Disney's Electrical Parade, #807
Gus, SpectroMagic, #809
Gypsy, #903
H
Hades, #150
Handy Manny, #70
Happy, #5
Happy, Parade of the Stars, #510
Haunted Mansion Groundskeeper, #655
Headless Horseman, #646
Heimlich, #136
Herbie, #357
Hercules, #205
Honest John Foulfellow, #145
Hook, #12
Horace Horsecollar, #717
Huck Finn, #1134
Hyacinth Hippo, #255
Hyacinth Hippo, Parade of the Stars, 442
I
Indiana Jones, #42
Irridessa, #72
Irridessa, Winter Coat, #714
J
Jack O Lanterns, #1105
Jack Skellington, #66, #394
Jack Skellington as Sandy Claus, #73
Jack Sparrow, #52, #291
Jafar, #149
Jafar, Aladdin Muscial, #908
Jafar, Beggar, Aladdin Musical, #943
Jafar, Genie, Aladdin Muscial, #918
Jane #650
Jango Fett, #911
Jaq, Disney's Electrical Parade, #807
Jaq, SpectroMagic, #809
Jasmine, #14
Jasmine, Christmas Fantasy Parade, #207
Jasmine, Cold Weather Wrap, #169
Jessie, #9, #434
Jetsam, #226
Jiminy Cricket, #65
Jiminy Cricket, Surprise Celebration #328
Jim Hawkins, #122
Joe, #771
John Smith, #748
Jo-Jo, #691
Jose Carioca, #687
Jose Carioca, Surprise Celebration, #273
Judge Claude Frollo, #139
June, #899
Jungle Book Monkeys, #410
Jungle Book Monkeys, Fantasmic, #414
K
Kanga and Roo, Christmastime, #887
Kanga and Roo, Halloween, #890
Kenai, #185
Kermit the Frog, Walkaround #727
Kida, #666
Kim Possible, #688
King Leonidas, #1011
King Louie, #198
King Louie, Fantasmic, #414
King Louie, Parade of the Stars, #245
King Triton, #440
Kit Cloudkicker, #935
Kit Fisto, #873
Koda, #185, 432
Kronk, #396
Kuzco, #391
L
Lady Tremaine, Christmas Fantasy Parade, #203
Launchpad McQuack, #610
Leo, #897
Leonardo, #350
Lewis, #611
Lightning McQueen, #252
Lilo, #30, #1112
Lilo, Christmas, #787
Ling, Concubine attire, #963
Li Shang, #1046
Little John, #785
Liver Lips McGrowl, #454, #1228
Liver Lips, McGrowl, Mickey's Winter Wonderland, #825
Lost boys, #664
Louie, #1087
Lucky the Dinosaur, #576
Ludwig Von Drake, #303
Lulubelle, #475
Lumiere, #1238
Lumiere, Move It! Shake It! Celebrate It!, #839
M
Madame Leota, #942
Mad Hatter, #92
Mad Hatter, Mickey's Once Upon a Christmastime Parade, #866
Maleficent, #564
Maleficent, Fantasmic, #407
Maleficent, Once Upon a Dream Parade, #235
Maleficent, WDW, #855
Marie, #690
Marie, Christmas Bow, #1091
Marie, Re Villains parade, #1067
Marlin, #57
Mary Poppins, Jolly Holiday, #58, #882
Mary Poppins, Mickey's Once Upon a Christmastime Parade, #866
Mary Poppins, SpectoMagic, #868, #1160
Mary Poppins, Step in Time, #159
Mary Poppins, White Christmas attire, #607
Mater, #254
Max, #256
Max, Christmas Fantasy Parade, #204
Max, Eric's Dog, #1156
Max, Holiday Scarf, #1120
Max, Lost River Delta, #1173
Max. Mickey's Jolly Snowtime Parade, #1184
Max, New Years Greeting, 2010, #1203
Max, Surfer, #157
Mayor of Halloweentown, #75
Meeko, #21
Megara, #488
Merlin, #39, #119
Merriweather, #22
Merriweather, Fantallusion, #232
Michelangelo, #356
Mickey Mouse, #56, #1138
Mickey Mouse, Arabian Coast, TDS, #1165
Mickey Mouse, Bandleader, (no hat) #237, (with hat) #312
Mickey Mouse, Beach Blast, #166
Mickey Mouse, Black Tux, #390
Mickey Mouse, California Adventure, #337
Mickey Mouse, Candy Corn Acres, #211
Mickey Mouse, Camp Minnie Mickey, #1014
Mickey Mouse, Captain Cruise Line, #583
Mickey Mouse, Celebrate a Dream Come True, #1243
Mickey Mouse, Celebrate Street Party, #295
Mickey Mouse, Chinese New Year, #23
Mickey Mouse, Circus on Parade, #413, #465
Mickey Mouse, Christmas Fantasy Parade, #77
Mickey Mouse, Christmas Sweater White, #470
Mickey Mouse, Christmas Sweater Green, #491
Mickey Mouse, DCA, Christmas Vacation, #1122
Mickey Mouse, Director, #267
Mickey Mouse, Disney Electrical Parade, #815
Mickey Mouse, Disneyland's 50th Anniversary, #239
Mickey Mouse, Disney/MGM Studios, #342
Mickey Mouse, Disney Studios, #597
Mickey Mouse, DLRP Christmas, #609
Mickey Mouse, DLRP Christmas Parade, #377
Mickey Mouse, Encore, Christmas Version, #1094
Mickey Mouse, Fantallusion, #948
Mickey Mouse, Fantasmic, #467
Mickey Mouse, Fantasmic Brave Little Tailor, #557
Mickey Mouse, Farmer, #173
Mickey Mouse, Golden Mickeys, #583
Mickey Mouse, Golden Mickeys, Yellow suit, #771
Mickey Mouse, Jedi, #683
Mickey Mouse, Light Magic, #1215
Mickey Mouse, Marching Band, Blue #1
Mickey Mouse, Marching Band, Orange, #131
Mickey Mouse, Maritime, #507
Mickey Mouse, Mexican attire, #1136
Mickey Mouse, Mickey's Jolly Snowtime, #1198
Mickey Mouse, Mickey's Magical Party, #816
Mickey Mouse, Mickey's Winter Wonderland, #742
Mickey Mouse, Mickey's Winter Wonderland Ski Suit, #627
Mickey Mouse, Mysterious Masquerade, #960
Mickey Mouse, Once Upon a Dream Parade, #218
Mickey Mouse, Parade of Dreams, #32
Mickey Mouse, Parade of the Stars, #374
Mickey Mouse, Pirate, Cruise ship, #603
Mickey Mouse, Re Villians Parade, #1084
Mickey Mouse, Safari, #599
Mickey Mouse, Scarecrow, #242
Mickey Mouse as the Sorceror's Apprentice, (with hat) #79, #617, (no hat) #301
Mickey Mouse, SpectroMagic, #217
Mickey Mouse, Spring Carnival Fairies Primavera, #1061
Mickey Mouse, Stars and Motor Cars, #720
Mickey Mouse, as Steamboat Willie, #1115
Mickey Mouse, as Steamboat Willie, Fantasmic, #340,
Mickey Mouse, Surprise Celebration, #305
Mickey Mouse, Thanksgiving Pilgrim, #1137
Mickey Mouse, Tokyo 25th Anniversary costume, Raincoat #971
Mickey Mouse, Tokyo Disney Sea 5th Anniversary, #1217
Mickey Mouse, Tokyo New Year's Greeting 2009, #964
Mickey Mouse, "Twas the Night Before Christmas", #818
Mickey Mouse, Vampire, Purple/Orange #208, #953
Mickey Mouse, Vampire, Purple/Red, #524
Mickey Mouse, Very Merry Christmas Party, #730
Mickey Mouse, Western, DLRP, #595
Mickey Mouse, Year of a Million Dreams, #106
Mike Wazowski, #181
Milo, #666, #1044
Minnie Mouse, #68, #1138
Minnie Mouse, Apron, #629
Minnie Mouse, Aviator, #1148
Minnie Mouse, Beach Blast, #163
Minnie Mouse, Buffalo Bills, #679
Minnie Mouse, California Adventure, #180, #558
Minnie Mouse, Candy Corn Acres, #270
Minnie Mouse, Celebrate a Dream Come True, #1243
Minnie Mouse, Celebrate Street Party, #33
Minnie Mouse, Chinese New Year, #25
Minnie Mouse, Christmas Fantasy Parade, #195
Minnie Mouse, Christmas Sweater, #476
Minnie Mouse, Circus, 448
Minnie Mouse, Critter Country, #1208
Minnie Mouse, DCA, Christmas Vacation, #146
Minnie Mouse, Disneyland 50th Birthday Celebration, #323
Minnie Mouse, DLRP Christmas, #609
Minnie Mouse, DLRP Christmas Parade, #377
Minnie Mouse, Discoveryland, #788
Minnie Mouse, Disney Studios, #597
Minnie Mouse, Encore, Christmas Version, #1094
Minnie Mouse, Epcot, FutureWorld, #951
Minnie Mouse, Fantasllusion, #652
Minnie Mouse, Golden Mickeys, #390
Minnie Mouse, Golden Mickeys, Yellow Dress, #771
Minnie Mouse, Liberty Tree Tavern, #713
Minnie Mouse, Maritime, #183
Minnie Mouse, Mickey's Jolly Snowtime, 2008, #974
Minnie Mouse, Mickey's Jolly Snowtime, 2009, #1194
Minnie Mouse, Mickey's Winter Wonderland, #742
Minnie Mouse, Mickey's Winter Wonderland Ski Suit, #627
Minnie Mouse, Minnie's Moonlit Madness, #196
Minnie Mouse, Move it, Shake it, Celebrate it Parade, #1246
Minnie Mouse, Mysterious Masquerade, #960
Minnie Mouse, Once Upon a Dream Parade, #218
Minnie Mouse, Parade of Dreams, #32
Minnie Mouse, Parade of the Stars, #374
Minnie Mouse, PCH Character Breakfast polka-dots, #1026
Minnie Mouse, Pilot, DCA #1235
Minnie Mouse, Pirate, Cruise ship, #613
Minnie Mouse, Power of Music, #1211
Minnie Mouse, Princess, #10
Minnie Mouse, Princess Leia, #683
Minnie Mouse, Queen of Ghosts, Mysterious Masquerade, #1034
Minnie Mouse,

Quinceanera, #1236
Minnie Mouse, Re Villians Parade, #1083
Minnie Mouse, Spring Carnival Fairies Primavera, #1055
Minnie Mouse, Stars and Motor Cars, #720
Minnie Mouse, Statue of Liberty, #737
Minnie Mouse, Surprise Celebration, #307
Minnie Mouse, Sweets, A Table is Waiting show, #1012
Minnie Mouse, Thanksgiving Pilgrim, #1137
Minnie Mouse, Tokyo 25th Anniversary costume, Raincoat #971
Minnie Mouse, Tokyo Disney Sea 5th Anniversary, #1217
Minnie Mouse, Tokyo New Year's Greeting 2009, #964
Minnie Mouse, "Twas the Night Before Christmas", #818
Minnie Mouse, Very Merry Christmas Party, #730
Minnie Mouse, Western, DLRP, #595
Minnie Mouse, Witch, Purple/Green #524
Minnie Mouse, Witch, Purple/Orange, #140
Minnie Mouse, Year of a Million Dreams, #191
Miss Bunny, #999
Miss Bunny, Mickey's Jolly Snow Time, #1113
Miss Piggy, Walkaround, #727
Mittens, #86
Mole, #1044
Mowgli, Jubilation, #1102
Mr. Incredible, #46
Mr. Potato Head, #290
Mr. Smee, #206, #348, #930
Mr. Smee, Dream Along with Mickey, #775
Mr. Smee, Fantasmic, #346
Mrs. Claus, #197, #1091
Mrs. Incredible, #46
Mrs. Potts, #1238
Mulan, #14, #608
Mulan as Ping, #1191
Mummy, #78
Muppet Mobile Labs, #571
Mushrooms, #243
Mushu, #16
N
Needleman, #96
Nemo, #250, #598
O
Old Hag, #141, #934
Old Hag, Fantasmic, #770
Oogie Boogie, 418
P
Pain, #805
Panchito Pistoles, #1010
Panchito Pistoles, Surprise Celebration, #273
Panic, #803
Pearly Band, #199
Penguin, #144
Penguins, Parade of the Stars, #248
Pepe the Prawn, #725
Pere Noel, #377
Perla, #161
Perla, Disney's Electrical Parade, #807
Perla, Parade of the Stars, #531
Pete, (Pete's Dragon), #852
Peter Pan, #54
Peter Pan, Cold Sleeves #110, #856
Peter Pan, Dream Along with Mickey, #700
Peter Pan, Electrical Parade, #860
Peter Pan, Fantasmic, #858
Peter Pan, It's Party Time, #851
Peter Pan, Mickey's Once Upon a Christmastime Parade, #866
Peter Pan, Once Upon a Dream Parade, Cold Weather, #864
Peter Pan, SpectroMagic, #797
Phil, #488
Phineas, #840
Phoebus, #1047
Piglet, #355
Piglet, Butterfly, #693
Piglet, Flower, #902
Piglet, w/ scarf #152
Pink Mystic Force Ranger, #696
Pinocchio, #95
Pinocchio, Mickey's Once Upon a Christmastime Parade, #866
Playing Cards, #251
Playing cards, Once Upon A Dream Parade, #642
Playing Cards, Parade of Dreams, #386
Pluto, #13, 220
Pluto, Chef, #551
Pluto, Christmas, 1986, #318
Pluto, Christmas Collar, #501
Pluto, Dinoland USA, #778
Pluto, DLRP Christmas, #609
Pluto, Encore, Christmas Version, #1125
Pluto Formal attire, #1236
Pluto, Halloweentime, #258, #955
Pluto, Maritime, #192
Pluto, Mickey's Jolly Snowtime Parade, #1189
Pluto, Mickey's Once Upon a Christmastime Parade, #866
Pluto, Mickey's Winter Wonderland, #742
Pluto, Once Upon a Dream Parade, #545
Pluto, Parade of Dreams, #542
Pluto, Reindeer, #98
Pluto, Santa's Beach Blast, #266
Pluto, Surprise Celebration, #321
Pluto, Tokyo 25th Anniversary costume, Raincoat #971
Pocahontas, #19
Pocahontas, Winter coat, #689
Pooh, See Winnie the Pooh
Practical Pig, #1007
Practical Pig, Spectromagic #681, 1242
Prince Ali, #31
Prince Caspian, #246
Prince Charming, (Cinderella's Prince) #97
Prince Charming, Once Upon a Dream Parade, #861
Prince Charming, (Snow White's Prince), see The Prince
Prince Eric, #464
Prince Eric, Candlelight Reflections Finale, #1156
Prince Eric, Once Upon a Dream Parade, #857
Prince Eric, Year of a Million Dreams, #581
Prince John, #384
Prince Naveen, #1089, #1127
Prince Phillip, #67, #643
Prince Phillip, Golden Mickeys, #624
Prince Phillip, Mickey's Once Upon a Christmastime Parade, #867
Prince Phillip, Once Upon a Dream Parade, #859
Prince Phillip, White Christmas attire, #601
Q
Quasimodo, #1048
Queen Amidala, see Amidala
Queen of Hearts, #51
R
Rabbit, #186
Rabbit, Halloween, #890
Rafiki, #63, 426
Rafiki, Holiday scarf, #1117
Raphael, #350, #356
Ratcliffe, #147
Red S.P.D. Power Ranger, #698
Reindeer, #582
Remy, #45, 428
Rhino, #680
Ringmaster, #261
Robin Hood, #292
Robin Hood, Scarf, #779
Roger Rabbit, #155
Rollie Pollie Ollie, #1049
Ron Stoppable, #688
Rosetta, #72
Rosetta, Winter Coat, #128
Roz, Pixar Play Parade, #548
Russell, #82
S
Sally, #66, #394
Sam the Eagle, #729
Santa Claus, #73
Santa Claus, California Adventure, #83
Santa Goofy, #240
Scrooge McDuck, #552
Scrooge McDuck, Candlelight Reflections Finale, #1164
Sebastian, #658
Shan Yu, #574
Shenzi, #528
Sheriff of Nottingham, #389, #793
Silvermist, #41
Simba, #63
Simba, Cub, Parade of the Stars, #193
Sleeping Beauty, see Aurora
Sleepy, #5
Sleepy, Parade of the Stars, #531, #535
Slim, #275
Smee, See Mr. Smee
Small Witch, #423
Small Witch labcoat, , #423
Smitty, #900
Sneezy, #5
Sneezy, Parade of the Stars, #531
Snow White, #14
Snow White, Dream Along with Mickey, #701
Snow White, Fantasmic, #505
Snow White, Once Upon A Dream Parade, #853
Snow White, Parade of Dreams, #214
Snow White, Parade of the Stars, #125
Snow White, Scarf, #496
Snow White, SpectroMagic, #862
Snow White's Prince, see The Prince
Snowmen, #589
Sorceror Mickey Mouse, #79
SpectroMen, #1157
Squirt, #134
Stanley, #224
Steamboat Willie, #340
Stitch, #445
Stitch, Christmas, #787
Stitch, Elvis, #458
Stitch, Experiment 626, #907
Stitch, It's Dance Time DJ, #761
Stitch, Lei, #1112
Stitch, Minnie Moonlit Madness, #170
Stitch, Pumpkin Costume, #1126
Stormtrooper, #102
Stromboli, #143
Stromboli, Black Beard, #454
Sulley, #15
Sultan, Aladdin Musical, #906
Suzy, #161
Suzy, Disney's Electrical Parade, #807
Suzy, Parade of the Stars, #535
T
Tarzan, #200
Terk, #27
Terence, #1077
The Bride, #881
The Love Bug, #357
The Mad Hatter, See Mad Hatter
The Prince, (Snow White) #91
The Prince, (Snow White) Dream Along with Mickey, #701
The Prince, (Snow White) Fantasmic, #505
The Prince, (Snow White) Once Upon A Dream Parade, #853
Thumper, #1004
Thumper, Mickey's Jolly Snow Time, #1113
Tiana, #1092, #1127
Tiana, Winter Coat, #1133
Tigger, #148
Tigger, Christmas Fantasy Parade, #1172
Tigger, New Years Greeting, 2010, #1206
Tigger, Pirate, #693
Tigger, Skeleton, #902
Timon, #153
Tinker Bell, #2, #38, #338
Tinker Bell, Cold Weather jacket, #123
Tony, #771
Toy Soldiers, #108
Trumpeter Elephant, #325
Tutter, #566
Tweedle Dee, #331
Tweedle Dum, #189, #331
U
Usula, Spectromagic, #1241
V
Vampire, #78
Vinny, #1044
Vultures, #419, #538
W
Wall E, #632
Walrus, #458
Wendell, #454, #1228
Wendell, Mickey's Winter Wonderland, #825
Wendy, #8
Wendy, Cold weather, #408, #856
Wendy, It's Party Time, #851
Wendy, Mickey's Once Upon a Christmastime Parade, #866
Wendy, Once Upon a Dream Parade, Cold Weather, #864
White Dino Thunder Ranger, #696
White Horses, #812
White Queen, #645
White Rabbit, #4, #18, #436
White Rabbit, Electrical Parade, #1008
White Rabbit, Spectromagic, #984
Wilbur, #614
Winnie the Pooh, #188, #620
Winnie the Pooh, Christmas Fantasy Parade, #1172, 1187
Winnie the Pooh, Christmastime, #212
Winnie the Pooh, Christmastime, Red hat, #1153
Winnie the Pooh, Christmas WDW, #826
Winnie the Pooh, Circus, #469
Winnie the Pooh, #902
Winnie the Pooh, Super-Sleuth, #828
Woody, #9
X
Y
Yao, Concubine attire, #963
Yellow Operation Overdrive Ranger, #696
Yo-yo Flamingo #238
Z
Zam Wessell, #912
Zowie, #244