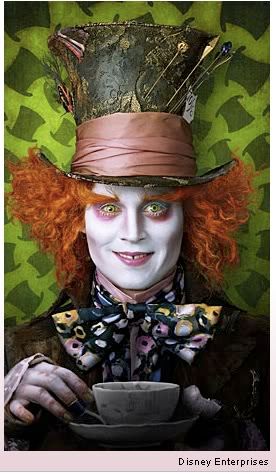 As a Disneyland face character, which Mad Hatter is your "cup of tea" - the current classic or a possible future Burton/Depp version?
In 1865, English author Charles Lutwidge Dodgson (under the pen name Lewis Carroll) introduced the Alice's Adventures In Wonderland novel to lovers of fantasy, adventure and uttered nonsense.
If you are like me, we are among the many-tude looking forward with excited anticipation toward the Walt Disney Picture's 2010 realease of Tim Burton's Alice In Wonderland. In the film, a 19 year old Alice (Mia Wasikowska) revisits Wonderland for an inticing, exciting new adventure as she battles the evil Red Queen (Helena Bonham Carter) with a little "un-help" from her friends - the White Queen (Anne Hathaway) and the Mad Hatter (Johnny Depp).
Johnny's rather flamboyant version of the Hatter is off the chart wild. Can't help but wonder if we might see likenesses of his character at Disneyland in the future - along with the Burton version of Alice.
I love the current Hatter and Alice face characters that are based on the classic Disney cartoon film of Alice In Wonderland.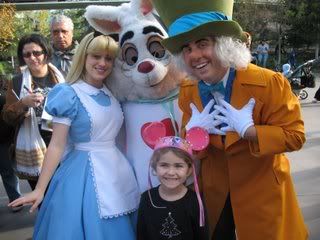 Still, one has to wonder about this curious question concerning the future of the Hatter and Alice at Disneyland. Will the current classic face characters remain? Will they each be replaced by the new Burton versions? Or, will both end up coexisting in the park?