For those of you unfamiliar with "Night On Bald Mountain" from Fantasia, here's a video of the sequence.
[ame=http://www.youtube.com/watch?v=V8Ca_edg6RE]YouTube - Fantasia - Night on Bald Mountain[/ame]
Seeing that whole sequence again got me thinking, wouldn't it be cool to have a Bald Mountain ride somewhere? All the ghosts flying by your side, a giant Chernabog(big devil guy's name) AA, the huge mountain, and of course the music from the film as the on board soundtrack.
I've had this idea for a while and I posted a thread about it a long time ago, but I thought I could refine it a little and give yall' a scene by scene run through of how I imagine it. So, imagine if we had a third gate based on myths and legends and that sort of thing a couple years from now.
You'd start your experience by walking around a little European town and seeing the huge intimidating mountain in the distance. The queue would start by entering an old abandoned looking church. You'd go down into the tombs underneath the church and to the tomb loading area. You'd board onto carriages mysteriously absent of horses. The carriages could look something like
this
and they would be on a suspended roller coaster system. Your ride would start out with the unsettling music from the beginning playing and your carriage slowly moving through the tomb's corridors till you go above the ground and into a show building displaying the town and than the music starts to build up until you hear the "BAH BAH BAH BAH BAH BAH". Right then you see a shadow cover over a building and you witness it stretch toward where Chernabog would be just like in the sequence. You speed up a little to avoid his shadow and keep on moving throughout the town seeing a bunch of different effects caused by chernabog's shadow (with clever lighting tricks). Projections of ghosts would come out of graves and finally the shadow would catch up to you and make your carriage fly up with the rest of the ghosts and ghouls. You'd see projections of ghosts and cleverly placed AA's of ghosts by your side while you fly at high speeds up past rocks and up Bald Mountain.
here's a photo of my concept drawing of what it would sort of look like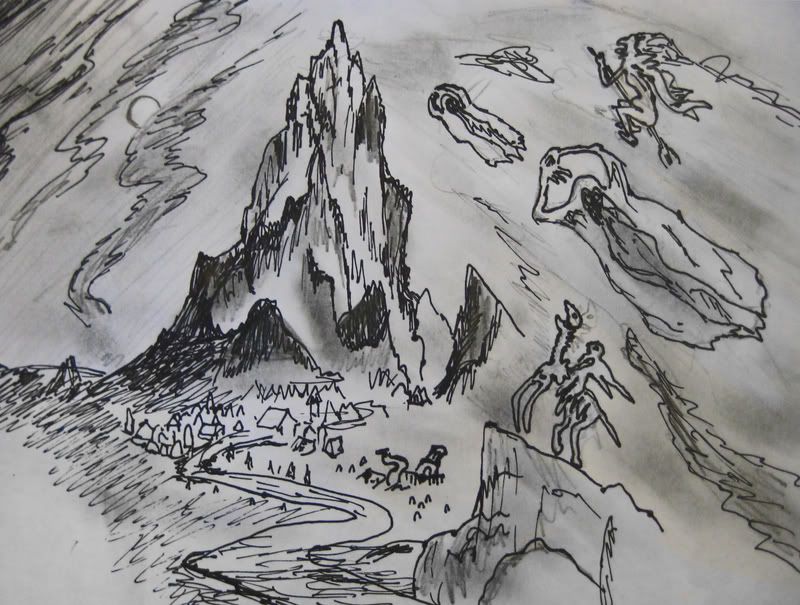 Continuing... Once you'd get up to the peak, you'd see a giant hand reach out from a scrim of fog and pick up your carriage. This would be a chance for the hand to move your ride vehicle to somewhere else maybe if there wasn't enough space left where it was, but eventually, from the fog, you'd see emerge two gigantic yellow eyes(of course with the music helping the drama of the moment). The fog would clear up and there would be a fully articulated giant Chernabog AA face giving you an evil smile. Your carriage would escape and fly around some of the crazy vortexes from the sequence a few times with all the creepy and colorful ghoulies from the second half of the video flying around or dancing around on the peak to Chernabog. It would all end with the church bell ringing and giving off the light that brings Chernabog back into the mountain and you safely float back down the peak and into the tomb loading/ unloading area.
I know that that was a long and crazy read. I don't understand how they'd do a lot of the things I specified in that... but hey! lets leave that for discussion!