We dropped into DL for a day in between diving in San Diego and Santa Barbara, coming soon to a trip report near you (
http://micechat.com/forums/other-the...post1055568966
). We'd hoped to make the noon meet, but the dives that morning took longer than expected. Then, on the last Wed. of August, we returned to Disneyland for another four days, stopping at LAX to meet the Old Lady of Alabama OLOA) who was joining us. It was 104 degrees every day, and we needed a wheelchair when she was in the park. Still, most went well, and she had plenty of rest at the Desert Inn, and we were able to show her almost everything I wanted in this, her first visit since 1975. All was leading up to the Boy's 14th birthday, with (his choice) dinner at Steakhouse 55. I'll let the pictures do most of the talking; hope you like.
We'll start with the view seen when you're the first to the gate.
That's over 80 years old and no "work" either, we should all look so young. Her mom was amzing, too.
Thanks to a couple of lengthy stops, we had one really good ride on Buzz. And I had no idea the ride keeps track of the score above 999,999, but it's indicated on the photo at the end. I'd of kept shooting at targets instead of children after I maxed out.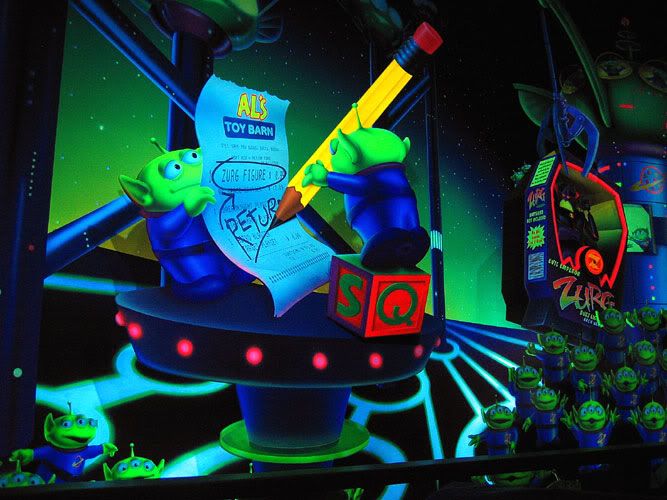 Other than at Xmas, it's only happened once. The traumatization that the OLOA doesn't even remember. But it is the 40th anniversary. From the ear buds on the boy, to the look of unbridled excitement on the face of your humble narrartor, it can only mean the revenge of Satan's undead dolls.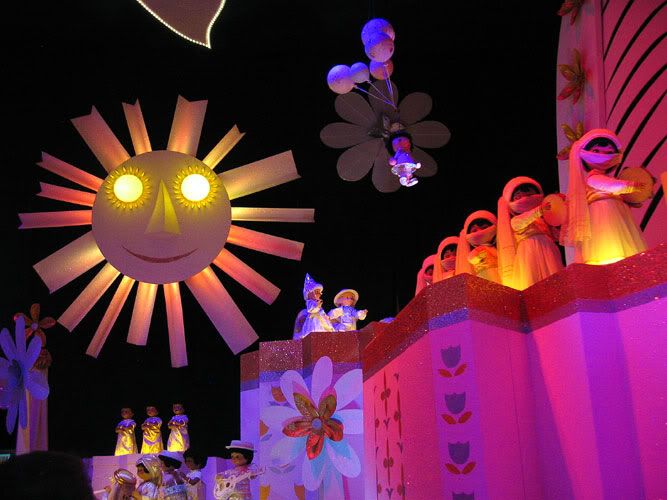 Let's get a train, and leave it all behind.
And a few hours......
Ahhhhh! That's better. I love Disneyland at night.
You've had the water at Goofy Gas, right?
By riding Roger Rabbit just before ToonTown closed for the Fireworks, we were able to use the regular queue without FP of a huge wait. Being the last through meant no one got held up my my photofying the place.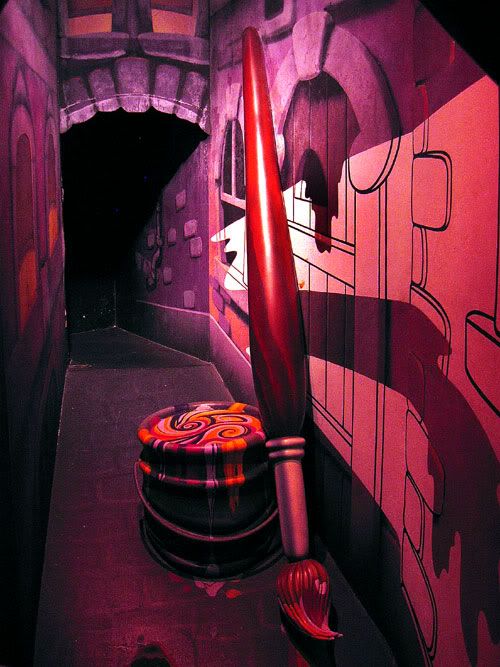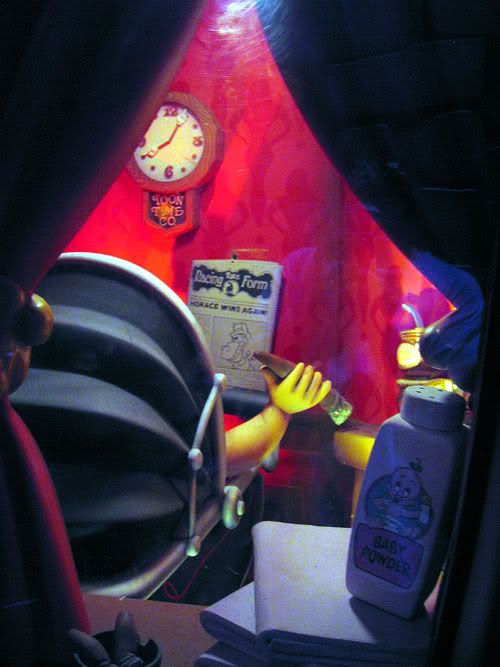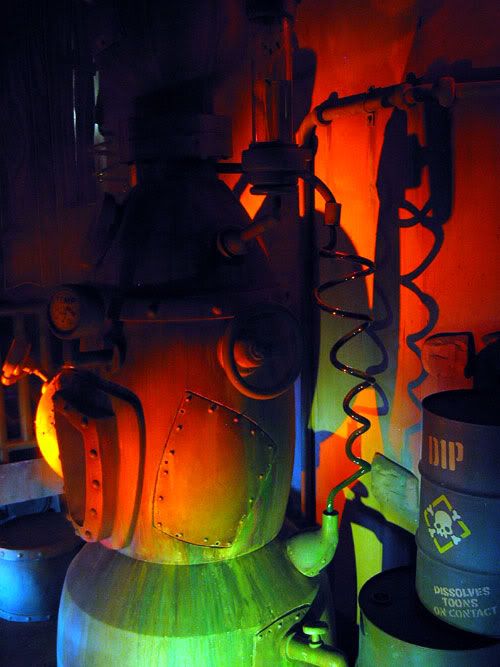 Course, not much point on the ride itself.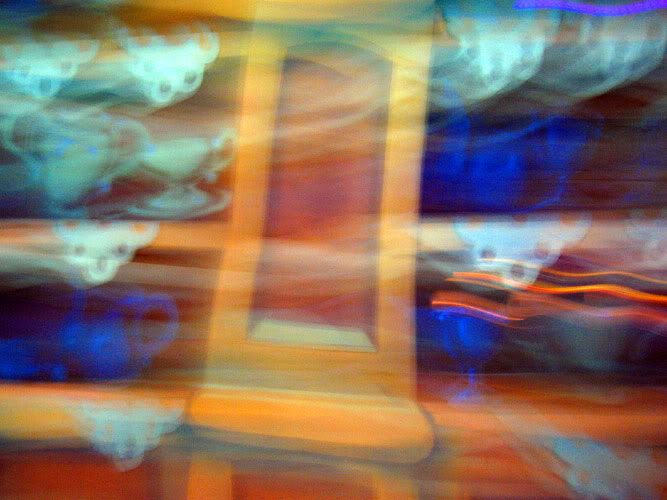 Even the other side looks nice at night.
Since the heat was affecting us all, especially the Senior, we had minimal time with her in DCA. I knew she'd love Soarin' and Aladdin, and the boy and I had time to ourselves for more active attractions. We even saw Mickey Mouse Pal and a kid the boy went to school with a couple of years ago. Looking forward to the new things coming to Disney's Construction Adventure.
Condor Flats has the worst smoking section of either park, but you can't say they aren't prepared.
I only stopped for a Stitch photo because the boy wasn't with me, and Stitch is his favorite character:ap:.
This is also the only day I wanted to complain about not getting wet enough.
Now you see 'em.
Now you don't.
Isn't it no photography of any kind? Regardless, the announcement this time only mentioned flash and video.
Let's go get that birthday dinner.
I started doing one of those stoopid "yeah I went to art school" things this trip, and decided to photograph light fixtures. Maybe I'll put some up as a contest one day. This one's cool.
Oh yeah, birthday. Here's Nick with the cake.
Even when someone can't ride Space Mountain, she can dig the Billies.
But you never know where you'll find music, or cavorting for that matter.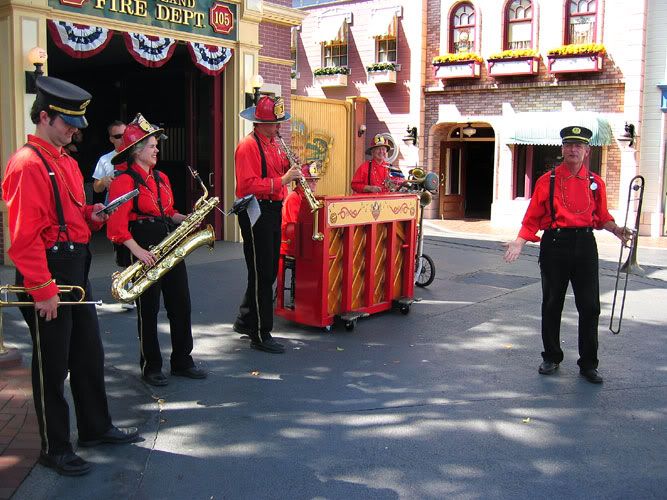 But I could only watch a few moments due to more urgent business.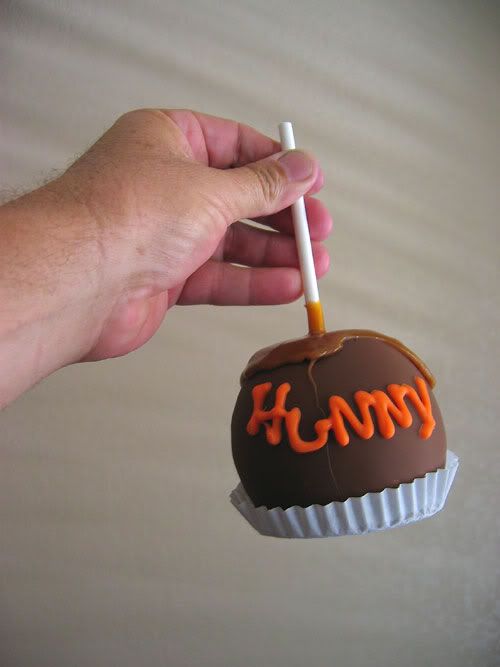 Comin' or goin', it's a cool place, ne c'est ce pas? Thanks for comin' along with us.
A bientot.