Last Friday, my mother and I continued our family tradition of going to DL - and this time, I finally talked her into getting an Annual Pass. I'm spreading the "evil!"
. Now, I just have to train her on how to say "Where's my churro?!"
On the drive down to the park from Arroyo Grande, mom mentioned how she used to watch Walt Disney talking about Disneyland on TV all the time when she was a little girl growing up in the Bronx, and that's probably one of the reasons she enjoys it so much today. (She didn't get to go to the park until she was an adult, and I was five.)
We stayed at the Marriott Fairfield Inn, which brings back a lot of memories because it's same hotel we used to stay at all the time when I was a kid, back when it was the Ramada Maingate (which is now a different hotel).
The clerk was nice enough to offer us a park view room! We were on the 9th (top) floor, so we had a pretty good view.
These were actually taken the next day as we were leaving - we didn't even go up to our room yet because I was so anxious to get going - but I figured it was more "dramatic" to show the park from afar first, and then show inside the park.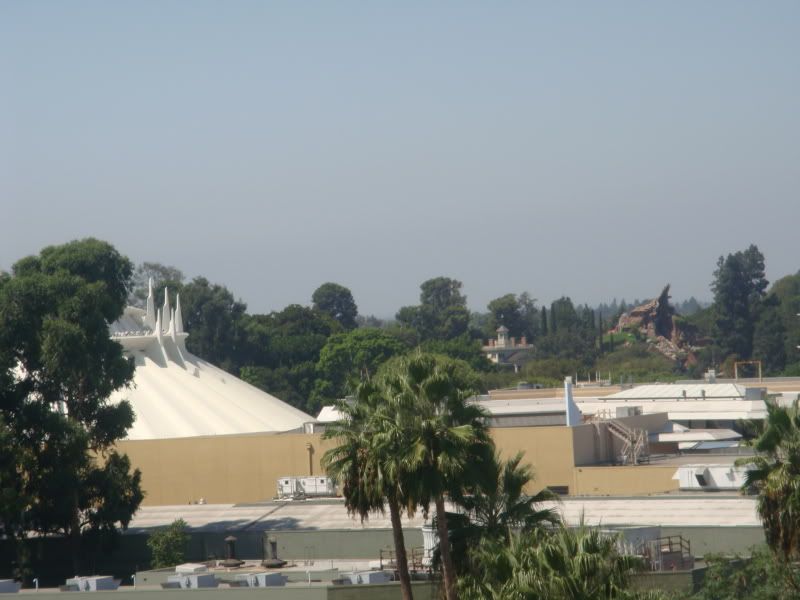 The everyday meets the extraordinary: McDonald's and Space Mountain in the same shot!
A hidden Mickey that can only be seen from above? For a minute, I thought I was looking down on Disney-MGM Studios!
Oddly-drawn-but-cute Mickey head on the roof of the Fairfield Inn lobby.
Main Street peeks out between hotels and backstage buildings:
We finally arrived in the park at 5:30PM - 6 1/2 hours after departure, due to heavy stop-and-go traffic through L.A. and Orange County. By this point, I was going crazy for my DL fix. Of course, the extremely short line we got in at the ticket booths was held up when the five guests at the five ticket windows were each doing...I can't imagine what, but something very time consuming
. But I kept my cool, and finally we got into the park!
.
While Mom went to get her AP picture taken, (I already had mine from the previous AP I had gotten as a gift) I ran off to get my "first ride" fix on BTMRR. Whew! After that, we met up and ran over to DCA - they closed at 8PM, and it was already 6!!! :o
Looking up at my giant bear buddy after a great ride on Grizzly River Run.
"Someday, this sprawling mechanical mess will be the World of Color show!!!"
Coming later to this thread: my observations on Murphy, Magical, FNSV, and the character additions to Small World.
At the end of the day, we took the train from Toontown Station to Main Street. While onboard, I accidentally let out a huge belch. I wouldn't usually report that fact, except these guys wearing light-up sombreros started joking about it - in a good-natured way - and after we got off the train, they let us wear their hats while they took our picture.
(Alternate story: we were auditioning for a new Three Caballeros unit in the Main Street Electrical Parade
)
Main Street After Midnight:
Mom met a handsome man:
He was the strong-but-silent type: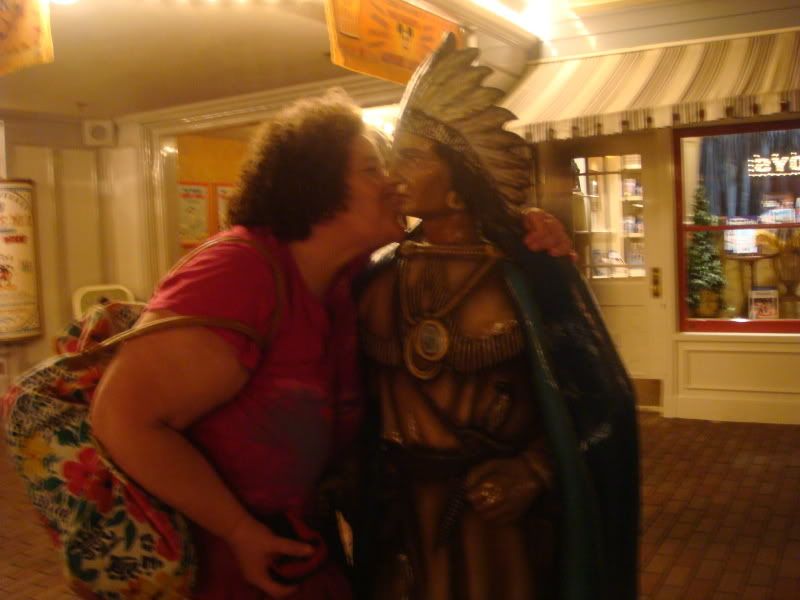 But she soon returned to her first love in the Candy Palace: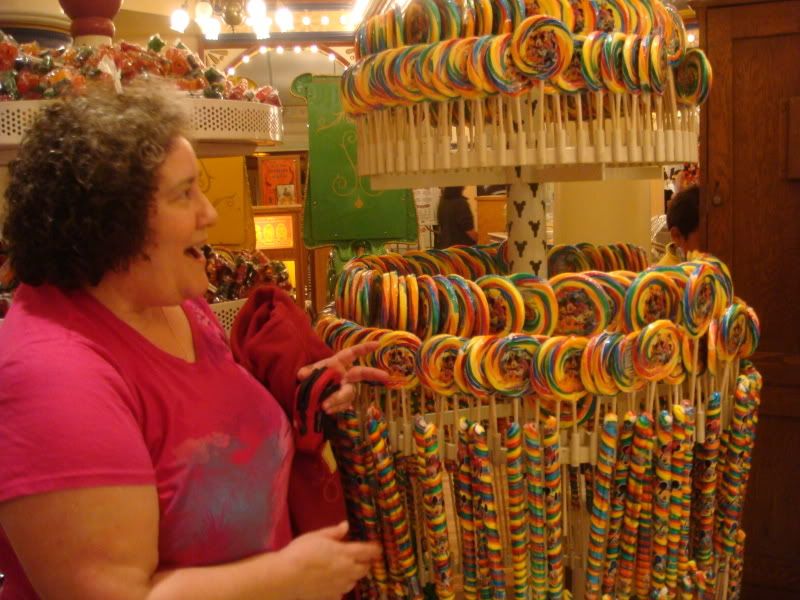 Some cute Mickey shorts candied apples:
On the way home the next day, we stopped at Denny's in Camarillo and I noticed a delightful sign on the corner. (My name is Brent).
We're planning to visit the DLR once a month. We're both impressed by all the artistic photos displayed here on MiceChat and we want to take more photos next time. This time, I was too busy doing the rides for most of the day!
Also, I want to shoot the "music video" for my recent Enchanted Working Song parody about DCA
.