This past weekend has been A-MAZING!!!! My friend flew in from Memphis, and we celebrated another one our friend's birthday on Monday! Below are a few photos of us in the park, I really didnt catch much halloween decor
The lines weren't bad at all! We rode everything the birthday girl wanted, Space Mountain was a 55 min wait and they didnt want to wait! (Which I didnt mind too much being that I had waited 70 mins two weeks ago for it!!!)
(I have to admit I did ride it last week for the 2nd time but it was only a 25 min wait and I enjoyed it, although it still left me dissapointed in the halloween overlay) We also caught the fireworks! I LOVE LOVE LOVE the halloween fireworks!!!!! They are my FAVORITE!!! (Yes even better than Magical!!!)
Anyway here are some photos!
Our 1st stop was Adventure Land! I FINALLY went to the Tiki Room for FIRST time!!! Uuumm... Yeah I did not like it at all! Talking birds and singing plants just dont do it for me!
The Jungle Cruise is becoming one of my favorites, I have to admit it all depends on the CM! Hopefully they have some personality! Ours most certainly did!
Indiana Jones was CLOSED! So bummed about that! POTC was awesome as always!
This is at the end of POTC... Is this suppose to be "hidden"
Mickey??
The Haunted Mansion, Always FANTASTIC!!!! We did get a fastpass for this one, it was pretty darn packed for this ride!!!
I was the one who had to take "front seat" for Splash Mountain!
And I was pretty much DRENCHED for a couple hours!!! (The photo doesnt do justice at ALL!)
My friend's Sister was ALWAYS trying to "sport" something every photo we took! But I enjoyed it because its what you make of every moment!!!
The "wonderful" innoventions!!! I suppose it's what you make of it!
We sang, or at least TRIED sining "the circle of life"
Finding Nemo.... Lets just say some were pretty upset after this one...
(Can you see we were all wearing our little celebrating pins?!!! Isnt that just cute?!!!)
I loveeeeeeeeeeed this!!! It was Buzz and Woody holding a Mickey Hat!!! SO freakin cute!!!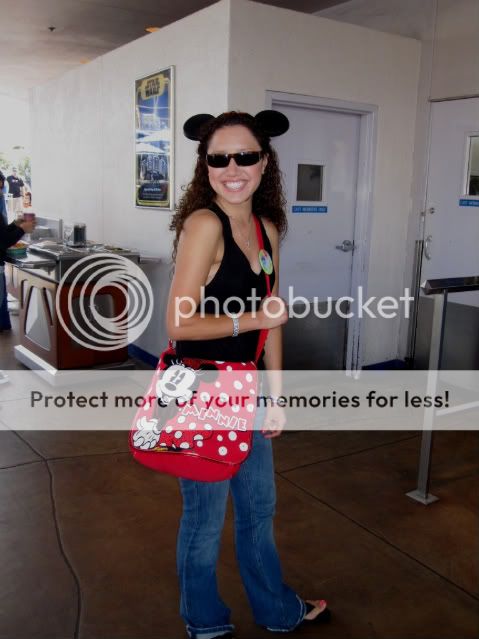 Woody is My Fav!!!
I know everyone hates HISTA, but they enjoyed it, it was the birthday girls first time. There was quite a few people awaiting the show too...
The Famous "C2" Smile!
Always have to get that Castle Shot!