I know there's many stories on why the park has a special place in your heart and it's nice to share them...
1993 when I was 4 years old my Mom and Dad took me and my brother to Disneyland. I guess my mom told them I was 3 so I could get in for free haha sneaky. I can't remember much being so young but I do remember my brother complaining because he didn't want to get on the Dumbo ride because it was for kids, he was 14. My mom took my brother on autotopia and didn't take me... I have no idea where I was but when we met up with them I was crying because I wanted to go on so bad ( I fianlly went on on the 9th of this month yay...although I'm sure it would have more fun then).
lets see... I remember always asking my dad to go on his shoulders because my legs hurt.
When we got up to take a picture with Minnie I was so happy and after the picture I went to walk away but I guess my mom said one more and I didn't hear and Minnie pulled me back hard. I'm pretty sure she didn't do it hard but as a kid I was mad and I still remember it to this day.
To end the night I remember the light parade and dancing.
The reason this all means so much to me is because this was the last place I can remember my parents being happy with no fighting. A true family! I'm not trying to be a downer but I like to remember being happy there and not crying because I didn't understand my parents.
I am so happy I found someone who gets my love and joy for Disney.
My boyfriend and Micechat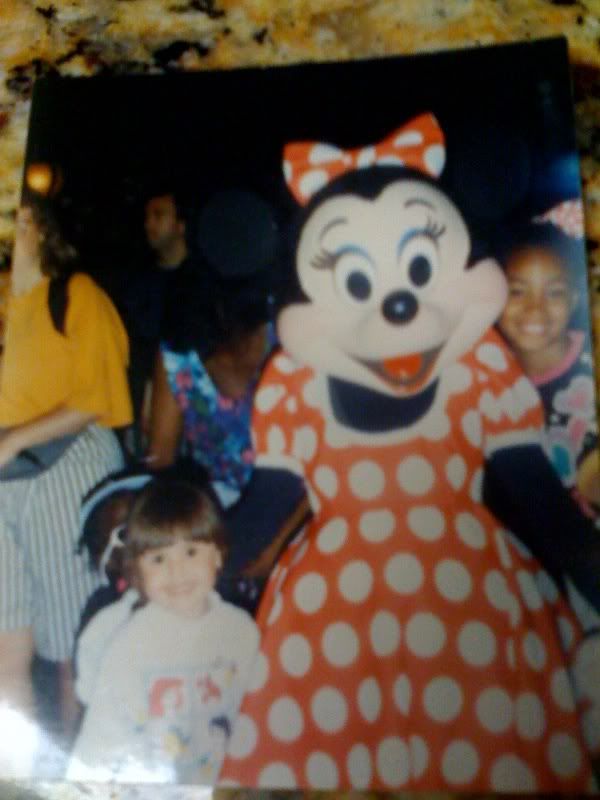 No this kid is not my brother... weirdo haha
sorry the pictures are a blur it was 93 and I also don't have a scanner.