Finally getting around to this now >.<
So on the 16th, my group and I went to Mickey's Trick-or-Treat Party. We had a pretty fun time.
My boyfriend and I got to the park around 5, so we got to park at Mickey and Friends. Since I was in full costume at this time, and the party didn't start for another two and a half hours, I got a lot of interesting looks. Since I was in costume, I wasn't allowed into either park, so we just sat outside DCA and waited.
Oh! Btw, I was Wendy from Peter Pan.
Around 7:15 they let us in and had us all wait around Candy Corn Acres until 7:30. At this time, some more friends joined us.
My friend decided to be the scariest thing possible this year for Halloween...she's Edward Cullen XD
Once the rope dropped, most people sped off to go get candy, but I actually went to go see if a friend of mine was out. To my excitement, she was!
The real Wendy! She was very happy to see us, which made me happy. She also really liked my costume, but most characters love it when people dress like them XP
She actually suggested this pose, which I love.
Two of my friends decided to be Waldo and Carmen SanDiego. Pretty much everywhere we went all night we had people shouting "I FOUND HIM!" at us, lol.
Finally Ms. Dreamer20k finally joined us and wanted to go see Wendy, so we got back in line >.<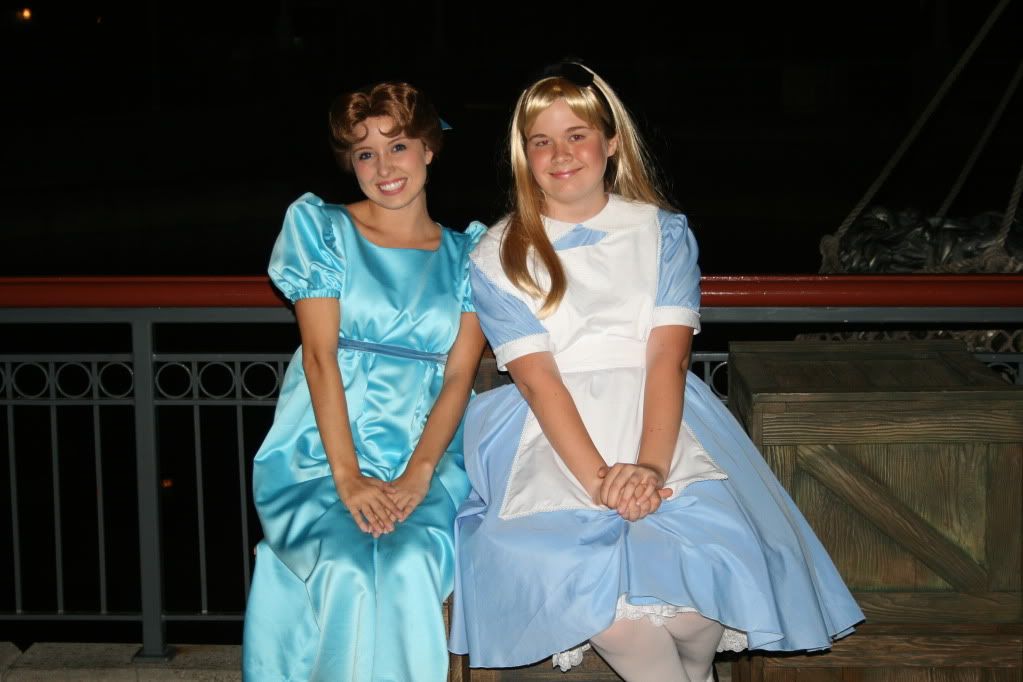 Wendy liked her costume a lot too, of course. Wendy and Alice are the best of friends.
Soon Capt. Jack Sparrow came over to switch places with the Neverland crew. Sadly, I didn't get any pictures of the pirate, but eh...perhaps I'll have another chance again someday >.<
As Peter and Wendy were leaving, Wendy got extremely distracted by something going on over at the dance stage, so she dragged Peter over there.
They had hula hoops! This was really amusing. Eventually they took off, and we went to go watch the cavalcade, since we knew some more friends would be part of that.
Yup, Hatter and Alice
For the party, they
only
appear in the cavalcade, which runs a couple of times during the night. That photo was taken the first time around. No pictures from the second, since Alice pulled us all up to dance with her and Hatter during the part that encourages guest participation.
After that madness we went to the Hollywood Back lot to just hang out. Had fun over at their dance area, then had a highly amusing time away from all of the noise. Eventually we wandered on over to the animation building and had a fun time dancing around in there.
My friend dressed as Pocahontas, with a scene from Pocahontas in the background.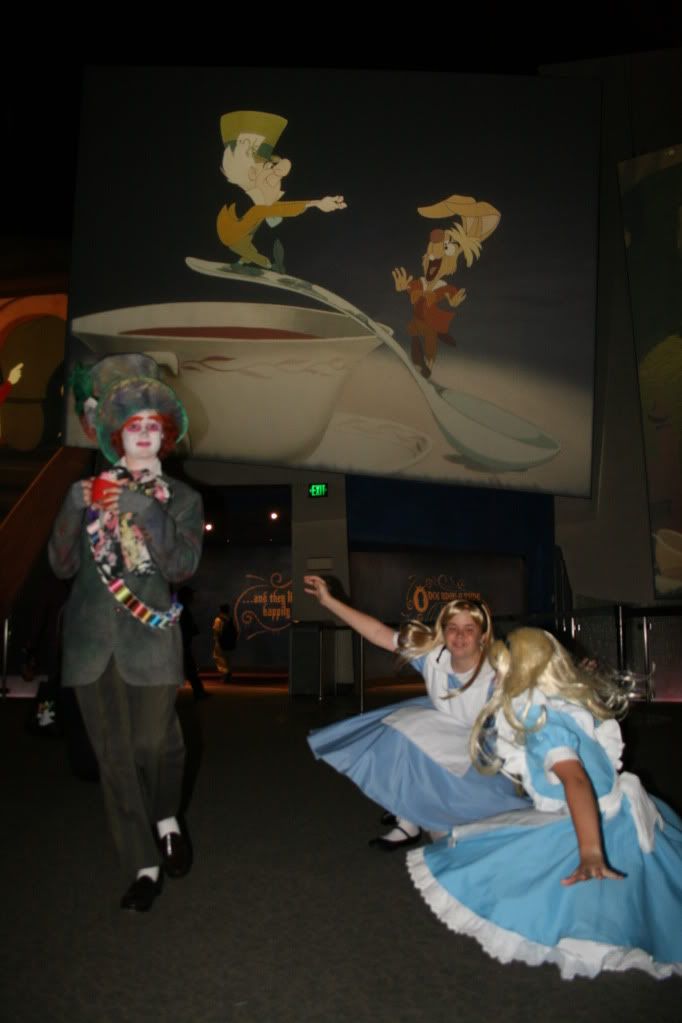 Oh yeah, Blake(known as lovedisney33 here) was Tim Burton's Mad Hatter. He looked absolutely fabulous.
We met some friends from another website while we were in the building, which was cool, and I reeeally wish I had gotten pictures of their costumes now, since they were amazing ><
Once we parted ways with them, we headed over to A Bug's Land where they had most of the villains set up for meet and greets. Our Alices ran into the Queen of Hearts.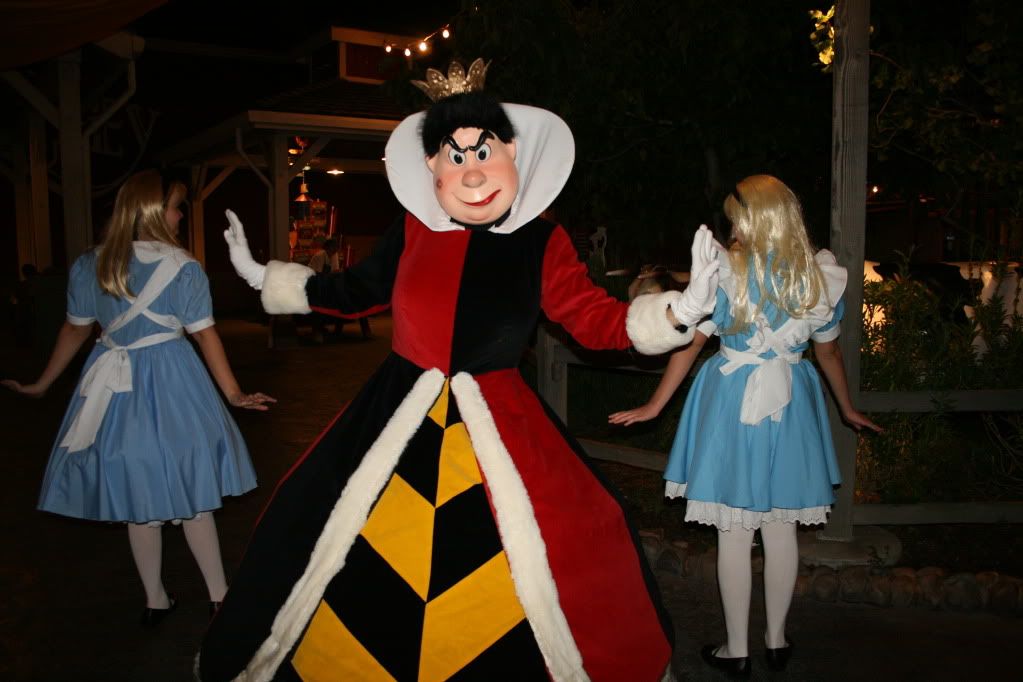 She liked the photo this way, but I told her we needed one more, only with
everyone
facing the front >.<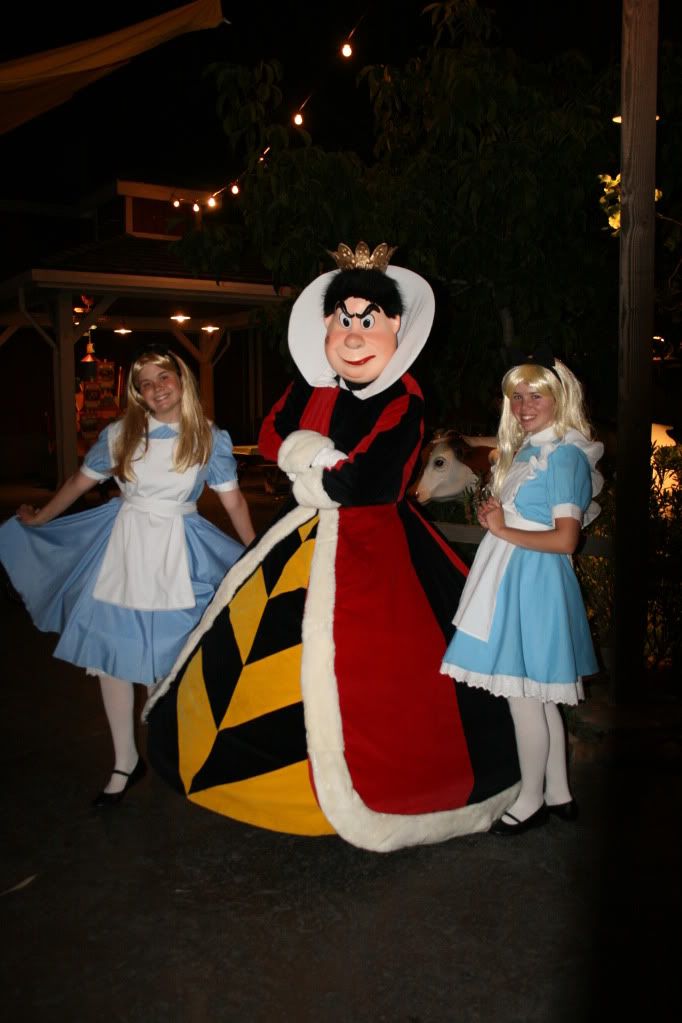 We then went and saw my favorite villains in the park: The Tremaines.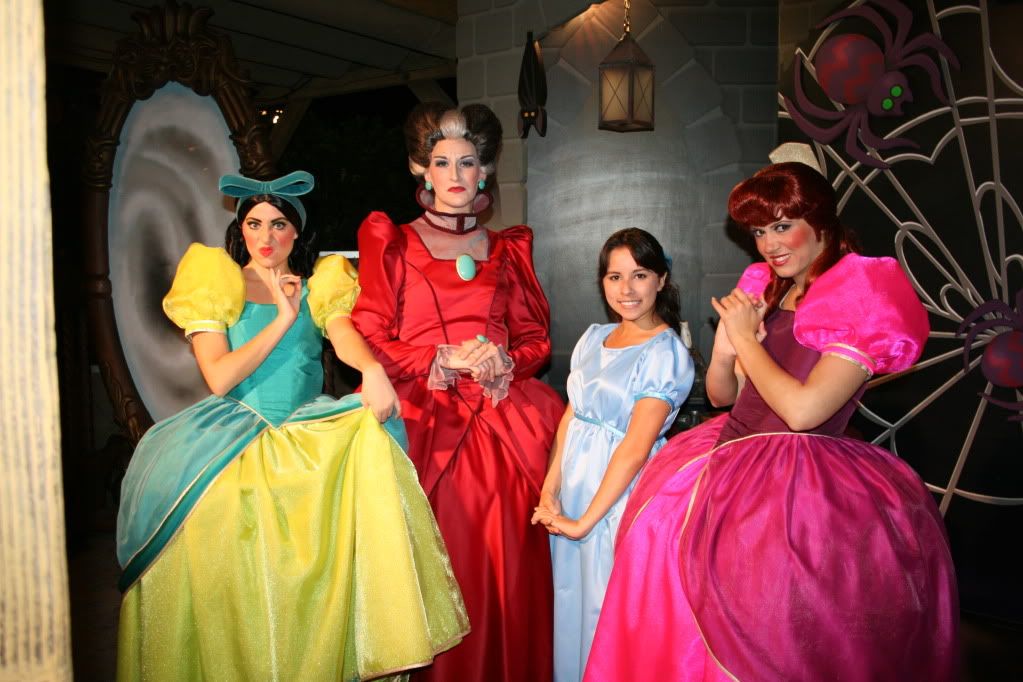 I love them, they are absolutely amazing.
After that, we wandered back over to Pacific Wharf to chill out for a little while longer. Some people separated from us and went on ToT, and others got food and sat down at one of the many tables outside of the soup place whose name escapes me. All too soon, our fun had to come to an end, but not before we took a couple more pictures.
Wendy and Alice = friends forever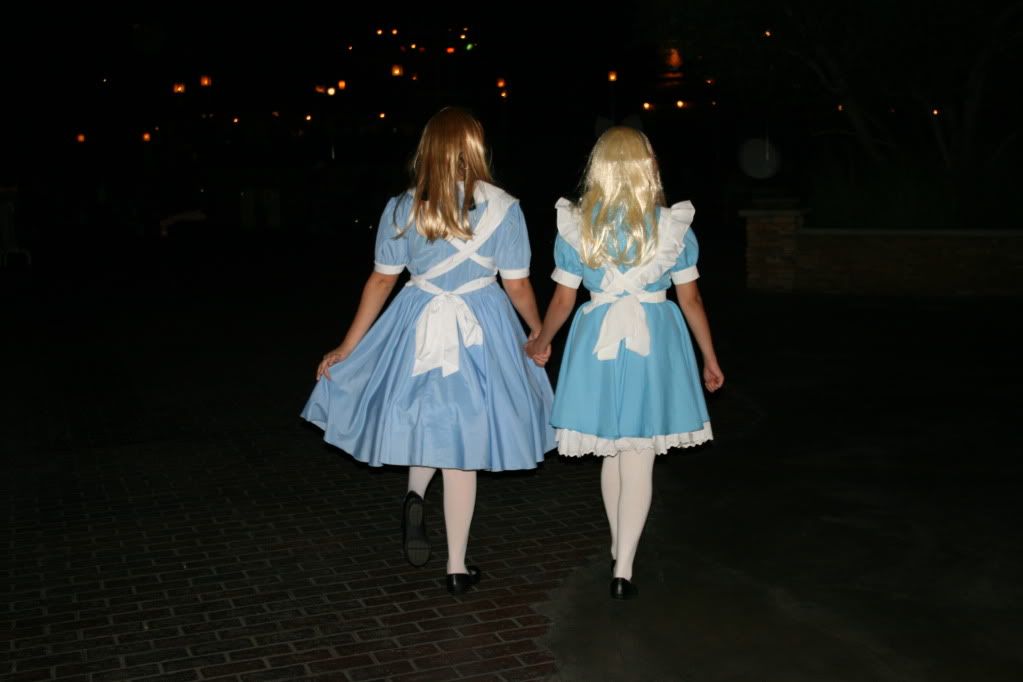 Double Alice!
It was really fun, and I'm totally ready to do it all again next year. Oh, and in case anyone wants to see our whole group from that night, we have a big happy group photo
Thanks for reading my nonsense. I hope you enjoyed it.