This is my second trip report here on MiceChat, first being on my trip to Walt Disney World!
Now im back in Cali, and decided to take a trip to Disneyland, reason being because i havent been to the Anaheim park since last December 13 O:
That was so long ago!
So what a better way to spend the only Wednesday in our entire school year to take a break and go to Disneyland, solo (:
Lets get started shall we?
So i got on the Monorail around 8:10 AM. Im a trooper for waking up so early!
And then first thing i did was grab a FastPass for Space Mountain, to avoid the morning crowd.
Then started to go towards New Orleans Square, to try to look for scouts for Tiana's Showboat Jubilee, but that was kind of ridiculous because the park opened at 8:00, and i doubt they wouldve looked for people that early.
Pretty Winter Castle! [I like the sweaters the girls are wearing]
Entered through Adventureland!
I wanted to hop onto Indiana Jones first, but the attraction wasnt operating yet. Sad face!
Then i went to try to see if Tiana and Naveen were meeting this early, they werent.
Well i was in New Orleans Square, so i took a trip to the Haunted Mansion Holiday. No wait! This is why i love going so early. The gingerbread house this year is cool!
I then decided to go on Splash, just so i got it out of the way. (:
Oh, did i mention i got my own log?!
Hehe, so i then took the Railroad to head to ToonTown, get some character pictures, and to ride Roger Rabbit's Car Toon Spin. I havent ridden that ride since 2006 i think.
Silly Goofy!
After i met Minnie, Mickey, and Goofy, i headed to Roger Rabbit, rode that.
I ran through the queue cause i always get claustrophobic in there. ):
Afterwards, i took a stroll through Fantasyland, cause i havent strolled through in park in over a year! Haha, i didnt know what to do next, so i took a castle picture!
Gawrsh!
So it was around my time to return for Space, when i got there the wait time was already 40 minutes! Wow! Haha,
It's a heart. (:
It was close to 10:00, which means California Adventure was opening, so i decided to go there.
I didnt want to walk all the way down Main Street, so me being lazy, i took the Omnibus! I never been on it, and i got up on the second level, it was pretty cool.
Entrance to Plaza Gardens. Oh! And me and my show choir (WescovAires) are gonna perform there December 22, 2009! So come by, watch us perform! Hahah, back to the trip report!
So i quickly changed my mind about going to DCA, reason being because it was close to 10 AM. (Scouts for the Tiana show usually walk around NOS around 10:45 looking for people.)
So i decided to go check out the new Disney Gallery!
Im really fond of these, i wanna buy them, but with the money i make, (which is non) i cant afford it. ):
I like this one too.
For some reason, when i walked inside the vault, i got goosebumps.
Pac-Man Stitch!
I really like this model of Splash, the water work is amazing.
The wall blocking Lincoln, its close to opening!
Tickets!
I seriously teared up seeing this..
Haven't taken a photo in front of the floral in forever! Last time i think was when i was around seven year old.
Wait times around 10!
So i had way enough time until 10:45, decided to go on Indie, SINGLE RIDER LINE was my best friend that day.
Why is it on the spanish side? I have no idea.
Yee, that ride was fun! So then i decided to head over to the Court de Angles, to meet Tiana and Naveen!
Christmas decorations are up in NOS.
Ewwie, blurry picture.
Umm, so after i met them, it was like, 10:45.
I dont know why time flew so much, haha. Probably me lagging it somehow.
I was looking for the scouts from the center of Tom Sawyers Island, just in case i missed them or i didnt get there on time..
You dont know how ridiculous i looked, people thought i was looking for my family.
BUT, when i saw a lady with a feather in her hat, i BOOKED it to her!
And guess what i got..
YAY! Haha, so i want to ask you,
If you attended the park on Nov. 11, 2009, and you went to the 12:45 showing of Tiana's Showboat Jubilee, can you please send me your pictures! I would love to see me participating. Thank you so much!
Hehe.
I stayed around to watch the show, of course, haha.
Random Fantasmic fire-igniting river thing.
Here's a couple of shots i got.
I didnt have that much time until i had to get to the Mark Twain dock, but i did it anyway.
I headed to DCA, just to ride Tower of Terror, then come back to the Mark Twain. I thought i had much much time at the time, but i didnt. Haha
Petrified tree!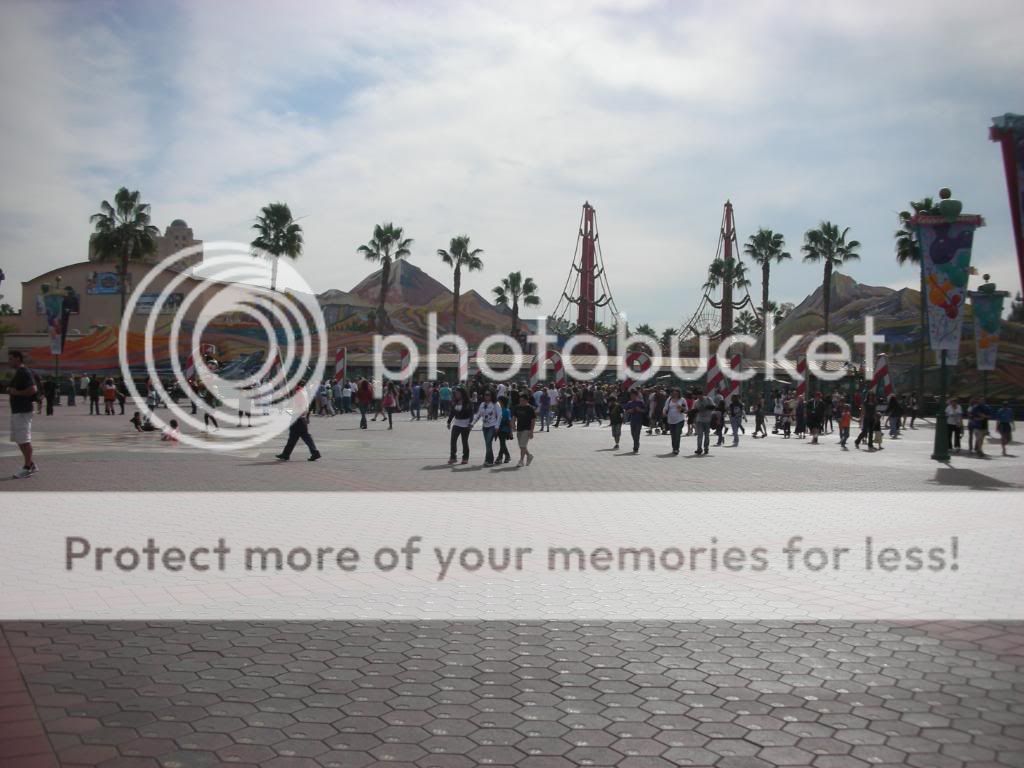 Might as well since it was a Princess and the Frog day for me!
Ohh, pretty!
I love this attraction, my friends dont. Reason 1 why i like solo trips. (:
Hahah.
Thats a heart too.
So when i got out, it was 12:10 PM!
I was like, WHAT!? So i practically booked it back to DL.
But then Pluto was outside the Tower exit, and there was no line for him!
The line to get into DL was long!
It took like, 3 minutes to get into the park. D<
So i made it back to DL, and made it to the Mark Twain dock on time!
The Mardi Gras dressed performers gave us instructions, they put us into two groups, and then they had us put our bags into this storage box.
They were awfully, SUPER nice.
Boarded the river boat, showtime!
Look at the crowd!
So while we were performing, i watch the video of the show on YouTube so many times, i remembered the lyrics to all the songs! Haha, so i sang along as we performed, the CM that were helping us guests perform was encouraging me to sing, and i felt like that was nice of them. Haha
We then embarked around the Rivers of America to meet Louis, Tiana and Naveen.
The performers of Tiana and Naveen are different from the ones that you meet in the Court de Angles.
LOUIS!
Im really digging Tiana's dress, its very lovely up close.
After wards, we got these cool beads and we got to keep the boarding ticket.
So we were free, it was about to hit 1:30, so i went over to DCA, explore Paradise Pier and see the construction.
Went onto Soarin' Over Cali, just cause they had a single rider line.
Haha, i got mad where i was seated, probably the worst seat ever on that ride.
Back row, on the left. Gahh! I was angry!
Ehh, took the Grizzly Trail, got to San Fran, and then i saw the construction walls of doom!
I LOATHE this so much, it does NOT look right!
Narrow-ness!
I love how the water is back in the lagoon, well, almost back.
Heres some random shots of construction.
Looks like some wiring getting ready to be put in.
Walked over to Paradise Pier boardwalk.
Christmas Tree!
I like the new sign, but kind of miss Mickey's head.
WOODY! I love Toy Story a lot by the way.
I then wanted to see the construction from an ariel view, so hopped on to Mickey's Fun Wheel!
Water pouring out next to the Fun Wheel's queue.
Diggin the new gondolas.
Lighting tower getting worked on.
So a hole is gonna go somewhere. Hehe, i laughed at this. Excuse my immature-ness, haha.
I wasnt there too long ago..
I didnt realize until after i got off that i forgot to look behind me to see Cars Land production, which got me kind of angry, ahah.
I tried to get a Single Rider pass for Screamin', but then it was down for the moment, so i was like, im not gonna wait.
Walked through the exit of Paradise Pier, the construction walls bug me!
Its like, shoulder to shoulder walking!
Went into the Blue Sky Cellar, excited to see the displays.
My batteries were apparently dying, so i didnt take any pictures inside, and i figured that many people have seen pictures of the inside, so its a win win! Haha,
I was wanting Jamba Juice, so i went through the Grand Californian Hotel to get to Downtown Disney.
I ordered a green gummy, but then the cashier lady put in white gummy, and then she said, "Oh, you wanted green gummy right?" I said "Right"
The lady gave me a white gummy. I got pretty grumpy.
After that, i decided to head back to DL, nothing else to do at DCA.
Good thing theyre renovating it!
Since there was no line for the PhotoPass lady, i took a picture at the Christmas tree.
I then realized that Sleeping Beauty Castle Walk-Through is opened! Haha, last time i went was December 13, and the attraction had barely opened, and the line was super long, so we never went.
Luckily there was no line when i went.
Little girl got in my shot! D<
I thought it was really cool, i liked the pepper's ghost trick.
I miss this ride!
Haha, random.
I went to get a Fast Pass to Big Thunder, cause the wait was obnoxiously long.
So then i went to NOS, to ride Pirates.
The wait time was 30, but it felt like forever.
The parade of Tiana's Showboat Jubilee was going on when i was in the queue, i was singing along while i was waiting, haha.
Took a stroll around the park, waiting for Fast Pass time.
Im guessing i then went back to Big Thunder, i was approaching night when i got on, so it was sweet! And i got the back, sweeter! Haha
After that, i went to go meet Tiana and Naveen again, they remembered me! They were like, Oh, back for another picture? Haha, and yeaah, theyre great.
After i met them, i took the Railroad to take me to Main Street, where i got off to get to DCA to ride Screamin.
Single rider line was back up, so i got on that.
It was really wierd, they had all of us single riders to get into the elevator and get into the boarding area. I had no idea what they were doing, probably to get single riders to both sides of the attraction.
After about 15 minutes of waiting, i go on. Haha, after the bunny hills, the attraction stopped, and before we got to the swirls (the part where they take your picture) it started to go slow, and the slowness caused me to be squished to the side of the vehicle, and it hurt.
In addition, my head got cut off of the photo. D:
Ehh, at least it caused us inconvenience at the END of the ride. (:
Left DCA, went back to DL to watch Celebrate! A Street Party.
The Balloon toppers to the floats were missing due to the wiring for the Christmas wreaths. I was disappointed.
The show is really great at night, it seems more energetic with the lights.
Decided to pay my tributes and ride Star Tours, cant wait for Star Tours II.
After that, it was almost 8:00 PM, so i had to get ready to wait for Fantasmic! Its easy to find a seat for uno person rather than a whole party.
So i got into the queue for Buzz. My score was one of my lowest.
Thats a heart too. Hahah, that was like, the pose of the day.
Then went on the Railroad to get to NOS to get a seat for Fantasmic!
Got there around 8:15, leaving me with a 45 minute wait, whoo hoo!
I was really excited to see the dragon, oh, plus the whole show.
The show ended, it was really good, i loved it so much.
My day ended after the showing, stupid school the next day.
MY parents got to the Downtown Disney parking at 9:30, but i lagged it and took the Railroad to get to ToonTown so i can stroll through the park to end my day, haha.
I wanted the Goofy gummy worms, but i couldnt find them anywhere. BOO!
I got out and meet up with my parents at 10:00 PM.
THE END.
Heres some pictures i took with PhotoPass.
Next Up on Disney Adventures:
December 22, 2009 - WescovAires performance @ Plaza Gardens Stage