This is my first time writing a trip report. I figure I have been here long enough and am due for one. I have enjoyed reading everyone else's reports so I decided to contribute mine. Let's cross our fingers hoping the pictures work.
This was a spur of the moment trip, as most of our trips are. We decided it was a perfect day since it was cold outside and there was a chance of rain. We figured this would keep most people away. So, we bundled up and brought an umbrella with is, just in case. It was a smooth trip in the freeway and we parked on Daisy.
It was already getting dark outside and there was hardly anybody waiting to get on the tram. It appeared as if everyone was leaving since the clouds were growing dark and looked as if it were going to start raining at any moment. Through bag check and off to DCA for an hour before it closed.
The place was like a ghost town. Screamin' had a line because they were running one side and I *think* three trains so we grabbed a FP. TSMM was a short wait so we joined the line. It was an enjoyable ride but in the beginning our vehicle stopped short and didn't match up with the screens so we didn't get to practice like you normally would. By this time it was almost closing so we rode Screamin' and headed to Disneyland.
It was a bit more crowded but the lines were very manageable. The longest wait I saw was for Indy with 20 minutes. Everything else was a walk on. We stopped to get something to eat at The Golden Horseshoe since it was indoors.
Don't you love that angle? When it was taken we were actually sitting outside on a bench and snapped it really fast.
Moving on, after dinner we went to HMH which had a short wait as well. Since there was a line pictures were taken outside.
All dark and mysterious.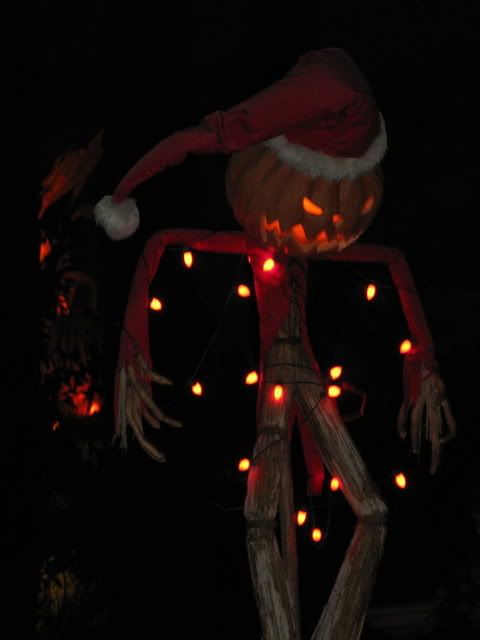 This one obviously got into a fight with the Christmas lights and lost!
According to this countdown XMAS is here!
We walked around and did some attractions and headed to Fantasyland to do IASW. Of course, we had to take a castle shot.
Isn't it pretty! We stopped to look for a little bit and then headed off to our final destination.
I like the lights on here too. Who am I kidding? I love all the lights! By the time we got off it was close to closing so we took the long way around through Tomorrowland.
Oh, Space Mountain. The attraction I like to ride as a guest was also the attraction I hated working as a CM.
As we were walking down Main Street the announcement came on telling us Disneyland was closed. It was an enjoyable day with little crowds. If only all days I went were like this. Oh, the umbrella was useless to us the entire night. In fact, it didn't start raining until we got off the tram at the end of the night. I'm going to make this educational and leave you with this.
This trip report was brought to you by the letter A which stands for Awesometastic Aubrie.
Hope you guys liked my first trip report. This took longer than I thought! Well, if the pictures are too big I will resize them later but I think, scratch that, hope I'm good to go.