The Introduction
I think most of us will remeber back in the day when most of us would talk about new lands that fit under the California theme we'd mention some sort of gold rush attraction (ok that still happens). And that back then when this issue would come up somebody would always mention the ill fated Western River ride for WDW that was never built.
The interesting thing I found about the Western River Expedition is that while I have often seen one piece of concept art I've never seen a single track layout or anything that would give me a real idea of what this ride is supposed to be about.
So I decided to design my own Gold Rush themed darkride for DCA and whilst in the thought process I realized just why this type of ride might be considered a substitute for Pirates. When you think about it in terms of greed and gold the west and pirates have alot in common what with bandits and all and combine that with them both being boat type darkrides and similarities really start to become apparant.
Yet even still it may be an idea worth persuing and thus I persent my idea of how such a ride should work.
My ride idea
We start with the setting which should be a run down ghost town, in interest of keeping with the modern setting of DCA it should look that old. It has been recently turned into a tourist attraction and of course features a museum and tours of several of the remaining buildings
Our adventure into this western ride begins at the museum which functions as the que. The museum would be like many historical museums I've seen in small towns meaning it's actualy placed into a slightly restored slightly modernized (electricity) old town building from the ghost town, we walk from old dusty room to old dusty room seeing plaques with information on the real gold rush era in California and lots of things like cowboy boots and mining equipment and the like that is associated with that wild west timeframe
Eventualy you come to the back of this old ghost town building and you come to your boat conviently floating in an irrigation ditch and it is from here we embark on our Journy to the west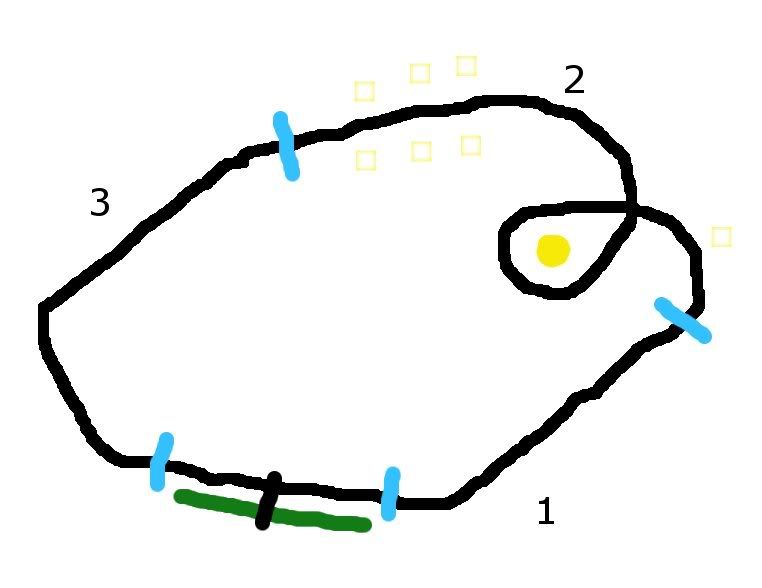 with this image I have provided you can see the green area is were the loading area will be (I'm not as happy with this rough map as I was with my mermaid darkride one I had several issues with creating it and I'm getting bad at guestimating distances)
1. As the boat travels into the darkness we come accross the first scene which is alot of trees and a California mountain type atmosphere as though we're traveling down a river, off to one side we can see a navie americans camp. In this scene the night sky would be lit up with stars using either projection or fiber optic effects to give the area a type of open ambiance.
2. There is a slight dip to speed up current and we dive into a cave like structure to emerge on the other side in bright daylight overlooking a vast dessert like area with a boom town lying out in the distance. off to one side we see some bandits trying to get away with some gold with the Sheirf right on their tails. We cut around in a circle type deal creating a unique feature for a darkride of this type and in the center we see a bandit on his horse with it's front legs kicking up in the air (whatever that's called sue me it's late :P) firing his guns in all directions creating a very impressive 360 degree view of what would probably be the best AA in this ride
after completing this turn we move into the boomtown seeing the different people in the city going about there buisness and of course passing the Saloon (perhaps with some references to the one piece of Western River Expedition artwork I HAVE seen ) and the bank (which is of course experiencing another hold up ).
3. Now for the final scene of this ride. We come to the entrance of the towns main source of income, the mine. We take a pirates like plung deep into the mine and see many miners chipping away at rock looking for gold and a few others setting up suports to the cave and handling explosives. Of course now things start to get dangerous as we move into an unstable part of the cave and begin to experience a cave in all around us with rocks crumbling into our path at every turn there seems to be no escape.
We round a sharp corner and see packs of dinamite lining the edges and then a spark hits them and we're blasted (litteraly) back up to were we started from.
This effect would be accomplished either by magnetic launch tires or water jets but it seems to me that we SHOULD have the technology to actualy make an effect like this work.
Other Areas
exiting the ride of course you'd find the obligatory gift area (set inside the old prospecters area) filled with tons of western themed and Disney themed items. Fools Gold with disney characters put onto them would seem to be an obvious choice for an area like this along with shirts that have the DCA logo with a western type overlay over it.
along with this of course there'd be some gold panning type deals and other small details that kids and others might find entertaining that would add a nice touch to the area.
In Closing
While I thought up this idea I did feel a bit like it was a little too much like Pirates so I tried to think of a couple ideas that were fresh and new or at least new spins on this idea. And I also came to realize that this ride would be great for DCA because of it's distance from pirates, if it's not two steps away I'm not going to be as likly to compare. This ride could be Pirates 2.0 of sorts with a new theme and feel all it's own.
The ride vehicals would probably have to be more like a log flume then what PotC has to handle everything I've put into that track route but it shouldn't be a problem since WDW's Splash has side by side seating and I think WDW's Splash type vehicals would be ideal for this ride.
I'd also note that the drops and the lift would have to be of mild intensidy never going beyond what Pirates offers leaving this ride open to family's.
sooo thoughts, suggestions?

Links to my past ideas...
Mermaid Darkride- http://www.micechat.com/forums/showthread.php?t=773
Lagoon Show- http://www.micechat.com/forums/showthread.php?t=798
Saving the Farm- http://www.micechat.com/forums/showthread.php?t=1041
LA Expansion- http://www.micechat.com/forums/showthread.php?t=271