First of all, this isn't really a full on Photo Update as I'm piling up a few photos for an official Spring edition in a few weeks. But I just got this new lens on Friday, and after buying some pizza for the kids and leaving them unto their own devices, I just had to run over to the DLR to test it out. (They're teenagers now...I just need to make sure they don't burn down the house.)
After reading about this lens last month, I ordered one as soon as I had the chance. The Pro Optic 8mm Aspherical Fisheye lens, according to what I've been reading, is different from the other 8mm lenses out there because it has been specifically designed for DSLR cameras that have a crop factor. My Nikon D90 has a crop factor of 1.5 which means my 10-20 mm Sigma lens isn't really giving me a 10mm view through that lens. Instead of 10 mm, it's more like 15mm.
But THIS lens claims to be the first fisheye lens for actualizing 8mm focal length and a diagonal view of 180 degrees, while correcting aberrations using the aspherical aspects of the lens.
How did it hold up under the Disneyland "Run like a maniac through both parks trying to get as many shots off before the natural light disappears" test?
Well...I won't put all of my shots up, but here's a quick handful....
I took the monorail in as I was anxious about being blocked out as I didn't have a hand stamp on Friday night....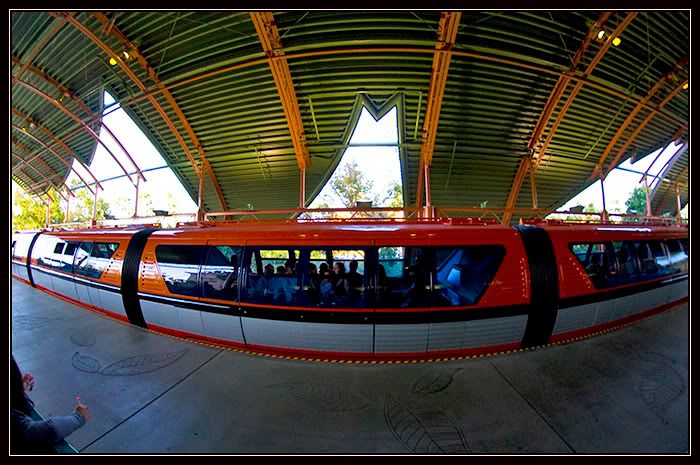 If you caught Kevin Yee's column on Tuesday, you've already seen some of the things that a Fisheye lens can do. Overall, I was pleased that the distortion isn't quite as noticeable when your objects aren't very close to the foreground, and when you aren't shooting straight lines. I snapped this out of the monorail window...
It does, however, compact circular objects to make them seem smaller, i.e. Dumbo...
or the carousel...
Another drawback, compared to my Sigma 10-20, is that it is manual focus only. It took me a while to get used to this, but eventually, I found it easier to set this thing on infinity while shooting objects farther than 10 feet away. I had to open it up to 3.5 (As large as it gets) as the light was going quickly. So...the images aren't the sharpest in the world in low light, and if you zoom in and try to crop, you'd probably be disappointed. But overall, it really didn't seem too bad for the price.
Here's a few more from around both parks...
Through the castle...
to where folks were piling up getting ready for Celebrate...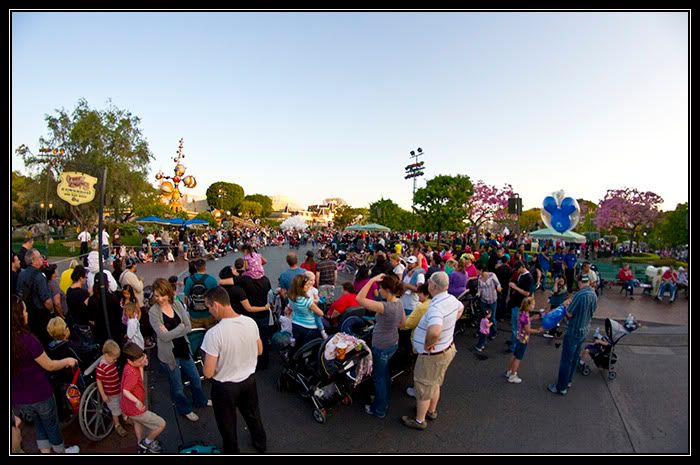 There IS a bit of fringing on the corners which I had to get rid of via photoshop, but maybe it's because of the low light. Not sure yet...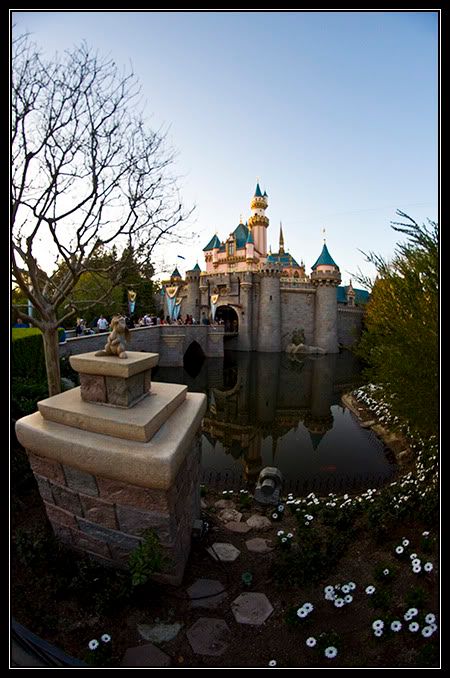 Then it was off to DCA to try some shots around the pier...
Past the sun, which was looking very round indeed...
Past the Bear Falls...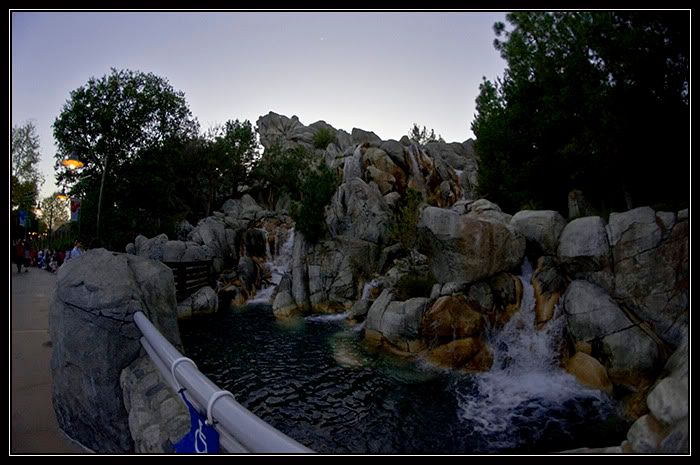 Eyes can tend to bug out a bit more with the fisheye. The camera was less than a foot from Chopper's face when I took this...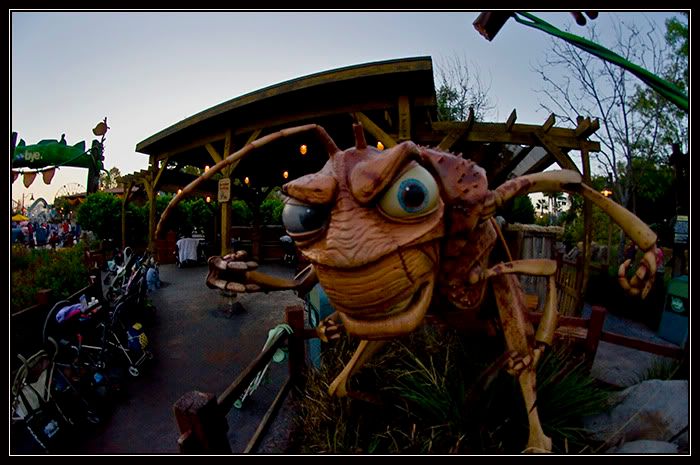 It was pretty crowded as I reached the pier area...
One of the reasons I purchased this lens is that I love taking shots with unusual angles. For instance, I love the fact that this couple looks like they are standing next to a curved rail when it was actually straight. The fisheye will bend straight lines...
And take round curves and compress them more...
Overall, I was really impressed with how this f3.5 lens held up under low light conditions. I eventually cranked up my ISO to 3200 and shot all of these low light shots without the tripod. I was pretty happy with the color, and again, I love getting angles that are unusual, even if they are a bit tweaked here and there in terms of perspective.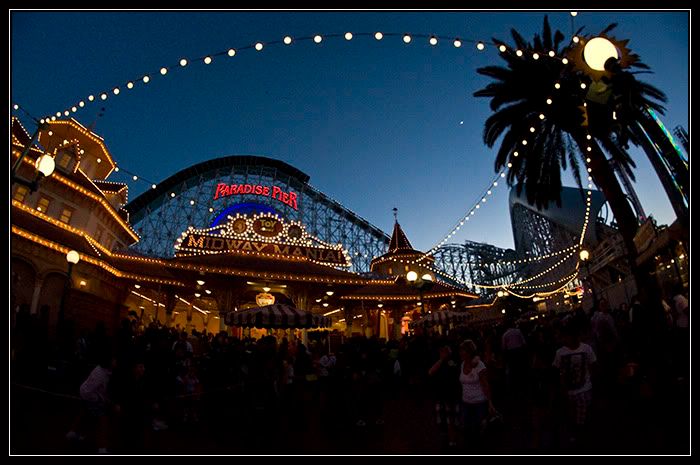 In this shot, you can see the reach of the 8mm as you have the Maliboomer on one side of the Fun Wheel and the Screamin track coming down on the other....very nearly 180 degrees. In fact, I have NEVER had my thumb in the shot while shooting my D90 before as it is always BEHIND the lens...and it was constantly getting in the shot with the 8mm. :bang: More photoshopping. :blush:
I was in a hurry, and I think I might have better luck with a tripod, but here's a few more from the pier area...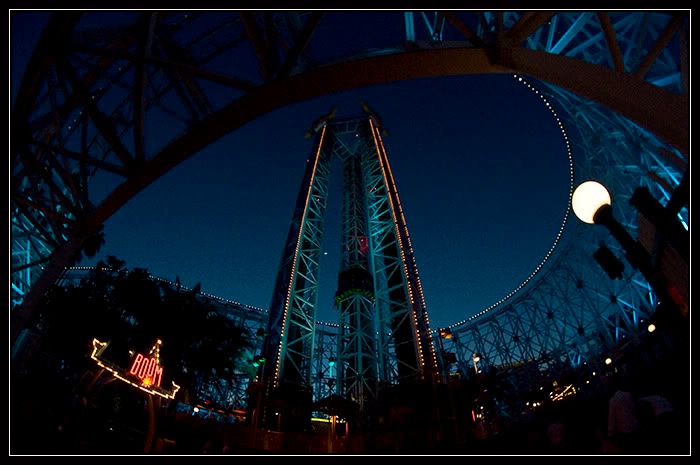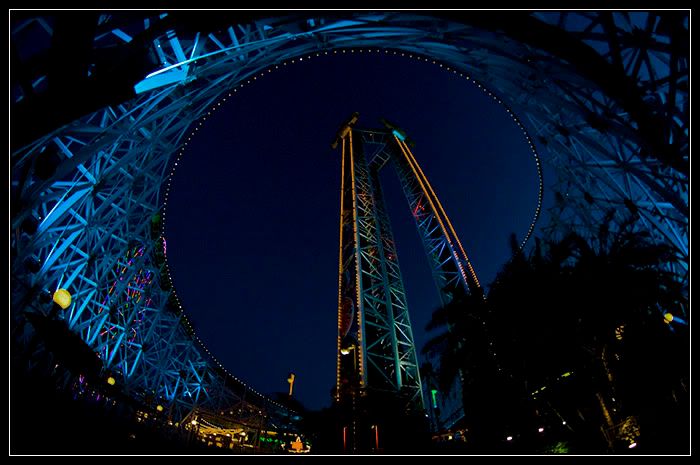 One more shot on my way out....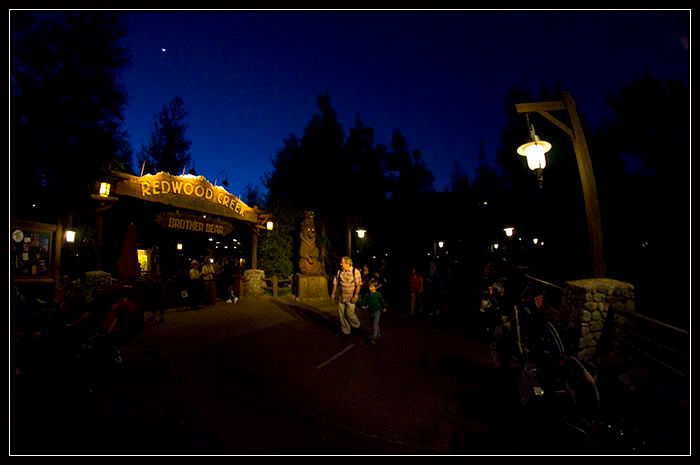 So...would I recommend this lens? Definitely, especially if you have a DSLR with a crop factor. It retails for under $300 which is what some of the other 3.5 8mm lenses are going for. But these other lenses would have been like shooting with a 12 mm lens. If you are into wide angle photography, definitely check out the Pro Optic 8mm.
And now...back to your regularly scheduled annual passholder debate. :razz: