Yes yesturday was a surprise for me to go to Disneyland we got to the park at 12pm when I got to Main Street there where no characters out. I had waited there for about 15mins. a CM came to tell people that they should be out but don't know what is going on. So when the CM when in back to check and came back out he said there be out in a little bit. So I when off to Pixie Hollow send I didn't see any of the fairies on Sat April 10th. I didn't know who to exspet other then Tink of chourse. So when I got there the line wasn't to bad. It was like 30 min wait from what the CM told the people that came in behind me. So after the I got to the front and was able to go in I saw that it my friend Silvermist who I haven't seen send Christmas. I had to wait a few second until she was done with a little girl who was before me. When she was done with her I gave her a big smile with my head tilt a little bit.
I told her I haven't seen you in a long time. I then when in my backpack and took out some fake roses that I wanted to give her. I told her that I got something for you and I hand her the roses. She said of there lovely. I said I did it cause I got your viedo message from my friend. She said yeah I had hear that you been sick. Then she said how are you filling now. I told her I'm doing alot better. (This of chourse was back in Feb. That is why I didn't got to DL in Feb.) She then said I promise that I will not let it rain for you today. I was laughing at that. We then took a picture...
After are picture I gave her a hug and I said I will retune soon. She said I know you will you always do. So I when on to Tink who I have never met before. We took a fast photo.
So after seeing Tink I when on to PFF. The line was long the Cast Member told people that came in that the line was an hour and half long. It didn't bug me any when I got to the front and when in the first Princess that was there was Ariel who I haven't seen an Ariel in Princess Fantasy Faire send Nov. This Ariel I never met before and with this photo you will see she didn't do any poses like others have done.
After Ariel came Snow White another one that I never met before. She saw my shirt and said you got alot of my friends on there. I said yeah even Happy and she said Dopey as well. She then took my arm and we took a quick pic.
So after seeing Snow White next came up was Cinderella. I had to wait in line to see her cause there was some kids that wouldn't let Cinderella go so the line was back up almost to Snow White's spot. But after the kids finally move and waited for the next two people that was in front of me it was my turn. When I got up to see her she ask me. Did you get a hair cut? I told her not yet but I'm going to soon. She then said it must be that I have seen her with a baseball hat on before. When she said that it got to me where has she seen me before cause I didn't remember her. So we took a photo together.
So after seening the Princess I when back to Pixie Hollow so I can tease Silvermist on me coming back. So when I got back there the line was still not to long when I got back to the front Silvermist was still there. I said I'M BACK!
So I was going to hand the CM my camera but I wasn't thinking to clear cause I was just about to hand Silvermist my camera wild I handed the CM my photopass card. Sil was lokking like umm I think you got that backwards there. I told her I wasn't thinking so when I did gave my camera to the CM we took are pic.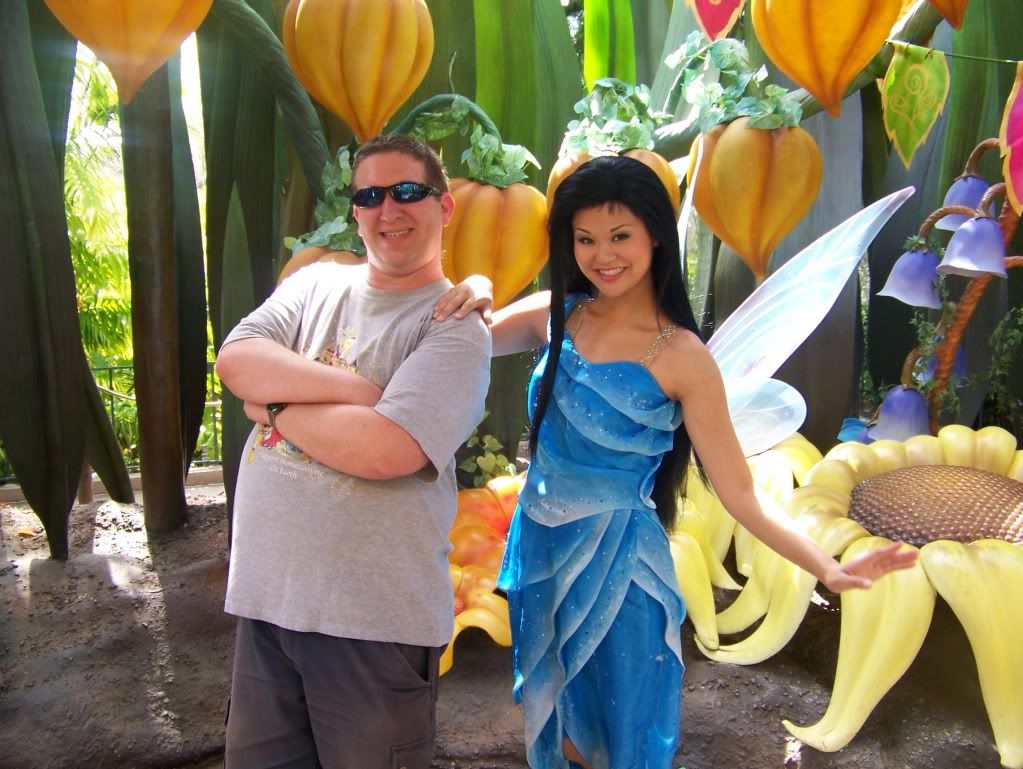 After another hug to Sil I move on to Tink and as I was turning the corner to see her I saw who it was so I put my back down and got into it to take out two photos I had in there from the last time I saw her so she can sign it. As I was doing that she said hello Jeffrey how have you been. With a smile on my face I said very good I have something for you to sign. So I handed her my photos and when she saw them she said I really like them they turn out very good. She really did like the photo on the right best.
So after she sign my photos we took a new back to back photo.
So after the photo she said it was really good seeing you again. We gave each other a hug and I said I'll see you around soon.
So when I leave Pixie Hollow I when back to the spot to see Silvermist again to get this shot of her.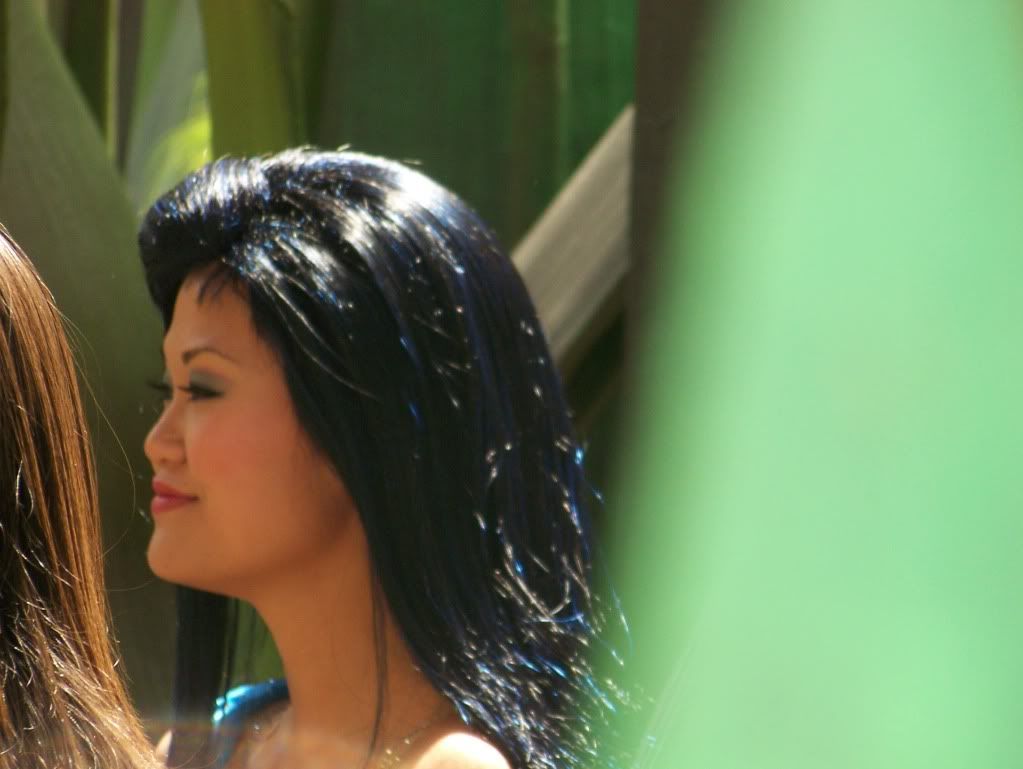 After I took that I said bye Silvermist she turn to me and said bye back. So after that I when back to Main Street to see who was out. Goofy and Pluto where out but they when in but came right back out as Goofy was coming back out Donald came to ans started to fight with Goofy about the door.
After they stop fighting Donald when on to the front of the flag poll but Pluto was there and then Donald started again with Pluto on fighting with him. So after Pluto won the fight Donald when on to City Hall where he finally got a spot. I got in and said Pluto stold your spot he put his arm up as to say fooie.
So after seeing Donald I when to DCA.
More coming up soon.