First of all it has been a very fun time to bring you all my trip reports that I do when I'm at Disneyland but today will be my last one for Personal reason. I hope one day I will come back and do it again. Also there is some photos that I will not post on here do to a friends request so that photos with my friend will not be in it but I will tell what happen. So with that all said lets beginng.
Me and my family had made it to Disneyland around 11:45am and when I got off the tram I when to the gates to Disneyland when I got inside Main Street there where no characters out. So I when on to my first stop PFF where my friend was waitting for me there. When I got there he was in the middle of a huge line. The CM told the people that just walk in that there is a 1:45 min wait. So as we where waiting we where talking about after seening the Princess that we should head to Ariel's Grotto send he never been there. By the time we got to the front the time was already 1pm. So when we got in the Princess that where there where Snow White,Cinderella & Ariel. So when I when up to Snow she saw my new shirt that I got last month at Disneyland with Happy on it. She ask me so is Happy your favorite Drawf. I said to her well I.... I couldn't really say cause I didn't have a favorite so she said well you like all of them. I just said yes I guess you can say that.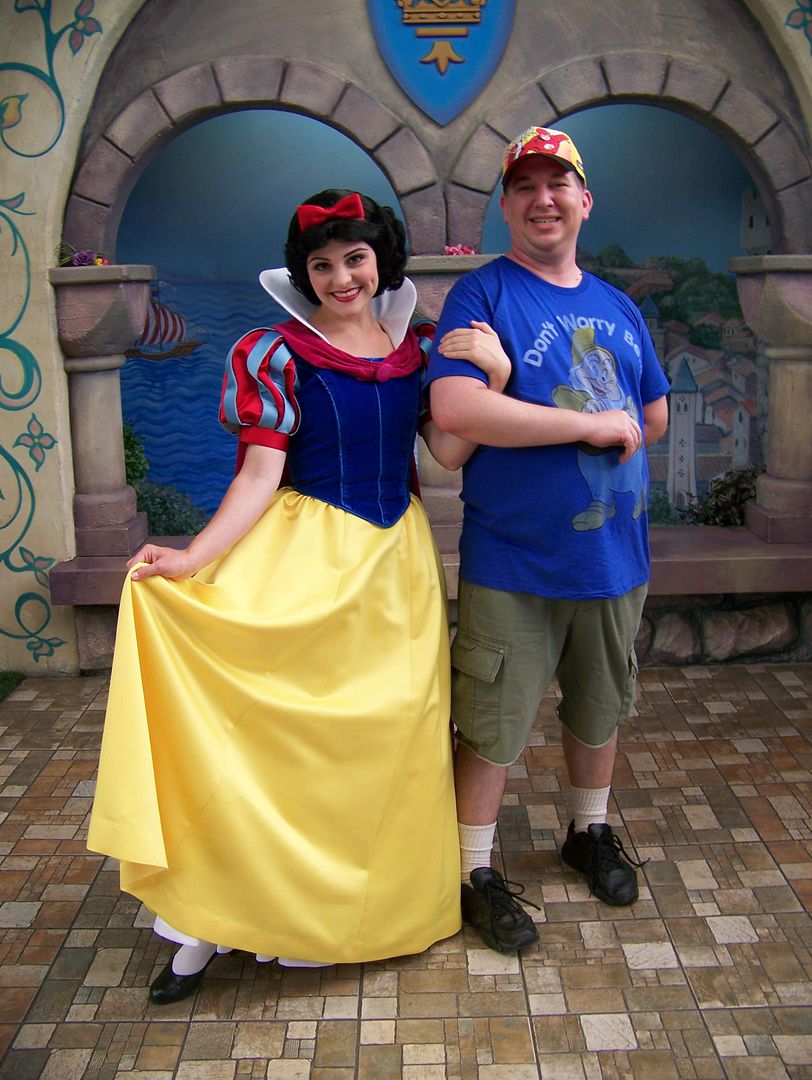 After seeing Snow White I move on to Cinderella. She saw my shirt and said I bet Snow White like your shirt I said yeah she did. So we took a quick photo together.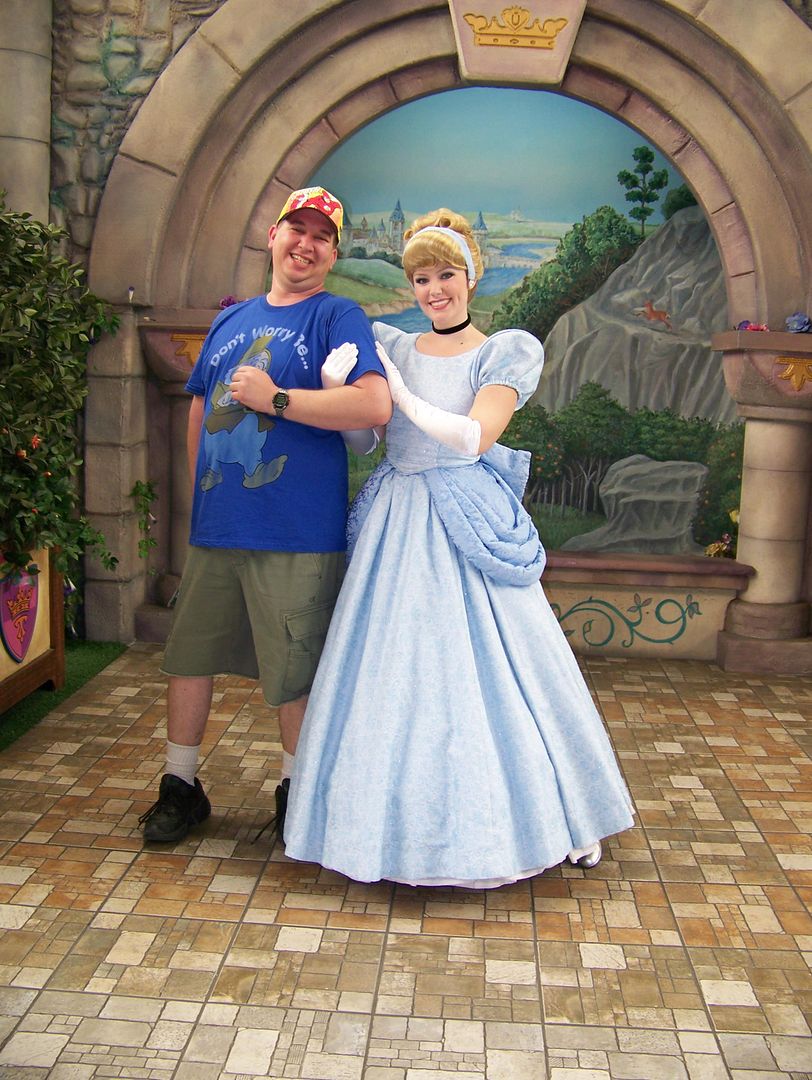 So after Cinderella I move on to Ariel. My friend had a little Mickey Ariel and show her it. He had turn the head of the Mickey Ariel and she said oh I didn't no it turn like that. Then she when to her head and said I don't think I can turn it that far. I had met this Ariel a few times not as much to really be friends with her just yet but we kind of know each other.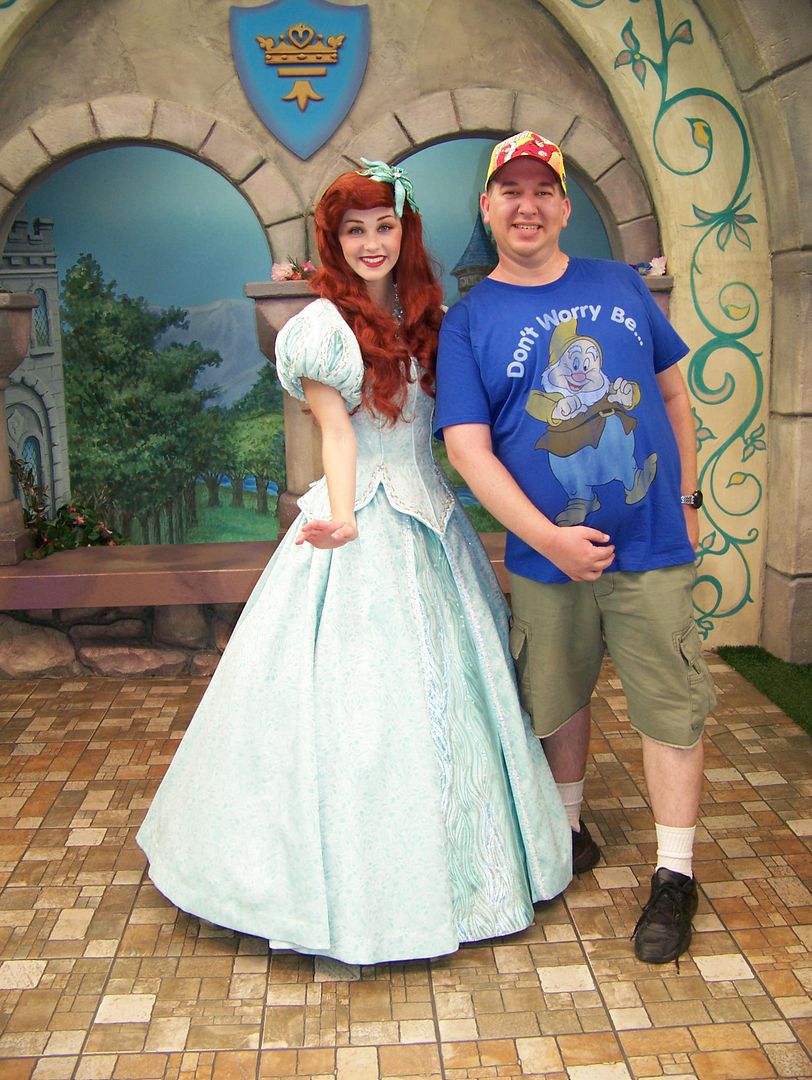 So after seening Ariel we when off to Ariel's Grotto heehee on the way there Alice came by the front of PFF and had ask me and my friend if we had seen Mad Hatter. We said no then she said I wonder where he is.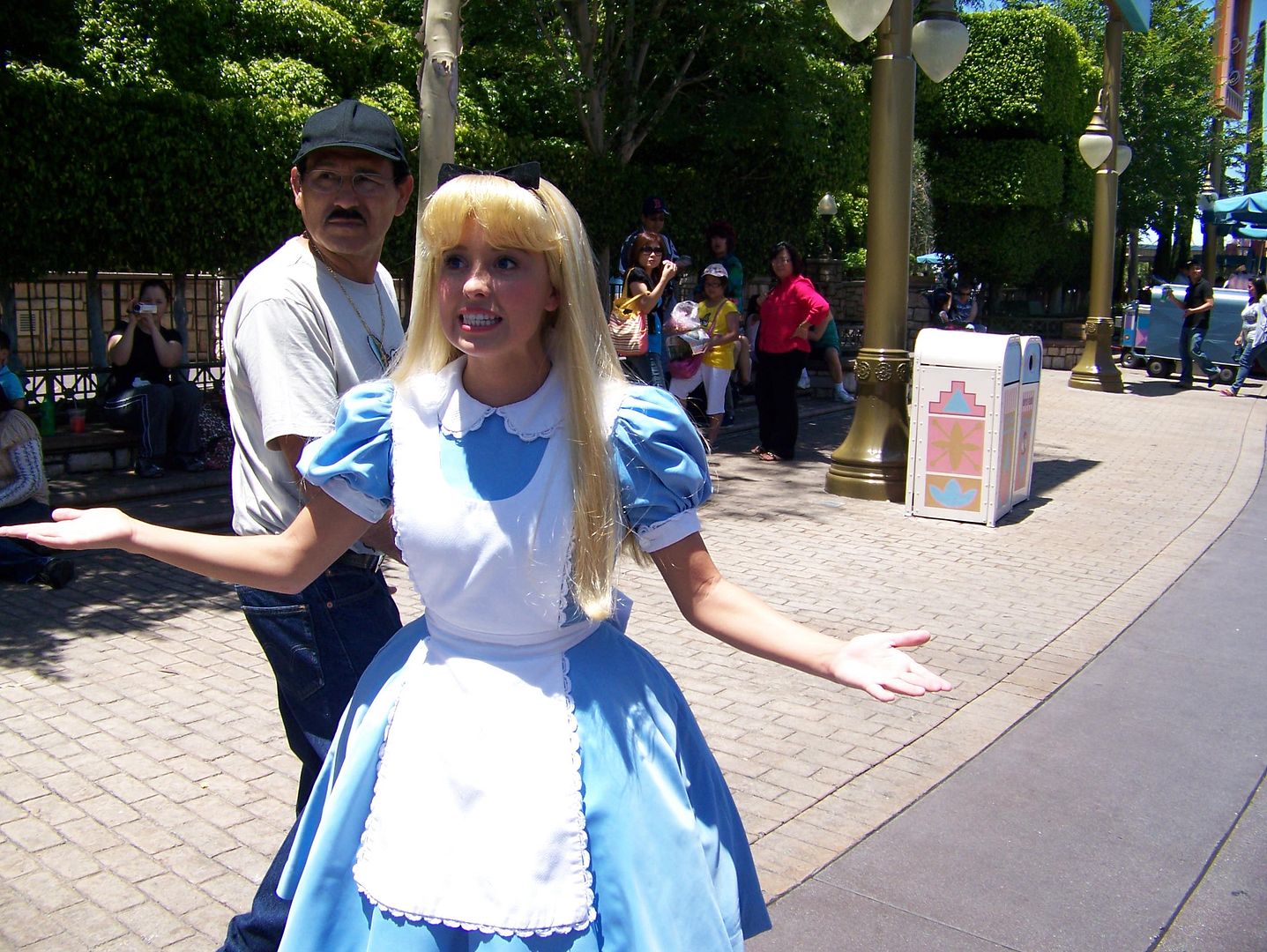 So we when over to DCA and on the way there I wanted to see if Pliot Goofy was out. Nother friend of mine who is part of Mice Chat
Disney Liz
had a photo of him from her last trip to DIsneyland. So me and my friend when over there and sure enongh he was but we wanted to hit to Ariel's cause we where not sure if Ariel's would be open for long cause of WOC. So I ask a CM would he be out again say around 3pm she said yes he will he will be out on top of the hour. So I said we will be back. So then we move on to Ariel's and I had ask for two walk ins and they let us in. When we got there we had are picture together taken with Ariel. Ariel remeber me from the last time I was there. She ask me what I have been up to. I said nothing much she then ask me if I been on any rides. I told her not yet. She said not yet but your going to I said yes. She then ask me what is my favorite ride. I said good question cause I had never though of a favorite ride. So I said Small World. She said oh I like that ride have you seen my little me in there. I said yes I have but every time I try to take a picture of her it always comes out blurry. She then said well those boats gose to fast so that is why. She giggle on that. So after talking to her we when to are table. Aurora and the other Princess where out alredy so it was kind of fast to order our food and try to see the other Princess. When Aurora came to our table I saw that it was my friend from PFF. She said hello boys how are you. I said this is weird I always see you on PFF side. She said well yeah and the last time I saw you, you had on a Belle shirt. She then said so would you two like some photos I was teasing her and say no I don't want to. Aurora then said well then I'll leave you then with a smile on her face.
So after Aurora leave Cinderella came by she saw my shirt and said so do you have all the Dwarfs I said no Happy is my first one. She then said oh so you will get the others later then. I said maybe.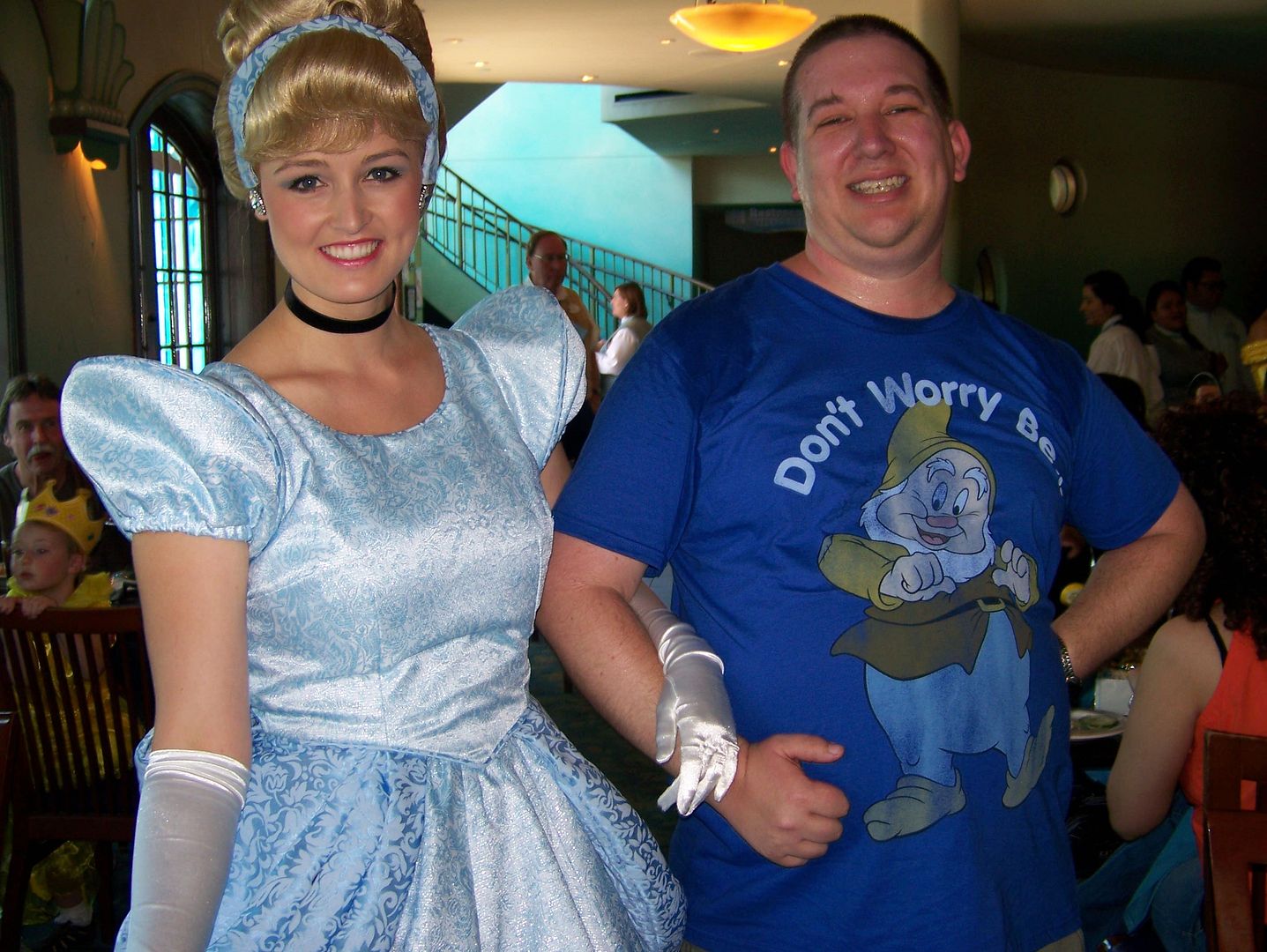 After we took our picture Belle came next and when she was at our table I found out that this was one of the Belle's I haven't seen for over a year. She was so happy to see me she ask me what I have been up to like I have said with some of the others that I been pretty good so we took our pic together.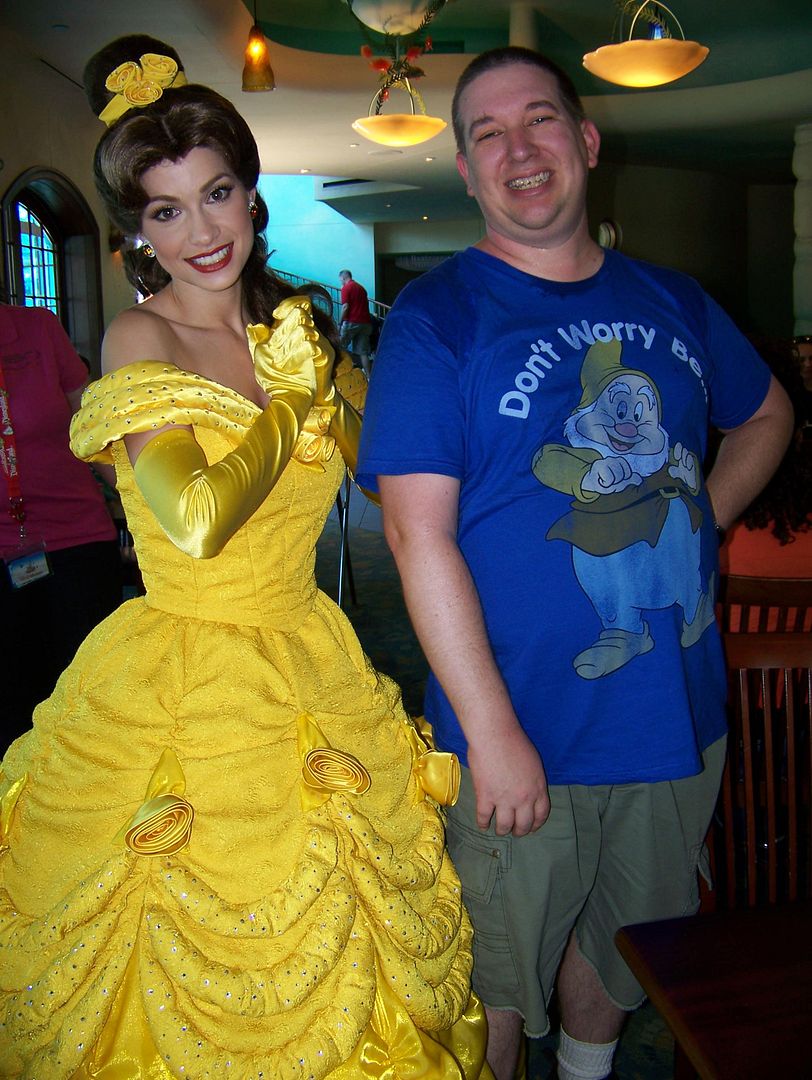 After she leave my friend and I had time to eat before Snow White came by. When she came by she said Oh you got Happy on. She then ask if I want a picture taken. I tease her and said well umm maybe. She then said well do u I said yeah.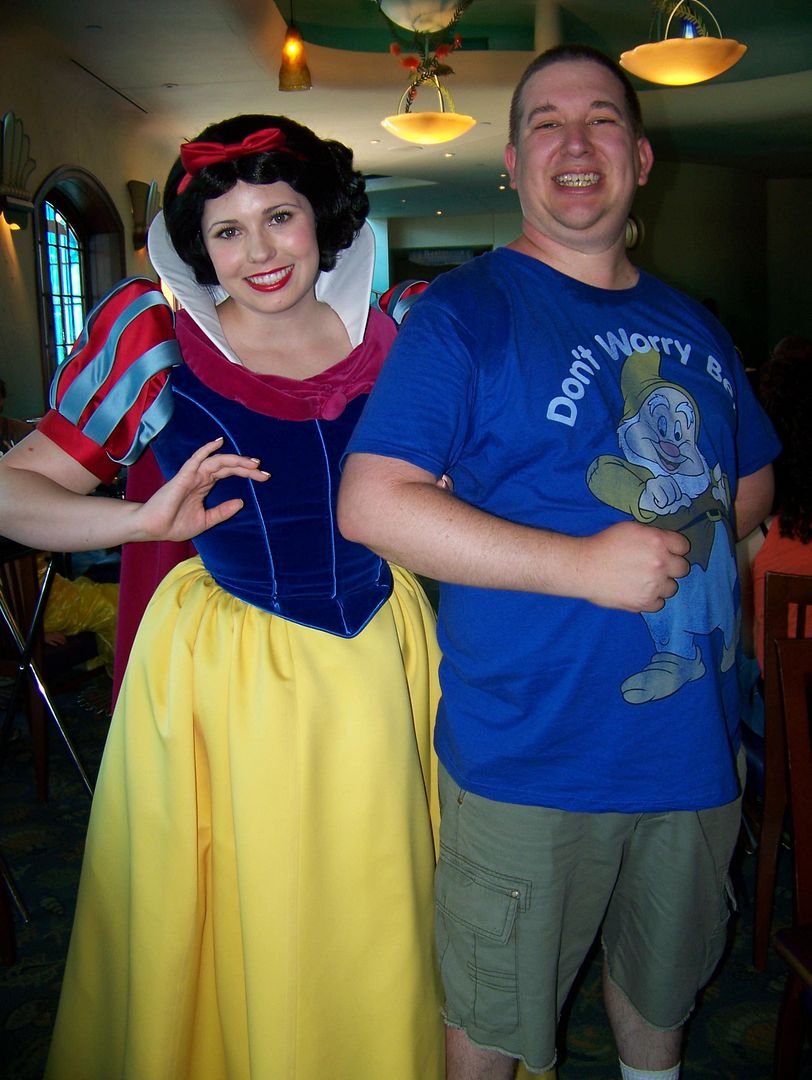 So after Snow leave we gotto finish our food and it was around 2:15 and I still wanted to get Goofy. But when we got back there the line was close so I said to the CM I will be back. My friend didn't want to stay over DCA side so I told him I will met up with him later. So we when our stepit [ms] ways. I when to HPB to see who was there and I didn't see anyone I then when in the Animions building to see if Lotso was out and still nothing. So I when back to the airplane where Goofy is at and when I got there I saw Pliot Minnie out now I haven't seen her there send 2003. So I got in line to get my photo taken with her.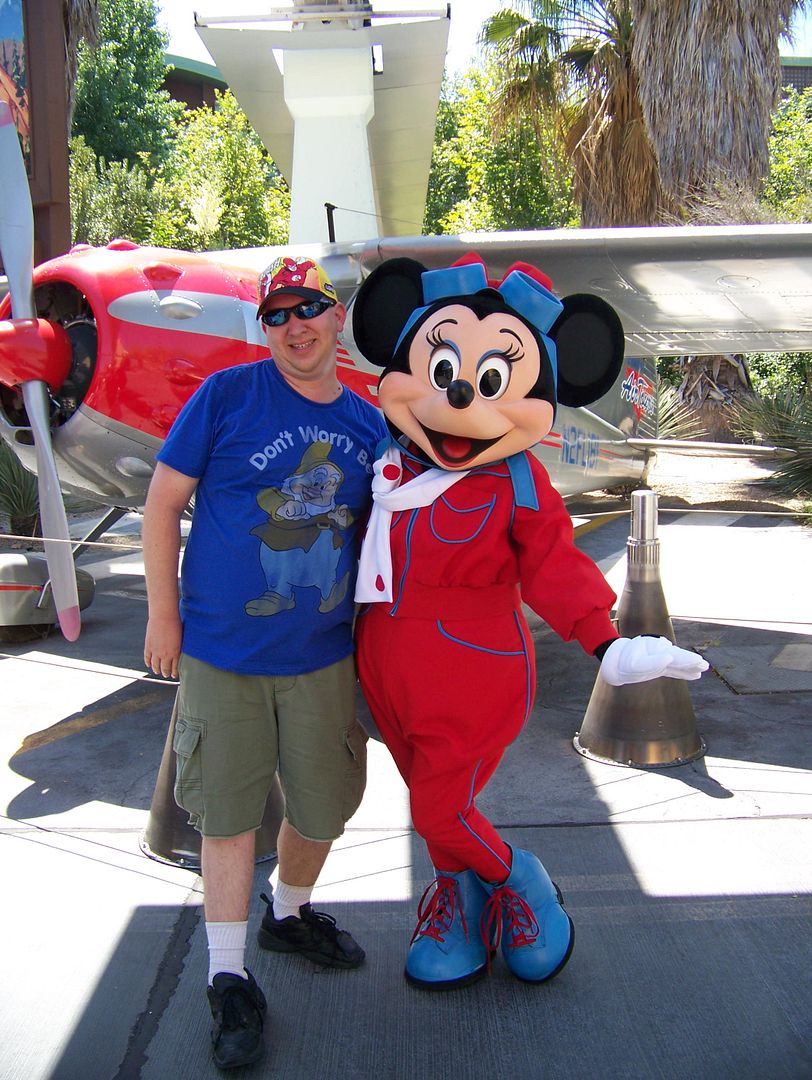 So after I got Minnie I just stay in the area until Goofy came out. Minnie when in about 2:40 and Goofy didn't come out until about 3:03. So I when over to the line that was starting to go and Goofy had a hard time figurine out how to get thew the gate.
He had help by this kid that open the gate for him. Goofy told all the people in line to clap for the kid that help Goofy. So after that he was ready to take pictures. The people in front of me had a plush Goofy with them. He was like oh that is my baby boy he took the plush Goofy and start to rock it like it was his own. He then was about to walk away with it and then the people said no he is ours. So then Goofy took little Goofy and put him on the ground and started to walk off with the people. But then they guy said we can't leave our Goofy. Goofy then said toss a coin it's him or me.
So after he gave back the plush Goofy he was upset but I was next and said hey I got one. He was happy again until he saw that I took out little Terence. He couldn't figure why him. The CM said well he has wings on and your a pilot so you both can fly. Goofy got it and he had as pose for the camea.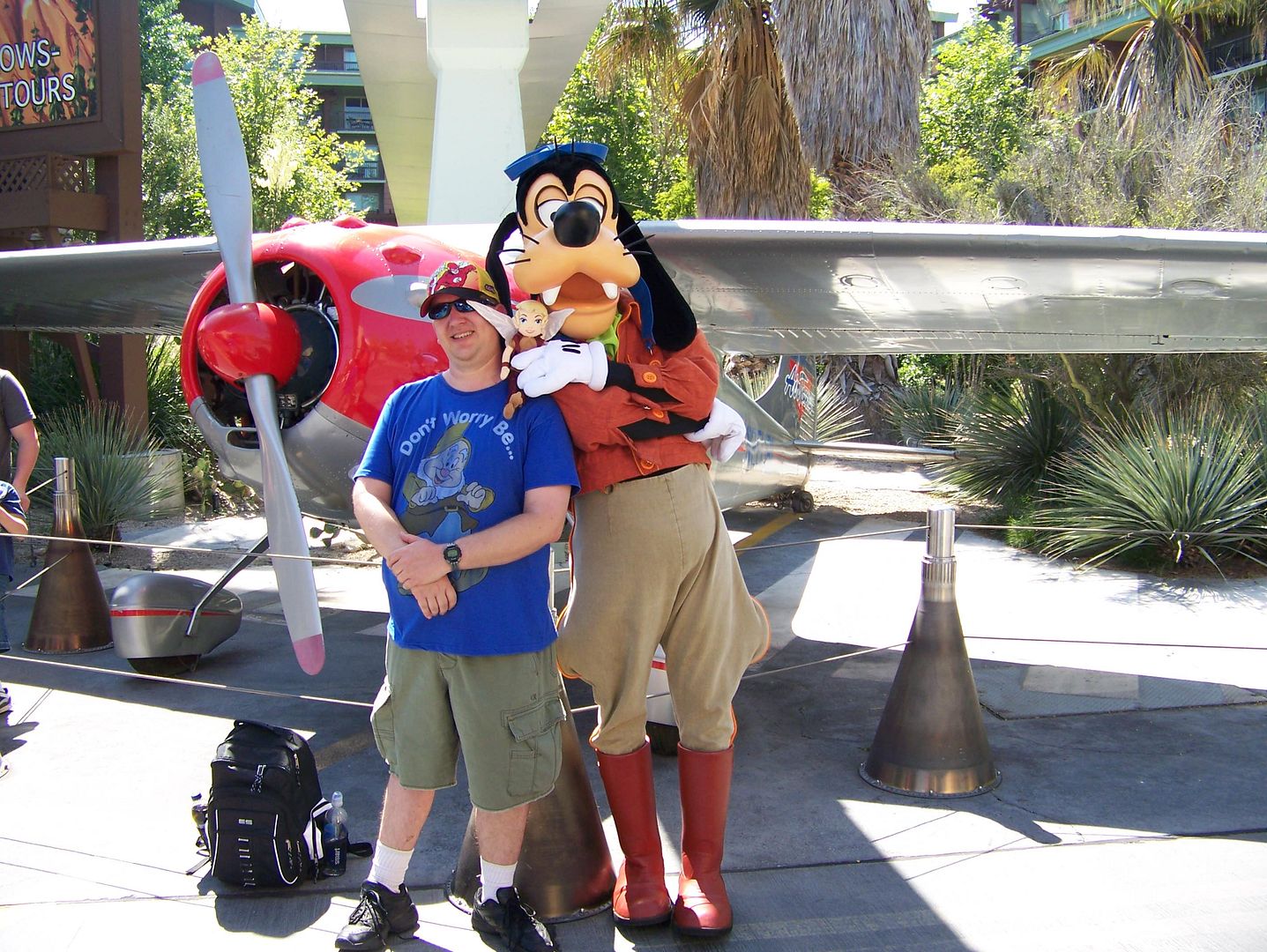 Then he gave him back to me.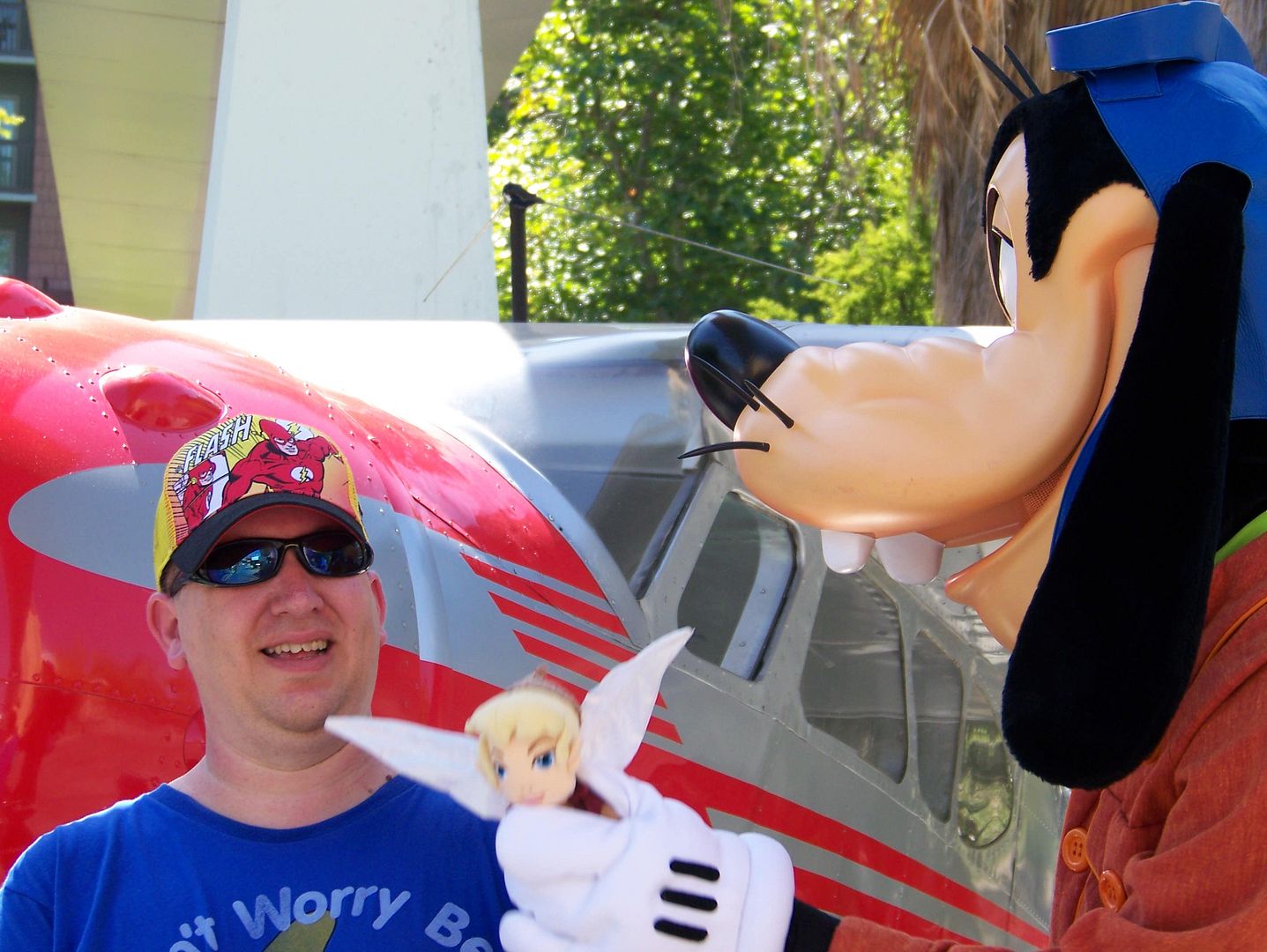 So after saying goodbye to Goofy I when back over to Disneyland side.
To be contenue.