Hello, Micheal 'Mike' Adinso Rebrekal Folf here. Yes, I am shocked (and a little bit ashamed) that I didn't get this finished up
within
the summer of 20
09
. Alas, it is now, summer of 20
10
, and only now have I finished up my road trip report (if you have followed the Random Court between late July to late August, you may have noticed me posting links to 'parts' of the Road trip once every other week). So, for a bit of nostalgia, here's the 'Disneyland segments' of the trip, abridged for enjoyment, directly copied-and paste from my Journal (save for slight modifications for MiceChat), and leaded by two photos from the earlier parts of the trip. So without further ado, let's begin (and
do
have a sense of humour when reading ):
Oh, and feel free to scroll down to a picture of a giant Senseo Coffee Pod if you want to see the D-Day (Disneyland and DCA in a Day) segment. :ap:
---------------------
Part 1: Late start, Traffic, Pacific Coast, and Santa Cruz..sort of
Fog along Highway 1...just a few Miles south of San Francisco.
I don't remember why I took this, other than it looked nice at the time.
(and no, this was from the passenger side, no driver was harmed in the making of this photo)
---------------------
Part 2a: Stick Figure, Carmel Mission, Cloudy Ocean, and Seals
Lovely Mission San Carlos Borromeo de Carmelo...or Carmel Mission.
Fog seemed to follow us...
---------------------
Part 2b: Hearst, Pismo, Solvang, and Santa Barbara
Touristy Hearst Photo is Touristy.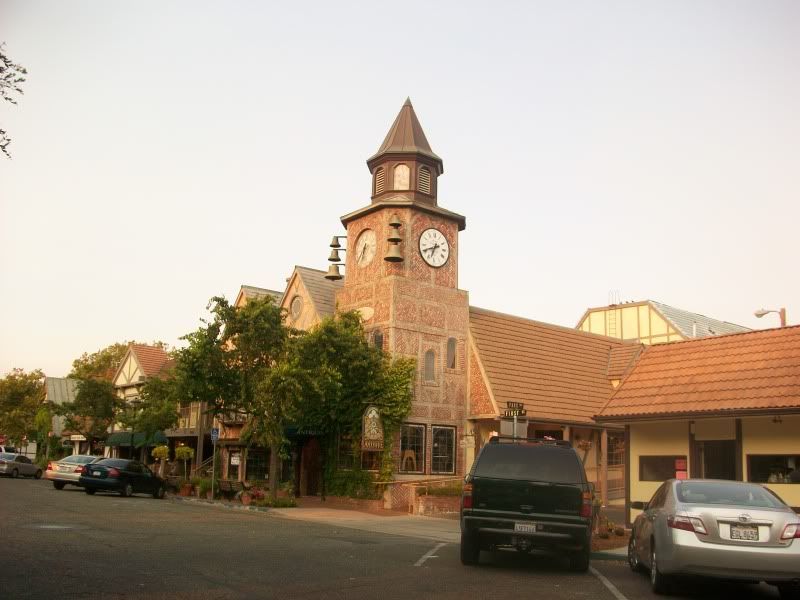 Alas, old Solvang! Aye hardly spent time in thee.
---------------------
Parts 3a and 3b abridged - Disneyland and DCA in a day
So, for your enjoyment (and for a little bit of 'nostalgia' - or the resort as it looked like a year ago), here's Part 3 - abridged (merged together) and copied word-for-word from my Journal:
"

Here we go again.
For some strange reason, I woke up at around 5:30 am and couldn't get back to sleep (if you read part 2b, you would know that I couldn't sleep until around 1). I figured that I should just take a shower anyway.
Too much information?
At around 6, mother 'woke up'. By waking up I mean saying in a drowsy tone "Give me coffee".
I opened the packet/filter for the coffee maker, thinking it was one of those that you pour in. Needless to say, I was quite surprised. It was a supersized coffee pod.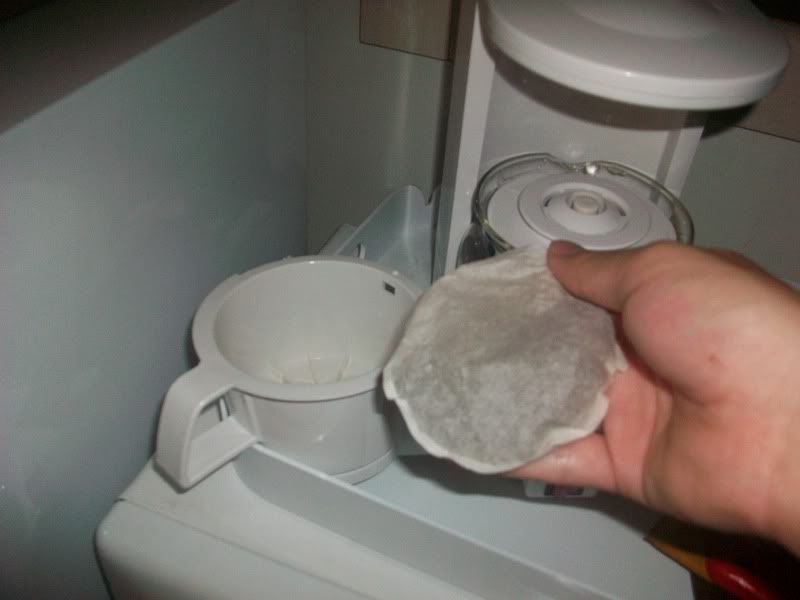 No. I'm not fat. That's just the angle and lighting.
After two hours of preparation, (re)packing, and some continental breakfast, we depart.
Who in their right mind decided that coffee and some donuts was 'Continental'?
Anyway...
I like Santa Barbara. It's one of the few places (the other being Anaheim) that I wouldn't mind living at.
Driving on....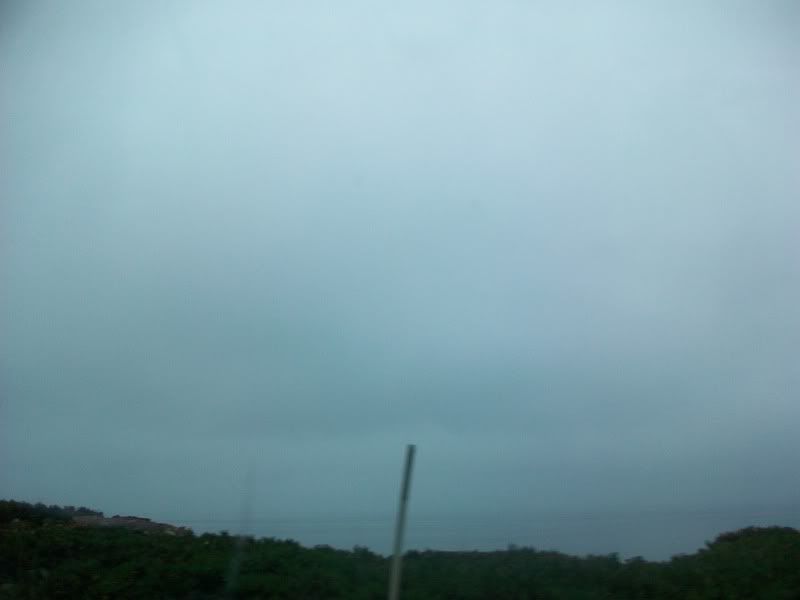 Where does the ocean end and the sky begin?
If I remember correctly, after Santa Barbara, we passed by two 'land' towns: Sandyland and Summerland.
Weird and gimmicky.
Random ocean town whose name escapes me.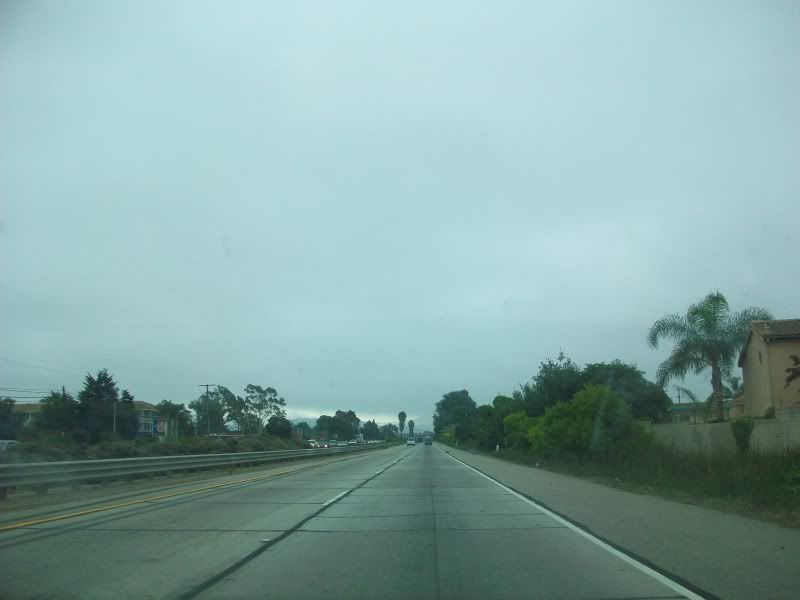 And I thought I-5 was poorly maintained.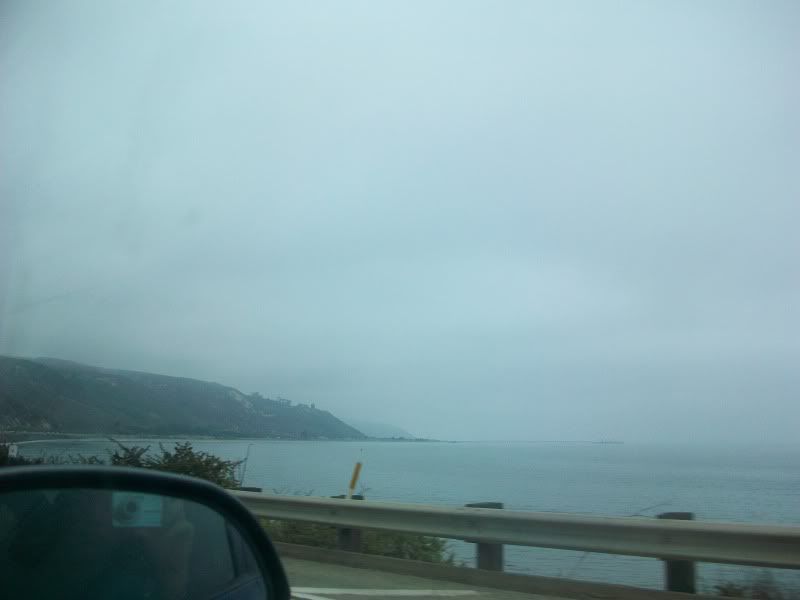 SoCal Pacific: in BlurryVision.
I have a thing for seaside cliffs.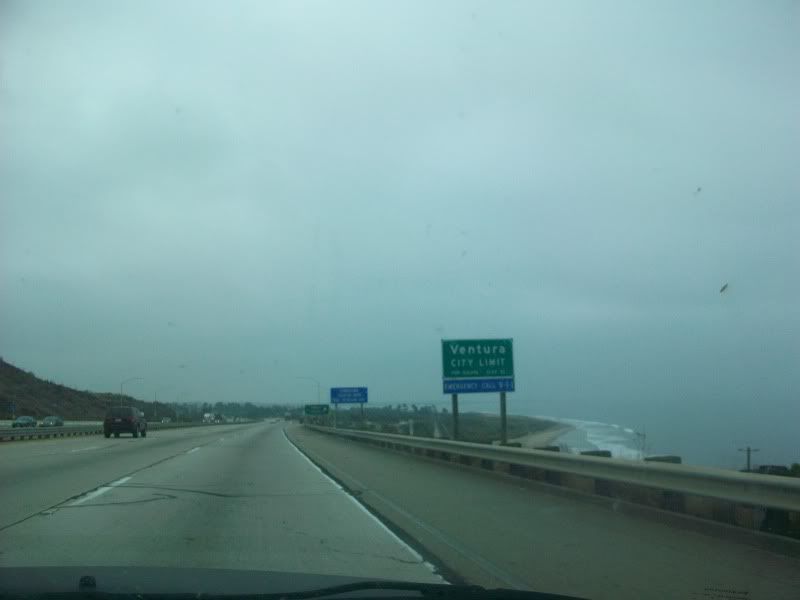 Still a 100+ miles away.
*Grabs the TomTom Go, sets destination to 1300 Harbor Blvd. Anaheim, CA*
Trust me, the above will come into play later.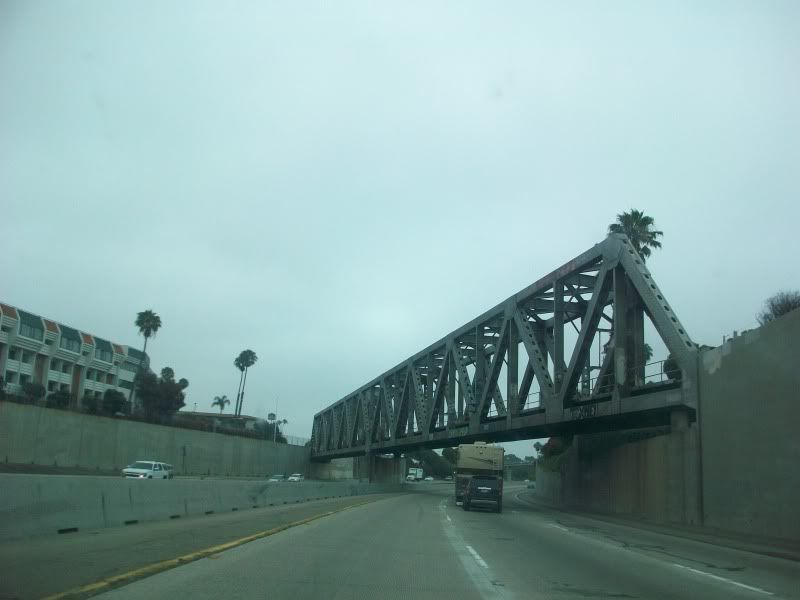 No pictures were taken between here and Anaheim, so I'll give you a verbal written description instead.
Mother driver took a quick detour to in an attempt to find the channel islands. She couldn't find it, we got lost, and out TomTom drove us around in circles.
Thankfully we found 101.
Entering San Fernando valley, I said "Wow, no traffic."
As luck would have it, we got stuck in traffic at the 101/405 interchange shortly afterwards.
Passed the
Hollywood Tower Hotel Apartments
and saw smoggy LA.
This is where human error made TomTom mess up. As we entered the
East Los Angeles Interchange Complex
(yes, I looked it up). The GPS navigator repeatedly told us to go on I-10 instead of the correct way of going on I-5. We continued on I-5 when it said for us to exit. It was then when I realized I put in the wrong Harbor Blvd (it's South Harbor, but TomTom I wanted North). As we were already on I-5, we figured it was best to cancel the route and shut her up.
Finally, at around 11-ish, we arrive at the Disneyland Resort....Parking Structure. We placed on the second to last floor, close to the escalators.
Thank goodness it we weren't placed BFE on the Fifth floor.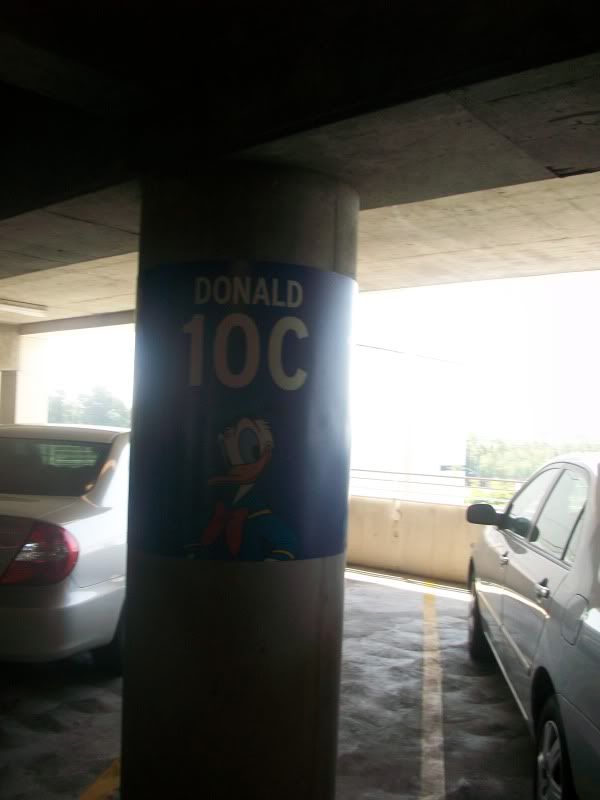 Duly noted: Fourth Floor, section 10C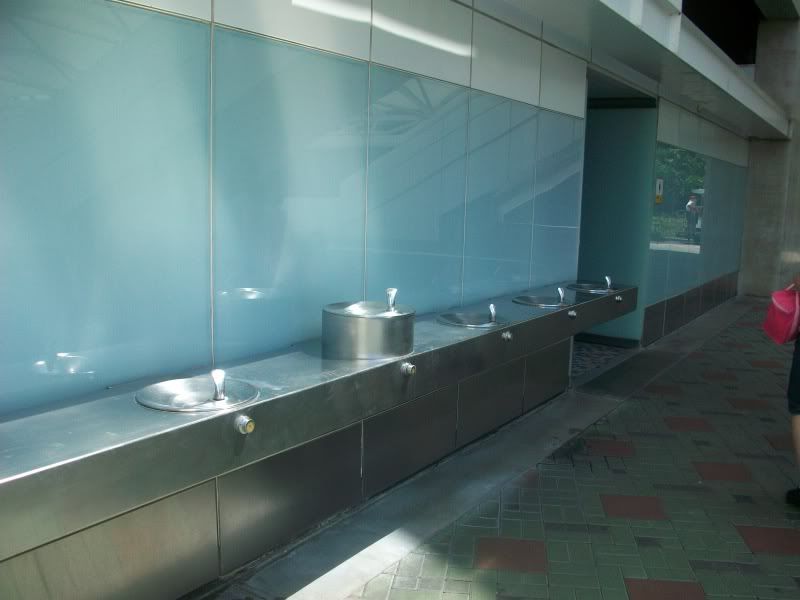 Out of the 5, which one could I have used without having to bend down?
Go on, take a guess.
How can you tell that it's going to be a busy day at the parks? When they use both sides of the loading area, and you get dropped off under the monorail beam near the picnic area.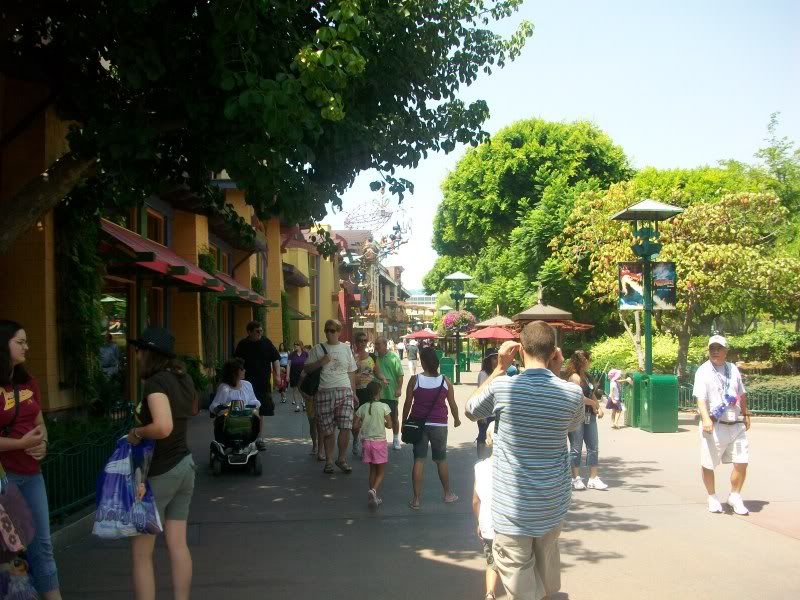 "I just exited the tram, and my feet are tired" - Random guest.
First place? Naples Ristorante e Pizzeria. That Italian Restaurant in Downtown Disney.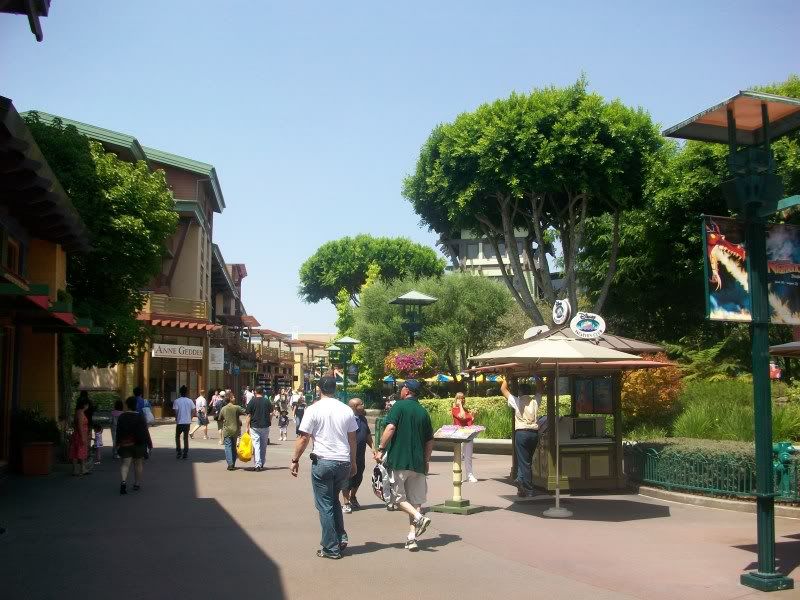 I have to say, Anaheim's Downtown Disney has a better atmosphere than the one in Florida. The only thing that's missing is Cirque de Soloil.
Picking an outside seat (good choice, by the way), I noticed how loud Indy was. You could hear a 'boom' from the boulder every 6 seconds.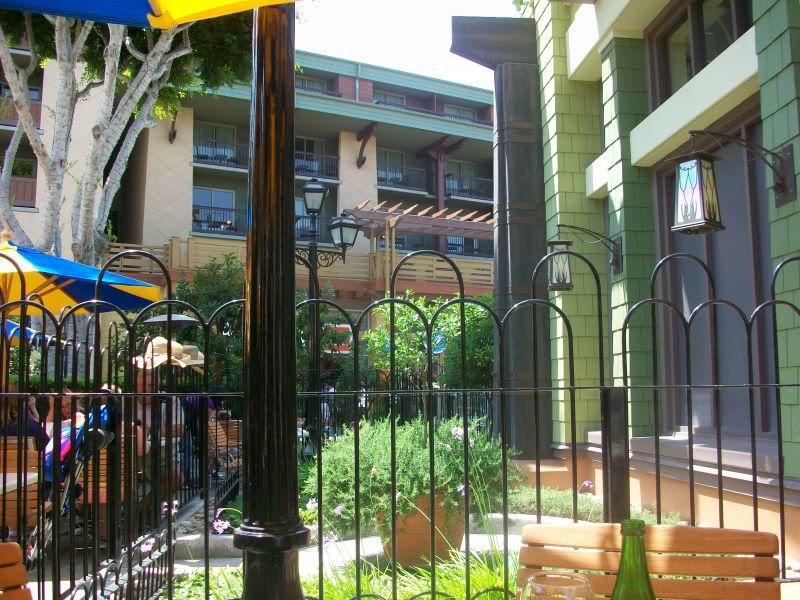 The Grand Californian looks very metropolitan.
This was also where I noticed the building up close.
It's wallpaper! All this time I thought it was painted on!
The show building for Indy. It's actually quite small for an attraction that feels big.
Moving on to the park...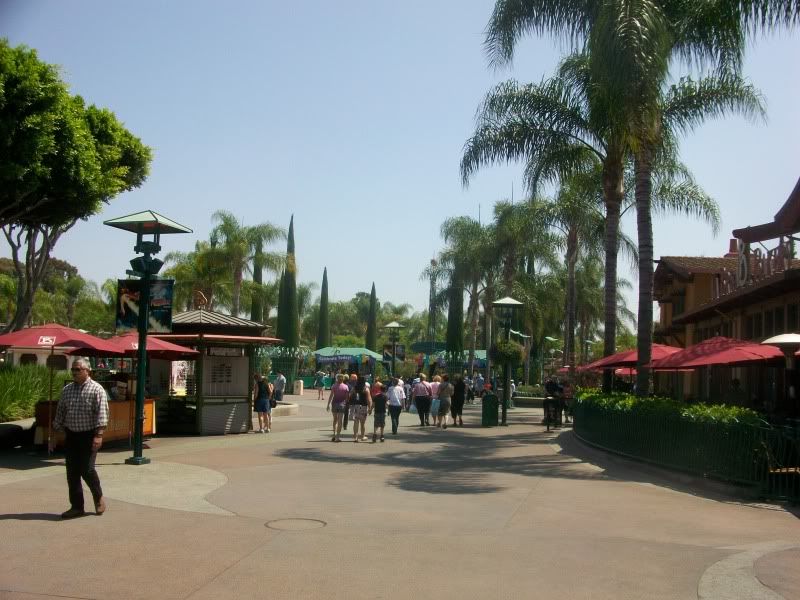 "Welcome to Disney Parks Anaheim! Where you must pay $102 and the have streams of technicolor thrown at you!" - My opinion of "Celebrate today".
Okay, so I have keen eyes and can read the signs above the bag checks.
I don't mind this fountain. Although, I wish they'd choose a design that
doesn't
resemble the 'rotting meat' flower with a yellow eyeball in the center.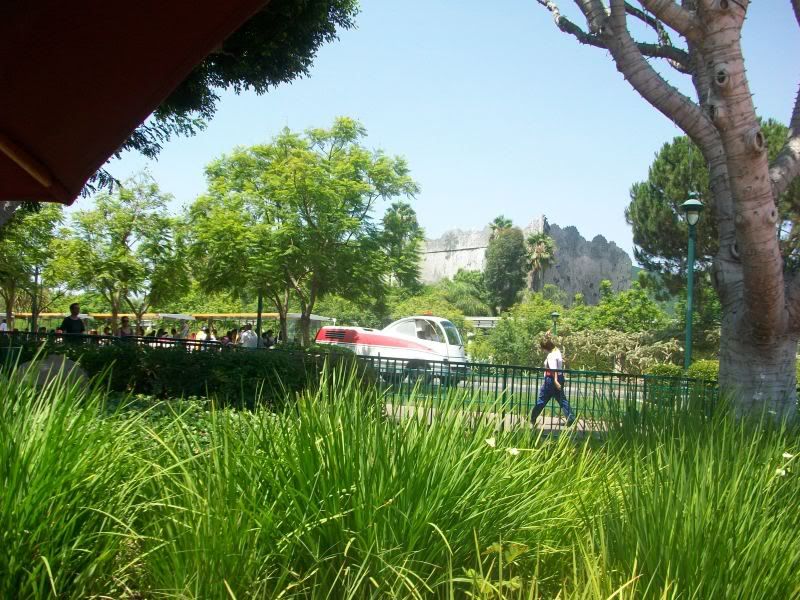 Oh, wow, more guests.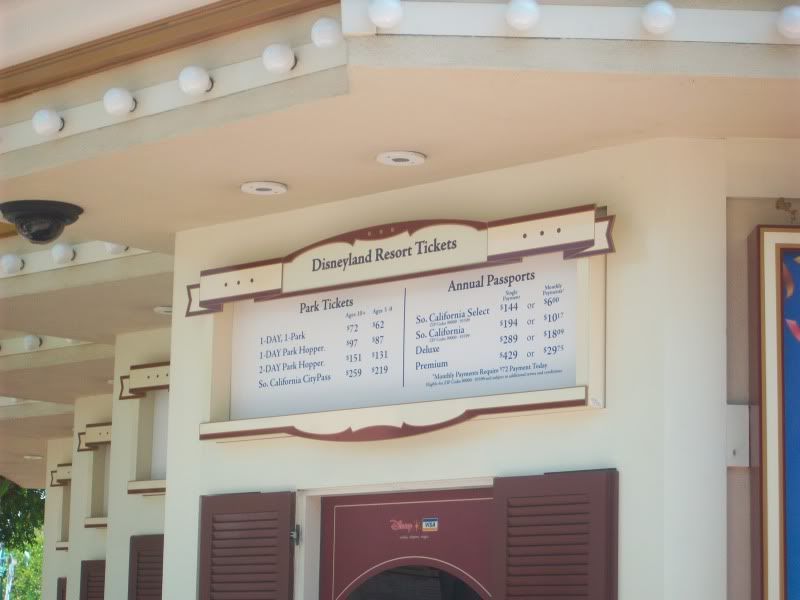 Disneyland Resort prices come 2012:
1-Day 1-Park = $81
1-Day Park Hopper = $106
2-Day Park Hopper = $160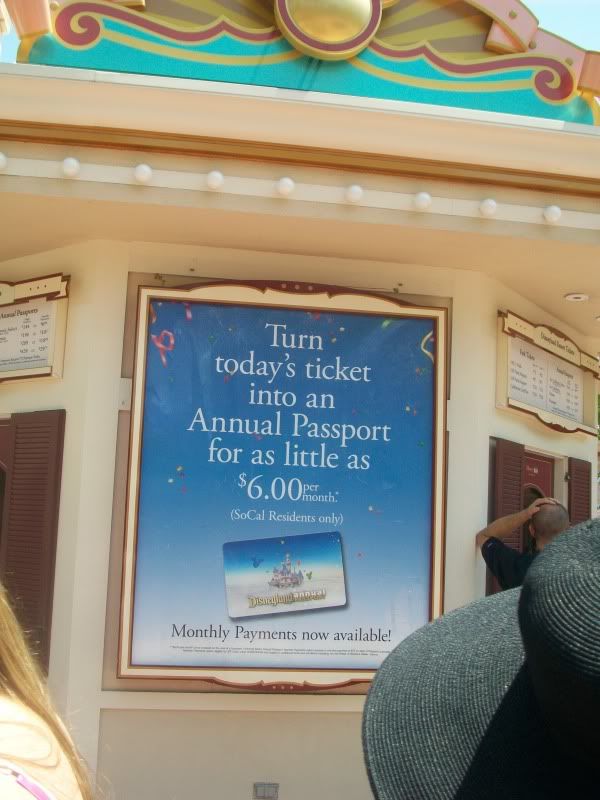 Read the footnotes, people! It's not worth it!
Time: 1 pm (bad choice) Entering: Disneyland (worse choice) Did I grab a park map: no (even worse choice)
I can't enjoy the parks without one, and I didn't realize that until much, much later.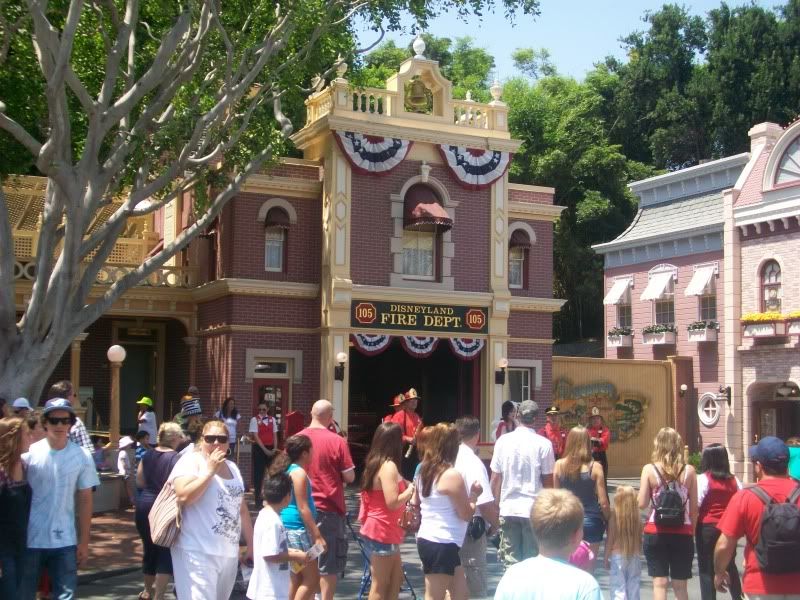 Firehouse Five plus two with Cruella.
You know, if you remove the castle and the 'celebration' wrappings, as well as move all the guests to the sidewalk, then you got yourself an actual Main Street.
Unfortunately, that'll never happen. Unless you go on Highway 29 North towards Calistoga.
How many times has this been taken?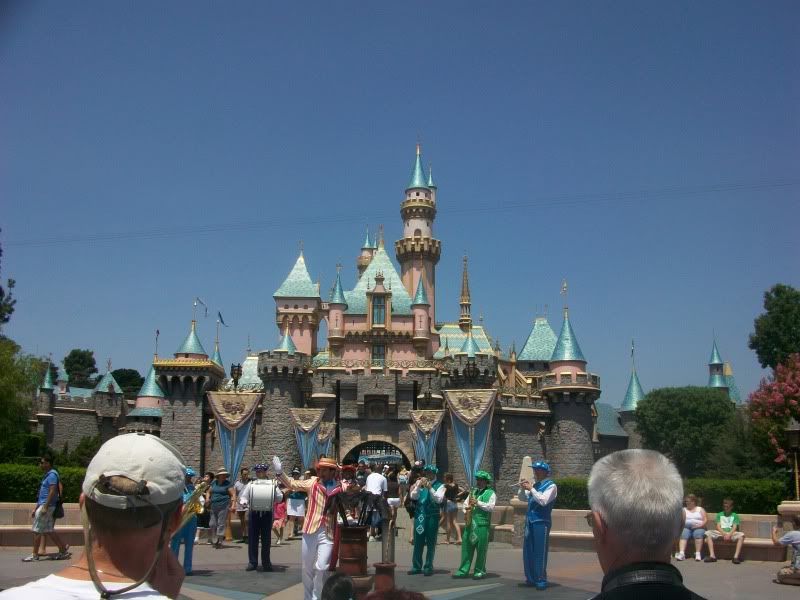 The Castle isn't the focus here. That would be the Dapper Dans and Bert.
The only problem I have with this performance is that they used speakers on the
other
side of the hub. Needless to say, it was a bit...disorienting.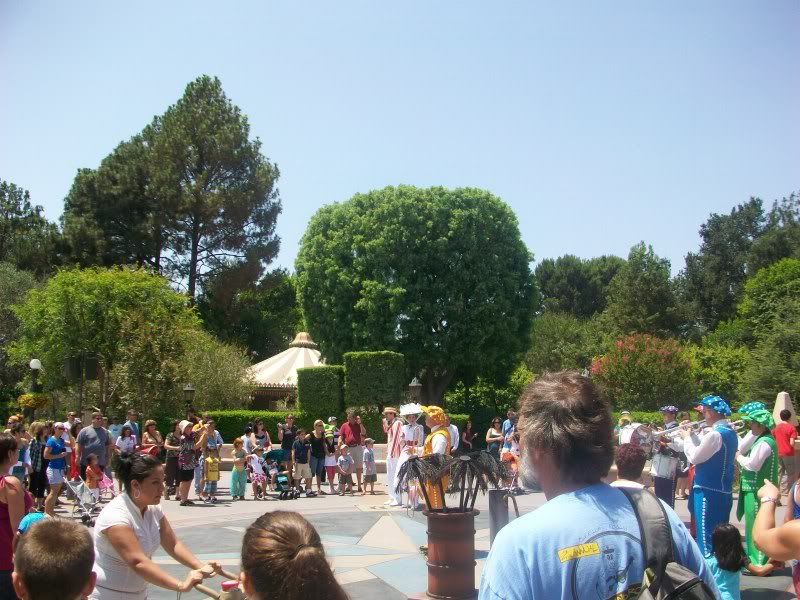 Looks like Mary has made an appearance as well...
...and the crowd increases. Let's walk through the castle as we go to Mr. Toad's Wild Ride.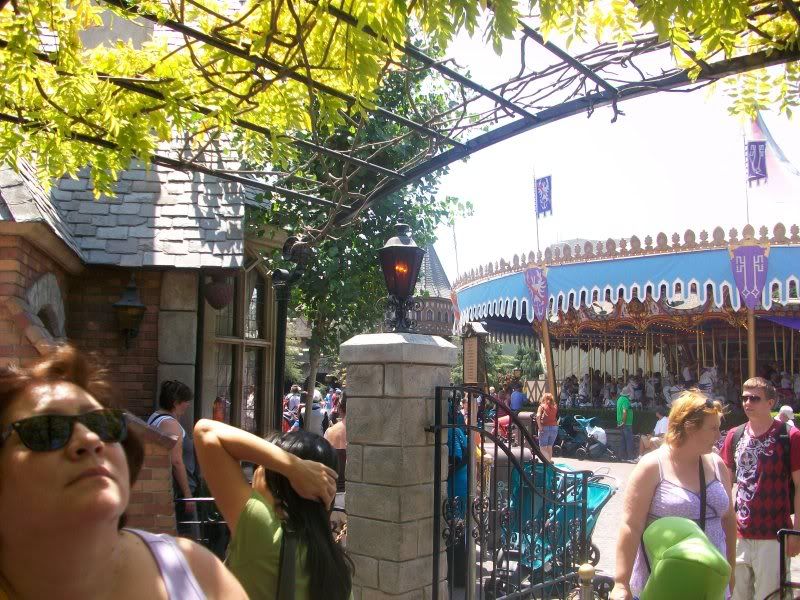 I'd have to admit the Canopy is a nice touch,. And it looks like our bad luck is gone. Last time we went to the Park, Mr. Toad broke down just as we entered the line.
, ...and apparently tourists like to stare at vined canopies.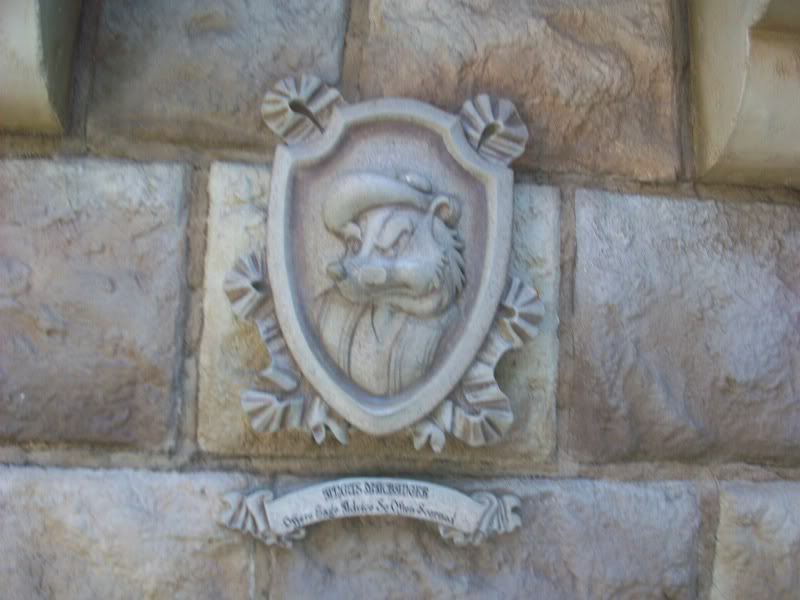 AAHH!! It's a Furry!! Run!!!!
Seriously though..I don't get the obsession over animals, have animals be like humans...
....
...Uh...
....how many more of these Wind in the Willow sculptures are left?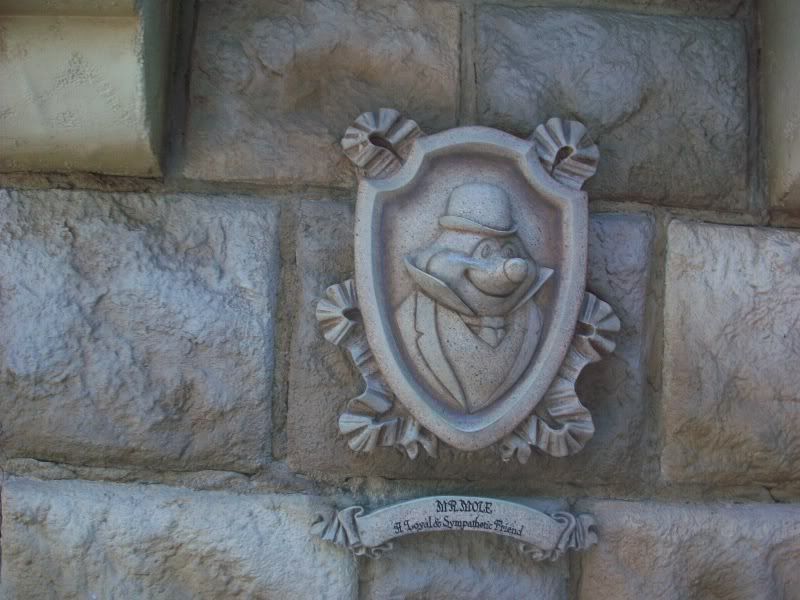 There once was a mole, it was later removed via plastic surgery.
:mob: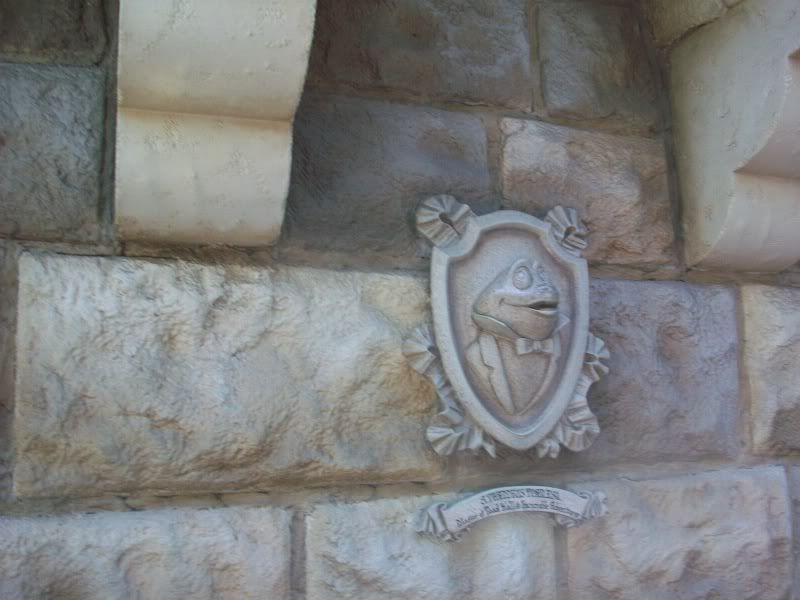 Don't mind that toad guy, his driving will get us hit by a train and send us all to a harsh and fiery place.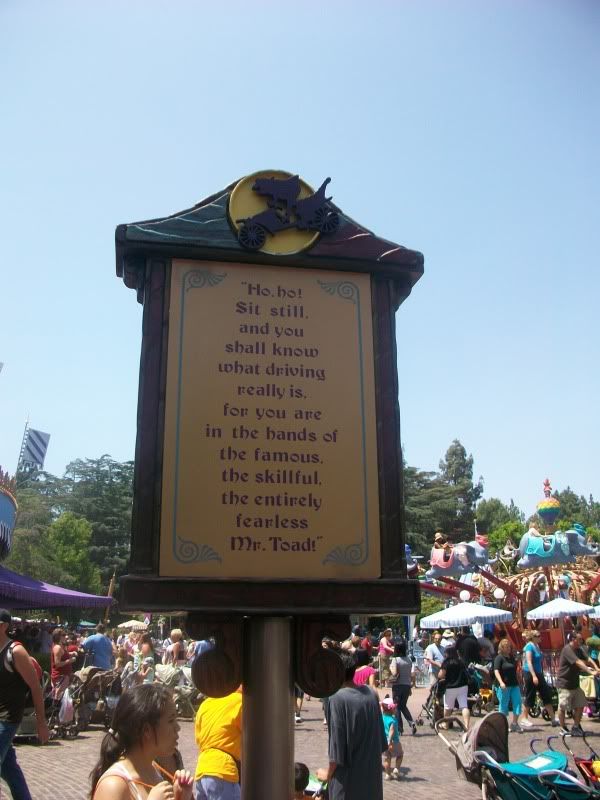 Gee, I feel more comfortable being driven by a reckless driver.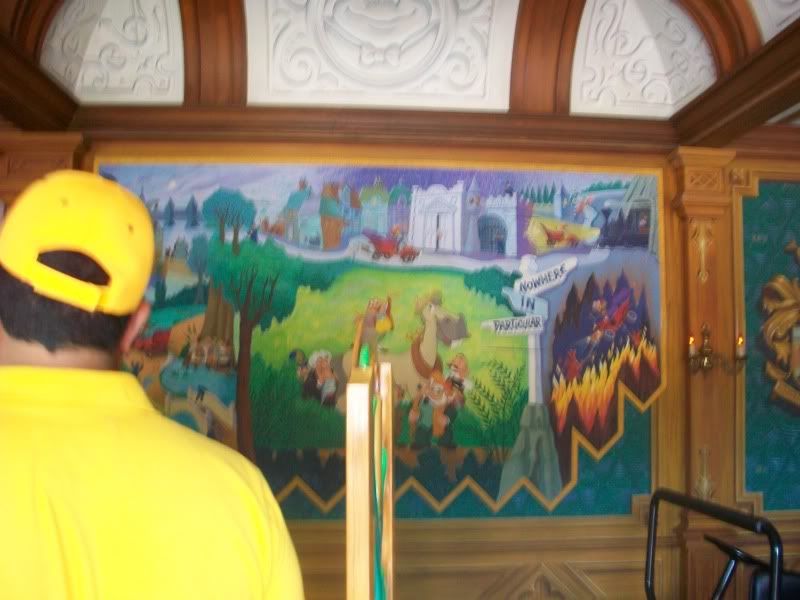 Hello, mural! And hello air-conditioning! Anyways, It was great to experience a classic attraction I haven't been on in ages.
Though fellow family member, Paloma, found the ending a bit disturbing.
After a half-hour of walking around in Tomorrowland doing nothing, it was decided that we should stop standing in the sun and go on Small World.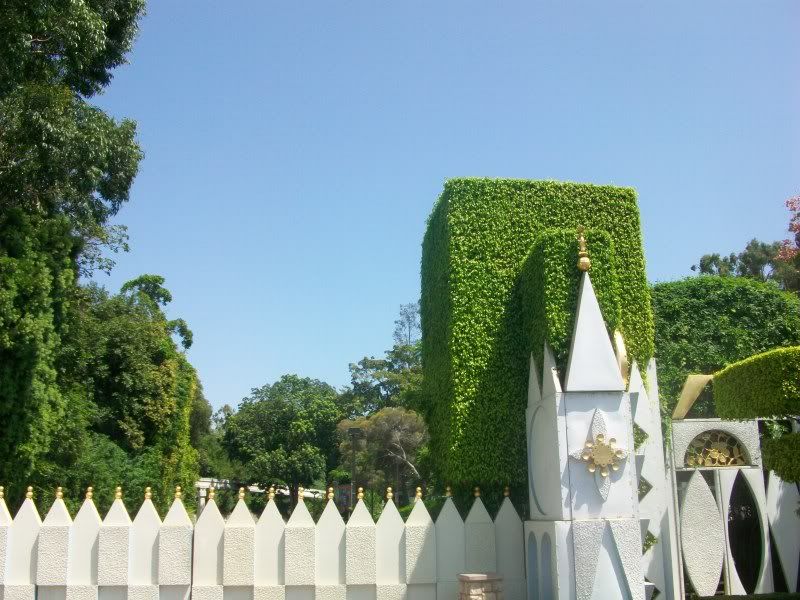 The attraction added Disney Characters this year as well as an America room, so it was our first time on it with the changes.
Don't worry, NO pictures were taken inside the ride, so you WON'T have the song stuck in your head.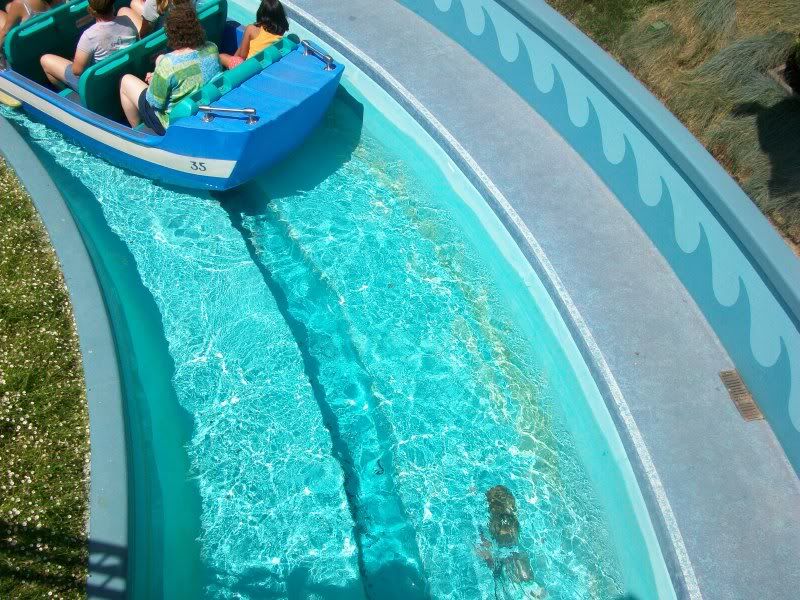 How can you tell we are (or were) in a financial crisis? When the Small World canals aren't filled with coins.
Bad joke? Maybe a song will cheer you up!
It's a world of laughter
A world of tears
A world of hope
And a world of fears
It's a word that we share
That it's time we're aware
It's a small world after all

It's a sma-
light
crowds?! In
summer
?! I've been ripped off 9 months later!! >.<
Well around this time (4-ish), our Big thunder fastpass was up, so we walked down there...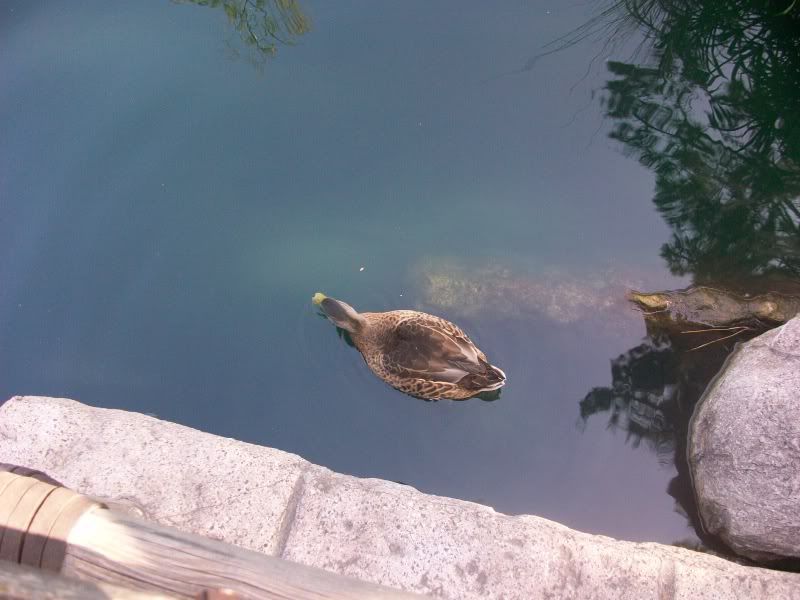 DUCKS!!!!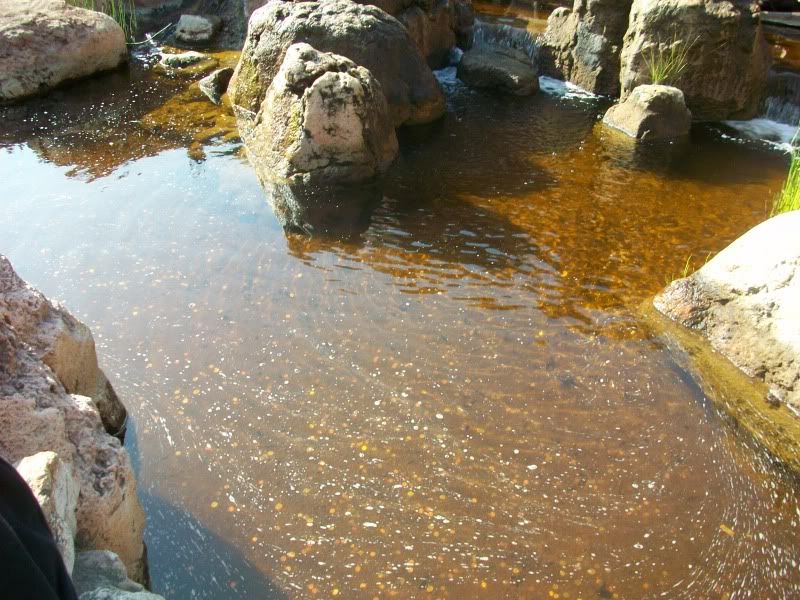 This is what happens when you drop too many pennies into a body of water.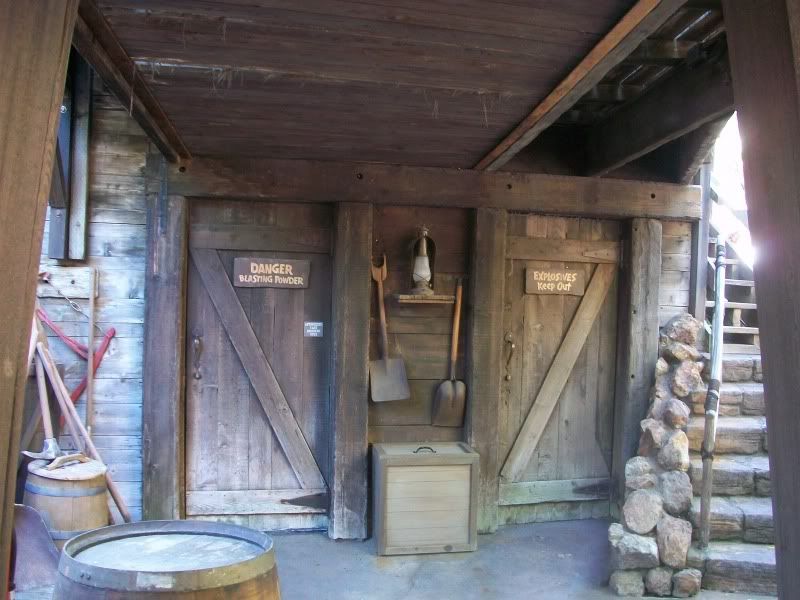 I love little details like this.
Big Thunder was fun, if not better than before. I could've sworn that there were more effects than the last time I rode.
And no, the [ame="http://www.youtube.com/watch?v=NL8TeEjZrvI"]goat trick[/ame] did not work.
Former Mine train, 'nuff said.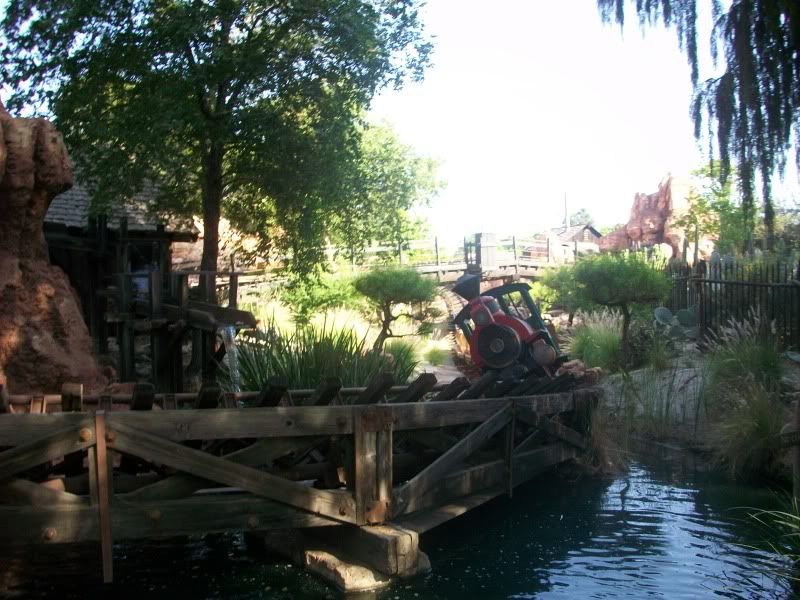 Okay, I
had
to do a Kodak shot, if not a little early.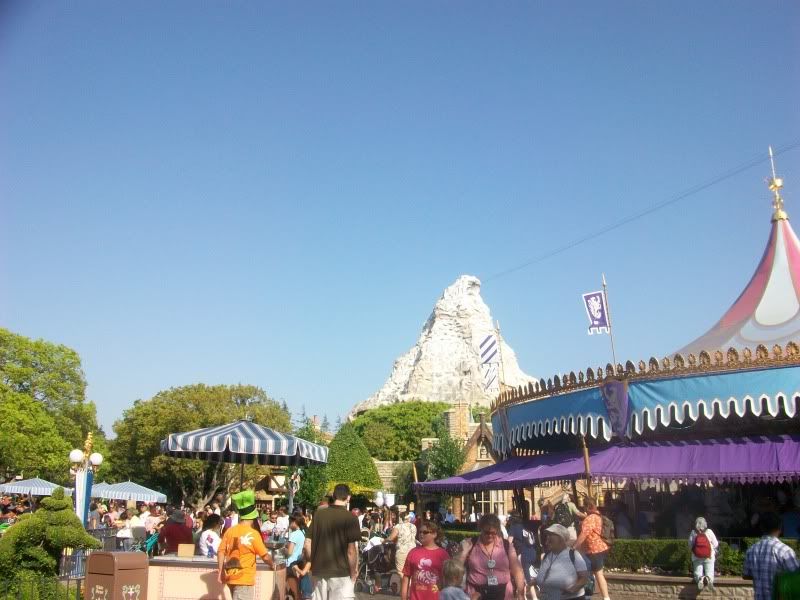 One of the reasons why I like California over Florida - The Matterhorn. It just makes things 59% more picturesque.
Walt Disney Worlders weep.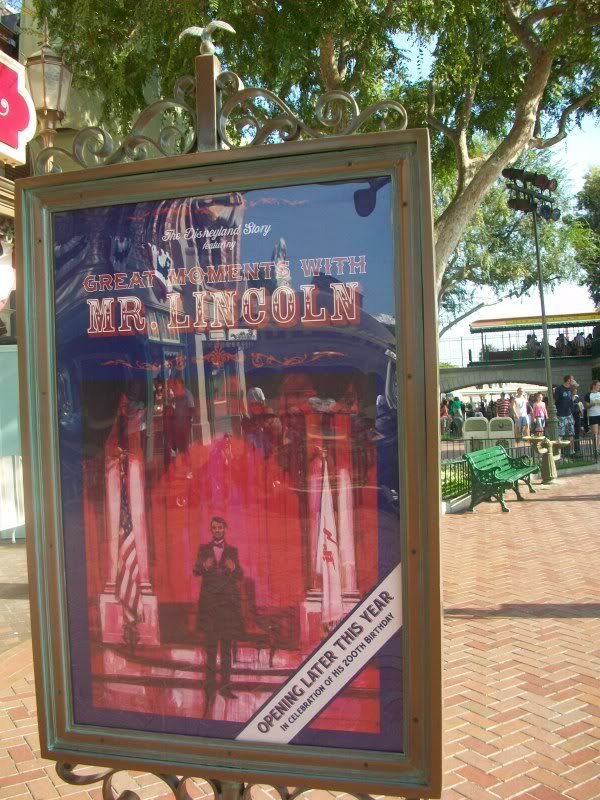 We shall meet again, Abe. But for now we must park-hop. Off to California!
...in California! Yay for redundancy!
So we enter Disney's California Adventure, where Cast Members call you 'dude'.
...still recovering from that....
First place we enter?
Greetings from California
, a generic gift shop with amazing murals....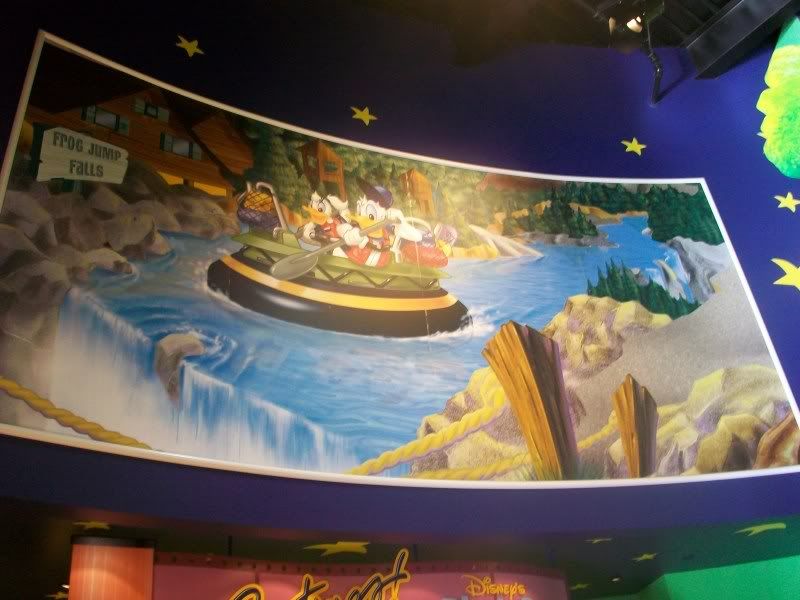 ...like this morbid one....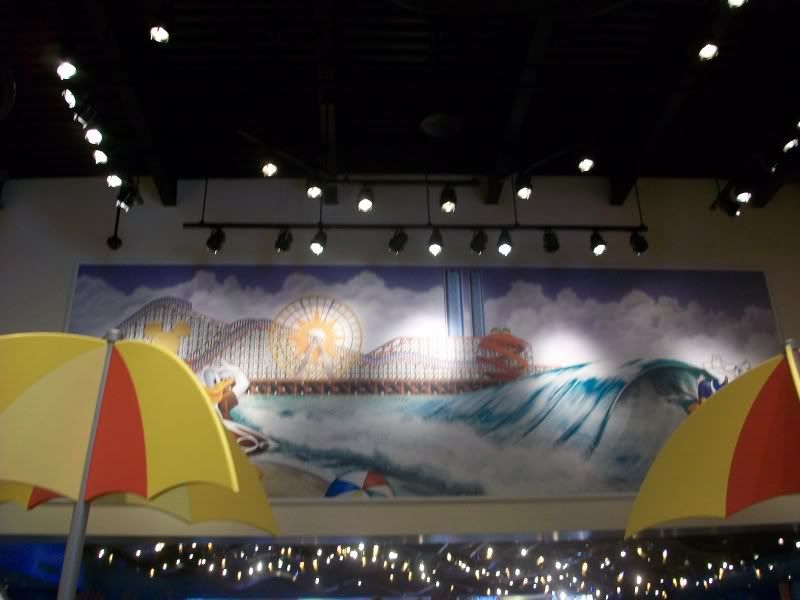 ....and this dated one.
After a short while, it was decided that we shop shortly before closing, and we head out to Hollywoodland Pictures Backlot and the Animation Building.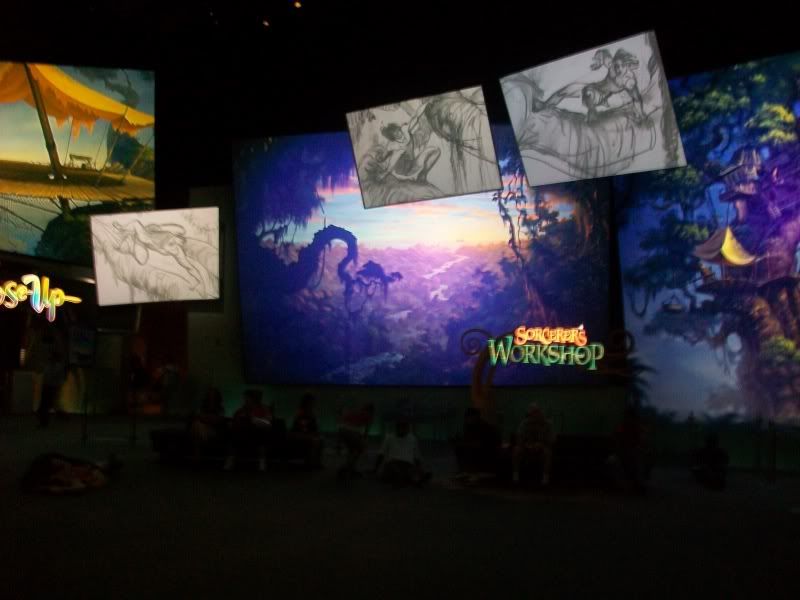 I must say, the lobby of the Animation Building is one of the few 'calm' spots in the resort - it's big, seldom crowded, and just a nice place to relax.
I seriously need to go back there before they send in the bulldozer!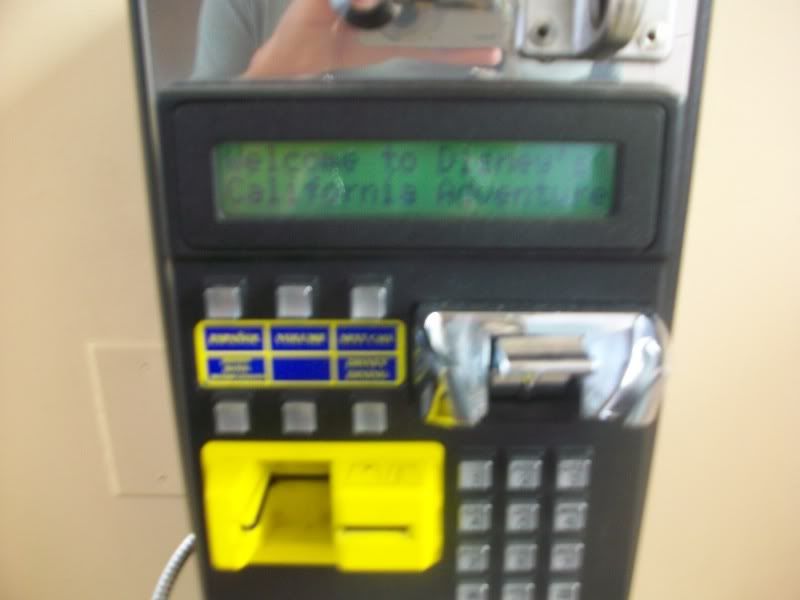 Yay for redundancy!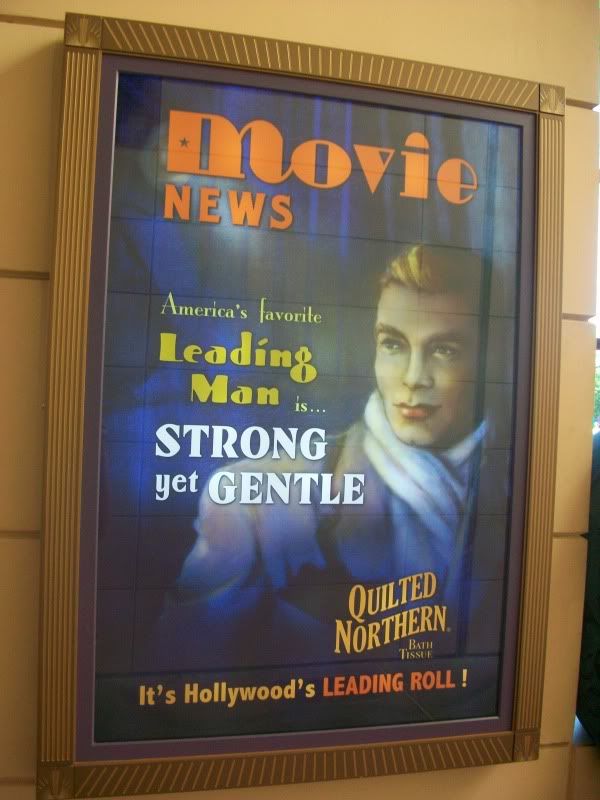 Toilet (paper) humour.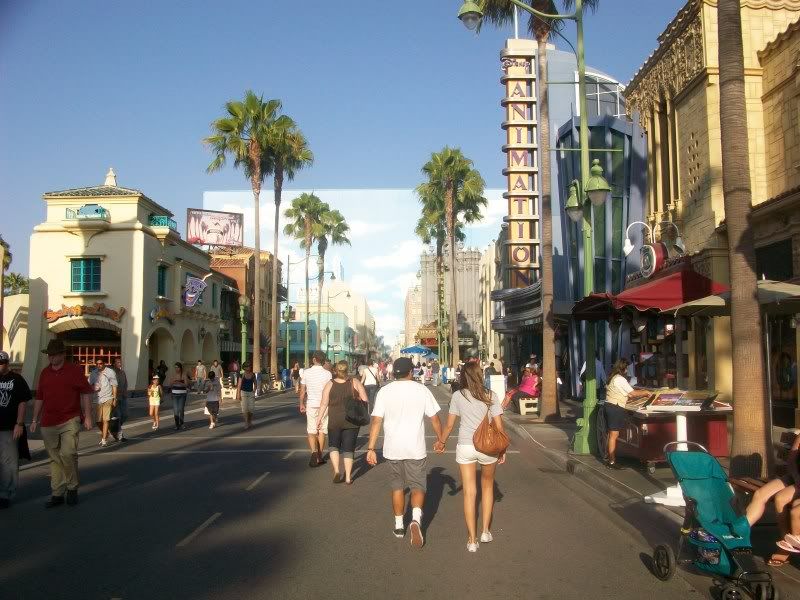 By far the most convincing fake wall I've seen.
Apparently the giant sundae from Carnation wasn't enough, so we headed out to Golden Weiners (welcome to DCA, bad puns galore) for, you guessed it, Hot Dogs.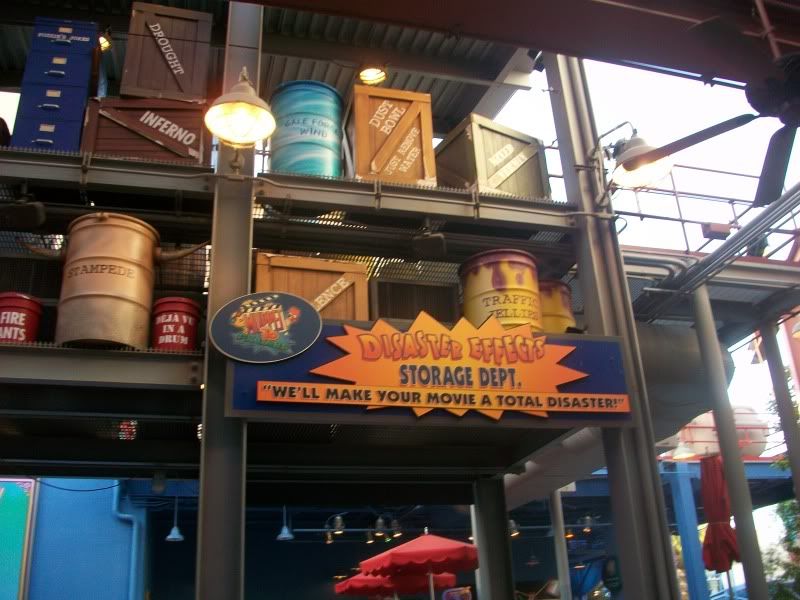 I'll make note to avoid these folks.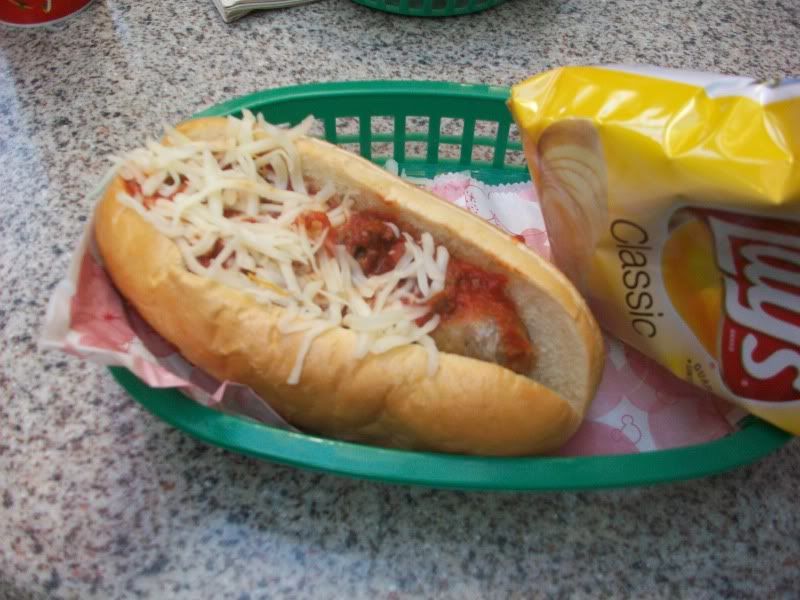 Pizza Dog - unhealthily good.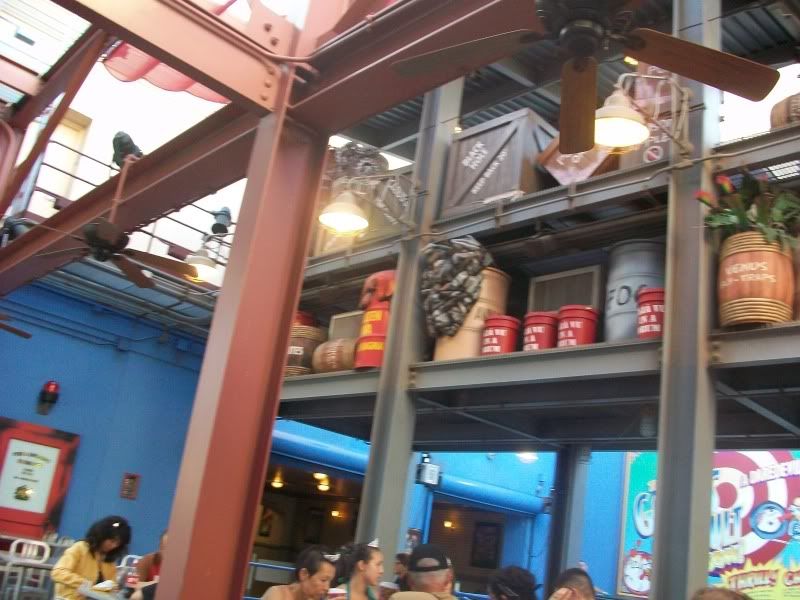 More random props, more random props, more random props.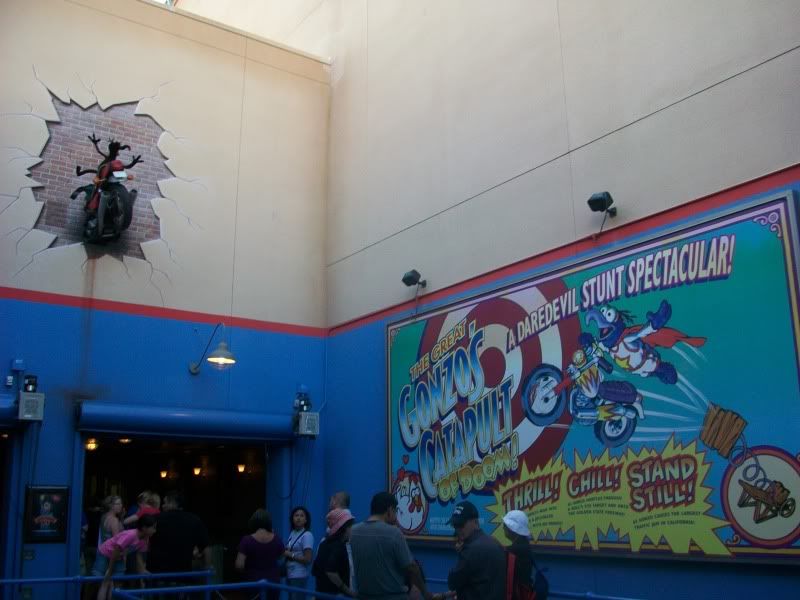 Muppets, gotta love 'em.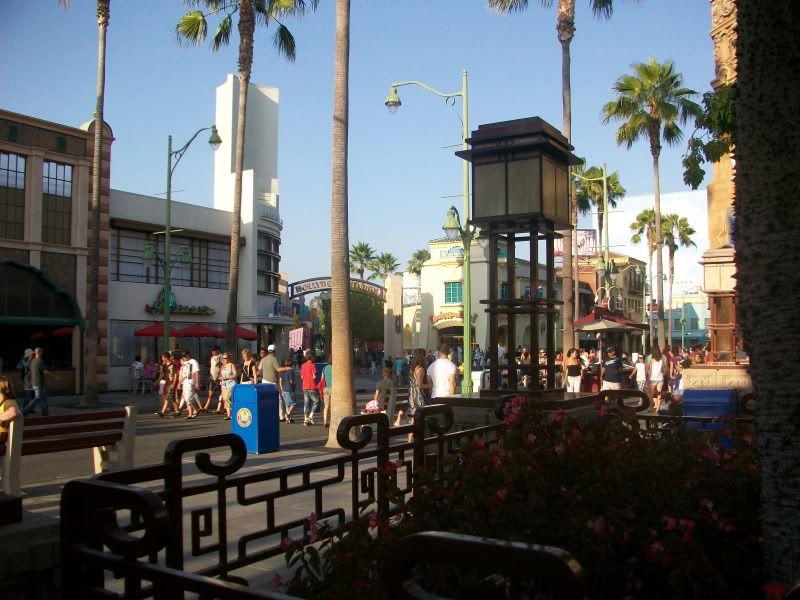 One last look before we trek out on our California Adventure.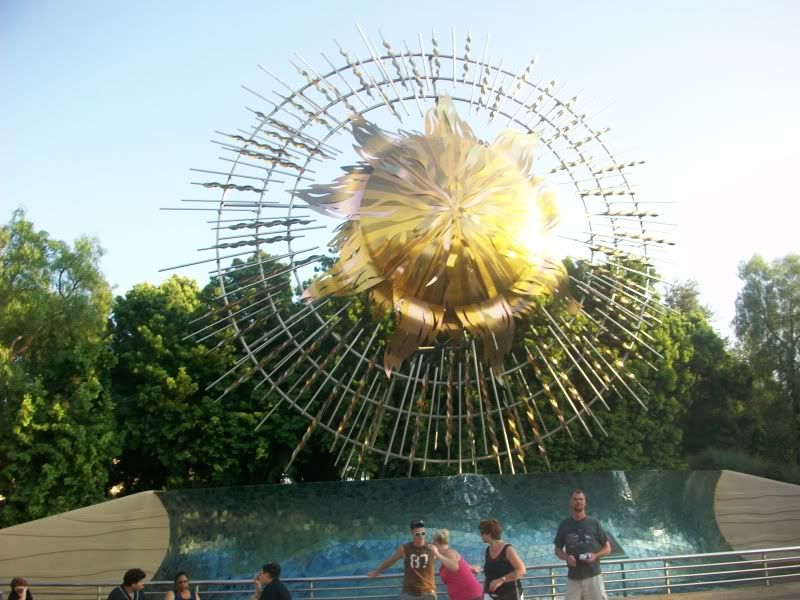 Oh, California sun, how I'm gonna miss ye....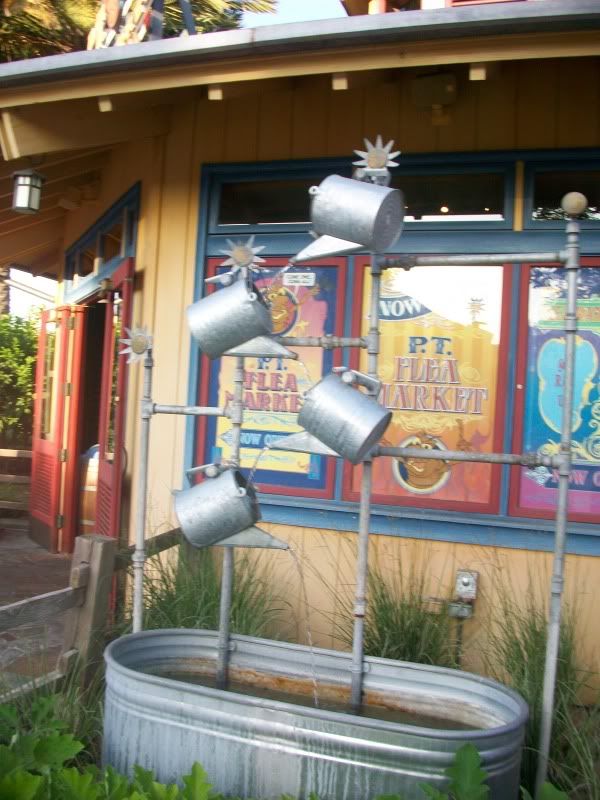 Gravity at work.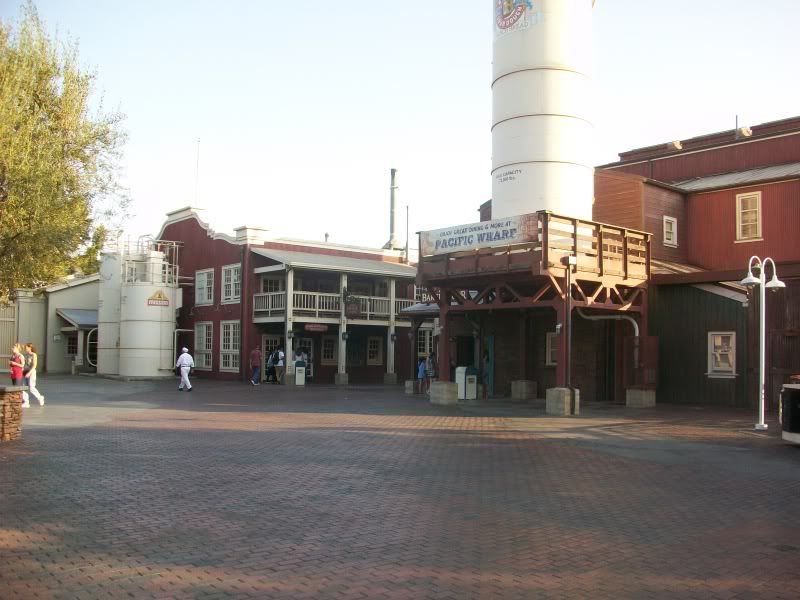 Ah, Pacific Wharf. Home to two factory tours and eateries. Can't say much about the eateries, but the tours are the only place in the entire resort where you are treated to free food. Now, who can resist an offer like that?
Pssst...go to the tortilla tour.
Walking with a warm tortilla in hand (and in mouth), we head on over toooa
ahhh
!! What in Mickey's name is that?!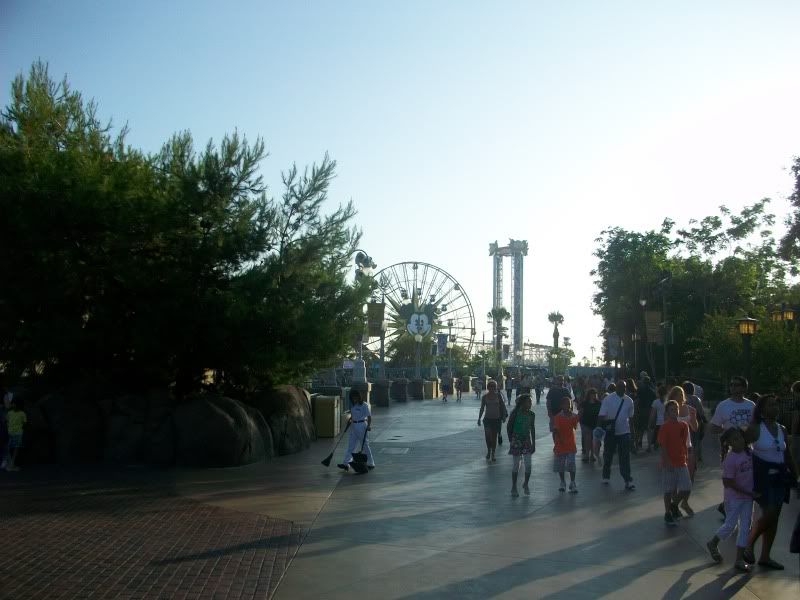 Oh, it's just a giant Mickey. Where's my sun?
One of the few photogenic spots in the park.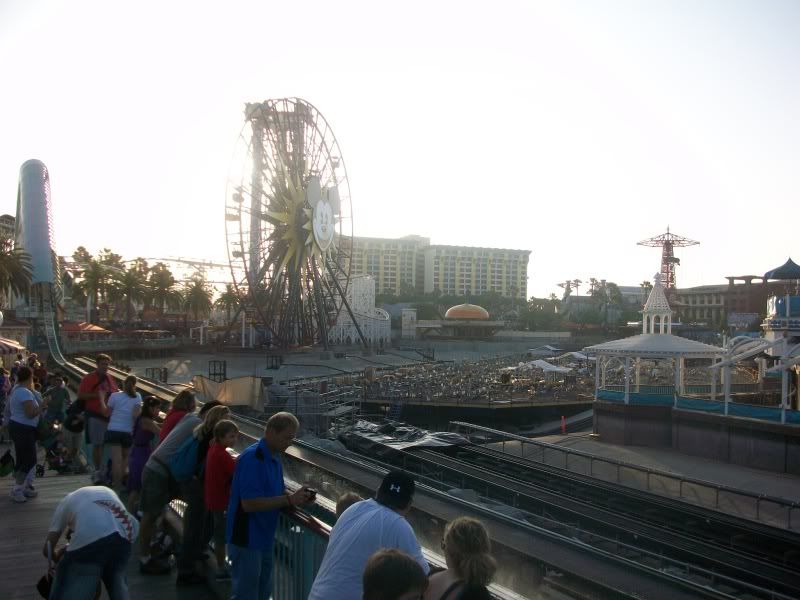 Okay, this area looks a lot different now, but let's just say the Orange became a burger-bun and World of Color was still monochrome.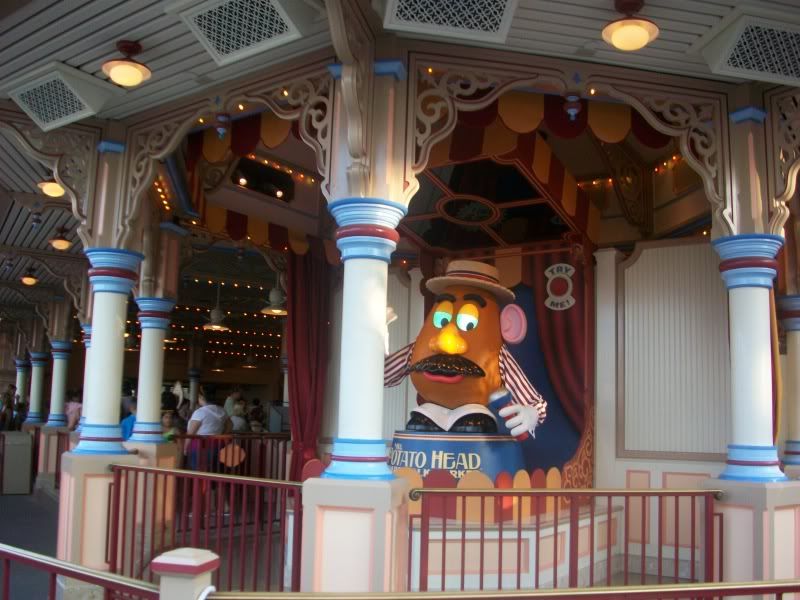 "Hey, empty space, care to pick up my fallen ear?"
Midway Mania is...um...Maniacy?
....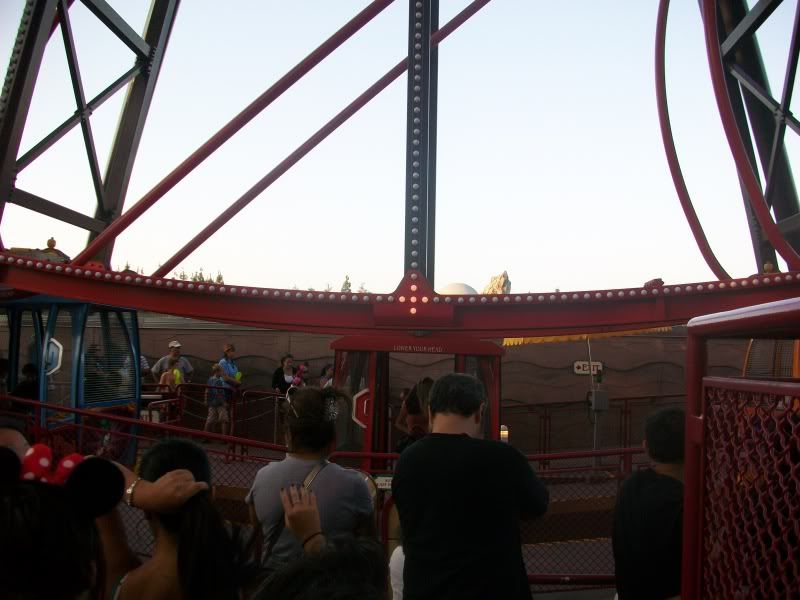 Wheel time!
After a past experience on the non-swinging gondolas, Paloma Folf pre-empted out of going on the swinging gondolas...or even going near the wheel period....
Let the fun begin....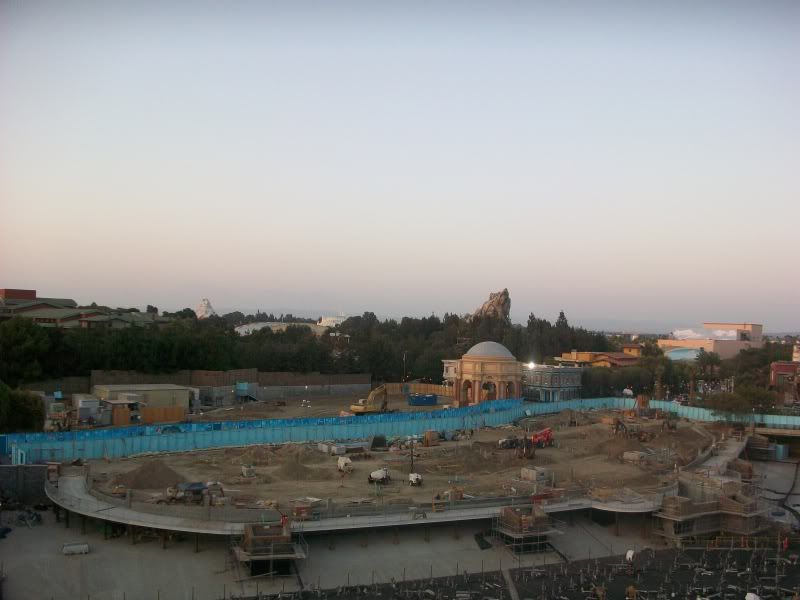 Up we go!!
and swing...
....
that was it? What a rip-off! I practically fell asleep!
Okay, maybe California Screamin' would be better.
And it was.... That is, up until the lift hill, where the soundtrack cut-off, only to restart
from the top
shortly before the loop, and cut again shortly before the hills.
That was an.....unusually disorienting experience yet very amusing at the same time.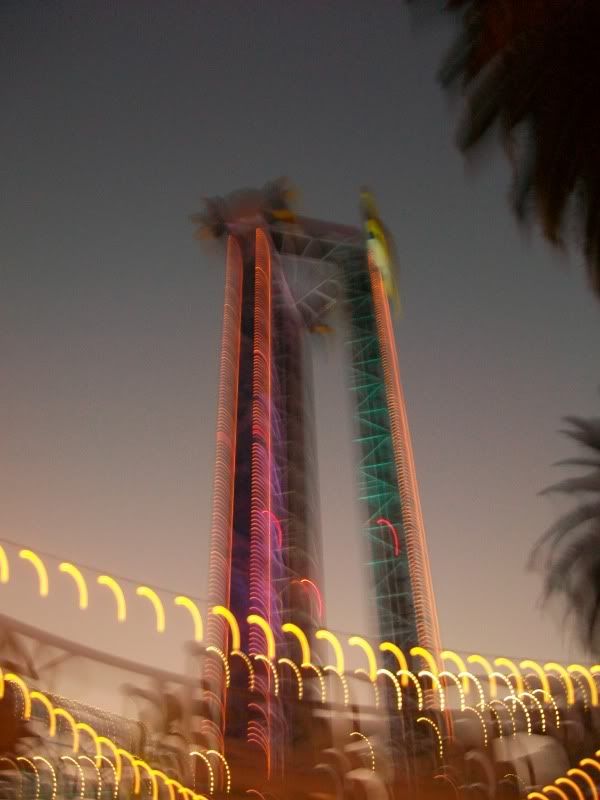 I love the effect of this shot.
As day turns to night, DCA suddenly becomes appealing.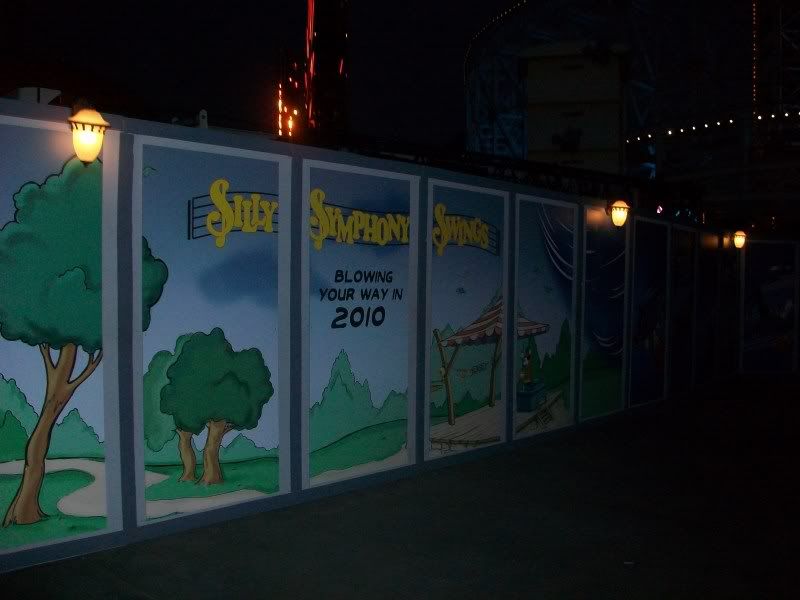 Um, it's almost mid-2010, and this still has yet to open.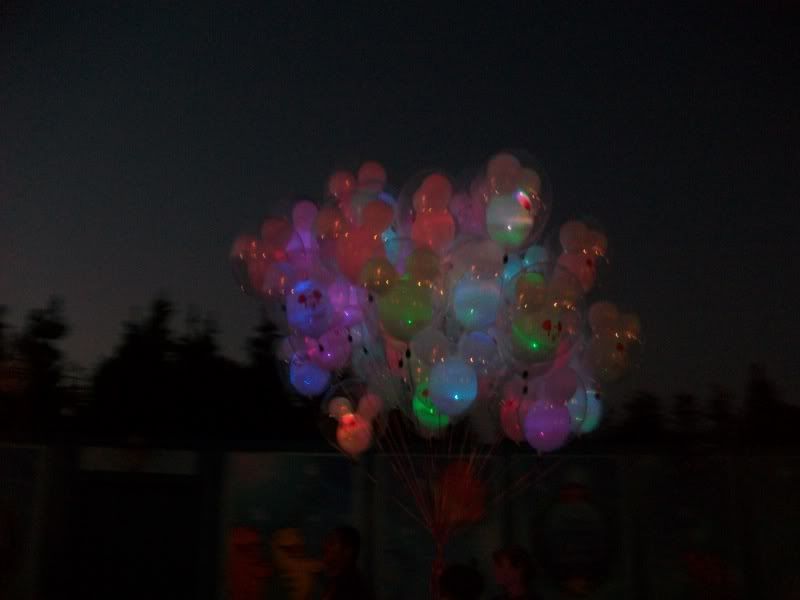 I wonder what happens if any one of these will pop....
*BZZZZT!*
On our way to Sunshine Plaza to see the Electrical parade for the first (and quite possibly last) time, we stopped by the Redwood Creek Challenge Trail.
Absolute fun.
So fun that I lack any pics
So here we have a blurry Grizzly entrance instead: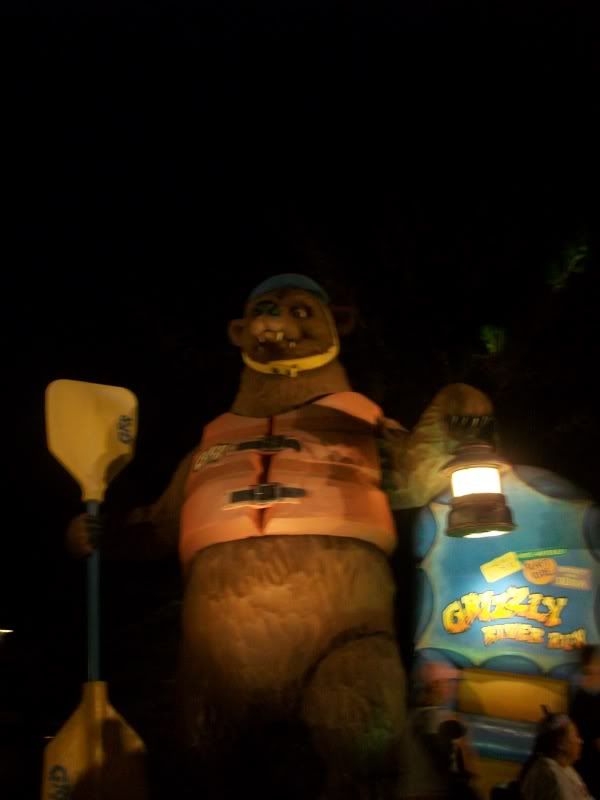 After a while (around 8:45 now), we went back to that gift shop (souvenir mugs, 'brilliant'), and grabbed spots for the Electrical Parade. Conveniently, instead of much-frowned-upon flash pictures of the parade, here's a 'natural-light' video (or given YouTube's limit on length, video
s
):
[ame="http://www.youtube.com/watch?v=S9MM4k7QgnY"]YouTube - Disney's Electrical Parade - 2009 Summer Nightastic Part I[/ame]
[ame="http://www.youtube.com/watch?v=rBcezXruH9E"]YouTube - Disney's Electrical Parade - 2009 Summer Nightastic Part II[/ame]
9:30, and the park closes, we walk out to see the fireworks going off across the esplanade, later tramming off to the parking lot and going to our LA relatives for the night.
"
So... hope you enjoyed my trip report-turned-unintentional-look-back-a-year-ago.
It was fun, and my family is planning on a
second
repeat road trip next month. Only this time, we'll be prepared (going to both parks on a busy summer day is a big no-no), and I now have a camcorder (instead of my now-damaged Kodak camera), so hopefully a video report should be faster.
Por fin! Heres hoping I actually post my trip report
on time
the next time I go to the parks. Until then, Hasta luego!