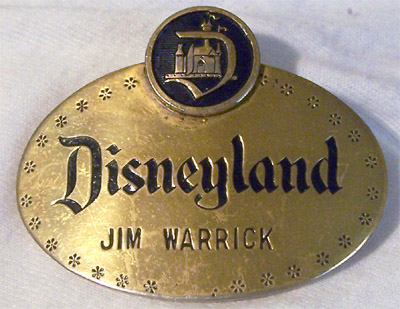 This is a recent addition to my collection. Would anyone happen to know where I might find information about Jim Warrick? Perhaps what he did at Disneyland?
some more info..
the grandson of Jim Warrick was kind enough to share some of his grandfather's history with me. Here it is:
Here is a little about it.
"The badge was my Grandpas. (same name) Back when they had just broke ground for Disneyland, he was working for the Long Beach Boat Shop. They were contracted to build the original boats for the Park. He also had a second job running a ship to shore taxi for the Navy.
The way I understand it is that Disneyland's waters were under the jurisdiction of the Coast Guard, even though it was private land, due to the amount of water in area. They required a Captain, licensed to carry passengers, be on staff at the Park. Some Reps from Disney came to the Boat Shop to check on the progress of their boats. They mentioned their dilemma of needing a Capt. and my Grandpa was suggested as a solution. He worked at the Park at that job for about 3 years when the regulations changed and a Captain was no longer needed. He transferred to Maintenance Management, where he stayed until he retired in the mid 70's.
He told me he met Walt twice but was on a first name basis with Roy."