Scene-by-scene preview of Little Mermaid dark ride coming in 2011 to Disney California Adventure - Travel - LATimes.com
Ariel's Underwater Adventure -- Scene By Scene Bubbly Preview
Scene 1 -- The boarding area features a panoramic mural with all the main movie characters and a seaside castle.
Scene 2 -- Audio-animatronic versions of Sabastian the crab and Scuttle the seagull set up the ride's back story.
Scene 3 -- A blast of cold air and a visual illusion make riders feel as if they are submerging underwater as the clam shell vehicle descends into the heart of the ride.
Scene 4 -- Riders pass through Ariel's treasure-lined mermaid grotto with sidekicks Sabastian and Flounder as the song "Part of Your World" plays.
Scene 5 -- Sabastian conducts an audio-animatronic orchestra of sea creatures in the ride's main showroom to the tune of "Under the Sea."
Scene 6 -- In Ursula's lair, riders pass under menacing rock work as henchmen eels Flotsam and Jetsam lurk nearby during the villainous sea witch's big diva musical number "Poor Unfortunate Souls."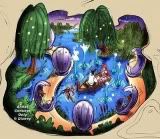 Scene 7 -- The clam shell vehicle appears to ascend from the ocean depths.
Scene 8 -- Anriel an Prince Eric kiss on a rowboat to the the strains of "Kiss the Girl" as geysers spout water.
Scene 9 -- The spell-breaking kiss drives Ursula mad as "Love's First Kiss" plays amid gathering storm clouds.
scene 10 -- The "Happily Ever After" finale scene has been kept a closely guarded secret by Walt Disney Imagineers.
Scene 11 -- Riders unload as Ariel and Eric stand atop the castle, King Triton salutes them from the water and Sabastian waves goodbye.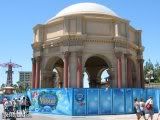 So many scenes! So many wonderful tunes! Along with the timeless Disneyfied Hans Christian Anderson storyline, this should be one big animatronic filled special effect fest. I'm especially looking forward to seeing the audio animatronic orchestra as conducted by maestro Sabastian.
[ame="http://www.youtube.com/watch?v=iZPK77FtahM&feature=related"]YouTube- "Disney's THE LITTLE MERMAID" PART OF YOUR WORLD / Q;indivi[/ame]
[ame="http://www.youtube.com/watch?v=d8epY4F7uBA&feature=related"]YouTube- THE LITTLE MERMAID RIDE PREVIEW AT DISNEY'S CALIFORNIA ADVENTURE THEME PARK[/ame]
[ame="http://www.youtube.com/watch?v=hUIZXxj3st4&feature=related"]YouTube- The Little Mermaid: Ariel's Adventure ride preview at Disney's California Adventure[/ame]
[ame="http://www.youtube.com/watch?v=W8q1A2W1420&feature=related"]YouTube- Under the sea pop song[/ame]