My boyfriend, Martin, and I have been planning this trip since May. But between school and work, a lot of weekends were blocked out for us. We settled on the weekend of July 22 through the 25th, after tossing schedules back and forth. lol
So, let's begin!
Martin had actually come down Wednesday night, versus early Thursday morning. He lives some 100 miles away from me, and it was just easier for him to spend the night so that we could get an early start on Thursday without having to wait for him.
On Thursday morning, we woke up at 7:30am. We packed the cars, and I said good bye to my brothers. We left my house around 8:05am, but we stopped by Mcdonald's for some breakfast to go so we didn't officially hit the freeway until about 8:20ish or so.
The drive down Hwys 152 and 5 were alright. Can't really say much about it since we drove for about 5 hours. We didn't have many plans on Thursday, so we decided to stop in Long Beach to visit my cousin.
(I don't know what building this is, but I took this shot as we were driving into Long Beach looking for my cousin's place.)
When we finally arrived at her place around 2p, she asked if we wanted to go out to eat. So we went to this Thai restuarant about 5 minutes away called, Star of Siam.
I only got a picture of our appetizers, which were spring rolls. We were so hungry that we didn't really get pictures of our dishes themselves. Oh well.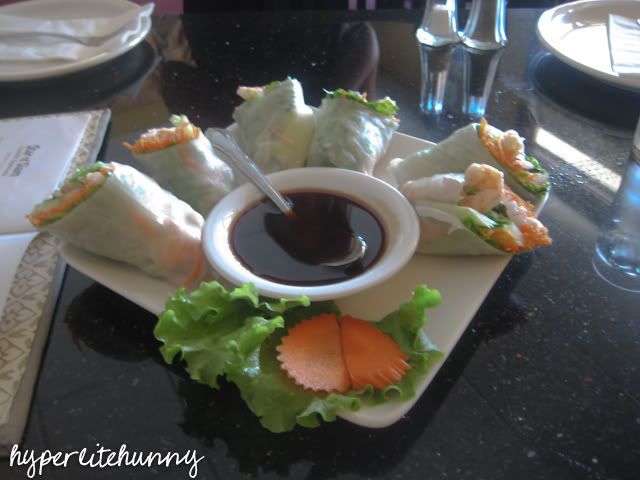 After lunch, we dropped my cousin back off at her place, and we headed to our hotel. We stayed at the Howard Johnson in Stanton (which, at the time of booking was super, duper cheap for us since we are broke college students. lol). The hotel was about a 10 minute drive to the Resort, but we didn't mind, mainly cause we weren't planning to be up at opening time for the two days we were going to go to the parks. We checked in, and unloaded the car.
Martin and I napped until about 6pm, when we decided to go to Downtown Disney to watch "Despicable Me." (Cutest movie ever, BTW!) Our movie didn't start until 8:20pm, so we just wandered around the shops until then.
After the movie, Martin and I split for a minute, he went to go grab a table at ESPN Zone and I met my cousin on the Esplanade so she can give us the park tickets she bought for us. When I got to the ESPN Zone, we'd ordered some appetizers.
Cheese fries for me. DELICIOUS.
Pizza for Martin.
We got back to the hotel around midnight, and went straight to bed since Friday we'd be going to the parks!
We weren't exactly up bright and early on
FridaySaturday