I had the wonderful honor of being invited to Disneyland by a coworker. She had an extra ticket and asked me because she wanted to go with someone who enjoyed the park. She's a Sleeping Beauty fan, so I will call her Aurora for this TR.
After talking to her about her past experiences at the park, I found out she has always gone with her large family, and never got to stay past dark or see many attractions. I asked her if she wanted to arrive at the parks opening, or sleep in that morning and arrive at noon (the caveat being that we either have to be up at 4:30am to get ready and drive through LA before morning traffic, or wait until after LA morning rush hour...)
So this is what time I hit the road to pick up Aurora.
We arrived at the park at 7:30 am, with enough time to have her pose in front of her letter...
We headed into Main St, but first read the sign (a favorite tradition of mine!)
We walked over to Space Mountain after the rope drop and grabbed fast passes, then jumped on over to Buzz Lightyear:
I barely won, and I know all of the Easter Eggs! You'll notice the fierce look of competition on my face while Ms. Aurora grins prettily and racks up points. Methinks some online players at home helped her out, no one is that good on their first ride!
After hopping off BLAB we headed over to the Matterhorn, which had already experienced it's first breakdown of the day. We waited for the reset, and 20 minutes later were allowed in the queue...
They only ran the right side of the track at that point, so we hopped in and had a great time. After, we jumped out and headed back over to SM in time to grab two fast passes and use our first ones. Then we headed over to the Jungle Cruise....
Where we saw A Fricken Elephant. ::bah-duh-tish::
After obtaining a map of the ride for Aurora, which very much made her day, we hopped over to Indy and grabbed fast passes, then proceeded along the way to POTC. We both got healthily doused by the second waterfall, so I proclaimed her baptized into the Church of Walt while drawing a "W" in the air over her with the two-finger point.... And then the flash photography started in the boat ahead of us, blinding all of us. Lovely Aurora and I both yelled out "No flash photography!" It continued, and the rest of our boat joined in the chastising. Seconds later Cast members broke in through the audio and told the boat the same thing. The pictures continued through several more announcements, each announcement getting more terse. They finally stopped taking pictures in the battle scene.
After POTC we realized that we had done every single ride she came to ride, and it was only 9:30am. We happily meandered over to HM, then to Splash...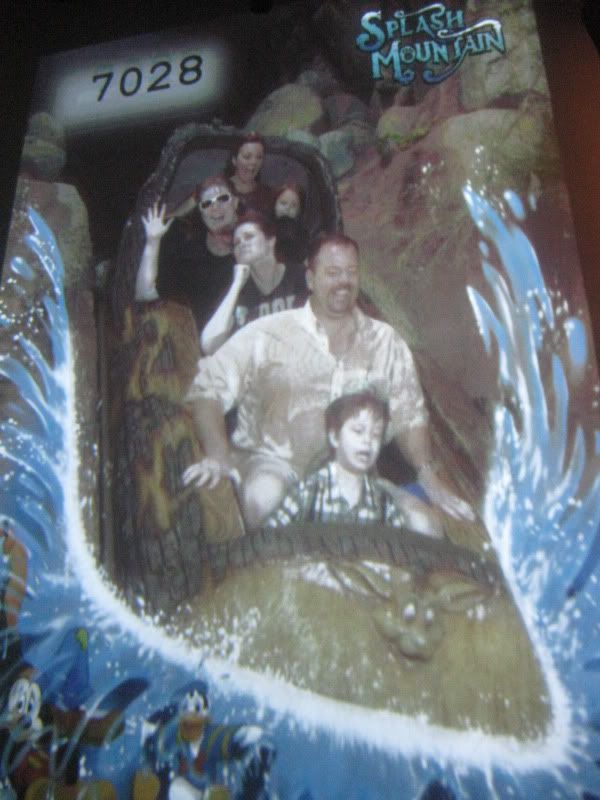 We then trekked cross country back to SM and rode it a second time, before making our way to IASW. Then we walked through the Castle diorama, another "must-do" for the day, as Aurora had never seen it!
We looked through the Heraldry shop where we found a brave little Homonculus:
and then headed over to Big Thunder Ranch to see the petting zoo. As we were scratching goats, I noticed the attending CM had a blue-dress Sleeping Beauty pin on her square and I told Aurora, lamenting the fact I hadn't brought any of my pins to trade for it. This wonderful CM disappeared for a moment and came back and told us to stick around. A different CM came up to us and handed Aurora a Hanna Montana pin and said, "Here, you dropped this." The other one smiled and said, "Oh, would you like to trade for this blue one?" Aurora couldn't wipe the smile off her face after that and proudly displayed her pin on her purse strap. I couldn't stop grinning either, as I told her THAT was the reason I choose to go to DLR once a month! Then we got Fast Passes for BTMRR and walked Main st on our way out of the park. We saw this talented artist who graciously entertained out questions:
We left the park and crossed the street to eat lunch offsite (hey, we're poor college students that work retail!). After a satisfyingly cheap meal we shopped up Downtown Disney, stopped back by my car to pick up a blanket, and took the monorail back into TL. The crowds had intensified by this point, so we ran over to SM to secure another Fast Pass, but they were gone by this point. We decided to use our Indy passes...
...and saw the crowds on the way out:
We ran over to BTMRR, then over to ROA to stake out a spot for F! Aurora had never seen F!, and I told her it was a definite must.
We found a spot at dead center, with one small family of three in front of us. This family turned out to be a delightful mother/son/daughter trio visiting from Alberta, Canada. The kids were about nine and seven and immediately struck up a friendship with me when they found out I had a DSi and played video games =D We struck up friendly conversation, and the lovely mother agreed to watch our blanket so we could go grab more Fast Passes for Splash Mountain. We came back empty handed on the Fast Pass front, but did stop and buy drinks and ice cream sandwiches at Hungry Bear. As we arrived back at our blanket, we found another two blankets had joined us, so we introduced ourselves. This was another mother with one six year old boy, both APer's, and a mother staking a claim while her family of six went to dine. The three kids played about the four blankets (we told the mother missing dinner to go eat with her family as we struck up a "Four Blanket Alliance").
Aurora decided to go look for Maleficent merch and prints on Main St while I read, and protected the Alliance. When she came back, we traded off guard duty to one of the mothers and rode both HM and POTC again before going back to our campsite. By this time the entire area was staked out, and we were glad to have a decent amount of space where we didn't have to spoon a stranger to see. The talking, joking, and stories continued amongst the Four Blanket Alliance until showtime.
The show started, and while Aurora watched the show, I watcher her reactions. The look on her face when Murphy appeared was absolutely priceless! After the show we stayed put for the fireworks, which were cancelled halfway through due to high altitude winds.
Another trip on the left hand side of the Matterhorn in the dark helped ease the sorrow. We then hopped in line for one last ride on SM, this time more than an hour wait. By the time we got off the ride and shopped down Main St, the closing announcements were being made!
Tired and sore, we dragged ourselves out to the trams and back to Pinocchio for the long drive home. I was so flattered to be invited to DL by someone who wanted my company, and honored to be called a Disney Fan. Thanks, Aurora!