Hello all and welcome to my trip report. This report was almost not meant to be. I got a call about a week prior from my dad asking me if I wanted to go see some relatives in LA. It was going to be a difficult time with the kid starting school and the wife working full time, but I had not seen my extended family in quite some time. So with the encouragement of my family I went.
I found myself busy most of the week spending time with various aunts, uncles, and assorted cousins, but soon found that I would have all day Thursday with nothing to do. I originally considered going to Universal Studios, but then started to want to make a Disneyland trip. I felt torn, because my son would find out and may get upset about me going, especially since he really wanted to come to LA. So after tossing and turning and posting about it here on Mice Chat I had resolved myself to NOT go. However, Disney magic works in mysterious ways and that night I had a dream of going to Disneyland that was so vivid that when I woke up I had made up my mind to go. So off i went, battling the traffic on the 5 south, to Anaheim. It wasn't such a bad drive, I made it to Mickey and Friends parking in about an hour, parked and rode the tram to the park. First thing I noticed, although I did not get a pic, was the Happy Halloween decorations on the tram way. Nice touch. Soon I was at Downtown Disney and decided to stop at LA Brea for a quick breakfast. I got to say the fruit and yogurt cup was good, but a bit too pricey. After breakfast and buying a 1-day park hopper I was at the plaza.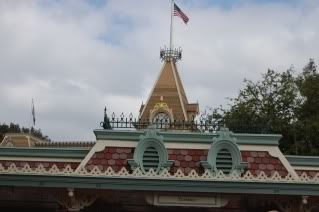 After renting a ECV, I made my way into Disneyland stopping to take some pics.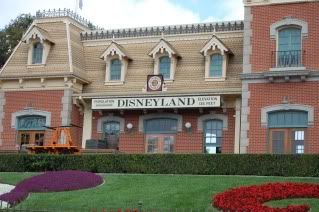 I made my way down Main Street to get a good pic of the Partners statue with the castle in the background. It's here I noticed that the crowds, although somewhat light, seemed to larger than other off season times. i later found out that a lot of the schools in LA had not gone back to school yet. It was still pretty light for most of the day. A couple of rides had 10-15min wait on them. Nemo and Matterhorn had 20 minutes a certain times, but it wasn't as bad as when I usually go.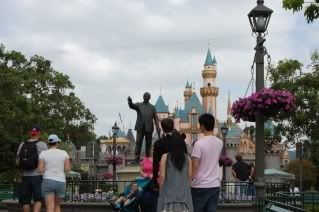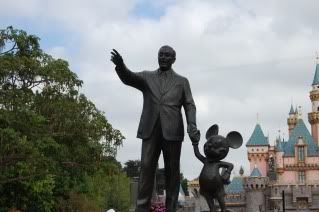 I then made my way to Tomorrow land to ride Buzz. It's the first ride me and my son do, so in honor of him, I decided to do that.
On my way over there I saw the closed up Star Tours.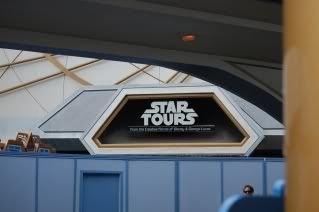 Looking forward to when it reopens, but am sad at the loss of nostalgia.
After a ride on Buzz I decided to head over to watch Captain EO. But I was to be denied since it wasn't Captain EO but,
"Captain EO: A Tribute". Hmm, should I expect Tenacious D to show up? That would be awesome if they did. I struggled with seeing this. I don't want to turn this TR into a debate, but I will admit to liking MJ when I was a kid. When EO first came to Disneyland I was so excited. The very next time we were at Disneyland I made my parents take me to it first and made them watch it twice. It would've been 3 times, but my Dad was about to have a coronary so my Mom bribed me with a toy. Since then MJ's magic has gone away and I don't think I would take my son to watch this, unless he really wanted to, but due to my love of nostalgia I went in and took a seat. It was fun, and it seemed shorter this time than the last time I saw it. The effects were okay, but to me, it didn't hold up. I will say the cast member welcoming people into the theater was quite charming with the bad MJ puns. I hope they put something new in there soon though.
My next intention was to ride the Matterhorn, but the line was back past the Nemo que so I continued on to Fantasyland with a promise to return to it later. On my way to Fantasyland I decided I had to see IASW with the Disney character additions.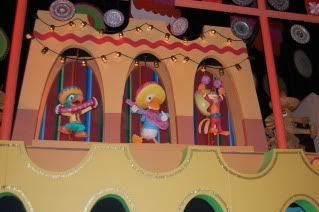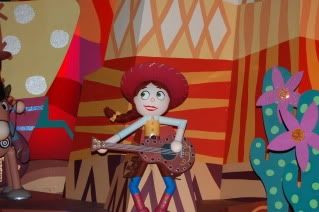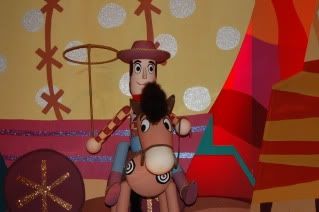 So I can see why some people where upset, but personally, I thought the additions were cool. They were not obvious and they did not take anything away from the ride. I like the addition of the Three Callbaleros (sp?).
Next Up Mickey's Toontown.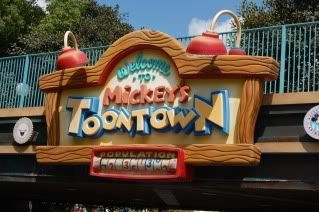 Strolling into Toontown I was greeted by Goofy and Minnie.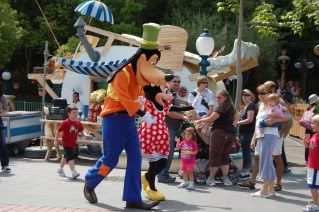 I haven't seen two characters interacting with each other for awhile so it was nice to see. I debated riding Roger Rabbit, but since I was starting to get hungry and did not want to eat till I got to Cafe Orleans, I decided to go visit an old friend.
I hadn't seen Mickey in long time, and although he is not my favorite character, he is always special to see. I was lucky enough however to see my second favorite character and get a picture with him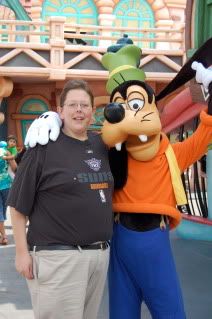 I must say, the hardest thing about going by yourself to Disneyland is getting yourself in the picture. Usually there is a CM nearby to help, but this time I had to rely on the kindness of strangers. They didn't disappoint and I was very thankful for their assistance.
Well, let's take a lunch break here. Coming up a visit to Fantasyland, getting denied on Pirates then denied on Indy and much much more. Thanks for reading and I will update soon!